College Football MACtion Odds, Picks: How We're Betting Wednesday's NCAAF Games
Credit:
James Gilbert/Getty Images. Pictured: Northern Illinois wide receiver Mohamed Toure.
Wednesday night brings with it three college football games from the MAC, including Northern Illinois vs. Western Michigan, Kent State vs. Bowling Green and Buffalo vs. Central Michigan.
Odds have been moving consistently throughout the early part of the week, as our writers broke down all three games and shared a betting pick for each.
Check out all three betting previews and picks for Wednesday night's MAC college football games below.
Do you know what's even better than MACtion on Tuesday night? MACtion on Tuesday and Wednesday night. In fact, we're on Day 2 of five straight days with college football.
Wednesday's slate features three more games for our viewing and betting pleasure: Kent State vs. Bowling Green, Buffalo vs. Central Michigan and Northern Illinois vs. Western Michigan.
And of course, three of our writers — Collin Wilson, Keg and Action Analytics — broke down all three games and shared a betting pick for each.
Read on for all three betting previews and picks, and be sure to stop back tomorrow for even more college football betting coverage.
---
Wednesday MAC College Football Best Bets
The team logos in the table below represent each of the MACtion matchups that our college football staff is targeting from today's slate of games. Click the team logos for one of the matchups below to navigate to a specific bet discussed in this article.
---
Kent State vs. Bowling Green
Two midweek MACtion teams headed in opposite directions will compete on Wednesday night as Bowling Green hosts Kent State.
The Golden Flashes had high hopes of winning the MAC East after entering the season as the favorite. They've lost all five games away from home this season, including both conference games against Toledo and Miami (Ohio).
A rush-heavy offense dubbed "Flash Fast" hasn't found much success moving the chains. After recent trips to the Idaho Potato Bowl and Frisco Bowl, head coach Sean Lewis must win out to have any hopes of playing in the postseason.
Bowling Green football is the story of the MAC West Division. The Falcons haven't played in the postseason since 2015, sitting just one game shy of a bowl trip.
With a previous loss to Buffalo and a pending game against Ohio, Bowling Green will need to win out and get some help to compete for the MAC Championship.
The defense continues to be the backbone of the team, as a top rank in pass rush has kept the Falcons in plenty of games.
---
The Golden Flashes have lost four of their last six games, as the highly successful offensive unit from seasons past has stumbled in 2022.
Quarterback Collin Schlee has twice as many touchdowns as interceptions, but six fumbles on the season have killed numerous scoring drives. Schlee loves to run, as 192 of his 462 rushing yards have come from designed runs.
There hasn't been any explosiveness on the offense, as running back Marquez Cooper averages just 2.8 yards after contact.
The loss of wide receiver Dante Cephas to injury in Week 8 lingered into a midweek MACtion loss to Ball State last week. Cephas, who leads the team with 72 targets, is questionable to return with what has been called a "lower-body injury."
The Golden Flashes have been destroyed against the pass with coverage and Success Rate rankings in the bottom 15. Kent State doesn't generate Havoc and has been one of the worst teams when it comes to getting opponents into passing downs.
Safety Nico Bolden leads the Flashes in tackles along with missed tackles.
Ball State and Akron are far from offensive juggernauts, but each team still generated 450 yards of offense in recent action against Kent State.
---
The defense kept Bowling Green in the win column against a Western Michigan team searching for offense. The clear scoring bonanza ended at 22 total points as the Falcons recorded five tackles for loss.
The Broncos did have success pushing drives into scoring opportunities, but they averaged just two points on five drives extending beyond the 40-yard line.
The Falcons are near dead last in Finishing Drives, making the defensive stops against Western Michigan an uncharacteristic victory.
Opponents have been successful in running the ball against BGSU, as the Falcons once again rank near dead last in FBS in Line Yards and Stuff Rate.
The strength of the defense comes into play with pass breakups at the cornerback position.
Quarterback Matt McDonald loves to throw downfield, bringing a career-low in turnover-worthy play rate into this game. The fourth-year quarterback has nearly as many pass attempts 20 yards down the field as behind the line of scrimmage.
Nine different targets recorded a reception against Western Michigan, but it was a special teams play that set up the lone touchdown of the game. Bowling Green ranks bottom-15 in Special Teams SP+, but an 83-yard kickoff return by Ta'ron Keith set up an easy three-play touchdown drive.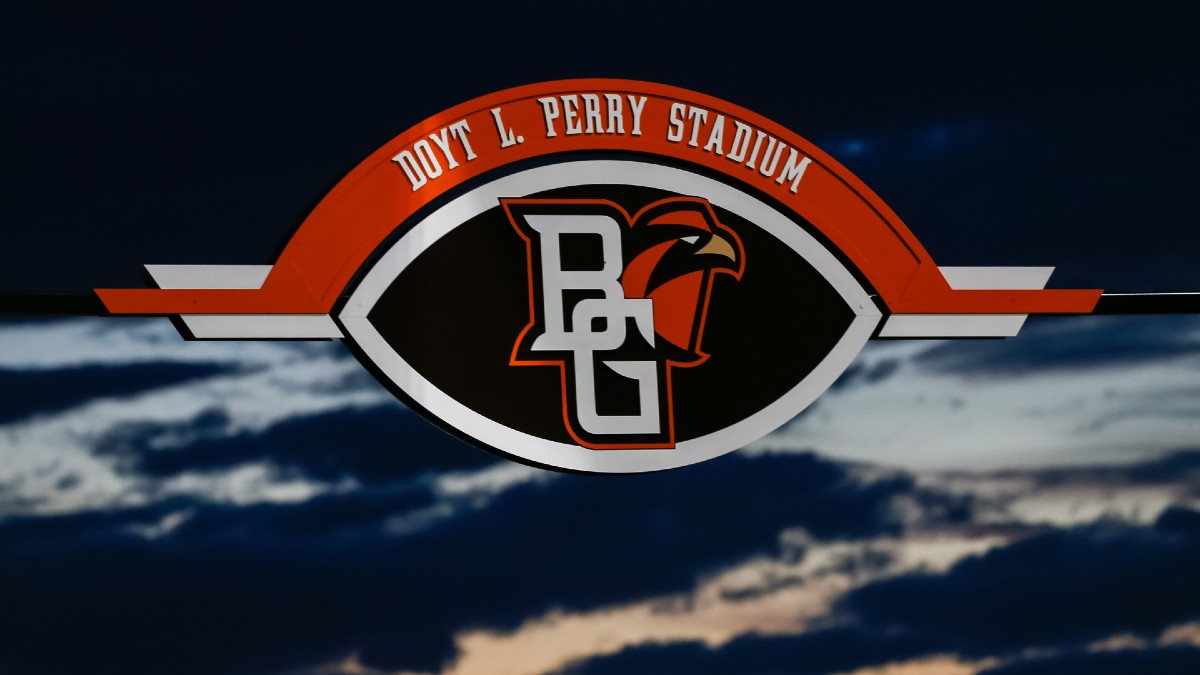 ---
Kent State vs Bowling Green Betting Pick
Kent State will continue to play "Flash Fast," but Cephas' health is paramount. A third of Schlee's targets have gone to his star wide receiver, with only one other player recording more than 23 targets on the season.
Generally, any position outside of quarterback doesn't affect the point spread. But with how the Flashes use Cephas, there's a minimum two-point swing depending on his status.
Ball State ranked top-30 in Defensive Pass Expected Points last week, and now Schlee will have to face a coverage unit that limits the explosive pass as well.
Bowling Green may also have one of the best defensive lines in the MAC, ranking 14th in Rushing Success Rate and 11th in pass rush.
Action Network's projection makes this game a pick'em with Cephas healthy.
While any underdog number for Bowling Green is actionable, the under is also worthy of attention if the Golden Flashes are missing their biggest weapon.
Pick: Bowling Green PK or Better ⋅ Under 48 or Better
---
---
Buffalo vs. Central Michigan
By Keg
Wednesday night MACtion features a Buffalo team coming off of its first conference loss of the season at the hands of Ohio. The Bulls now head to Mount Pleasant hoping to earn bowl eligibility against a well-rested Chippewas team.
Central Michigan has struggled most of the season as a result of injuries on both sides of the ball. But in their last game before the bye week, the Chippewas notched a big win over Northern Illinois.
They'll hope to roll the momentum of that 35-22 win right through the bye as they look to move to .500 in conference play.
The Chippewas defense has been one of the best in the MAC at stopping the run, but will it be enough to hold back a Bulls team trying to run their way to a bowl game?
---
With its loss last week, Buffalo moved into a three-way tie for first in the MAC East. If it wants to keep its hopes of making the conference championship alive, this game is a must-win.
The Ohio game was a rude awakening for the Bulls, who had seemed unstoppable prior to last week. As some expected, their five-game win streak was due in part to facing two backup quarterbacks and getting extremely lucky when it came to turnovers.
However, their defensive success in the red zone has had nothing to do with luck. Buffalo ranks 50th nationally in points allowed per drive and 53rd in Defensive Finishing Drives.
The Bulls haven't been great on defense overall, though, ranking 89th in yards allowed per game.
---
Despite giving up four turnovers for the second week in a row, the Chippewas overcame Northern Illinois for a big win. It was a massive step in the right direction after they lost three of their four conference games in October.
The return of star running back Lew Nichols III immediately paid dividends for the Chippewas. I think they may see even more improvement from the team as a whole after a much-needed break.
There are questions surrounding the quarterback position, and after a three-quarterback rotation against NIU last week, head coach Jim McElwain said he has no plans to change that approach.
No matter who starts under center, the Chippewas can find success against a Bulls team that ranks 112th in Defensive Passing Success Rate. However, they'll have to do so without tight end Joel Wilson, who led the team in receptions and receiving touchdowns before a season-ending injury.
The loss of Wilson, compounded with the return of Nichols, puts serious pressure on the Chippewas' offensive line.
Last week against NIU, Central Michigan didn't allow a single sack while putting up 245 yards on the ground. If the Chips can perform in a similar manner, it would go a long way toward securing their first home win of the season.
---
Buffalo vs Central Michigan Betting Pick
Central Michigan ranks as one of the best teams in the country when it comes to Defensive Havoc, coming in at 10th. Buffalo, meanwhile, isn't far off from being one of the worst at 122nd nationally.
And while the Chippewas will be met with some challenges in the passing game against a Bulls team that ranks 28th nationally in Passing Down Success Rate Allowed, I think their success on the ground can once again lead to a big win.
In the Chips' last game before the bye, Nichols' return from injury sparked the rush offense for Central Michigan, which now faces a considerably worse run defense. I think his role will be even bigger against the Bulls.
There's some concern when it comes to turnovers, as Buffalo has been one of the best in the nation with 20 takeaways on the season. On the other side, the Chippewas have given the ball up four times in each of their last two games.
With how big of an issue turnovers were prior to the bye week, I expect ball security to be one of the Chippewas' main goals.
Central Michigan opened up as a 3.5-point underdog for this matchup before quickly moving to +2.5. But as of Tuesday evening, the Chippewas have moved across a pick'em and currently sit as a 1-point favorite. Our Action Network PRO Projections nearly make Central Michigan a 4-point favorite.
I locked in the Chips at -1, and I'd take them as high as a 3-point favorite.
Pick: Central Michigan PK ⋅ Play to -3
---
---
Northern Illinois vs. Western Michigan
We have a battle of basement dwellers in Kalamazoo on Wednesday night when Northern Illinois takes on Western Michigan for some midweek MACtion.
Both teams have struggled on paper and on the field this year, with Western Michigan ranking in the bottom 20 of most advanced offensive metrics. Meanwhile, Northern Illinois sits in the bottom 20 of most advanced defensive metrics.
The spider chart on the right might be one of the most pathetic I've seen this year:
However, with terrible teams comes great gambling opportunity.
---
The Huskies come into this season as losers of four of their last five games. Their lone win came against an Eastern Michigan team that's tied for 108th in our Action Network betting power rankings.
Before Husky fans make fun of the Eagles, just remember Northern Illinois is not much better, coming in at 105th.
Let's take a look at this chart to see if we can pinpoint where their weaknesses lie:
If you guessed on defense, you would be correct. The Huskies rank in the bottom 12 of almost every metric that we have deemed a "Five Factors" metric. For those keeping score at home, that's laughably bad.
This is especially puzzling considering Northern Illinois ranked ninth in Defensive TARP entering the season.
This Huskies offense has actually performed fairly well for a team that's had its starting quarterback for only four games this season — and Rocky Lombardi played sparingly in two of those.
While NIU hasn't thrown the ball often (114th in passing plays rate), it's been fairly effective, ranking 48th in PPA/Play and 39th in Success Rate when it puts the ball in the air.
Lombardi is listed as questionable for this matchup, but I wouldn't count on him playing.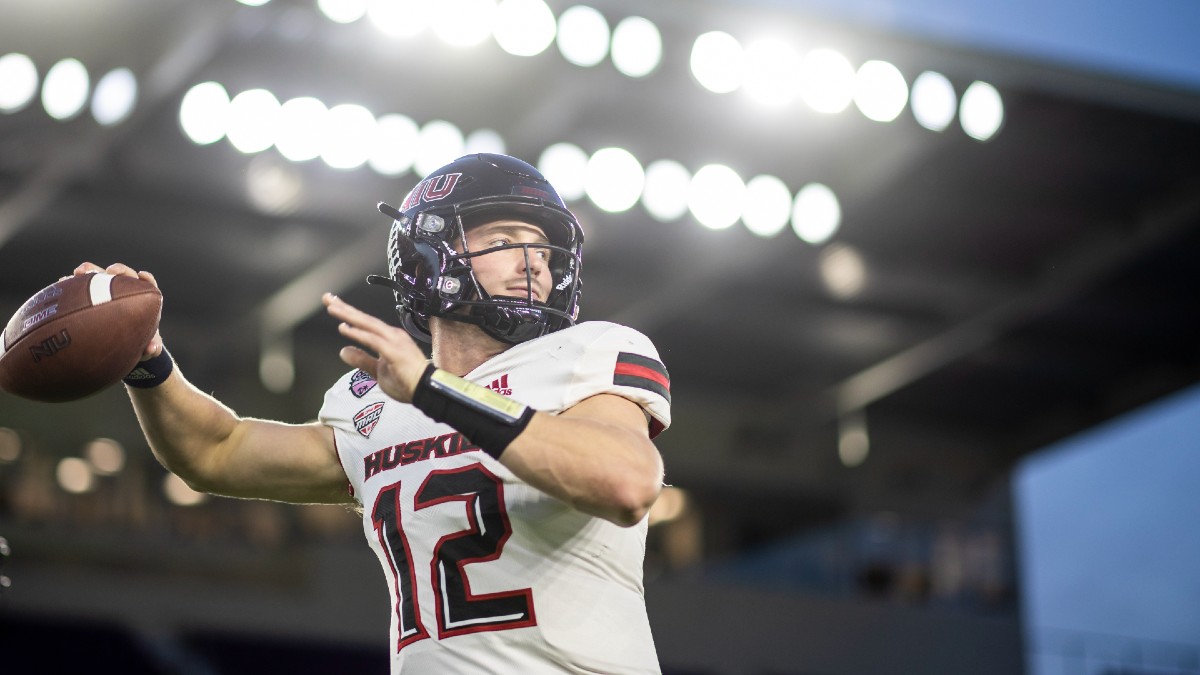 ---
The Broncos are experiencing a similarly frustrating season, just winning two of their last five games. They're actually ranked behind Northern Illinois in our power rankings at 111th.
Take a look at this chart and see where their problem lies:
Western Michigan's offense has struggled mightily up to this point.
The Broncos rank in the bottom 16 in four of the five offensive metrics that are considered part of the Five Factors. In fact, Western Michigan may be the worst team in regard to field position in the country.
To add to its struggles coming into this game, its best offensive player, wide receiver La'Darius Jefferson, has been ruled out.
This team has been an absolute grind to watch, and I don't see that changing in this matchup. The Broncos have been held to under 20 points in their last three games, including a nine-point outing against Bowling Green State — in a game they still almost won.
Their defense has constantly allowed teams to move the ball on them, but they've actually held relatively fast when the opposition crosses the 40. But due to consistent terrible field position, opposing offenses don't have to drive very far to get into field goal range.
However, holding teams to field goals has been one of the few bright spots in Kalamazoo this year.
---
Northern Illinois vs Western Michigan Betting Pick
The spread opened up with Northern Illinois as 2.5-point underdogs and has moved closer to a pick'em. However, I'm more interested in the total, which has finally settled at 49.5 after some significant movement from the open.
To be more specific, I'm more interested in the team total for Northern Illinois. Western Michigan has allowed opponents to move the ball easily all season, and I don't expect Wednesday night to be any different.
If the Huskies can score touchdowns instead of field goals, they should have a good night —especially if Lombardi plays.
Pick: Northern Illinois Team Total Over 24.5 (Play to -120)
How would you rate this article?
This site contains commercial content. We may be compensated for the links provided on this page. The content on this page is for informational purposes only. Action Network makes no representation or warranty as to the accuracy of the information given or the outcome of any game or event.