College Football Odds, Picks: 4 Bets for Tuesday's NCAAF Bowls
Credit:
John Fisher/Getty Images. Pictured: Wisconsin running back Braelon Allen.
Tuesday's college football bowl slate is a big one with four matchups on the schedule.
We have four picks for Tuesday, including bets for Wisconsin vs. Oklahoma State and Coastal Carolina vs. East Carolina.
Check out our full betting preview for each Tuesday bowl game below.
Tuesday's college football slate kicks off a stellar week of football action.
Before we get to Saturday's College Football Playoff games, we have four games taking center stage on Tuesday: Buffalo vs. Georgia Southern, Memphis vs. Utah State, Coastal Carolina vs. East Carolina and Oklahoma State vs. Wisconsin.
Our college football writers broke down all four games and shared their top betting pick for each below. Read on for all four betting previews, and be sure to check back tomorrow for even more college football best bets.
---
Tuesday's College Football Bowl Best Bets
The team logos in the table below represent each of the matchups that our college football staff is targeting from Tuesday's slate of bowl games. Click the team logos for one of the matchups below to navigate to a specific bet discussed in this article.
---
Buffalo vs. Georgia Southern
By Dan Keegan
Buffalo and Georgia Southern will play in the Camellia Bowl at noon on Tuesday from Montgomery, Alabama.
However, we'll be calling this "The Vantrease Bowl" in honor of Kyle Vantrease, the longtime Buffalo quarterback who transferred this offseason and now pilots this dynamic Georgia Southern offense.
Vantrease threw for 25 touchdowns during his time with the Bulls, a number he matched during his single regular season as signal-caller in Statesboro. He'll be looking to add to that total against his old outfit, which ranks 98th in defensive SP+ this season.
That ranking is actually significantly higher than Georgia Southern's own porous unit, so this game has all the makings of a high-scoring affair. Should you play the total, or is there a better angle to find in this game?
---
Maurice Linguist's second year at the helm in Buffalo got off to an inauspicious start, as the Bulls lost their first three contests of 2022, including a last-second defeat to FCS Holy Cross. But they righted the ship in league play, winning their next five games.
After a late-season swoon dropped their record to 5-6, they needed to beat lowly Akron in the finale — rescheduled to conference championship weekend — to earn bowl eligibility. The Bulls did so in unimpressive fashion, falling behind 16-0 and needing a late rally to beat the Zips.
The Bulls offense — which ranks 93rd in SP+ — is driven by quarterback Cole Snyder, a depth chart casualty transfer from Rutgers. Snyder started all 12 games in the regular season; he completed 59.2% of his passes for 2,765 yards, along with 17 touchdowns and eight picks.
It's hard to find an area in which the Buffalo offense excels, as it's near the bottom of FBS in most rushing metrics. In passing metrics, it's more middle of the pack. (55th in Passing Success, 77th in passing explosives).
Buffalo games are unpredictable and prone to big plays and Havoc. The Bulls offense is one of the worst in the country at preventing Havoc. On the other side of the ball, they are one of the best defenses in the country at generating Havoc.
Safety Marcus Fuqua is a star; he led the nation in interceptions with seven, which earned him third-team All-America honors from the Associated Press. Fuqua is a one-man Havoc machine.
Takeaways are critical for the Bulls defense because it's not a particularly efficient unit. In particular, it has struggled to defend the pass, ranking in the 90s in FBS preventing both explosives and successful pass rate.
---
This was supposed to be a rebuilding year for Clay Helton in Statesboro — a "Year 0" affair as he scrapped decades of triple option tradition to transition to a modern spread RPO offense.
There's even an in-state example at a Power Five school of how drawn-out and tedious that process can take. Instead, the Eagles offense was dynamic all season — it ranked 38th in SP+ — serving as the only truly good unit in this game. And they earned a bowl game in Helton's first campaign.
The offense is led by Vantrease, the longtime Buffalo starter. After five seasons with the Bulls, the Ginger General transferred to Georgia Southern and had a marvelous season, completing 61.4% of his passes for 3,901 yards along with 25 touchdowns and 15 interceptions.
Vantrease is an excellent point guard, distributing the ball to playmakers like running backs Jalen White and Gerald Green, and his quartet of dynamic receivers in Khaleb Hood, Amare Jones, Derwin Burgess and Jeremy Singleton.
Jones and Burgess were both lost for the season in November, but that didn't stop Georgia Southern from hanging 52 points on archrival Appalachian State in the finale to clinch a sixth win and a bowl berth.
In fact, the only two teams that held Georgia Southern under 20 points were Marshall and Louisiana, two excellent pass defenses that ranked in the top 10 in PFF coverage grading as a whole.
Buffalo's secondary, despite Fuqua's ballhawk skills, is not nearly at that level, ranking 93rd.
The biggest mismatch in this affair will be Georgia Southern's ability to move the ball down the field with the high-percentage pass game. The Eagles are 19th in FBS in Success Rate when passing the ball, while the Bulls are 95th in Success Rate Allowed against the pass.
Georgia Southern will need to control the ball and find the end zone frequently because its defense has had a terrible, horrible, no-good, very-bad year.
The Eagles rank 124th in defensive SP+ and are near the bottom in pretty much every split. They will also be without their best defender, cornerback Derrick Canteen, who has opted out to enter the transfer portal.
---
Buffalo vs Georgia Southern Betting Pick
Both of these squads entered November with a 5-3 record, then lost three straight and needed a close win in the finale to earn a postseason berth.
But Georgia Southern's skid was schedule related: it fell to three bowl teams (Marshall, South Alabama, Louisiana), which were coincidentally the three toughest pass defenses on the schedule. Then the Eagles won a dramatic game over archrival and preseason conference favorite App State.
Buffalo was uninspiring in November; two of its losses came against non-bowl teams in Kent State and Central Michigan. Plus, it suffered a blowout loss to Ohio. It also barely scraped by against rebuilding 2-10 Akron.
Buffalo's biggest strength is its Havoc creation on defense, where it ranks 10th in the country. Unfortunately for the Bulls, that is nullified by Georgia Southern's offense, which ranks second overall in preventing Havoc.
While Vantrease might throw an interception or two, the team does a great job otherwise protecting the ball, avoiding sacks and staying ahead of the sticks.
Georgia Southern's advantage is its efficient pass game. Buffalo has not shown much ability to prevent teams from moving the ball through the air.
I'll take Vantrease against his old squad and lay the points with Georgia Southern, which has an energized fanbase close to home. I'll take the Eagles at -4.5 and play to -6.
---
---
Memphis vs. Utah State
There may be a track meet in Dallas on Tuesday when Memphis and Utah State play in the First Responders Bowl.
Both of these teams will be extremely motivated to win this game, as the winner will be above .500 while the losers will finish below .500. This won't be a bowl game in which one team doesn't come to play.
For the Tigers, a loss would mean ending their season with a losing record for the first time since 2013. Memphis has been a power in the highly entertaining American Athletic Conference in recent years and surely does not want to relinquish that status this offseason.
Yes, it has six losses, but four of those came by one score or less. It'll be looking to cap off a frustrating season in style in Dallas with a convincing win over a gritty Aggies team.
Meanwhile, Utah State is looking to continue its streak of winning records as well, as it has finished above .500 every season since 2018 (not counting the 2020 COVID-19 season).
This season has been particularly impressive, as it lost starting quarterback Logan Bonner early on and has been rolling with Cooper Legas for the back half of the year.
Despite this setback, Utah State managed to reach bowl eligibility with 35- and 41-point performances against San Jose State and Hawaii.
Give a ton of credit to Blake Anderson and his staff for continuing to put this squad in positions to win.
---
The Tigers come into this game ranked 50th in our betting power ratings, a respectable number that coincides with their .500 record. Their against-the-spread record? Also .500.
However, they are unsurprisingly hitting the over in two-thirds of their games this season. Why is this unsurprising? Since the program's return to relevance, the offense has been the hallmark of the Tigers with quarterbacks such as Paxton Lynch and Brady White lighting up American defenses.
This year has been no different, as Seth Henigan has been putting up good numbers culminating in a 78 PFF passing grade.
This is reflected in their slightly above-average advanced metrics in Passing Success Rate (42nd) and EPA/Play (59). However, Utah State's defense ranks extremely similarly on that side of the ball, ranking 35th in Passing Success Rate Allowed and 62nd in Passing EPA/Play Allowed.
As my colleague, BJ Cunningham noted in his early bowl game bets article, Henigan excels at throwing the deep ball (85 PFF grade on passes 20+ yards in the air), which could be an area the Tigers can exploit. The Aggies rank 123rd in explosive passing allowed.
Meanwhile, on the ground, the Tigers tend to grind it out more than in recent years, ranking 38th in Success Rate but 70th in EPA/Play.
This Aggies defense is slightly below average at 75th in Rushing Success Rate Allowed, and yet, they are 90th in Rushing EPA/Play Allowed.
I think the Tigers will stick to passing the ball and try to exploit a leaky Aggies secondary.
They will also be able to score touchdowns — not field goals — as they have an extremely favorable matchup inside their opponents' 40-yard line when on offense. They rank 44th in points per opportunity, while Utah State ranks 94th in points per opportunity allowed.
---
The Aggies will be without star running back Calvin Tyler Jr. (draft opt out) as well as backup Robert Briggs (injury). This will only hinder an offense that struggles on the ground, ranking 114th in Rushing Success Rate.
The Memphis defense is stout against the run and should have no problem shutting down this anemic rushing attack without its best player. The Tigers rank 50th in Rushing Success Rate Allowed and 29th in Rush EPA/Play.
The bad news for Aggies fans is that this passing attack led by Bonner is not much better, ranking 104th in Passing Success Rate and 130th in EPA/Play.
The bright side? This Tigers defense is just as bad, ranking 95th in Passing EPA/Play Allowed and 104th in Passing Success Rate Allowed. In addition, Bonner should have plenty of time to throw, as the Tigers rank 117th in Havoc.
Despite all of this, I don't see this Aggies offense finding much success without Tyler, particularly as they struggle to score touchdowns inside the 40.
They rank 110th in points per opportunity, and while the Tigers own an awful 126th ranking in points per opportunity allowed, they were facing much better offenses in the American all year.
They shouldn't have a problem holding the Aggies to field goals.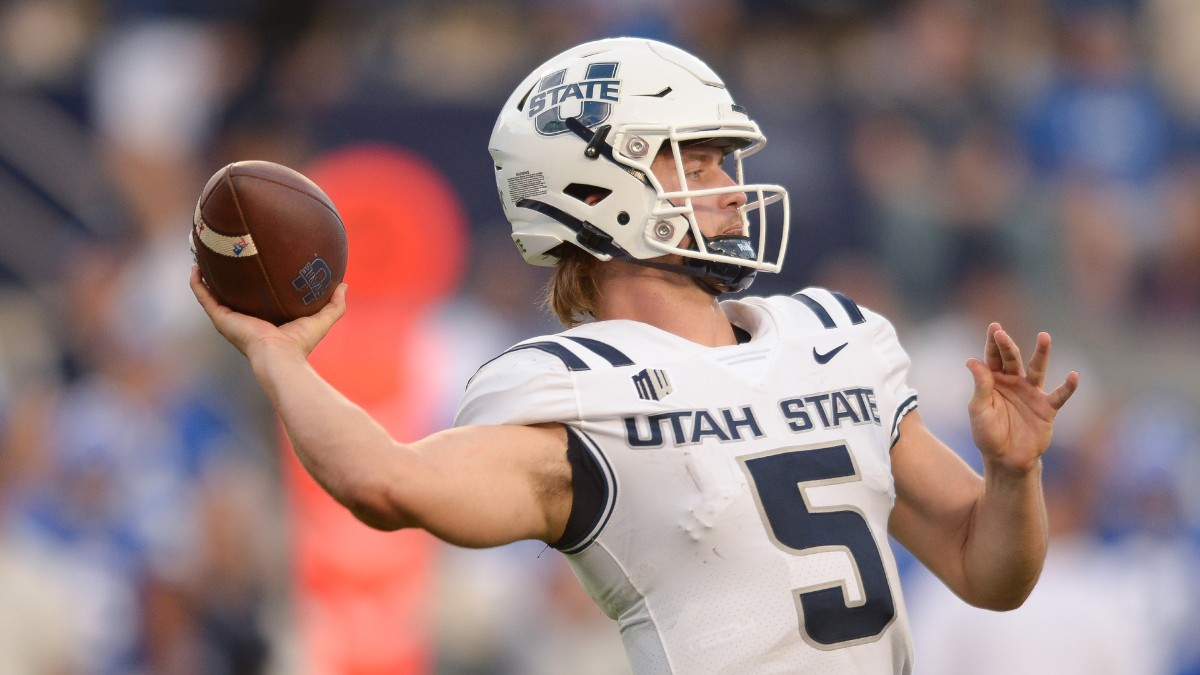 ---
Memphis vs Utah State Betting Pick
So, while it may seem like I set up this to be an easy Memphis pick, I think we have to take the market into account. Despite the majority of bets coming in on the Tigers, this number has moved from Memphis -10.5 to Memphis -7.5 since opening.
Because of this, I am admittedly hesitant to take the Tigers against the spread. Let's attack this a different way and back the Aggies to struggle offensively.
Pick: Utah State Team Total Under 26.5 (-115)
---
---
Coastal Carolina vs. East Carolina
By Stuckey
A pair of Group of Five teams from the Carolinas will meet in Birmingham, AL for the TicketSmarter Birmingham Bowl on Tuesday evening.
The matchup between Coastal Carolina and East Carolina features a pair of veteran starting quarterbacks who have set multiple program records in Grayson McCall and Holton Ahlers. That duo combined for 47 touchdowns and just seven interceptions on the season, so expect to see plenty of offensive fireworks.
So, where does the betting value lie in a game that has seen plenty of line movement on both the spread and total leading up to kickoff? Let's take a closer look.
---
Despite losing plenty of skill position talent, the Coastal offense still cooked for most of the season with a healthy McCall, who finished in the top five nationally in passing efficiency, yards per attempt and completion percentage.
He did miss some time at the end of the season with an injury before returning for the Sun Belt Championship, where he was obviously still hampered.
However, with over three weeks passing since that contest, I'd expect McCall — the only player to ever win Sun Belt Conference Player of the Year three times — to be at close to full strength after committing to play in this game despite entering the transfer portal.
Stud center Willie Lampkin will do the same and suit up on Tuesday night.
I can't say the same for a defense that really struggled throughout the entire season. The Chants will not have the following players available in Birmingham:
CB Lance Boykin (NFL Draft)
CB D'Jordan Strong (NFL Draft)
DE Josaiah Stewart (portal)
CB Manny Stokes Jr. (portal)
That means the Chants will have to make do without their top pass rusher and top two cornerbacks on a defense that finished outside the top 100 in EPA per Pass. That's not great for a unit I already had ranked 101st in the country after adjusting for opponent.
Its pass rush was clearly the strength, but losing Stewart — who set the program record for sacks in 2021 — really hurts in that department.
It's also worth noting Coastal Carolina will be without head coach Jamey Chadwell, who took the same position at Liberty. However, McCall knows the offense very well and highly-respected offensive coordinator Willy Korn is still there, so I don't think it's a very meaningful loss for this one game.
---
ECU profiled very similar to Coastal Carolina with a veteran quarterback in Ahlers, who has been a starting quarterback in Greenville for five seasons. He leads an electric offense that can beat opponents in multiple ways.
Star running back Keaton Mitchell rushed for over 1,300 yards with a gaudy 7.4 yards per attempt average. Only Michigan's Donovan Edwards averaged more (7.5) among RBs with at least 100 carries.
Meanwhile, Ahlers, who finished the regular season with 23 touchdowns to just five interceptions, has a plethora of weapons to work with on the outside, led by Isaiah Winstead and CJ Johnson. That duo combined for over 140 catches and 1,900 yards on the season.
The Pirates offense, which I have ranked as a top-40 unit nationally at full strength, will be missing a pair of primary contributors.
Former Oklahoma transfer Ryan Jones will skip the bowl to focus on the NFL Draft. The tight end will be sorely missed in the red zone in particular.
Another Jones in center Avery Jones will also not play in the Birmingham Bowl after transferring to Illinois.
As a result, Hampton Ergle will make his first career start after logging only nine snaps this season. He does have elite size at 6-foot-7 and 305 pounds but has to fill the big shoes of Jones — a three-year starter who only allowed one sack this season. He may have his hands full at times against Coastal nose tackle Jerrod Clark.
On the other side of the ball, the ECU defense excelled against the run all season but really struggled against the pass, where it also ranked outside the top-100 in EPA per Pass and bottom-10 nationally in Pass Success Rate.
It's also a unit that fell apart toward the end of the regular season, allowing both Temple and Houston to reach at least 42 points in their final two contests.
It doesn't help that it struggles to generate a pass rush, ranking 98th in Sack Rate.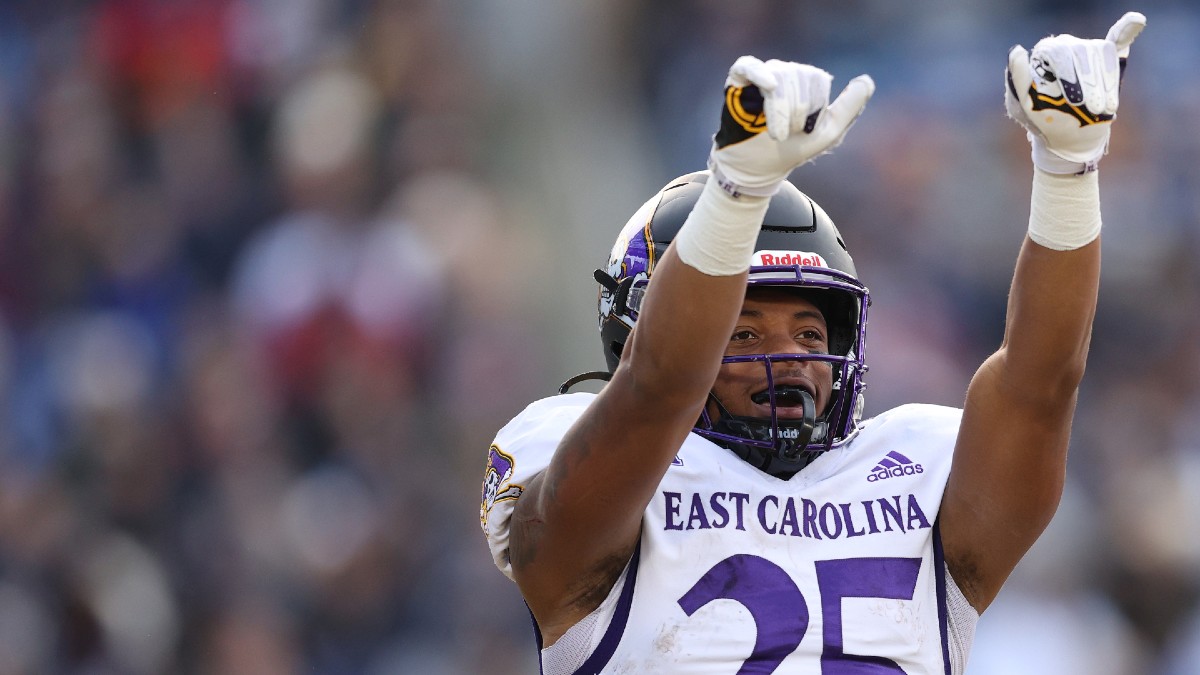 ---
Coastal Carolina vs East Carolina Betting Pick
These are two eerily similar teams when you compare them statistically. They even both have extremely poor special teams units.
Assuming McCall is at full strength, I don't see ECU getting many stops when he drops back to pass. The Pirates may also really struggle on third downs, which is where McCall makes his living. On the season, ECU finished outside the top 100 on third downs, primarily due to its poor pass defense.
And when ECU has the ball, Ahlers should enjoy the same success against a very poor pass defense that will be down two starting cornerbacks and its top pass rusher.
That's bad news when you consider those were by far their most productive players on that side of the ball. The safeties and linebackers are just so bad for Coastal, so the Pirates should exploit this unit with ease.
The pace is a bit of a concern since this isn't a matchup of speed racers, but I do still believe both offenses will get into the 30s here.
I bet over 58 earlier this month, which has obviously taken money since. I'd still play it at 64.5 but wouldn't go above 65.
---
---
Oklahoma State vs. Wisconsin
Tuesday's bowl slate will conclude in Phoenix, Arizona, as the Wisconsin Badgers take on the Oklahoma State Cowboys in the Guaranteed Rate Bowl. Both teams are looking to add a positive conclusion to disappointing seasons.
Wisconsin ended the year by losing two of its final three games to finish the season at a level 6-6. Similarly, Oklahoma State lost its final two contests to finish at a disappointing 7-5.
This is a matchup that will be defined by motivation. Both Wisconsin and Oklahoma State have taken major hits in the transfer portal and will look different on Tuesday as a result.
Whichever team and coaching staff can motivate their locker rooms to finish strong will have the upper hand in the Guaranteed Rate Bowl.
---
The Cowboys come into Tuesday dealing with major uncertainty at the quarterback position. Spencer Sanders, who was a multi-year starter, decided in early December to enter the transfer portal.
This leaves a huge hole for an Oklahoma State offense that relied heavily on its passing attack. The Cowboys ranked outside the top 100 in rush rate, running the ball on just 47.7% of offensive snaps.
Relying more on the running game will not be the answer, as the Cowboys' front seven has struggled to generate push all season (104th in Rushing Success Rate), and will be without running back Dominic Richardson (543 yards), who also decided to enter the portal.
The departure of Sanders will likely make way for freshman QB Garret Rangel, who appeared in three games this year for the Cowboys. Rangel's best performance came on Nov. 5 against Kansas when he threw for 304 yards. Unfortunately for the Pokes, Rangel added three interceptions that contributed to a 37-16 loss.
Given Oklahoma State's shortcomings on the ground, it's likely that Rangel will be used at a high rate against a Wisconsin defense that allowed just a 27% Success Rate to opposing passing games this season.
On the other side of the ball, there are just as many concerns, as the Cowboys will be without leading tackler Mason Cobb who also entered the portal. Cobb contributed to 96 tackles (58 solo) this season and will be a huge loss for a Cowboys defense that struggled with tackling all year (119th nationally).
---
The Badgers bring the third-longest bowl streak into Tuesday night, winning seven of their last eight postseason games.
New head coach Luke Fickell will be on the sidelines but has deferred much of the coaching decisions to interim head coach Jim Leonhard.
The Badgers have been affected by the transfer portal in a very similar way to Oklahoma State. Most notable is the departure of QB Graham Mertz, who, like Sanders, has decided to use his last year of eligibility elsewhere.
Although this will be a loss for the Badgers, it will not be as significant as the loss of Sanders is for the Cowboys.
Wisconsin relied on its running game and defense to find success this season. Although this play style led to only six wins, it gives the Badgers a much better foundation to deal with the departure of their signal-caller.
The Badgers, who ran the ball at the 18th highest rate in the country (60.2%), will be led by star sophomore RB Braelon Allen.
Allen's participation in the bowl game gives the Badgers a huge leg up against an Oklahoma State offense that will struggle with finding a playmaker.
On the defensive side of the ball, Wisconsin will be without star linebacker Nick Herbig, who has entered the 2023 NFL Draft. Herbig started 30 games for the Badgers and racked up 137 tackles.
Although this loss will be significant, the Badgers will have a next-man-up mentality led by redshirt freshman OLB Darryl Peterson and redshirt sophomore OLB Kaden Johnson.
---
Oklahoma State vs Wisconsin Betting Pick
This is a difficult matchup to handicap, as both teams have reasons to lack the motivation needed to come out victorious.
Ultimately, Wisconsin will have more key pieces available against an Oklahoma State team that has lost its most valuable asset in Sanders. The Badgers will rely on Allen in the running game and on a defense that has had depth all season to outpace the Cowboys.
Look for Wisconsin's two-deep to come out strong in what will be its first opportunity to play in front of Fickell.
---
How would you rate this article?
This site contains commercial content. We may be compensated for the links provided on this page. The content on this page is for informational purposes only. Action Network makes no representation or warranty as to the accuracy of the information given or the outcome of any game or event.