Best 2019 NFL Offensive, Defensive Rookie of the Year Picks Based on Historical Trends
Credit:
USA Today Sports. Pictured: Josh Jacobs, Devin White
Ian Hartitz identifies value picks for the 2019 NFL Offensive and Defensive Rookie of the Year awards based on past winners.
Books have already posted odds for 2019 NFL Offensive Rookie of the Year, but who should the early favorites be based on historical trends?
I took a look at winners for both ROY awards since 2000 to try to answer that. Let's start with OROY.
Note: This is based on the Associated Press Offensive and Defensive Rookie of the Year awards.
Offensive Rookie of the Year Winners Since 2000
Mike Anderson (Round 6), Dak Prescott (Round 4) and Alvin Kamara (Round 3) are the only winners of either ROY awards since 2000 who were drafted outside of the top two rounds.
Here's the positional makeup of award winners since 2000: Nine running backs, seven quarterbacks and three wide receivers.
Five of the seven quarterbacks to win OROY earned their team's starting job by Week 1.
Running backs drafted outside the first round have won more ROY awards (5) than quarterbacks (1) or receivers (1) beyond Day 1.
The Shanahan family, along with Prescott and Kamara, have bucked the first-round trend over the past two decades. But generally, OROYs have been selected within the first 32 picks of their drafts.
2019 Offensive Rookie of the Year Odds
Here are the 11 rookies with 20-1 odds or shorter as of writing (via DraftKings):
Kyler Murray, QB, Arizona Cardinals: 9-4
Dwayne Haskins, QB, Washington Redskins: 6-1
Josh Jacobs, RB, Oakland Raiders: 6-1
Miles Sanders, RB, Philadelphia Eagles: 10-1
N'Keal Harry, WR, New England Patriots: 14-1
David Montgomery, RB,  Chicago Bears: 14-1
T.J. Hockenson, TE, Detroit Lions: 16-1
Noah Fant, TE, Denver Broncos: 18-1
Marquise Brown, WR, Baltimore Ravens: 20-1
Parris Campbell, WR, Indianapolis Colts: 20-1
Mecole Hardman, WR, Kansas City Chiefs: 20-1
I agree with our resident "prop prophet" Mathew Freedman's ROY breakdown in which he identified value behind both Murray and Jacobs, as well as Sanders, Hardman and Cardinals wide receiver Andy Isabella.
The only other player I would add is Haskins, who has the potential to start Week 1 for a Washington team that sat atop the NFC East in 2018 before pretty much its entire offensive line got hurt. Washington doesn't offer anything resembling an exciting receiving room, but we've seen similarly immobile game-managing rookie quarterbacks like Ben Roethlisberger, Matt Ryan and Sam Bradford capture the award in past seasons.
---
Defensive Rookie of the Year Winners Since 2000
Former second-round linebackers DeMeco Ryans, Kendrell Bell and Darius Leonard are the only players drafted outside the first round to win since 2000.
Leonard was player not drafted in the first round to win since 2006.
Linebackers have won 12 of the 19 (63%) awards since 2000. Cornerbacks (2) and defensive tackles (2) barely trail defensive ends (3).
2019 Defensive Rookie of the Year Odds
Here are nine players with the best odds to win DROY as of writing (via DraftKings):
Nick Bosa, DE, San Francisco 49ers: 7-1
Devin White, LB, Tampa Bay Buccaneers: 7-1
Devin Bush, LB, Pittsburgh Steelers: 8-1
Quinnen Williams, DT, New York Jets: 9-1
Josh Allen, DE, Jacksonville Jaguars: 9-1
Ed Oliver, DT, Buffalo Bills: 12-1
Brian Burns, DE, Carolina Panthers: 14-1
Montez Sweat, LB, Washington Redskins: 14-1
Clelin Ferrell, DE, Oakland Raiders: 16-1
The immediate value appears to be on White and Bush, who are each the type of rangy sideline-to-sideline linebackers who can rack up stats in a hurry.
White in particular is a freak of nature and is fully deserving of co-favorite honors with Bosa.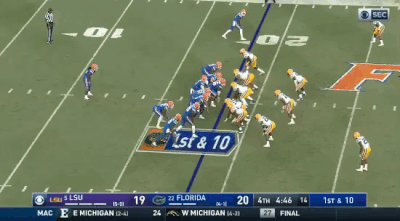 Montez Sweat is more of an edge rusher than linebacker, but he boasts solid odds regardless considering his draft-day fall was largely due to a misdiagnosis at the combine.
Ferrell wasn't nearly as productive as a pass rusher in 2018 compared to the other five defensive linemen, but his odds still seem awfully high for someone who is expected to start Week 1 after being drafted fourth overall.
And finally, it's tough to get behind Allen's value as long as Calais Campbell and Yannick Ngakoue are starting in Jacksonville. Bosa and Williams are both certainly capable of winning, although there doesn't seem to be much value to be had at their current lines.