2020 NFL Draft Prop Sheet: Make Your First-Round Pick Guesses With Our Printable Contest
Looking to test your NFL Draft knowledge? Play along with our printable prop sheet.
We've listed 10 questions, ranging from player draft positions to LSU vs. Alabama players in the first round.
Are you ready for the 2020 NFL Draft?
Whether you're hosting a virtual watch party or fully leaning into self isolation with a party of one, we've got the perfect complement to your Round 1 festivities: A prop game! You can print this 10-question sheet to make your predictions for Thursday night's first round (8 p.m. ET on ABC/ESPN/NFL Network), then play along as the first 32 picks unfold to grade how you did.
We'll update this post with the results, so if you're in need of a third party to grade how you did, check back after Day 1.
[Easy Money! Get 2-1 Odds on Joe Burrow to Go No. 1 … (Yes, We're Serious)]
2020 NFL Draft Prop Sheet
Click here or on the image below to download and print our prop sheet.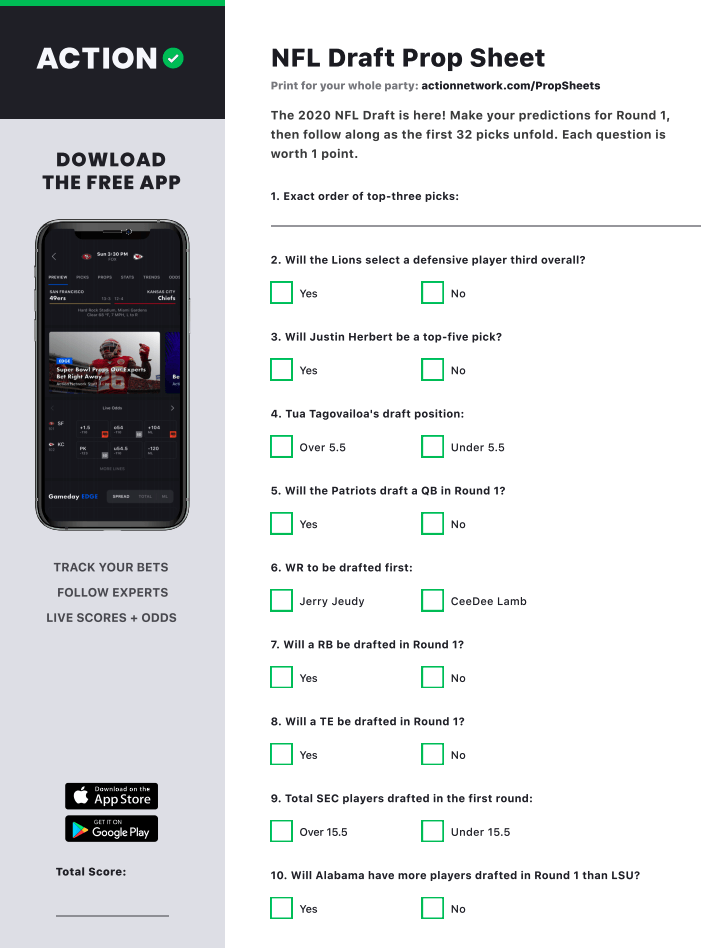 NFL Draft Prop Sheet Questions
We will update the following props with their results after Round 1 of the draft (i.e. late Thursday night).
Exact order of top-three picks
Will the Lions select a defensive player third overall?

Will Justin Herbert be a top-five pick?

Tua Tagovailoa's draft position: Over/Under 5.5

Will the Patriots draft a QB in Round 1?

WR to be drafted first: Jerry Jeudy or CeeDee Lamb

Will a RB be drafted in Round 1?

Will a TE be drafted in Round 1?

Total SEC players drafted in the first round: Over/Under 15.5

Will Alabama have more players drafted in Round 1 than LSU?
Where to Bet on NFL Draft Props
If you're looking for action on Thursday night, we've compiled this primer that outlines where and how to bet on draft props. It includes which sportsbooks are offering the widest variety of lines, as well as which have the best overall prices.
If you're only interested in how the betting markets are projecting the first round to unfold, we also compiled a selection of prop odds from FanDuel.
How would you rate this article?