Scouting Every AAF Offense Entering Week 2: Trent Richardson is THE Running Back
Credit:
Courtesy of The Alliance of American Football's official Twitter account. Pictured: Trent Richardson (33).
The first week of AAF games gave fans a window into the strengths and limitations of offenses around the league.
Ian Hartitz dives deep into the Week 1 performances to find out which teams have potential throughout the season.
Week 1 of the newly-formed Alliance of American Football league (AAF) worked out just about as well as anyone could've hoped. Ratings were great, fading Christian Hackenberg went swimmingly and viewers were gifted to a new fast-paced brand of football that delivered plenty of exciting moments.
The under cashed in three-of-four games, as poor quarterback play generally outweighed new defensive rules that handcuff the creativity of blitz packages.
Home-field advantage also appeared to be a key factor with each of Arizona, Birmingham, Orlando and San Antonio both winning AND covering while defending their respective home turf.
You can view overall, passing and rushing stats for each Week 1 matchup in the below table.
What follows are my key notes for each team after re-watching all four games and pouring over the box scores.
This is an effort to best capture the best-and-worst performers, as well as to identify depth charts and figure out which teams possess schematic advantages. Thanks to NoExtraPoints.com and Pro Football Focus for their AAF stats.
Arizona Hotshots
John Wolford is the Latest QB to Beat Out Trevor Knight
The former-Wake Forest quarterback was tabbed as the Hotshots' starter just days before their season-opening victory over Salt Lake. Wolford was nothing short of magnificent (by AAF standards), as he set position-high marks in numerous categories while leading the offense to 38 points.
The 23-year old's poise in running Arizona's no-huddle offense especially stood out. They consistently kept Salt Lake off balance with a steady diet of pre-snap motion, tempo and RPOs.
It's only a one-week sample, but Wolford and head coach Rick Neuheisel are the early leaders for QB1 and HC1 of the AAF.
Jhurell Pressley Owns the Arizona Backfield
The Hotshots starting running back incredibly had 18 carries and the position's only target during his 20 snaps in Week 1. Backups Larry Rose and Justin Stockton were also involved and combined for 16 snaps and 13 carries, but Pressley displayed the most-consistent excellence on the ground with 64 hard-earned yards.
Even more encouraging for Pressley's fantasy stock was his ability to thrive as a receiver. It wouldn't be surprising to see Arizona look to get their playmaker additional snaps from the slot in future weeks.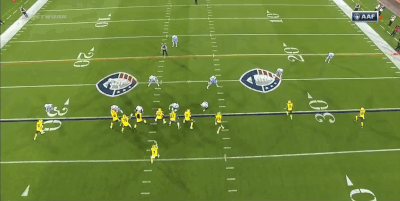 Rashad Ross has an Early Case as the AAF's Best Receiver
Ross was the only wide receiver in Week 1 to crack 20 fantasy points. Overall, he caught 5-of-7 targets for 103 yards and a pair of scores. Ross' first touchdown came on a deep ball down the field, but his second came on a four-yard fade — indicating he possesses a fantasy-friendly role as both a field-stretcher and red-zone weapon.
Both Richard Mullaney (six targets) and Josh Huff (five) were plenty involved as well and offer bounce-back appeal in Week 2 against Memphis.
Atlanta Legends
The Clock has Struck Midnight on Matt Simms' Fairy-Tale Story
A nightmare is probably a better comparison for Simm's football career. Last Saturday's matchup against Orlando certainly didn't go as planned, as Simms completed just 15-of-28 passes (54%) for 126 yards (4.5 Y/A) and threw a pair of interceptions.
Former-Georgia quarterback Aaron Murray played a little better in relief. It would make sense if he's the starter in the near future, but expectations for this team should be close to zero considering both their head coach and offensive coordinator have left the team within the last five weeks.
Tarean Folston Looks like the Guy in the Legends Backfield
Folston finished Week 1 with more snaps (36), carries (12) and targets (four) than backups Denard Robinson and Lawrence Pittman combined. Still, Folston finished with just 45-scoreless yards on his 15 touches, displaying the type of wiggle and burst we should probably expect from a 21st-percentile SPARQ-x athlete.
Avoid this Passing Game Until Further Notice
Only Memphis had a more disheartening performance through the air than Atlanta. Seantavius Jones (eight targets) and Malachi Jones (seven) were clearly the top-two options, but Seantavius finished with an underwhelming 3-43-0 line, and Malachi didn't even catch a pass.
Birmingham Iron
All Luis Perez Does is Make Plays
The 2017 D-2 National Champion and player-of-the-year continued to ball out in the AAF, as Perez posted top-three marks in yards per attempt (7.6) and completion rate (58%) during the Iron's dominant 26-0 victory over Memphis.
A league-high five drops plagued what could've otherwise been an even bigger day. Regardless, Perez's willingness to hang in the pocket and take chances down the field are two traits that appear to be lacking in the AAF.
The Birmingham offense embraced play-action shots down the field in Week 1 and could look to do so again Salt Lake's leaky secondary in Week 2.
It's 2019 and Trent Richardson is a Workhorse Again
Last week I said that if Richardson is ever going to regain his elite collegiate form, it might as well be on a team from Alabama. Richardson's average of 2.5 yards per carry was more of a reminder of his days with the Browns than his time with the Crimson Tide, but he still managed 58-tough yards and found the end zone twice.
Most importantly, Birmingham appears willing to feed the former beast all the touches he can handle. No other running back had as many combined carries and receptions as Richardson in Week 1.
Note backup running back Ladarius Perkins did play over Richardson in two-minute situations and wound up catching 6-of-8 targets for 36 yards to complement his five carries for 13 yards on the ground.
Quinton Patton is Locked in as a WR1
Patton's nine targets last week were the second most in the league. The former-49ers receiver uncharacteristically dropped three balls, but still finished with four receptions for 107-scoreless yards.
None of the Iron's other receivers demonstrated much upside with the exception of Amba Etta-Tawo, who saw six targets and appears to be the offense's No. 2 wide receiver.
Memphis Express
Just Go Home Christian Hackenberg
It turns out that a team coached by Mike Singletary wasn't able to get the best out of Hackenberg. Who would've thought.
Things were pretty much miserable from the get-go, as Hackenberg didn't even give the offense a chance for success in the first half.
Overall, the often-criticized quarterback completed just 10-of-23 passes (44%) for 87-scoreless yards (3.8 Y/A). Backup signal caller Brandon Silvers also managed to throw an interception in four attempts during mop-up time.
The Express' second-half "adjustment" was to start running an alarming amount of wildcat. My money won't be on their prehistoric offense scoring enough points to keep up with Arizona in Week 2.
Welcome Back, Zac Stacy!
The ex-Rams running back converted his 12 carries into 58-scoreless yards (4.8 YPC), although he didn't see a target. The likes of Terrence Magee (five carries), Anthony Manzo-Lewis (four) and Rajion Neal (three) were also involved, but there might be enough touches to go around during the right matchup in this run-first offense.
For the Love of God Avoid This Passing Game
The Express posted week-worst marks in yards per attempt (4.0) completion rate (48.1%) and total yards (109). Unsurprisingly, their dire situation under center didn't produce any standouts at receiver, as nobody managed to catch even five passes or clear 35 yards.
Alton "Pig" Howard (six targets) and alleged No. 1 receiver Fabian Guerra (four) seem like the best bets to get going if the Express can eventually figure out their passing game.
Orlando Apollos
Take a Bow, Garrett Gilbert!
The ol' ball coach still has a few tricks up his sleeve! Steve Spurrier and company routed Atlanta and scored a league-high 40 points thanks in large part to Gilbert's efficient excellence (9.1 Y/A and 2 TDs with 0 INT). The former Texas and SMU signal caller even got involved as a receiver shortly before halftime.
Gilbert marched down the field with a seemingly-endless supply of crossing routes, but he also demonstrated the ability to beat secondaries down the field with touchdown passes of 26 and 33 yards.
Orlando Has Three Solid Running Backs
Each of the Apollos backs seem capable of thriving with a three-down role in this potentially high-scoring offense. Still, they also each seemed to display fairly distinct roles in Week 1.
Akeem Hunt started and gained a league-high 73 yards on just 10 carries. Hunt is the best bet for consistent fantasy success since he tentatively appears to be the pass-down back, although he didn't catch any of his five targets.
De'Veon Smith possesses the most size of the group at 5-foot-11 and 223-pounds. He worked as the short-yardage back and scored a one-yard touchdown.
D'Ernest Johnson converted five carries into 35-scoreless yards as a rusher before catching his only target for a 33-yard score while lined up as a receiver.
Jalin Marshall and Charles Johnson Ain't Nothing to F*ck With
Both of the Apollos' former-NFL'ers at receiver managed to make their presence felt, as Johnson converted a team-high six targets into four catches for 60 yards, while Marshall caught 3-of-5 targets for 51 yards and a score to go along with his aforementioned touchdown pass.
Both receivers were heavily used on crossing patterns as well as deep shots down the field. They could continue to be high-impact fantasy players if Spurrier continues to show off his renewed offensive wizardry.
Salt Lake Stallions
Terrible News Fam: Josh Woodrum is Hurt
Woodrum had the most preseason success of any AAF quarterback and managed to lead the offense to 16 first half points. Alas, the dual-threat signal caller hurt his hamstring just before halftime and was unable to play during the game's final 30 minutes.
It's unclear how serious the injury is, but Woodrum is certainly expected to have limited mobility entering their Week 2 matchup at Birmingham. That's if he's ultimately able to suit up.
Backup quarterback Matt Linehan averaged just 4.3 yards per attempt with a 54% completion in relief.
The Salt Lake Backfield Looks A Lot Like a Committee
The Salt Lake offense in general didn't seem to have much of an identity, although their 22 points were still the fourth-highest total of Week 1. The backfield appears to be headed towards a three-back rotation featuring …
Joel Bouagnon, who worked as the lead early-down back with a team-high 16 carries … but he gained a brutal 39 yards (2.4 YPC) and wasn't targeted.
Branden Oliver, who was the most-efficient back of the group with 40 yards on just eight carries (5 YPC). He worked on all three downs and had three targets.
Matt Asiata, who somehow totaled just four combined yards on four carries and three targets. Still, he was the goal-line back and scored a short touchdown.
Every starting guard and tackle on the offensive line is at least 6-foot-4 and weighs 315-plus pounds, but a potential season-long committee could make this a tough situation to take advantage of in fantasy.
February Might Not be Kenny Bell SZN
The former stud Nebraska wide receiver played a team-high 61 snaps and was believed to be the offense's No. 1 receiver, but Bell ultimately failed to catch any of his three targets.
Tight end Anthony Denham converted a team-high seven targets into 59-scoreless yards, but did appear to be hurt later in the game. The entire pass game offers limited upside with an uncertain pecking order and banged-up situation under center.
San Diego Fleet
Mike Martz is Already Down to His No. 3 Quarterback
The Fleet drafted Josh Johnson first overall in the AAF quarterback draft, but he opted to stick to the NFL after his successful late-season stint with the Redskins.
Mike Bercovici drew the start last week and made several throws that were only possible because of his elite arm strength. Still, Bercovici was under constant duress and struggled to make good decisions on his way to throwing two interceptions and taking five first-half sacks. This isn't a massive surprise considering he posted a brutal 1:7 touchdown-to-interception ratio in seven preseason games from 2016-2017.
Backup Philip Nelson will draw the start in Week 2 and seems to offer a bit more mobility than Bercovici. Regardless, both offer low floors in Martz's two-back heavy offense that doesn't seem to prioritize early-down passes or protecting the quarterback.
Mike Martz Also isn't Here to Run the Football
The Fleet managed to average a week-high 6.2 yards per carry, but their 16 total rushes were easily the fewest in the league. San Diego appears to be more than willing to embrace a pass-heavy philosophy.
San Diego (69% pass play rate)
Atlanta (59%)
Salt Lake (55%)
San Antonio (52%)
Orlando (52%)
Memphis (51%)
Birmingham (49%)
Arizona (43%)
The ability to establish a lead could've obviously influenced Martz's decision to abandon the run, so this large discrepancy will be something to monitor in future weeks.
The San Diego Passing "Attack" is a Work in Progress
Potential No. 1 wide receiver Francis Owusu was one of my favorite preseason picks as a potential AAF sleeper, but each of Owusu (seven targets), Brian Brown (seven) and tight end Gavin Escobar (six) were also plenty involved.
Owusu is as physically gifted as they come, but the majority of his targets were surprisingly close to the line of scrimmage. Each of Escobar (66 yards) and Brown (66) easily surpassed Owusu (12) when it came to production.
San Antonio Commanders
Logan Woodside Has the Look of a Decent Quarterback
Woodside managed to beat out Dustin Vaughan for the starting job under center and finished Week 1 with a respectable 225 yards while averaging 7.1 yards per attempt. His two interceptions and mediocre 50% completion rate weren't positives, but he did have a touchdown dropped and dealt with some miscommunication.
The Commanders' pass-first approach on offense during a game in which they led from start to finish bodes well for Woodside's fantasy upside down the road. Week 1's performance wasn't overly promising, but San Antonio does appear to have the makings of an explosive group of skill position players that could enhance Woodside's ceiling.
Aaron Green is the Best Back in San Antonio
The Commanders utilized a three-back committee featuring starter Kenneth Farrow (14 carries, zero targets), David Cobb (nine carries, three targets) and Aaron Green (six carries, one target).
Each player could struggle to maintain week-to-week relevance if their work continues to be split so evenly. The latter back was the least-utilized member of the committee, although Green showed off his 96th-percentile agility score (PlayerProfiler) on his way to averaging a team-high 7.2 yards per carry.
Buy These San Antonio Wide Receivers in Fantasy
Mekale McKay (12 targets) was the only player to reach double-digit targets last week, and he managed to catch five of them for 80-scoreless yards. Greg Ward Jr. (nine targets) and Alonzo Moore (five targets) filled out 3-WR sets, with the latter receiver racking up 78 yards while working as the offense's field-stretcher.
The most-interesting receiver on the Commanders is Ward, who played quarterback at Houston before failing to catch on in the NFL. Ward caught 5-of-9 targets for 65-scoreless yards, but also had a rush attempt, threw a pass and was the punt returner.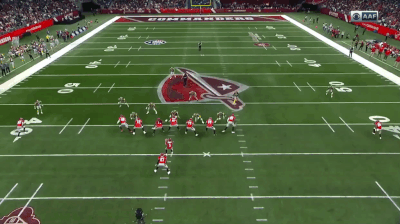 Ward is an example of what the AAF likely imagined in their quest to give talented players the chance to show their skills off in a manner that might not be as readily available in other leagues.
---
Enjoy Week 2 of the AAF! Check back later in the week for our AAF rankings, my Ultimate AAF Betting Guide, as well as a preview of the week's daily fantasy AAF slate.
How would you rate this article?