The Ultimate Week 1 AAF Betting Guide: Whatever You Do, Fade Christian Hackenberg
Credit:
Brian Spurlock-USA TODAY Sports. Pictured: Quarterback Christian Hackenberg.
The first week of AAF is set to begin this weekend and the Arizona Hotshots (+250) have the best odds to win it all.
Here we break down down the season storylines and four Week 1 matchups.
Just when you thought it was time to pretend to enjoy basketball for the next three months: We have more football!
The Alliance of American Football league gets started this Saturday night on CBS to kick off a 10 week regular season featuring eight teams that resemble throwback Backyard Sports create-a-team options:
Arizona Hotshots
Atlanta Legends
Birmingham Iron
Memphis Express
Orlando Apollos
Salt Lake Stallions
San Antonio Commanders
San Diego Fleet
The league features a number of new rules that seem to be designed around increasing the pace of play and eliminating kicking:
Extra point kicks are gone, so every touchdown will be followed by a two-point conversion.
Kickoffs are also gone. Instead, teams will start with the ball at their own 25-yard line.
Onside kicks will be replaced by the option to attempt a fourth-and-10 at the team's own 35-yard line.
The play clock will be 30 seconds compared to the NFL's usual 40-second clock. The are also no television timeouts and reportedly 60% fewer commercials.
The idea that these modified rules could lead to more offense looks good so far, as the league's four preseason games produced at least 44 points in every contest with an average of 51 points.
The Arizona Hotshots are the opening favorites in the AAF's inaugural season.
Odds via Westgate
---
It's going to take more than a few weeks of action before we have any meaningful amount of statistics for this brand-new league, but that doesn't mean there isn't an edge to be found.
Preseason
Preseason stats are largely useless, and I'm guessing that point is especially true in a one-game sample for expansion leagues. Still, it's quite literally the only statistical information we have about each team to this point. Also, some of the efficiency and run/pass volume numbers could be helpful to begin to figure out the offensive identities around the league.
(All preseason stats are courtesy of noextrapoints.com.)
Offense
Arizona, San Antonio and Orlando engineered the highest-scoring offenses of the week, but San Diego's passing game stole the show as the week's most-productive unit. Their efficiency was also solid with the obvious exception of three interceptions.
Orlando's minimal volume in a 31-point effort can be explained by an interception return for a touchdown along with two scoring drives that consisted of four or fewer plays.
Atlanta (+500) is the only losing team with better than +1000 odds to win the title. They joined Arizona and San Diego among the week's top-three most-efficient overall offenses in terms of yards per play.
Memphis' commitment to the run despite both poor efficiency and pass-friendly game flow will be something to watch in upcoming weeks.
Salt Lake and Arizona easily boasted the top-two most-productive rushing attacks. San Antonio was the only other team to score multiple touchdowns on the ground.
Weather isn't expected to be too much of a factor with such a southern-focused league, but San Antonio will be the only team with an indoor stadium and will play their home games at the Alamodome.
---
>> Sign up for The Action Network's daily newsletter to get the smartest conversation delivered into your inbox each morning.
---
Power Rankings and Team Notes
Depth charts are anything but certain entering Week 1. Still, we can learn a lot about each respective team based by focusing on their coaching staff and quarterback.
Below are my subjective preseason power rankings that are heavily weighted by each coaching staff's track record of somewhat-recent success along with quarterback play:
1. Salt Lake Stallions
The Stallions will turn to longtime coach Dennis Erickson as their leader. Erickson has local ties after serving as the Utah running backs, offensive coordinator and assistant head coach from 2013-2016.
Erickson managed to lead top-40 scoring offenses in three of his five seasons as Arizona State's head coach from 2007-2011, although none of his teams at Utah managed to crack even the top-50 units.
Offensive coordinator Tim Lappano bounced around the NFL as an offensive assistant for skill position players for about a decade, but most-recently worked as the wide receiver coach at George State from 2014-2016.
Defensive coordinator Donnie Henderson most recently worked as the Bills defensive backs coach from 2013-2016.
Josh Woodrum possesses surprising athleticism. His three-cone time of 6.74 seconds is the fifth-fastest time by a quarterback at the NFL combine since 2006 and is on par with someone like Danny Amendola (6.81).
The former Liberty quarterback posted a 61-30 touchdown/interception ratio and chipped in an additional 16 scores on the ground during his four collegiate seasons.
Woodrum spent time with the Giants, Colts, Bears, Bills and Ravens from 2016-2018, ultimately completing a respectable 37-of-55 passes (67%) for 442 yards (8.04 Y/A) with three touchdowns and one interception to go along with another 55 yards and two scores on the ground in seven preseason appearances.
Longtime NFL backups Matt Asiata and Branden Oliver are expected to work behind Joel Bouagnon, who combines three-down size (6-foot-1 and 230-pounds) with solid college production (3,280 total yards and 34 TDs in 43 games at Northern Illinois) to potentially help make up for his lack of breakaway speed (4.7-second 40-yard dash).
The wide receiver room is fairly strong thanks to the presence of former Nebraska No. 1 receiver Kenny Bell, athletic-freak Jordan Leslie (86th-percentile SPARQ-x score) along with potential Antwaan Randle El doppelganger De'Mornay Pierson-El.
2. San Antonio Commanders
The Commanders are led by Mike Riley, who served as the Chargers head coach from 1999-2001 before spending 2003-2014 in the same role with Oregon State.
Riley was most recently tabbed to replace Nebraska-coaching legend Bo Pelini. This process failed pretty miserably, as Riley compiled a 19-19 record from 2015-2017 and ranked 42nd, 79th and 84th in scoring offense.
Offensive coordinator Matt Troxel has spent most of his recent years at Oregon State and Idaho State.
Defensive coordinator Jim Grobe (66-years old) served as the Wake Forest head coach from 2001-2013 and most recently led the 2016 Baylor Bears to a respectable 7-6 record.
Dustin Vaughan will start under center and was the fourth pick of the AAF's quarterback draft. He was magnificent in college at West Texas A&M, leading all Division II quarterbacks in passing yards (5,401) and touchdowns (53) as a senior in 2013.
Optimism around Vaughan seems to usually center around his size (6-foot-5 and 235-pounds) and strong leadership ability.
Still, he underwhelmed in the NFL from 2014-2017 with the Cowboys, Bills, Steelers and Ravens, completing just 71-of-135 passes (53%) for 682 yards (5.05 Y/A) with just one touchdown, two interceptions and five-scoreless rushing yards in preseason action.
Ex-Chargers backup Kenneth Farrow is expected to start at running back. Former-Titans backup David Cobb could also see plenty of work in what was the league's second-most run-heavy offense in the preseason.
Former Houston quarterback Greg Ward Jr. will get his chance to compete as a receiver. He's expected to be joined by undersized gadget Josh Stewart as well as former high school basketball star MeKale McKay (6-foot-4 and 207-pounds).
3. Arizona Hotshots
Head coach Rick Neuheisel led UCLA, Colorado and Washington over the years and served as the Baltimore Ravens offensive coordinator in 2007.
It's tough to take much away from Neuheisel's lone season in the NFL, as he was forced to work with a brutal trio of Kyle Boller, aging Steve McNair (RIP) and Troy Smith.
The problem is things also weren't exactly great at UCLA during Neuheisel's final coaching stretch from 2008-2011, as he never ranked higher than 88th in scoring offense and had a top-85 scoring defense just once.
Hugh Freeze was supposed to be the offensive coordinator, but he left the job in December to work as Liberty University's new head head coach.
Defensive coordinator Nick Aliotti spent most of his coaching career as the Oregon Ducks defensive coordinator from 1999-2013. The defense is led by 2014 Bednarik winner Scooby Wright.
Jhurell Pressley is expected to start at running back. He never quite broke through in the NFL, but the 89th-percentile SPARQ-x athlete is a twitchy athlete that averaged an impressive 7.1 yards per touch and scored 36 touchdowns in 49 games at New Mexico.
Former Eagles receiver Josh Huff and Buccaneers receiver Freddie Martino headline a competent wide receiver group.
Quarterback Trevor Knight earned some preseason playing time with the Arizona Cardinals in 2017, but he's best known for getting beaten out by Baker Mayfield at Oklahoma.
Knight hasn't completed 60% of his passes at any of his last three stops with the Cardinals, Sooners and Aggies. However, he rushed for 10 touchdowns in his final 11 starts at Texas A&M and possesses super-saiyan athleticism (via PlayerProfiler.com).
4. Birmingham Iron
The Iron are led by head coach Tim Lewis, who was a first-round pick back in 1983 and played four seasons as a cornerback with the Packers.
Lewis held coaching jobs in the secondary for the Panthers, Seahawks, Falcons and 49ers from 2007-2015. He helped engineer top-six scoring defenses in each of his first two years as the Steelers defensive coordinator from 2000-2001, but failed to crack the top-12 units 2002-2006 with the Steelers and Giants.
Offensive coordinator Steve Logan helped establish East Carolina's football program from 1992-2002 before working as a coordinator for multiple NFL Europe franchises and Boston College.
Logan has just four years of NFL experience, as he served as the Bucs running back coach from 2009-2011 under Raheem Morris and later as the quarterback coach for the 2015 49ers under Jim Tomsula.
Former Alabama star quarterback Blake Sims is on the roster, but Luis Perez is expected to start under center.
Perez doesn't have Sims' athleticism, but he absolutely obliterated any-and-every defense in his path for Division II Texas A&M-Commerce in 2017.
Overall, Perez completed 421-of-596 passes (71%) for 4,999 yards (8.4 Y/A) and 46 touchdowns as a senior on his way to winning the D-2 National Championship and player-of-the-year honors.
The 24-year-old quarterback spent the 2018 preseason with the Rams, but threw for just 43-scoreless yards on 15 attempts with an interception during Game 4 of the preseason. Perez was the fifth-overall pick in the AAF quarterback draft.
The wide receiver group is set up marginally well with former fourth-round pick Quinton Patton expected to join field-stretcher Tobais Palmer and potentially former Colts backup Quan Bray in 3-WR sets.
The big name you'll recognize on the Iron is their starting running back: Trent Richardson. The former Alabama-star-turned-NFL-bust was last seen getting placed on the CFL's suspended list in May, 2018.
Richardson allegedly weight a somewhat slim 229 pounds. If he's ever going to regain his elite collegiate form, it might as well be on a team from Alabama.
5. San Diego Fleet
The father of the Greatest Show on Turf will take his first coaching job since 2011. Still, the recent version of Mike Martz hasn't been quite so prolific, as he wasn't able to engineer a top-15 scoring offense from 2006-2011 while working as the offensive coordinator for the Lions, 49ers and Bears.
Offensive coordinator Mike DeBord has worked all over the midwest since starting coaching in 1982 and was Martz's tight ends coach during his stint with the Bears.
Defensive coordinator Larry Marmie (76-years-old) was the Rams defensive coordinator under Martz from 2004-2005, but was last seen as a "senior defensive assistant" with the Buccaneers from 2014-2015.
The Fleet would probably have much better championship odds if No. 1 overall quarterback selection Josh Johnson didn't perform so well with the Redskins during the end of the 2018 season. They're now expected to roll with former Arizona State signal caller Mike Bercovici.
Bercovici is undersized (6-foot-0 and 206-pounds) and posted a brutal 1-7 touchdown/interception ratio in seven preseason games from 2016-2017.
Still, he posted a much more respectable 42-13 ratio during his two seasons as a starter at Arizona State. There's plenty of talent here as far as arm strength is concerned …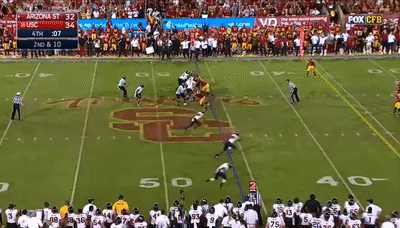 … but it remains to be seen if Martz and company will be able to reign in Bercovici's often-questionable decision making.
The offense appears poised to utilize a 'boom and zoom' committee with scat back Ja'Quan Gardner (5-foot-7 and -206-pounds) and power back Terrell Watson (6-foot-1 and 243-pounds).
Francis Owusu is the clear-cut guy to watch at wide receiver. The 6-foot-2 and 221-pound receiver doesn't possess a huge track record of success on the football field, but his 87th-percentile SPARQ-x score could make him Bercovici's go-to deep threat.
6. Orlando Apollos
The head ball coach is BACK. Steve Spurrier is running things for the Appollos and has employed former-Oregon assistant David Reaves as the quarterback coach.
Spurrier's Fun 'n' Gun offense helped him dominate the SEC at Florida from 1990-2001. Still, he couldn't quite build a top-20 scoring offense with the Redskins from 2002-2003, and South Carolina never boasted even a top-30 scoring offense under Spurrier's tutelage from 2005-2015.
The preseason performance from the offense was fairly brutal despite the victory, as long-time NFL and Spurrier assistant-turned-defensive coordinator Bob Sanders helped engineer a week-high three interceptions.
We'll see how long Spurrier decides to stick with starting quarterback Garrett Gilbert, who looks the part, but threw three career passes in the NFL and posted a 49-45 touchdown/interception ratio in 47 games at SMU and Texas while offering mediocre mobility.
The backfield doesn't appear to have a clear-cut workhorse entering Week 1, as former Chiefs' scat-back Akeem Hunt (5-foot-10 and 183-pounds) is currently projected to work as the starter.
It looks like the strong point of the Apollos offense could be their talent pool at wide receiver. Former Vikings backup Charles Johnson is expected to join ex-Jets backup Jalin Marshall and one of theoretical field-stretchers Donteea Dye or Ishmael Hyman in 3-WR sets.
7. Atlanta Legends
Ex-Vikings head coach Brad Childress abruptly left his job as the Legends head coach less than a month ago on January 9.
Kevin Coyle will now work as the head coach. He's had defensive coordinator stints with Holy Cross, Syracuse, Maryland and Fresco State as well as the Miami Dolphins.
Coyle's defenses with the Dolphins ranked seventh, eighth, 20th and 19th in PPG allowed from 2012-2015.
You've heard of the offensive coordinator: Michael Vick, who was last seen working as both a coaching intern with the Chiefs in 2017 and since as an NFL analyst.
Life-long Phil and Chris Simms fans can keep rooting for the family in the form of Matt Simms, who is expected to start under center.
Simms was atrocious (48.7% completion rate, 4.4 adjusted yards per attempt) during his four NFL appearances, and he never started a professional game.
Things were remarkably still awful in college, as Simms finished his career at Louisville and Tennessee with just 1,818 yards, eight touchdowns and nine interceptions.
It's almost like Simms isn't a good quarterback … but keeps getting chances because of his last name. I mean, the Jets probably should've cut him on the spot after this throw.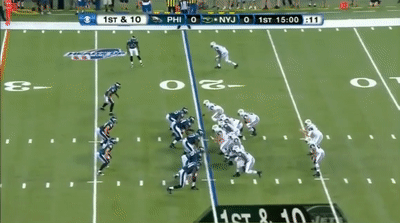 Simms might not have the longest leash in the world, as former-Georgia quarterback and SEC career touchdown leader Aaron Murray is the backup and was selected with the No. 2 overall pick in the league's quarterback draft.
Perhaps Denard Robinson will find a way to make an impact as both a quarterback and running back, but former Notre Dame back Tarean Folston is expected to draw most of the run-game work.
The receiving core doesn't appear to be overly talented, as 3-WR sets are expected to consist of under-sized field-stretcher Montay Crockett, former Appalachian State piece Malachi Jones and 6-foot-3 and 210-pound Seantavius Jones, who had a cup of coffee with the Saints from 2014-2015.
8. Memphis Express
There's no shortage of defensive expertise on the Memphis coaching staff, as head coach Mike Singletary is joined by former Jets and Bills defensive coordinator Dennis Thurman.
Still, neither proved to be particularly successful as a coach despite their respective exploits as a player in the NFL. Overall, Thurman and Singletary combined to lead just one defense ranked inside of the league's top-15 scoring units in their six seasons as an NFL defensive coordinator or head coach.
The Express averaged a week-low 4.5 yards per play in the preseason after Air Raid-minded offensive coordinator Hal Humme left the team in November.
Memphis has already made some questionable personnel decisions, releasing their first-round quarterback Troy Cook in favor of well-known bust Christian Hackenberg, who has never completed even 60% of his passes in college or during the NFL preseason.
Hackenberg's No. 1 target appears to be former Fairmount State University turned Arena League receiver Fabian Guerra. This is a decent indicator about the depth at receiver in Memphis.
Zac Stacy is positioned to work as the Express' bell-cow back. He managed to score eight total touchdowns as a rookie with the Rams in 2013, but was last seen averaging just 2.9 yards per carry with the Jets in 2015.
Week 1 Matchups and Predictions
Saturday 8:00 p.m. ET: Atlanta at Orlando (-4.5)
I'm not sold on Steve Spurrier and Garrett Gilbert in Orlando, but I'm even less sold on Mike Vick and Matt Simms in Atlanta after their head coach quit less than a month ago.
The Pick: Orlando -4.5
Saturday 8:00 p.m. ET: San Diego at San Antonio (-5.5)
Five-and-a-half points is a lot for any team that we know virtually nothing about. San Diego would be much better off with Josh Johnson under center, but betting against Mike Martz in the league's only indoor stadium still just seems wrong.
The Pick: San Diego +5.5
Sunday 4:00 p.m. ET: Memphis at Birmingham (PK)
Excuse me for having no faith in a team quarterbacked by Christian Hackenberg that also lost their offensive coordinator within the last three months. There's an outside chance Luis Perez is the best quarterback in this league.
The Pick: Birmingham PK
Sunday 8:00 p.m. ET: Salt Lake at Arizona (-5)
When your No. 1-ranked team is five-point dogs against anybody, you gotta take the points. Arizona would've been my top-ranked team if Hugh Freeze was still involved, but now I'll ride with Josh Woodrum and company.
The Pick: Salt Lake +5
How would you rate this article?