Ranking Every AAF Team's QBs, Backfields and Receiving Corps
Credit:
Courtesy of @TheAAF/Twitter. Pictured: Orlando QB Garrett Gilbert, Arizona RB Jhurell Pressley
Ian Hartitz ranks every AAF team's quarterbacks, backfield and receiving corps rank heading into Week 4.
He digs into the stats to see who is getting the most opportunities, who is making the most of theirs and more.
The Alliance of American Football league is officially three weeks old! One hundred and eighty minutes of action for each team still isn't a massive sample size, but what we've got people.
It's also a good time to deepen our understanding of who operates the AAF's top offenses, who is getting the most opportunities at each position and who is actively cashing in on their chances.
What follows is a breakdown of the league's top quarterbacks, backfields and receiving rooms as well as power rankings of each.
QUARTERBACKS
We'll assess the strengths and weaknesses of each quarterback then rank the group.
Note that 10 quarterbacks are listed since the situations in Arizona and San Antonio are in flux: John Wolford (strained back) was injured shortly after halftime in Week 3 while Logan Woodside and Marquise Williams are entangled in an open quarterback competition.
The following statistics cover Weeks 1-3.
John Wolford, Garrett Gilbert and Zach Mettenberger have easily been the best overall quarterbacks in terms of yards per attempt, touchdowns and quarterback rating.
Mettenberger has only 12 pass attempts, but he managed to throw more touchdowns (2) than Memphis' original starter Christian Hackenberg managed in 63 attempts (0). The former LSU quarterback's ability to consistently dice up the Orlando defense downfield was particularly impressive.
Logan Woodside has both the worst quarterback rating and the worst completion rate among starters. Marquise Williams has only attempted eight passes this season, but he was good enough to keep Mitchell Trubisky sidelined at North Carolina for two seasons.
Wolford and Gilbert have both demonstrated surprising ability and willingness to run the ball. Still, nobody in the league should be confused with a true dual-threat quarterback with the exception of Williams, who leads all quarterbacks in rushing despite playing just 25 snaps.
Wolford leads the league in touchdowns and has thrived in Arizona's up-tempo and play-action heavy scheme. However, his back injury was caused in part by the Hotshots' consistent use of run-pass-options, which can leave the quarterback exposed to more hits because the offensive line is run blocking.
Trevor Knight continued to show the same accuracy problems that have plagued his entire career in his AAF debut. Still, his willingness to throw the deep ball could produce some fantasy-friendly opportunities when paired with the 96th-percentile SPARQ-x athlete's rushing ability.
Steve Spurrier's Sun 'N' Gun attack has particularly thrived when Gilbert has utilized play action and been kept clean. Orlando has easily been the league's premier pass offense all season thanks in large part to Gilbert's pin-point accuracy downfield.
Mettenberger, Gilbert and Philip Nelson are the only three quarterbacks to throw 20-plus yards downfield on at least 20% of their attempts. The former two have managed to post top-three efficiency marks on these throws despite their increased volume.
Neither Nelson or Matt Simms have looked great, but both played well in Week 3 and showed real signs of progress. The ceiling is still limited here as their low respective play-action percentages are indicative of San Diego's and Atlanta's underwhelming offensive schemes.
Luis Perez is painfully slow as a runner. That combined with his absurd release time has resulted in a league-high 43 pressured dropbacks. Perez deserves a little bit of slack considering Birmingham also leads the league in dropped passes (10), but both the Iron and the Apollos have benefited from an easy early-season schedule.
Salt Lake managed to out score Arizona by five points during the Stallions' six quarters with Woodrum on the field. They're certainly capable of continuing to win games with steady quarterback play and a strong run game and defense, but there isn't much fantasy upside in the Salt Lake passing game as long as Woodrum continues to not run the ball or test defenses downfield.
AAF Quarterback Power Rankings
Note that Williams and (especially) Mettenberger have each briefly demonstrated the ability to operate as "elite" AAF quarterbacks.
RUNNING BACKS
Every team, with the exception of Birmingham, has largely utilized a two-to-three back committee. There's been surprisingly consistent shuffling across the league, as key Week 1 contributors such as Aaron Green and Tarean Folston didn't even play a snap in Week 3.
We'll just focus on the committee structure from last week's action due to all of the moving pieces throughout each backfield.
The following statistics are from Week 3.
The only running backs who played at least 50% of their offense's snaps in Week 3 were Jhurell Pressley (51%), Denard Robinson (53%), Trent Richardson (70%), D'Ernest Johnson (54%), Terrell Watson (60%) and Branden Oliver (55%).
Pressley has struggled to pick up yards on the ground, but remains entrenched as the Hotshots' featured back. Still, Pressley (22 routes) surrendered plenty of pass-down snaps to Justin Stockton (18).
Robinson was inactive in Week 2 and his most notable play in Week 3 was a brutal dropped touchdown in the fourth quarter. The Atlanta backfield remains a mess outside of Akrum Wadley, who at least has racked up 11 receptions over the past two weeks. The Legends have ran the ball on a league-low 35% of their plays; the next team is at 56%.
Richardson is literally the AAF's only bell-cow back. This has helped him rack up six touchdowns through only three games, but T-Rich has struggled mightily to establish any sort of consistency on the ground.
Johnson has overtaken Akeem Hunt as the lead man in Orlando's backfield. And while De'Veon Smith remains plenty involved as a short-yardage specialist and early-down grinder, Spurrier indicated after the Apollos' Week 3 win that Johnson had played well enough to keep the starting job.
Watson and Ja'Quan Gardner were plenty involved in San Diego's Week 3 beat down over San Antonio. Still, Watson has been the offense's "thunder" and received more goal-line and 2-point conversion opportunities than Gardner, who has racked up an un-godly 55% of his rushing yards on big plays (any designed runs of 15-plus yards per Pro Football Focus).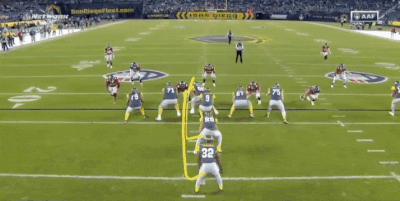 Oliver continues to work ahead of Joel Bouagnon, although both have received plenty of work in Salt Lake's run-heavy offense. Only the Express (48% pass-play rate) and Hotshots (50%) have run the ball more than the Stallions (53%).
The only backfields without a clear-cut lead back in Week 3 were Memphis and San Antonio. Zac Stacy still appears to be tentatively locked in as the lead back for the Express considering his 18 combined carries and targets. The league's most run-heavy offense has featured Stacy more than any other running back outside of Birmingham.
Kenneth Farrow seemed to be entrenched as the Commanders' lead back entering Week 3, but Trey Williams emerged as the offense's only path to production in the second half during his debut. Williams out-touched Farrow 8-to-4 during the second half of San Antonio's loss to San Diego.
AAF Backfield Power Rankings
Note that these rankings are meant to be a better indicator of the backfield's collective talent and not so much an individual's fantasy success (CC: T-Rich).
---
>> Sign up for The Action Network's daily newsletter to get the smartest NFL conversation delivered into your inbox each morning.
---
WIDE RECEIVERS
Every team distributes targets between wide receivers, running backs and tight ends differently. The goal here is to focus on receivers and tight ends who have demonstrated an ability to earn a respectable percentage of their offense's pass-game targets through three weeks.
The following statistics account for all wide receivers and tight ends who have earned at least 10% of their team's target market share and reflect each of their totals in Weeks 1-3 with the exception of snap percentage, which is specific to Week 3.
Mekale McKay, Charles Johnson, Rashad Ross, Quinton Patton and Seantavius Jones have emerged as clear-cut No. 1 receivers for their respective teams and are the league's only receivers with 20-plus targets.
De'Mornay Pierson-El has worked as Salt Lake's top receiver, but his 49% snap rate in Week 3 was lower than teammates Kenny Bell (64%) and Adonis Jennings (53%) while Kaelin Clay (33%) was also plenty involved.
Memphis didn't have Kayaune Ross or Fabian Guerra suit up last week, so Reece Horn and Alton Howard continued to dominate the offense's target share. Note that Devin Lucien (38% snap rate) and Dontez Byrd (23%) were also involved and appeared to be Mettenberger's preferred field stretchers.
It's probably safe to say Nelson Spruce is the lead man in San Diego, although Brian Brown and Gavin Escobar have also been heavily involved. Escobar is trending toward overall TE1 status considering Anthony Denham didn't even play half of Salt Lake's offensive snaps last week.
Josh Huff (75% snap share), Greg Ward (66%), Jalin Marshall (100%), Rannell Hall (64%) and De'Marcus Ayers (61%) are the next best bets for consistency among team's No. 2 and No. 3 receivers.
AAF Receiving Groups Power Rankings