All 32 NFL Coaching Staffs Ranked for 2022: Why It's Important to Bettors
Credit:
Getty Images. Pictured: Andy Reid (left), Sean McVay (center) and Bill Belichick.
The 2022 NFL season is nearly here as rosters around the league are being narrowed down to 53 players. But we sometimes forget about the names that don't count toward that 53: The coaches.
Coaching has a far bigger impact in the NFL than you'd think. Head coaches make huge in-game decisions — managing the clock, calling timeouts, challenging plays, deciding when to go for it on fourth down and more. They also manage a deep team of assistants who play a key role. Behind any good modern offense is a great offensive coordinator, while an elite defensive coordinator can maximize talent with the perfect scheme. Individual units — like special teams and offensive/defensive lines — have their own coaches, too.
Before we head into the new season, let's revisit the coaching landscape and rank all 32 staffs as a unit. This has major implications on bettors, from live betting to spreads to futures.
So what can we learn?
---
Take advantage of WynnBet's latest promo — bet $50, get $200 no matter what!
---
Tier I — The Unimpeachable No. 1
Kansas City just keeps on winning. Every year, the Chiefs are in the AFC Championship Game picture, yet every offseason they somehow emerge with their elite coaching staff still intact.
It's not just future Hall of Fame head coach Andy Reid. Offensive coordinator Eric Bieniemy, again unable to secure a head-coaching job over the offseason, is back to help Patrick Mahomes keep the offense buzzing, Tyreek Hill or not. Quarterbacks coach Mike Kafka departed, but Matt Nagy returns to the franchise where he first had success to take his place. Per Pro Football Focus (PFF), Reid and Bieniemy were the No. 1 playcallers last season, maximizing success rate over EPA.
Defensive coordinator Steve Spagnuolo knows how to get the best out of this defense and have them peaking at the right time. Dave Toub (special teams) is one of the best assistants in the league and gives his unit an edge every season, and Andy Heck (offensive line) did wonders last fall.
Playcalling, continuity, depth, familiarity, and teamwork — this is what an elite coaching staff looks like. There's a reason this team has been to four straight AFC title games, and they're favored to make it five.
---
» Return to the table of contents «
---
Tier II — The Elites
2. Baltimore Ravens (3)
3. Los Angeles Rams (9)
4. Buffalo Bills (5)
5. New England Patriots (1)
These four coaching staffs can't quite match the Chiefs' all-around balance and depth, but they're elite nonetheless.
The Ravens said goodbye to longtime defensive coordinator Wink Martindale, but Mike Macdonald was outstanding at Michigan last season and looks ready to step in and do something fresh. Head coach John Harbaugh is one of the best and just about always keeps his special teams near the top of the league.
Is the league catching up to offensive coordinator Greg Roman? His teams remain invincible running the football but can be a bit too run-heavy, and we still need to see this offense work in the playoffs. Can Roman and the team adjust to the heavy blitzing that threw Lamar Jackson off the back half of last season?
The Rams have no business ranking this high since their staff gets raided every offseason, but Sean McVay isn't just good at coaching. He's also great filling and developing his staff with hot young names. Kevin O'Connell (offensive coordinator) and Ejiro Evero (defensive backs) are gone, but new offensive coordinator Liam Coen comes in from Kentucky, and McVay calls the plays anyway. Thomas Brown (tight ends) and Zac Robinson (quarterbacks) could be the next young coaches on the move.
Still, L.A. wouldn't rank this high if not for defensive coordinator Raheem Morris sticking around. PFF ranks the Rams in the top five at defensive playcalling, too, so it's not just the offense. Morris disguises coverages, and his light box counts are especially good against elite offenses. Perhaps you noticed during the Super Bowl run.
We'll see if the Bills stay here without offensive coordinator Brian Daboll. It's Ken Dorsey's job calling plays for the first time, though he could get help from Joe Brady (quarterbacks), who was one of the hot coaching names before the Carolina fiasco.
Head coach Sean McDermott has been outstanding leading the team, while defensive coordinator Leslie Frazier was PFF's No. 1 defensive playcaller and had his unit outperform expectations with CB Tre'Davious White out and no elite pass rushers. How good will they be with White back and Von Miller in the fold?
You probably expected the Patriots at the top given Bill Belichick is the GOAT. Metrics at PFF suggest Belichick would win 11.7 games with an average NFL roster. That being said, are we sure this coaching staff isn't some sort of practical joke?
Offensive coordinator Josh McDaniels is gone and wasn't replaced. Instead, it appears Belichick will lead the Pats' offense for the first time, with the help of head-coach flameouts Matt Patricia and Joe Judge. And don't forget Steve Belichick leading the defense, which leaned more vanilla and predictable last season.
Maybe Belichick is just invincible and it truly doesn't matter how mediocre the roster is or how little help he has on his coaching staff. But it feels like this group is some sort of twisted dare.
---
» Return to the table of contents «
---
Tier III — History Is on Our Side

6. San Francisco 49ers (8)
7. Green Bay Packers (16)
8. Pittsburgh Steelers (10)
9. Dallas Cowboys (22)
10. Tennessee Titans (12)
11. Tampa Bay Buccaneers (4)
The 49ers nearly snuck into the Super Bowl with Jimmy Garoppolo as their quarterback, thanks in part to DeMeco Ryans' nasty defense. Ryans got head-coaching interviews, but he sticks around for now. Of course, this ranking is largely due to Kyle Shanahan's innovative offense, the most unique in the NFL.
His constant pre-snap motion disguises the action and freezes linebackers, stopping them from flowing in the run game or biting in playaction and opening up the field. Still, Shanahan is only 39-42 with three losing seasons in five. With offensive coordinator Mike McDaniel gone and handpicked running threat Trey Lance stepping into the starting quarterback role, this year will be a big test.
The Packers face similar questions after losing offensive coordinator Nathaniel Hackett and quarterbacks coach Luke Getsy, but Matt LaFleur calls the plays and has won 13 games three years in a row. PFF ranks both LaFleur and defensive coordinator Joe Barry top-six in playcalling, and Barry has maximized talent and has his most loaded defense ever.
Former Raiders coach Rich Bisaccia (special teams) brings valuable experience, Adam Stenavich (offensive coordinator) is well-regarded in the run game and Jerry Gray (defensive backs) has been excellent developing the secondary. Packers defensive coaches look like rising stars that could be on the move soon.
The next two teams are a reminder that these are not just head coach rankings.
Mike Tomlin's Steelers have never had a losing record in 15 seasons, but they also tend to no-show a couple times a year against bad opponents. The staff took a hit with the retirement of defensive coordinator Keith Butler, who had a great seven-year run, especially against the pass.
Taking Butler's place is Teryl Austin, who is well-regarded but unproven, though he'll get help from senior assistant Brian Flores. Offensive coordinator Matt Canada has been too in love with the short passing game in the past, so it'll be fascinating to see how things change without Ben Roethlisberger.
On his own, Cowboys head coach Mike McCarthy would rank 10 or 15 spots lower. He's terrible at game management, lest you forgot how last season ended. But offensive coordinator Kellen Moore and defensive coordinator Dan Quinn each ranked second in the NFL calling plays last season, per PFF. Quinn's defense forced turnovers, and Moore kept the offense competitive despite major injuries.
Assistants like George Edwards (defense), Joe Philbin (offensive line) and John Fassel (special teams) also add experience and expertise. McCarthy may not be great on his own, but he's surrounded himself with the right guys. Now, he just needs to escape the Sean McVay rumors and stay out of his own way.
The Titans return a staff that took a wonky roster to first in the AFC, so it's hard to argue with results. Mike Vrabel is 41-24, averaging a 10.7-win pace, but the offense under Todd Downing took a step back after years led by Arthur Smith and Matt LaFleur. Assistant Jim Schwartz adds experience on defense.
The Bucs return most of their Super Bowl staff — except the man at the top. Todd Bowles steps up from defensive coordinator to head coach in place of Bruce Arians. Bowles didn't have good results in his previous stint as coach of the Jets, but that was years ago. He'll continue to lead an aggressive defense, but the key is that offensive coordinator Bryon Leftwich stuck around to keep the offense on the right path. Hopefully this staff will still function mostly the same.
---
» Return to the table of contents «
---
Tier IV — We Got Next

12. Philadelphia Eagles (27)
13. Cleveland Browns (6)
14. Los Angeles Chargers (17)
15. Indianapolis Colts (14)
It's Year 2 for this relatively unknown Eagles staff, but they may not stay that way long. Head coach Nick Sirianni really found his way midway through his debut season and has shown excellent game management decisions. The adjustments he and offensive coordinator Shane Steichen made turned this into one of the NFL's most unique offenses. The smash-mouth attack led the league in rushing DVOA, and Jeff Stoutland (offensive line) is one of the league's best specialists. Defensive coordinator Jonathan Gannon had a great debut, too. If Philadelphia is as big a sleeper as bettors hope, these coaches will be a big reason.
The Browns were last year's Eagles. Kevin Stefanski has lost some shine after winning Coach of the Year, but a lot went wrong for Cleveland last season outside this staff's control. Defensive coordinator Joe Woods has a strong track record and a ton of talent to work with, and Stefanski usually sports an elite run game, buoyed by legendary offensive line coach Bill Callahan. Could the Browns be a post-hype sleeper?
The Chargers are another staff everyone loves, thanks to Brandon Staley's hyper-aggressive fourth-down calls that embrace analytics. But are we sure this staff is great? Staley often made the right decision but wrong play call, and offensive coordinator Joe Lombardi might be holding Justin Herbert's offense back. Lombardi runs the least unique scheme in the league, per PFF, and needs to adapt better to Herbert's cannon arm and get the ball downfield.
Staley is known for his defense, but the Chargers disappointed last year and couldn't stop the run. We'll see if Staley and defensive coordinator Renaldo Hill are able to do more with better talent. And don't sleep on special teams coach Ryan Ficken, who could revolutionize a unit that's been dreadful for years. It feels like the Chargers' staff will rise or fall seven spots this season.
It feels apt sticking the Colts right in the middle since new defensive coordinator Gus Bradley and senior assistant John Fox tend to be high-floor, low-ceiling guys whose defenses are predictable and less effective against top teams. Head coach Frank Reich has done well with the offense though, and did so last year despite a barrage of absences on the line and at quarterback.
---
» Return to the table of contents «
---
Tier V — I'm Buying What They're Selling

16. New York Giants (21)
17. Miami Dolphins (19)
18. Minnesota Vikings (15)
We haven't seen what these young staffs can do yet, but I'm buying in. This is the tier I'm watching for first-year Coach of the Year candidates.
Giants fans will be glad to move on from the laughingstock that was Joe Judge and Jason Garrett, and the new regime has the potential to be great. New head coach Brian Daboll helped transform Josh Allen from bust to MVP candidate on a top-five Bills offense. His new offensive coordinator Mike Kafka worked closely with Patrick Mahomes the last few years. That duo is now tasked with resurrecting Daniel Jones' career.
Daboll brings plenty of help. Wink Martindale has been a stalwart keeping the Ravens defense near the top of the league, and D-line coach Andre Patterson comes over from Minnesota, where he did well developing talent. Mike Groh (wide receivers) worked wonders with the Colts and Eagles in recent years. This could be an all-star coaching staff.
The Dolphins are a tough evaluation. Brian Flores was a darn good coach, and there's no shortage of turmoil surrounding the team after his questionable departure, the suspension of owner Stephen Ross, the Sean Payton rumors and the lost draft picks. That leaves plenty of reason for skepticism, and it's fair to wonder whether Mike McDaniel was first or even second choice.
Still, McDaniel could be really good. He worked wonders with San Francisco's run game, and he'll get help from new offensive coordinator Frank Smith, who did the same with the Chargers and also coached up Darren Waller. These guys come from the Shanahan and Kubiak tree, so expect a strong, featured run game. McDaniel retained defensive coordinator Josh Boyer, who rated as a top-five defensive playcaller per PFF. He's from the Belichick tree, so there's plenty of pedigree on both sides.
The Vikings went young, too, hiring Rams offensive coordinator Kevin O'Connell to reignite this stagnant offense. He'll be the league's second youngest head coach (37) and should inject plenty of misdirection — and he previously worked with Kirk Cousins in Washington. O'Connell's system tends to freeze the defense, allowing the QB to just take what's there, which could be a great fit for Cousins. The defense will be led by Ed Donatell from the Fangio tree, with assistance from Mike Pettine. It was time for a fresh breath of air after Mike Zimmer, and this could be it.
---
» Return to the table of contents «
---
Tier VI — Real Reasons for Skepticism

19. New Orleans Saints (7)
20. Seattle Seahawks (11)
21. Las Vegas Raiders (23)
22. Jacksonville Jaguars (29)
23. Cincinnati Bengals (32)
24. Arizona Cardinals (31)
25. Washington Commanders (13)
You probably expected some of these coaches higher up the list, but I'm seeing some reasons for skepticism.
You could argue that the Saints belong in Tier III after retaining the leaders on both sides of the ball. Head coach Dennis Allen will still lead the defense and has been fantastic with this unit, and offensive coordinator Pete Carmichael has held his post since 2009. But did Carmichael really run New Orleans' offense, or was it departed the Sean Payton? Payton is one of the great modern coaches, so this staff has to prove itself.
It's not Pete Carroll's fault the Seahawks have gone full rebuild, but it's his fault the team skews so run-heavy. Offensive coordinator Shane Waldron was a disappointment last fall, and the defense will look different under defensive coordinator Clint Hurtt. Last year was the first losing season in a decade for Carroll, but it just feels like the 70-year-old is the wrong man for a rebuild.
An old name gets a new chance as Josh McDaniels gets another opportunity to be a head coach with the Raiders. He was a bust for Denver, but that was over a decade ago, and he guided a top-eight scoring offense in 13 of 14 years with the Patriots. His offense trends run-heavy, so we'll see how that fits with a poor offensive line and all those passing weapons. Defensive coordinator Patrick Graham comes over from the Giants as one of the league's hot young names. Are the Raiders just grabbing flashy names again, like they did with Jon Gruden, Mike Mayock and Lane Kiffin? It feels like this will either go well or poorly.
Everyone's excited for the Jaguars, and it shouldn't be hard for things to be drastically better than they were under Urban Meyer's disastrous reign of terror. Still, can we hold our horses on Doug Pederson a bit? He finished 42-37-1 in Philadelphia and tailed off after the Super Bowl win in 2017, never quite the same without his elite assistants. New staff members like Press Taylor (offensive coordinator), Mike Caldwell (defensive coordinator) and Jim Bob Cooter (passing coordinator) leave plenty of questions, and remember, Pederson wasn't the first choice.
The Bengals just made the Super Bowl so Zac Taylor gets some credit, but he's still just 16-32-1 lifetime and had little success until last year's late run. Did Cincinnati really turn the corner, or did it just catch lightning in a bottle? There's an alternate timeline where a couple of those late games go the other way and the Bengals probably have another coach.
Do you credit the Cardinals for the fast starts or dock them for the repeated second-half collapses? Head coach Kliff Kingsbury has not had the answers for this offense. He runs the second most unique system in the NFL, per PFF, but that's not necessarily good with too many bells and whistles and not enough consistency or results. This staff could be coaching for its jobs this year.
Riverboat Ron Rivera is back to lead the Commanders, but he's had only three winning seasons in 11 as a head coach. He's a two-time Coach of the Year, but might be a product of defensive talent, with over seven wins only once since 2016. Defensive coordinator Jack Del Rio's had a bottom-five pass defense in three of four years, and that was especially disappointing last year for a unit expected to be near the top of the league. Offensive coordinator Scotty Turner provides some hope, but this offense lacks talent and left a lot on the table last fall.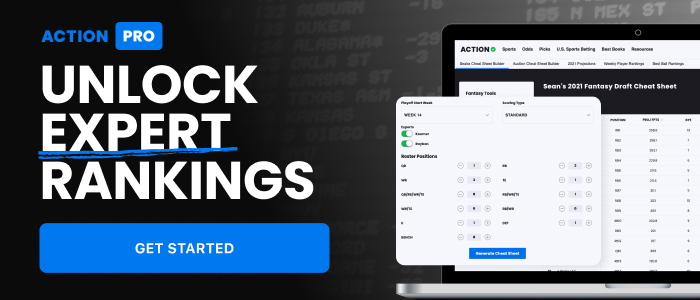 ---
» Return to the table of contents «
---
Tier VII — It's Hard to Believe Much Yet

26. New York Jets (25)
27. Denver Broncos (24)
28. Atlanta Falcons (18)
29. Chicago Bears (30)
30. Detroit Lions (26)
The Jets' sophomore coaching staff didn't get much of a shot last year due to injuries. Head coach Robert Saleh had wonderful defenses in San Francisco, and offensive coordinator Mike LaFleur comes from the Shanahan tree and has a terrific history in the passing game. I still like what I see in theory, but hopefully this staff gets more of a real chance this year.
The Broncos hired Nathaniel Hackett as their head coach, but did they get him for his success with Aaron Rodgers the last couple years, or was he just bait to bring Rodgers over? Hackett never called plays in Green Bay and had shaky results when he did so in Buffalo and Jacksonville. New offensive coordinator Justin Outten and defensive coordinator Ejiro Evero are mostly unknown and haven't called plays before. Assistants Dom Capers and Klint Kubiak are familiar names that haven't produced in recent years. This could be a good staff, but it's just too unknown to trust yet.
I was all-in on the new Falcons staff last fall, but they disappointed. Head coach Arthur Smith and offensive coordinator Dave Ragone didn't have much success remaking this offense, and defensive coordinator Dean Pees could only do so much with a lack of talent. Now in full-on rebuild, it'll be tough sledding for this staff.
The Bears brought in head coach Matt Eberflus, who could be a floor raiser for this defense once it gets more talent. His Colts defenses finished top 10 in points allowed in three of four years. The key hire, though, may be offensive coordinator Luke Getsy, former quarterback coach for Aaron Rodgers. What can Getsy get out of Justin Fields?
Dan Campbell is a fun Hard Knocks watch, but is the Lions coach any good? He wins press conferences and gets his guys trying, but we don't really know if he can coach yet with a record of just 8-20-1. Assistant coaches Aaron Glenn (defensive coordinator), Duce Staley (running backs), Mark Brunell (quarterbacks) and Antwaan Randle El (wide receivers) are familiar but unproven. The biggest hope may be offensive coordinator Ben Johnson, who brought the passing game to life when he took over down the stretch in December.
---
» Return to the table of contents «
---
Tier VIII — The Placeholders
31. Houston Texans (28)
32. Carolina Panthers (20)
It's rough when you hire a new coach and still rank 31st, but the Texans pulled it off. Then again, head coach Lovie Smith isn't exactly new. This is not his first rodeo, and Smith's rodeos haven't been particularly successful in recent years. His trademark Cover 2 defense may be past its prime, and he hasn't had a winning record in a decade, with an ugly 43-77 record since 2010. Houston seemed to want Flores, then Josh McCown and Smith is a rough consolation prize.
Any reasonable viewer would've expected a new Panthers coach, but Matt Rhule is somehow back for more. Rhule has been a disaster and new offensive coordinator Ben McAdoo has been underwhelming himself with a super pass-heavy offense that's never particularly efficient. Phil Snow is a solid defensive coordinator … maybe he'll get an interim shot later this fall.
---
» Return to the table of contents «
---
5 Key Takeaways for Bettors
1. Brian Daboll, Mike McDaniel and Kevin O'Connell could be great first-year sleeper picks for Coach of the Year.
Only the head coach wins the award, but this trio brings experience and depth on the entire staff. The modern NFL is all about offense, and a big boost on that end would catch voters' attention. In the Giants and Vikings' cases, there's plenty of low-hanging fruit that could lead to a quick turnaround.
Three of the last five Coach of the Year winners have been first-year guys on a new team, and we typically need a team that jumps to 10-plus and a playoff berth. If you believe in their teams' upside, you can get pretty juicy odds on Daboll (+1800), McDaniel (+2000) and O'Connell (+2000).
2. You may not want to talk yourself into Panthers or Texans long-shot tickets, even in weak divisions.
The AFC South might be the weakest division in the NFL, and the NFC South could be blown wide open if injuries continue to mount in Tampa Bay. If you're into long shots, you might be tempted into nibbling division odds on Carolina (+1100) or Houston (+3300).
Be careful, though. The game may have passed Lovie Smith by, and he doesn't have much talent to work with in Houston. As for Carolina, Matt Rhule could end up the first coach fired if he fails to get something out of yet another quarterback in Baker Mayfield. His staff just hasn't had success at the professional level.
3. Think long and hard about writing off teams like the Packers, Bucs, Titans, Steelers and 49ers — no matter how big the stars they lost.
The Packers lost Davante Adams. The Bucs are racking up injuries. The Titans felt like a fluke No. 1-seed. The Steelers and 49ers lost steady veteran QBs. It's easy to look at these teams and expect a downturn from any one of them.
Not so fast.
There's a reason some of these teams win year after year. The Titans have outperformed expectations and finished above .500 all four seasons under Mike Vrabel. The Steelers haven't finished below .500 in 15 Mike Tomlin seasons! The Packers have won 13 games three straight times. Even as injuries pile up and players come and go, consistent coaching has kept these teams steady and near the top of the league. Be leery of just ruling them out.
4. Be careful about believing too much in the Cardinals, Bengals or Lions.
We've reached some of America's favorite darlings. The Cardinals are young and exciting, the Bengals are coming off a shocking Super Bowl run and everyone loves to bet on the Hard Knocks team.
But there are few worse feelings than going all-in on a sleeper and watching angrily all season as they mess up little things like fourth-down decisions, timeout management and two-minute drives. That's the feeling you might get if you put too much faith in Arizona, Cincinnati or Detroit, with its coaching and playcalling leaving much to be desired.
Then again, I said the same thing in last year's column, and one of these teams was the last unbeaten while another one nearly won it all.
5. Tyreek Hill or not, don't forget what works with the Chiefs.
Many bettors are fading the Chiefs after losing speedy receiver Tyreek Hill, and it's fair to wonder how their offense will adjust.
But hasn't this coaching staff taught us to give them the benefit of the doubt by now? They have elite specialists up and down the staff, and the team chose to move on from Hill and invest in the O-line and elsewhere. We should trust that a staff this talented has a plan.
The Chiefs are +600 to get back to the Super Bowl, and this franchise has played in four consecutive AFC Championship Games. If they get back to a fifth, you'll want that Kansas City ticket.
---
» Return to the table of contents «
---
How would you rate this article?
This site contains commercial content. We may be compensated for the links provided on this page. The content on this page is for informational purposes only. Action Network makes no representation or warranty as to the accuracy of the information given or the outcome of any game or event.