Do Dome Teams Struggle Outdoors in the NFL Playoffs?
Credit:
Mark J. Rebilas-USA TODAY Sports
The Philadelphia Eagles and Minnesota Vikings meet Sunday with the NFC Championship on the line. The Vikings are 3-point favorites in Philly and on paper have an edge offensively (5th in DVOA) and defensively (2nd in DVOA). However, for Case Keenum & Co. to win they'll have to overcome the concerning history of dome teams in the playoffs.
Rule No. 6 in Bill Simmons' Playoff Gambling Manifesto: beware of all dome teams playing outdoors, especially in cold weather. The theory goes that dome teams are soft and not capable of adjusting to the cold temperatures of postseason football. Does the data backup the hypothesis?
Using the Bet Labs database, teams that play in a dome or a stadium with a retractable roof have gone 8-23 (25.8%) straight-up in postseason games played outside since 2003. Non-dome teams on the road outdoors in the playoffs have gone 39-46 (45.9%) straight-up in the same time frame. That is a significant difference but does the trend hold if we expand our dataset?
Since 1990, using data from Pro-Football-Reference, there have been 55 dome teams participate in an outdoor playoff game. Vikings bettors look away.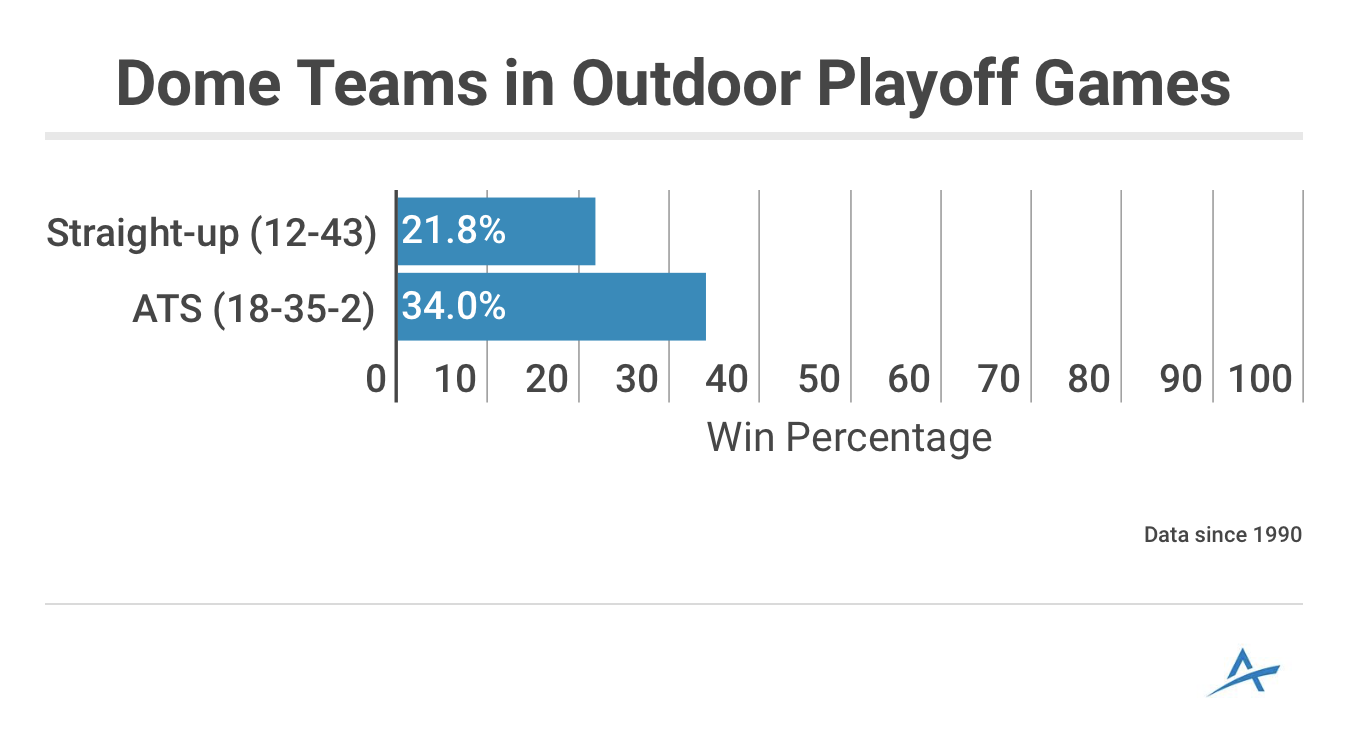 Dome teams are 12-43 (21.8%) straight-up and 18-35-2 (34.0%) ATS in outdoor playoff games since 1990. The colder the temperatures the worse these indoor teams have performed. In games with temperatures below 40 degrees, dome teams are 5-26 (16.1%) straight-up.
You might be thinking that the Vikings are favorites and most of these teams were underdogs, which has to count for something. That is true, of the 55 dome teams to play outside in the postseason 48 were underdogs. The seven road favorites, like Minnesota, went 0-7 straight-up and against the spread.
1 Trend vs. 10,000 Simulations
The history of dome teams on the road is concerning, but our old friend math favors the Vikings. In 10,000 simulations, Minnesota is projected to win 66.4% of the time, more often than the Patriots who are 8.5-point favorites at home.
Case Keenum (22 TDs, 7 INTs) ranks 3rd in QBR this season. His counterpart, Nick Foles, ranked 16th among quarterbacks that attempted less than 200 passes. Keenum also has superior offensive talent including Adam Thielen, Stefon Diggs, Kyle Rudolph and Jerick McKinnon. On the other side of the ball, Minnesota is first in Football Outsiders' weighted defense and the only team in the league to rank in the top five against the run and pass.
I'm ignoring the trend and trusting the season long data that favors the Vikings on the road. What side will you play?
Photo via Mark J. Rebilas-USA TODAY Sports