Monday Morning Moneyback: NFL Week 1
Underdogs went 6-6 ATS on Sunday. Four of the six won outright.
Unders went 10-2 on a relatively boring Sunday; there was a 16-point average margin of victory.
Teams that won their first divisional games (Ravens, Steelers, Eagles, Cowboys, Bills, Jaguars) won the division 40 percent of the time over the last 15 seasons. Losers of their first divisional games (Bengals, Browns, Redskins, Giants, Jets, Texans) only won the division 11 percent of the time.
Key Injuries on Sunday:
49ers LB Reuben Foster – Ankle (?)
Bears WR Kevin White – Neck (Season)
Bengals OG Trey Hopkins – Knee (?)
Cardinals RB David Johnson – Wrist (MRI)
Cardinals LT David Humphries – Knee (?)
Cowboys CB Orlando Scandrick – Hand (?)
Eagles CB Ronald Darby – Ankle (?)
Lions P Kasey Redfern – Knee (?)
Lions WR Golden Tate – Finger (?)
Ravens RB Danny Woodhead – Hamstring (?)
Ravens LB Za'Darius Smith – Knee (?)
Jags WR Allen Robinson – ACL (Season)
Steelers Stephon Tuitt – Biceps (MRI)
Texans CJ Fiedorowicz – Concussion (?)
Texans Brian Cushing – Concussion (?)
Let's take a closer look at each game from Sunday.
Oh, and turn your volume off before hitting any videos since I know you are sitting on the toilet at work.
---
Raiders (+2.5) at Titans
This game was statistically even (359-350 yards, 22-20 first downs, and 0 turnovers), but the Raiders' special teams unit was just much better, which ultimately helped guide them to a 26-16 victory.

The Titans opened the game with an onside kick (they were the first team to do so since the Vikings in 2009) that they did not recover, which led to a Raiders TD on a short field.

Ryan Succop also missed a field goal while Giorgio Tavecchio (not known for accuracy at Cal) became the first player in NFL history to hit two 50-plus yard FGs in his debut.
---
Ravens (+2.5) at Bengals
This game was all about the Ravens' defense, as they recorded their first shutout since 2009 and totaled five sacks and five turnovers (including three in the red zone).

Andy Dalton, who was 16-of-31 for 170 yards with four interceptions and a lost fumble, had the third-worst single game QBR of the last 10 seasons.

The Ravens didn't need to do much on offense, which will be their winning formula this season. Run the ball (they did 42 times), play stout defense (Bengals had 220 total yards) and excel in special teams. They will need to reduce the penalties going forward (11 for 85).
---
Falcons at Bears (+6.5)
This was the most exciting game of the day for viewing and betting pleasure, as it was back and forth throughout the second half. Falcons -6.5 backers thought they were golden when Matt Ryan connected with Austin Hooper (two catches 128 yards 1 TD) for an 88-yard TD early in the fourth to extend the lead to 20-10. However, Mike Glennon kept battling back and the Bears eventually dropped three passes to win the game from first and goal in the final seconds. Falcons ML parlay and teaser backers must have been pouring with sweat, but they ultimately held on 23-17.

Tarik Cohen was a revelation. He gained 158 all-purpose yards, a franchise record for a Bears player making his debut.

Julio Jones became the fastest player in NFL history to 500 receptions (80 games).
---
Steelers at Browns (+9)
The Browns were outside the number late in the fourth quarter (21-10) before DeShone Kizer led them on a 73-yard TD drive capped off by a 2-point conversion to cut the lead to 21-18 with 3:36 left. The Browns kicked it away and never saw the ball again as the Steelers ran the clock out, securing the win for underdog and under backers.

The Browns may have found an answer at QB as DeShone Kizer showed flashes in his first career start in a relatively competitive divisional matchup against a team that has owned Cleveland. The Browns didn't get any help from the run game (58 yards on 26 carries).

Ben Roethlisberger, who threw two TDs to TE Jesse James, became the all-time leader in wins (11) at FirstEnergy Stadium, passing Browns QB Derek Anderson. That's sad.

How about the debut of TJ Watt? He recorded two sacks and an interception!

Le'Veon Bell looked a little slow (47 yards on 15 touches), but Antonio Brown did Antonio Brown things as he caught 11 balls for 182 yards.
---
Jaguars (+5.5) at Texans
The Jaguars, above .500 for the first time since September 2011, dominated this game up front from start to finish. The cover was never in doubt, but the O/U was in limbo most of the game. Over 38 backers could not have been happy in the fourth when the Jags missed a chip shot field goal and then Deshaun Watson, who replaced an ineffective Tom Savage, threw a pick after having first and goal in a blowout. Under backers barely held on as the game ended 29-7.

Calais Campbell set the individual franchise record with four sacks in a game in which the Jaguars also set the team franchise record with 10 sacks. I think Texans LT Duane Brown, who sat out due to a contract dispute, now has the leverage.

Leonard Fournette looked great in his debut, powering for 124 total yards and a TD.

Five Texans left the game with concussions, including all 3 tight ends. This is even more of an issue this week since they play the Bengals on Thursday night.
---
Jets at Bills (-7)
Easy under 42, but a tough Bills cover as the Jets were inside the number at the start of the fourth quarter trailing 14-12. However, Josh McCown then proceeded to complete one of his final five passes with two interceptions. J-E-T-S.

The Bills really dominated this game despite a margin of only 9 points (21-12). They outgained the Jets 408-214 and had 12 more first downs (23-11). The Bills had a very balanced attack, rushing for 190 yards and passing for 218 yards.

Lesean McCoy looked explosive as he ran for 110 yards on 22 carries while leading the team in receptions.

The Jets looked lifeless on offense as they totaled 38 yards on 15 carries with no threat in the passing game. (McCown was 26-39 187 yards 0 TD/2 INT). The lone bright spot for New York was K Chandler Catanzaro, who connected from 48 and 52.
---
Cardinals at Lions (+2.5)
This was your typical Week 1 rust game, as the contest was filled with turnovers and mental mistakes. The Cardinals actually led 10-9 at the half and 17-9 late in the third, but then it all fell apart as Mr. 4th Quarter, Matt Stafford, took over as the Lions scored 26 straight points to take a 35-17 lead. Carson Palmer picked up a garbage TD late to make the final 35-23. This was only one of two overs that hit on the day.

Carson Palmer threw the ball 48 times, only completing 27, while throwing three interceptions. The Cardinals ran the ball only 18 times for 45 yards.

Matt Prater kicked a 58-yard field goal and took over the punting duties after an injury to the Lions' punter.

Stafford started slow but finished the day with an impressive line of 29-of-41 for 292 yards and four touchdowns against one interception. Golden Tate had 10 catches for 107 yards and rookie WR Kenny Golladay (NIU product) had four grabs for 69 yards and two TDs.
---
Eagles (-1) at Redskins
The Eagles got a huge strip 6 (their fourth forced turnover of the game) toward the end of the fourth quarter to extend their lead to 30-17, which is where it ended since Kirk Cousins couldn't drive the field in 1:30 to get over 49 backers to the window.

Cousins didn't look great (23-of-240 yards for one TD and one INT), but there are still major questions about the Redskins' No. 1 wide receiver. Terrelle Pryor, who had six catches for 66 yards, had a critical drop late in the game. They need to stop turning the ball over and to get Jordan Reed healthy.

The Eagles' rushing attack looked terrible (58 yards on 24 carries), but Carson Wentz made up for it as he continued to impress Philadelphia fans with a 26-of-39, 307-yard two TD/one INT performance that included a circus throw to Nelson Agholor, who looked great himself with six catches, 86 yards and one TD. The Redskins continue to struggle defending tight ends, as Zach Ertz had eight catches for 93 yards.
---
Seahawks at Packers (-2.5)
Under 50 backers never had sweat as these teams went into halftime with three total points. The turning point was a Russell Wilson fumble early in the second half inside his own 10 that led to a Packers TD. Blair Walsh connected on his third FG of the day with 6:17 left in the fourth to cut it to 17-9, but then Aaron Rodgers did Aaron Rodgers things and ran the clock out.

Green Bay really dominated the box score, as they essentially doubled Seattle in time of possession, 39:19-20:41. Their defense was the surprise story, as they held the Sehawks to 225 total yards of offense.

Both offensive lines looked questionable, as Russell Wilson had zero time and Rodgers was limping by the end of the game. Green Bay needs Bryan Bulaga back, and the Seahawks need a miracle.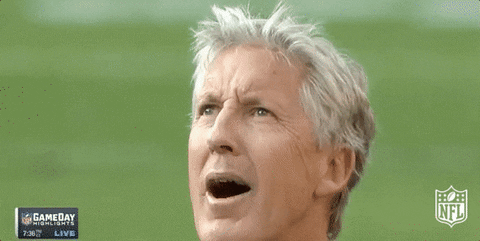 ---
Colts at Rams (-3.5)
The story here was the Rams' defense dominating a really bad Colts team by a final score of 46-9. The Rams' defense scored more than six NFL teams on Sunday; it became the first team in NFL history with two pick sixes and a safety in the same game. This was all without their best defender, Aaron Donald.

Jared Goff looked great (21-of-29 for 306 yards and one TD/zero INT), but how much can you take from this win against a team with no defense? Conversely, Rams fans should be concerned about Todd Gurley, who only ran for 40 yards on 20 carries after a disappointing 2016.

It looks like Andrew Luck will be out a few more weeks, so I would expect Jacoby Brissett to get the nod over Scott Tolzien once he knows the playbook well enough.
---
Panthers (-5) at 49ers
Cam Newton looked a little rusty, but he found a way along with Jonathan Stewart and a balanced passing attack to beat a pretty bad 49ers team 23-3. The cover for the favorite and the under were both never really in doubt here.

At least 49ers fans can brag about having the interception of the week?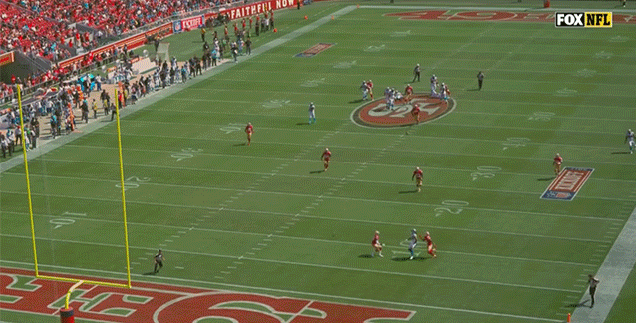 ---
Giants at Cowboys (-6)
Ezekiel Elliot looked excellent in a very easy 19-3 win for the Cowboys, as he ran for 104 yards on 24 carries and added five catches for 36 yards.

The Giants certainly missed Odell Beckham on offense, but they need to figure out that offensive line or it won't really matter. They also had zero balance as their backs only ran the ball 10 times for 30 yards.

Jason Witten passed Michael Irvin on the all-time Cowboys receiving yardage list and passed Tim Brown for sixth all time on the NFL receptions list.
---
Be part of the Action
Download the Sports Action app at the App Store or Google Play now.