Which Team Will Generate More Turnovers in Super Bowl 52?
Credit:
Winslow Townson-USA TODAY Sports
Turnovers decide playoff games. In the NFC Championship, the Minnesota Vikings held a 7-0 lead midway through the first quarter when Case Keenum threw an interception that Patrick Robinson returned 50 yards for a score.
It was the first of three turnovers committed by the Vikings journeyman quarterback. The pick-six sparked the Eagles who scored 38 unanswered points to steamroll to the Super Bowl.
Winning the turnover battle doesn't always guarantee success, Jacksonville didn't give the ball away and forced New England into a fumble in the AFC title game and lost, but usually the team that commits fewer mistakes not only wins but covers in the Super Bowl.
In the 51 Super Bowls to date, a team has won the turnover battle 43 times. The other eight games there were either no turnovers or the teams had the same amount. In the 43 games where one team had a better turnover differential, they hoisted the Lombardi Trophy 86.0% of the time (37-6 straight-up).
Teams that won the turnover battle also covered the spread, going 32-10-1 (76.2%) ATS.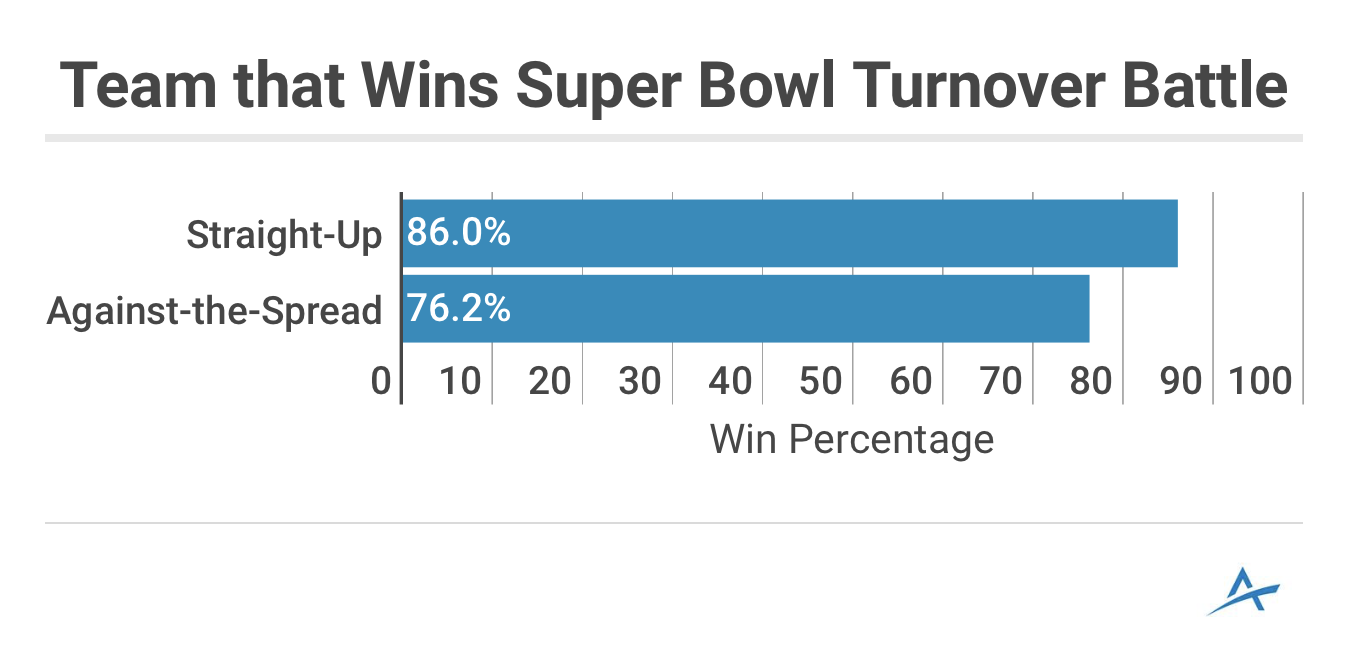 If you are having a hard time deciding which team to bet, pick the one you think will win the turnover battle. Of course, that is easier said than done.
Team to force more turnovers
At BetDSI, oddsmakers are offering a game prop for the team to force more turnovers.  The Eagles are -130 favorites, Patriots +100. When you remove the juice, Philadelphia has a 53.1% implied probability of forcing more turnovers than New England. In the regular season, Philly finished with the 4th-best turnover differential (+11), New England was 11th (+6). The Eagles defense had 31 takeaways (4th most) while the Patriots defense forced 18 turnovers (25th in NFL).
The season-long data and betting markets give the Eagles the best chance of forcing more turnovers. If the ball bounces Philly's way, they'll be well-positioned to win and cover. However, in the three Super Bowls that the Brady-Belichick Patriots lost the turnover battle, New England went 2-1 straight-up and against the spread. Against a pair of Hall of Famers, having fewer turnovers might not be enough.
Photo via Winslow Townson-USA TODAY Sports
How would you rate this article?