Broncos vs. Falcons Betting Guide: How to Play the Hall of Fame Game
Credit:
USA Today Sports. Pictured: Kevin Hogan, Brian Hill
Denver Broncos vs. Atlanta Falcons Betting Odds
Odds: Broncos -3
Over/Under: 34
Time: 8 p.m. ET on Thursday
TV Channel: NBC
The days of cherishing the AAF and watching as much NFL Game Pass as possible are over: Football is officially BACK. The Broncos will take on the Falcons in Thursday's annual Hall of Fame Game from Canton, Ohio.
Let's break down the matchup — complete with my picks and my colleague Sean Koerner's projected box score — then analyze the best daily fantasy strategy.
Betting Preview
After opening at a pick'em, the Broncos are 3-point favorites as of writing (see live odds here). The over/under has dropped slightly to 34 after opening at 34.5.
My colleague Mark Gallant pulled historical data from the 13 HOF Games in our Bet Labs database in his earlier breakdown of the odds:
The spread has closed below -4.5 over the 13-game sample.
Totals have ranged from 31.5 to 37, including back-to-back seasons at 34.5. Unders are 7-6 in those games.
An average of 33.7 points have been scored in those 13 games, though it's been slightly lower at 32.4 over the past five seasons.
There are no glaring spread trends to speak of, as favorites have gone 5-5-3 against the spread (ATS).
Another narrative that piques my interest is the idea that players might invest a bit more energy into the preseason with a new head coach who they've yet to impress. This applies to the Broncos, who will be directed by former Bears defensive coordinator Vic Fangio.
A look at the preseason performance from new head coaches over the past five seasons supports this idea: The 34 teams to replace head coaches over the past five offseasons have gone a combined 74-63 (54%) straight up and 72-61-4 (53%) ATS during their ensuing preseasons.
PICKS: Broncos -3; Under 34.5
---
Sean Koerner's Projected Box Score: Broncos vs. Falcons
Passing
Rushing
Receiving
---
DFS Analysis
Preseason sharp Sean Newsham wrote a helpful piece last preseason in which he analyzed five guidelines for dominating preseason NFL DFS that still applies.
His guidelines go as follows:
Opportunity is more important than talent.
Play guaranteed prize pools.
Pay attention to beat writers.
Each week of the preseason is different.
Defenses are valuable.
Much of the reasoning behind these preseason commandments comes down to the reality that the public doesn't receive much official injury or depth chart information from the league. Teams aren't required to submit their inactive reports well in advance of kickoff like they are during the regular season.
The other variable that separates preseason NFL from regular season is the increase in rotations at pretty much every position. Teams don't usually play their starters for more than a half in any preseason matchup with the exception of Week 3., and even then we often see established stars largely take the month of August off from anything resembling live tackling.
With that said, let's break down DraftKings' HOF Showdown slate.
Showdown Pricing
Don't worry about finding any pricing discrepancies this week because everybody costs the exact same — the captain position is $11,400 and every flex is $7,600. Every user will be forced to spend the exact same amount of salary, so we can focus a bit more on specific player selection.
Game Plans
Fangio was kind enough to outline a few of his plans for his head coaching debut.
Kevin Hogan will start at quarterback, followed by second-round pick Drew Lock and undrafted rookie Brett Rypien.
A couple starters could "get a handful of plays," but Fangio stressed that he'll focus on getting the young players the most action.
Injured skill-position players include wide receivers Emmanuel Sanders (Achilles), River Cracraft (muscle) and DaeSean Hamilton (hamstring) along with tight ends Bug Howard (ankle) and Jake Butt (knee).
We don't have as clear of an idea of the Falcons' plans, but don't expect many (if any) starters to suit up considering both the teams will be playing five preseason games. At the very least, don't expect to see Julio Jones (foot) for the entire preseason, nor Calvin Ridley (hamstring) for at least the first week or two.
Quarterbacks
Former Virginia and East Carolina signal caller Kurt Benkert is primed for DFS success on Thursday night.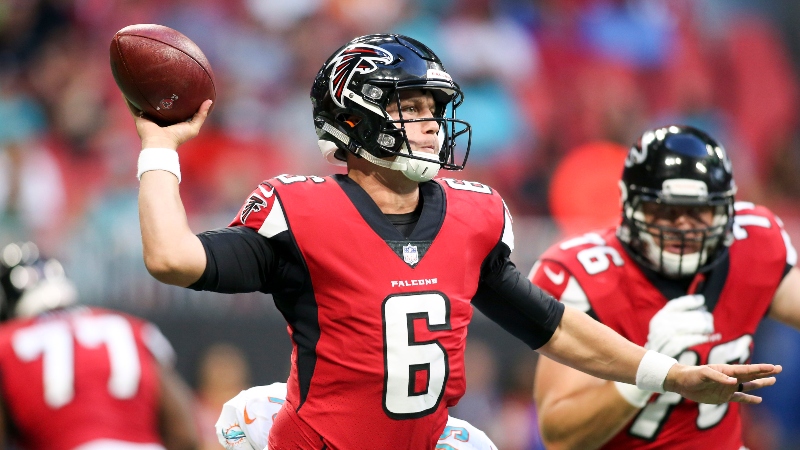 The Broncos are expected to play three quarterbacks while the Falcons boast only two backups behind Matt Ryan. It seems unlikely that 38-year-old Matt Schaub plays for more than a half, so Benkert seems like the position's best bet to get the most reps.
Of course, Benkert didn't flash much upside last preseason with Atlanta, completing just 28-of-64 (43.8%) passes for 347 yards (5.4 yards per attempt) with zero touchdowns and four interceptions.
Fading the quarterback position on this slate might not be a bad idea.
Running Backs
It wouldn't be surprising if Devonta Freeman and Ito Smith both sit out Thursday night, although Dan Quinn did indicate there's a battle for the No. 2 spot, which means Smith could feasibly receive some touches. Still, I wouldn't count on more than a series or two of snaps at the most.
The Falcons also boast four additional backs who are expected to get snaps on Thursday, but you should focus on Qadree Ollison and Brian Hill. Each have a chance to unseat Smith as the Falcons' No. 2 running back thanks to their respective blend of size and pass-catching ability.
Qadree Ollison: Ollison caught 50 passes during his four-year career at Pittsburgh and boasts the type of size at 6-foot-1 and 228 pounds to earn increased usage in the second half and around the goal line.
Brian Hill: Quinn said Hill's pass-catching ability has gone from a weakness to a strength. Hill averaged an absurd 7.9 yards per rush last season on only 20 carries and seems like real competition for the No. 2 job thanks to his never-quit running style.
The Broncos' situation should be more condensed as none of Phillip Lindsay, Royce Freeman nor Devontae Booker are expected to receive much work.
This means the Denver backfield should feature…
Khalfani Muhammad: It'd be shocking if Muhammad (5-foot-7 and 170 pounds) receives anything close to a workhorse role on Thursday night. Still, he did catch 55 passes in four seasons at Cal and has received praise in training camp for his ability to function as a receiver out of the backfield.
Devontae Jackson: The Broncos have a number of undersized backs on their roster, as Jackson (5-foot-7 and 180 pounds) is another back who isn't expected to be run into the teeth of the defense all that often. I side with Jackson over Muhammad considering Jackson is younger and posted superior collegiate production and efficiency (albeit at West Georgia).
David Williams: Williams is my pick to lead the Broncos' backfield in touches on Thursday night. He has a three-down blend of size (6-foot and 224 pounds) and speed (4.55-second 40-yard dash) that's lacking elsewhere in the preseason edition of this backfield. He racked up 13 carries and six receptions during Week 4 of last preseason, which might be the best week to compare to the unique HOF Game format.
I'll have the most exposure at the running back position to Hill, Williams and Ollison on Thursday night, in that order.
Wide Receivers
Its borderline impossible to project snaps and targets for these passing games considering the abundance of bodies each team has at the wide receiver and tight end positions.
Still, the following players stand out as talented prospects that could make the most out of their limited opportunity.
Russell Gage, Falcons
Gage has a real chance to unseat Justin Hardy as the Falcons' No. 4 receiver behind Jones, Ridley and Mohamed Sanu. Hardy offers additional fantasy value thanks to his ability to return kicks.
There isn't a ton to love about Gage from a size or speed standpoint, but he's clearly earned some love from the coaching staff and could warrant additional reps while he remains in a position battle.
Marcus Green, Falcons
Green isn't the biggest receiver at 5-foot-8 and 190 pounds, but he appears to be the Falcons' No. 1 punt returner and boasts a strong athletic and collegiate profile (via PlayerProfiler).
75th-percentile college dominator score
79th-percentile college yards per reception
89th-percentile breakout age
78th-percentile 40-yard dash (4.46 seconds)
72nd-percentile burst score
Kelvin McKnight and Trinity Benson, Broncos
This pair of undersized receivers from small schools could find themselves on the field early and often on Thursday night.
McKnight has earned rave reviews from training camp thanks to his pristine route-running ability. He caught 312 passes during his four-year career at Samford and proved capable of impacting games as a rusher and returner.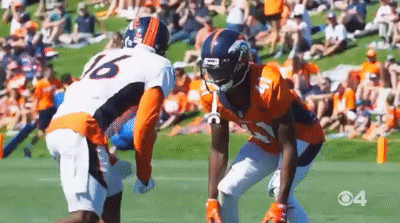 Then we have Benson, who has also turned heads at training camp. Emmanuel Sanders went as far to say that Benson "reminds me of myself as a rookie."
Benson offers a bit more athleticism than McKnight, but was used more as a running back than wide receiver during his time at East Central University.
Both players have gotten reps in practice returning punts and figure to be on the field often throughout Thursday's game, but I lean toward McKnight when it comes to guessing who will receive more targets.
Juwann Winfree, Broncos
Winfree is perhaps the most talented receiver from either team who isn't currently inside of the top-two on the depth chart.
While he doesn't have exceptional speed (4.58-second 40-yard dash), he combines above-average size (6-foot-1 and 210 pounds) with NFL-ready route-running ability.
Winfree never reached his potential in college due to injuries and off-field issues, but it's worth noting that his agent Mike McCartney dupped him as this year's Philip Lindsay.
Tight Ends
Both teams have up to five tight ends who will be active and rotating throughout the game. Considering there's typically only one tight end on the field compared to three-to-four wide receivers, I'll be fading the tight end position altogether.
---
Defenses and kickers
Broncos kicker Brandon McManus will play Thursday night and has consistently taken pretty much all of the team's preseason kicks over the past few years. Additionally, Falcons kicker Giorgio Tavecchio will handle all the place kicking duties.
Both kickers are certainly in play for this showdown format given that they're pretty much the only two players in this game who are expected to play four complete quarters.
This leaves us with both defenses, which might be the best overall plays available on the board.
Newsham eloquently explained why defenses are so great to play in the preseason in his guidelines piece:
"In the preseason, defenses are far more valuable and predictable than they are during the regular season, when the best offensive players see the vast majority of snaps. In the preseason, because teams cycle through offensive units, the only 'players' who earn stats throughout an entire game are defenses (and sometimes kickers). On top of that, scores are lower in the preseason, which results in higher fantasy scoring for defenses … Also, it's not uncommon for defensive players to get more preseason playing time than offensive players, which means that sometimes first-team defenses face backup quarterbacks, resulting in more sacks, interceptions and ultimately fantasy points. Almost nothing in preseason DFS is as fun as rostering a defense facing a fourth-string quarterback expected to play all 60 minutes."
Don't be afraid to roster both defenses in a game with a pedestrian game total of just 34 points.
How would you rate this article?