Broncos Fantasy Rankings, Projections, Analysis for Every Player
Credit:
Ron Chenoy-USA TODAY Sports. Pictured: Denver Broncos running back Phillip Lindsay (30).
See our experts' fantasy rankings, projections and analysis for every relevant Denver Broncos player.
The Broncos found an absolute gem in running back Philip Lindsay, who became just the third undrafted rookie since the merger to rush for more than 1,000 yards. Unfortunately Denver's passing game didn't see much success and first-year offensive coordinator Rich Scangarillo will look to right the ship with a new quarterback: Joe Flacco.
Can the Broncos' new offensive addition breathe some life into the passing game? Should we expect another stellar season from Lindsay?
Our analysts rank all their key players by scoring format, project their season-long stat lines and analyze their overall outlooks heading into the season.
Broncos Fantasy Rankings, Projections
Joe Flacco, QB
Pass: 316 comp | 507 att | 62.3 comp% | 3,451 yds | 18.7 TDs | 11.7 INTs
Rush: 27 car | 67 yds | 1.1 TDs
Phillip Lindsay, RB
Rush: 181 car | 862 yds | 7 TDs
Rec: 34 catches | 255 yds | 1.1 TDs
Royce Freeman, RB
Rush: 165 car | 689 yds | 5.9 TDs
Rec: 17 catches | 115 yds | 0.5 TDs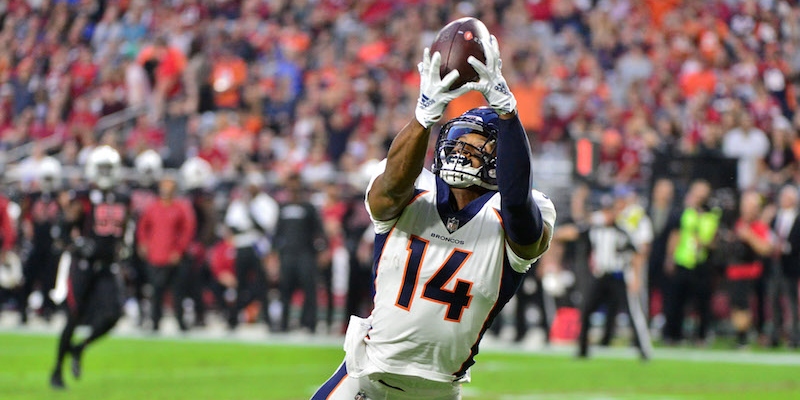 Courtland Sutton, WR
Rec: 51.9 catches | 809 yds | 4.6 TDs
Emmanuel Sanders, WR
Rec: 56.7 catches | 718 yds | 3.1 TDs
DaeSean Hamilton, WR
Rec: 49.1 catches | 486 yds | 3.3 TDs
Noah Fant, TE
Rec: 41 catches | 494 yds | 3.6 TDs
Note: Projections as of August 22.
---
>> Get our experts' latest fantasy rankings and projections in our Draft Kit.
---
Broncos Fantasy Outlooks
Chris Raybon analyzes Broncos offensive coordinator Rich Scangarillo's playcalling tendencies to predict who could benefit the most.
The Broncos hope to finally establish a "true split-touch situation that they envisioned between [Royce] Freeman and Phillip Lindsay last season," reports Charles Robinson of Yahoo — which is interesting because (1) they have a new head coach and offensive coordinator this year, and (2) Lindsay deserves more carries than Freeman. Lindsay averaged 1.4 yards per carry more than his fellow second-year back and posted a better success rate on first, second, and third down. Scangarillo's scheme will be in part borrowed from Kyle Shanahan, who he worked under in San Francisco over the past two seasons. The 49ers' backfield ranked fifth in the league with 23 carries per game during this span, which means a true split would result in Lindsay and Freeman topping out at 11.5 carries apiece. Last season, the top 25 RBs in PPR points per game only contained five backs who failed to top 11.5 carries; the top 25 in standard contained three. Especially with the franchise seemingly insistent on also mixing in a third back as a passing-down specialist, Lindsay and Freeman are capped-ceiling investments.
In drafting Noah Fant, athletic pass-catching tight end out of Iowa, Scangarillo appears to be emulating what his old boss had with George Kittle. As a rookie, Kittle played 57% of the snaps and turned in a 2.9-34.3-0.13 line on 4.2 targets, finishing as TE22. He began that year as an every-down player before injuries forced Shanahan to scale back his role, so Fant could have a shot at even better numbers this year, which would put him in the fringe TE1 conversation.
Another staple of Shanahan's that Scangarillo will adapt is heavy formations with the quarterback under center. John Elway's latest stopgap, Joe Flacco, averaged 7.9 yards per attempt under center and 6.2 from the gun last season, which isn't a scheme fit so much as it is Flacco being unable to move the ball when the defense has the slightest inkling of what's coming. Compounding the problem is that Flacco is the NFL's worst play-action passer. Hopefully his backup becomes a quarterback soon.
How would you rate this article?