Colts Fantasy Rankings, Projections, Analysis for Every Player
Credit:
Brian Spurlock-USA TODAY Sports. Pictured: T.Y. Hilton, Andrew Luck
See our experts' fantasy rankings, projections and analysis for every relevant Indianapolis Colts player.
The Colts (and fans) were blindsided by the news of Andrew Luck retiring. How high should expectations be for Jacoby Brissett, T.Y. Hilton and the offense?
Our analysts rank all their key players by scoring format, project their season-long stat lines and analyze their overall outlooks heading into the season.
Colts Fantasy Rankings, Projections

Editor's note: Our experts' projections have changed in the wake of Luck retiring. Get their latest rankings and projections with our Draft Kit and their reaction to the fallout here.
Marlon Mack, RB
Rush: 235 car | 1,027 yds | 9.2 TDs
Rec: 23 catches | 183 yds | 1.2 TDs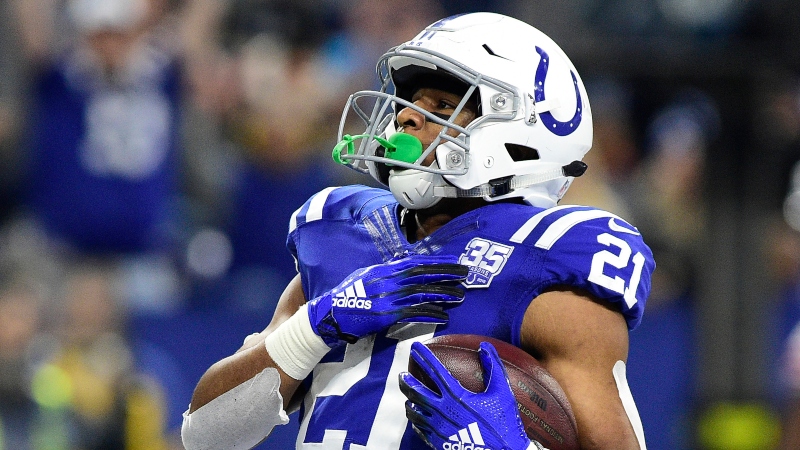 Nyheim Hines, RB
Rush: 61 car | 245 yds | 1.8 TDs
Rec: 52 catches | 354 yds | 2 TDs
T.Y. Hilton, WR
Rec: 78.1 catches | 1212 yds | 6.2 TDs
Devin Funchess, WR
Rec: 47.2 catches | 625 yds | 5.7 TDs
Parris Campbell, WR
Rec: 38.6 catches | 483 yds | 3.4 TDs
Eric Ebron, TE
Rec: 53 catches | 584 yds | 6.9 TDs
Jack Doyle, TE
Rec: 49 catches | 460 yds | 3.7 TDs
Colts Fantasy Outlooks
Chris Raybon breaks down Frank Reich's playcalling tendencies to forecast who will benefit most.
After an embarrassing 6-0 defeat to the Jaguars in Week 12 in which Reich gave Marlon Mack only nine touches while Nyheim Hines got 13, Mack received 85% of the running back carries and 77% of the overall backfield touches, averaging 19.7 per game. In eight active games prior, he'd been getting 56% of the touches and averaging 16.1. If you project Mack at 19.7 touches, he would have ranked 11th in standard and 15th in PPR points per game. Hines, meanwhile, averaged just 3.5 carries — and 2.5 carries from Week 12 on. His curtailed run-game usage wasn't a surprise after he averaged just 3.84 yards per carry, but it was concerning that he wasn't targeted in either postseason game. All of Reich's comments since — from Mack carrying the load to Parris Campbell "affecting" Hines' workload — paint the picture of a player slated to see his usage scaled back.
In the six games Jack Doyle was active, Eric Ebron experienced a drop-off in targets (8.8 vs. 3.5), receptions (4.8 to 3.0), and yards (52.2 to 38.0). He did find himself wide open for more easy TDs, though, averaging 1.2 per game with Doyle compared to 0.6 without — but TDs are notoriously the most difficult stat to repeat.
Three or more wide receivers were on the field for 62% of the Colts passing plays with Doyle active compared to 85% with him out. Whether due to lack of practice time with Andrew Luck (calf), or because the team ends up being forced to play it closer to the vest with Jacoby Brissett in his place, the odds are against Campbell and Devin Funchess becoming major parts of the offense, at least early on. Even with Doyle's prolonged absence last year, no Colts wide receiver besides (the under appreciated) T.Y. Hilton averaged more than 4.5 targets per game. Fewer than 10% of wide receivers to crack the top 50 last season were targeted less than 4.5 times per game.
How would you rate this article?