NFL Week 6 Fantasy RB Breakdown: Can You Afford to Roster Todd Gurley?
Credit:
Joe Nicholson-USA TODAY Sports. Pictured: Todd Gurley
See the full version of this piece at FantasyLabs.
The 2018 NFL season rolls on, and we're still on pace for a record-breaking campaign with an average of 24.0 points per game per team. We could be in for another week of high scores with a 12-game main slate that kicks off on Sunday, Oct. 14, at 1 p.m. ET.
With two teams on bye and six in prime-time games, we are without several top-tier running backs.
Thursday Night Football: Eagles (Corey Clement, Wendell Smallwood) at Giants (Saquon Barkley)
Sunday Night Football: Chiefs (Kareem Hunt) at Patriots (James White, Sony Michel)
Monday Night Football: 49ers (Alfred Morris, Kyle Juszczyk) at Packers (Aaron Jones, Jamaal Williams, Ty Montgomery)
Bye Weeks: Lions (Kerryon Johnson, LeGarrette Blount, Theo Riddick), Saints (Alvin Kamara, Mark Ingram)
Even so, this slate features some great games. It's always a good time to play some daily fantasy football.
For analysis on the smaller slates, consult Chris Raybon's premium strategy guides (released throughout the week).
In writing this piece, I've relied primarily on the FantasyLabs Models. This breakdown is less of a comprehensive analysis of each running back and more of an introduction to this week's players via our large suite of analytic DFS Tools. We'll start with the four running backs at the top of the salary scale, follow with five rushers at the top of our individual Pro Models and finish with the rest of the slate's fantasy-relevant backs
For updates on Vegas spreads and over/unders, check out The Action Network Live Odds page.
Highest-Priced Running Backs
This week, Gurley is at the top of the salary scale.
Todd Gurley: Los Angeles Rams (-7) at Denver Broncos, 52 O/U
Todd Gurley: $10,000 DraftKings; $9,500 FanDuel
Only thrice in the FantasyLabs database has a DraftKings running back hit the $10,000 threshold. Matt Forte did it in back-to-back weeks in 2014, and peak David Johnson did it once near the end of 2016. Gurley is in rarefied air. Even with his appreciated cost, we're projecting Gurley for high ownership rates, and it's hard to say that he's unworthy of his salary or DFS popularity.
Ever since head coach Sean McVay joined the Rams, Gurley has easily been the best back in football, leading the position with 27.6 DraftKings points per game, a +8.02 Plus/Minus, and 2,738 yards and 28 touchdowns from scrimmage. Gurley has an 87.4% market share of snaps, and he's the unquestioned alpha on the No. 1 team in The Action Network NFL Power Rankings. Barring a mid-game injury, he's a mortal lock for 18+ opportunities, a threshold he's hit in every game in the McVay era.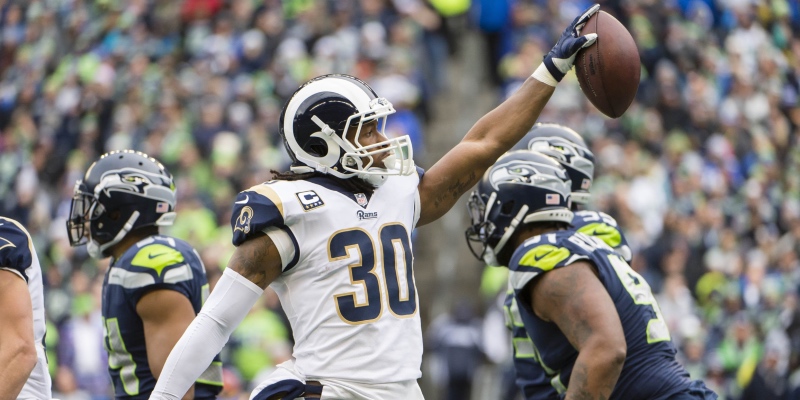 Last year Gurley led the league (in 15 games) with 37 opportunities inside the 10-yard line, and he's pacing for way more this year. Through five games, he has 22 carries and four targets inside the 10, and that doesn't take into account his two successful 2-point conversions in Week 2. With his goal-line opportunities and scoring prowess, it's not a surprise that Gurley leads all non-quarterbacks with his +900 odds to win the 2018 MVP award.
While most players tend to struggle on the road, especially in Denver because of the elevation, Gurley in the McVay era has exhibited significant reverse home/away splits.
Home (10 games): 22.8 DraftKings points, +3.45 Plus/Minus, 74.5 yards and 0.9 touchdowns rushing, 47.5 yards and 0.2 touchdowns receiving on 3.9 receptions and 5.6 targets
Away (10 games): 31.9 DraftKings points, +12.05 Plus/Minus, 97.5 yards and 1.1 touchdowns rushing, 54.3 yards and 0.6 touchdowns receiving on 4.4 receptions and 5.6 targets
The sample isn't large, but Gurley's +12.05 DraftKings Plus/Minus as a visitor is outstanding.
Although the Broncos defense as recently as 2016 was first in the league with a -18.3% mark in Football Outsiders' DVOA, those days are long gone, as is defensive coordinator Wade Phillips, who now coincidentally oversees the Rams defense (#RevengeGame).
The Broncos defense isn't bad — it's 12th overall with 74.0 Pro Football Focus grade — but without Phillips, as well as Hall-of-Fame edge rusher DeMarcus Ware (retired) and shutdown cornerback Aqib Talib, the unit is no longer to be feared. This year, the Broncos have allowed opposing backfields to hit a top-10 mark of 29.5 DraftKings points per game. Gurley's matchup against the Broncos is neutral at worst.
In the McVay era, Rams games have a 14-7 over/under record, and on the road the Rams have hit the over at a 8-2 rate, which is good for a 56.9% return on investment for over bettors (per Bet Labs). The sample is small, but it's probably not a fluke, considering that the McVay Rams have hit their implied Vegas totals in 16-of-21 games overall.
With his high usage, three-down ability and multi-touchdown upside, Gurley is a game script-independent potential GPP winner. Gurley leads all backs with his median, ceiling and floor projections and his 16 Pro Trends on FanDuel, where he has a position-high 98% Bargain Rating and is the No. 1 back in every Pro Model except for one (Freedman).
Model Running Backs
Besides Gurley, Gordon and Ekeler, there are five running backs atop the individual Pro Models that Jonathan Bales, Peter Jennings (CSURAM88), Adam Levitan, Sean Koerner, Chris Raybon, Kevin McClelland (SportsGeek) and I have constructed.
The most intriguing of these backs might be Peyton Barber.
Peyton Barber: Tampa Bay Buccaneers (+3) at Atlanta Falcons, 57 O/U
Peyton Barber: $3,500 DraftKings; $5,600 FanDuel
Through Week 5, Barber has 18.1 DraftKings points. Not per game. That's in total. Of all the starting backs in the league, Barber without question has been the stone-cold worst. But there is some room for optimism: Barber has played 61.2% of the offensive snaps and gotten 63.6% of the backfield opportunities on a team averaging 28.0 points per game. No running back on the team has scored a touchdown yet, but Barber is the only Bucs back with a touch inside the 10-yard line. Eventually the Bucs will score some touchdowns on the ground instead of through the air, and when that happens, Barber will likely be the beneficiary.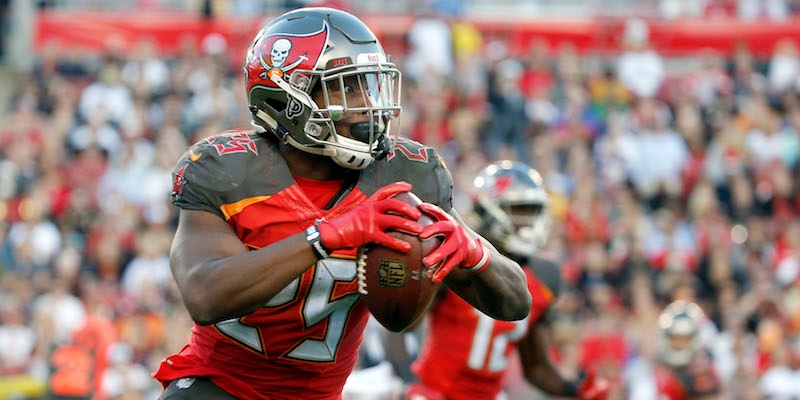 Coming off the bye, the Bucs have had extra time to work on their rushing woes and to prepare for the Falcons, who are 31st in rush defense with an 11.3% DVOA. They have allowed the second-most DraftKings points per game (36.4) to running backs. Each week, the Falcons defense has been a fantasy factory, allowing lead backs to get 20+ DraftKings points.
Jay Ajayi (Week 1): 20.2 DraftKings points, 15-62-2 rushing
Christian McCaffrey (Week 2): 30.9 DraftKings points, 8-37-0 rushing, 14-102-0 receiving on 15 targets
Alvin Kamara (Week 3): 37.0 DraftKings points, 16-66-0 rushing, 15-124-0 receiving on 20 targets
Giovani Bernard (Week 4): 25.6 DraftKings points, 15-69-2 rushing, 4-27-0 receiving on four targets
James Conner (Week 5): 37.5 DraftKings points, 21-110-2 rushing, 4-75-0 on four targets
And it's not just that the Falcons are horrible. They're also injured. They've been without middle linebacker Deion Jones (foot, IR) and free safety Keanu Neal (knee, IR) since the middle of Week 1. Strong safety Ricardo Allen (Achilles, IR) suffered a season-ending injury in Week 3. And defensive tackle Grady Jarrett (ankle) exited Week 4 early and is expected to sit a couple more games after missing last week.
In his nine games since becoming the lead back last year in Week 13, Barber has averaged 16.4 opportunities per game — and his ownership this week will be almost nonexistent. If he sees that usage … in this matchup … with his salary … and low ownership … he could have the single-game DFS performance of the year.
Barber is the No. 1 DraftKings back in the CSURAM88 Model.
Also on the Bucs:
Ronald Jones: $3,900 DraftKings; $5,600 FanDuel
Jacquizz Rodgers: $3,200 DraftKings; $4,500 FanDuel
Jones saw his first NFL action in Week 4, getting 10 carries — but nine of them came after halftime once the game was well out of hand. Rodgers has played 26.5% of the snaps this year and is an established pass-catching back, but he got no offensive snaps in Week 4 and might be squeezed out of the game plan in this #RevengeGame against his former team.
Positional Breakdowns & News
Be sure to read the other Week 6 positional breakdowns.
• Quarterbacks
• Wide Receivers
• Tight Ends
For more in-depth NFL analysis information, check out The Action Network.
After this piece is published, FantasyLabs is likely to provide news updates on a number of players. Be sure to stay ahead of your competition with our industry-leading DFS-focused news blurbs.
---
---
Matthew Freedman is the Editor-in-Chief of FantasyLabs. He has a dog and sometimes a British accent. In Cedar Rapids, Iowa, he's known only as The Labyrinthian.