Koerner's Week 2 Fantasy Football Tiers: Ranking Every QB, RB, WR, TE, More
Credit:
USA Today Sports. Pictured: Le'Veon Bell, Lamar Jackson, DeAndre Hopkins
Sean Koerner unveils his fantasy football tiers for Week 2.
See his Week 2 rankings for QB, RB, WR, TE, D/ST, K -- and get a window into his strategy at each position.
Welcome to Overreaction SZN!
I put this out on Twitter over the weekend in an attempt to quell any panic that might be setting in after just one week of football:
Here is where certain players ranked this time last year:

Tyrod Taylor QB4
Matt Ryan QB25

Isaiah Crowell RB4
Derrick Henry RB57

Kenny Stills WR4
Amari Cooper WR77

Will Dissly TE3
Travis Kelce TE53
Now is no time to panic. Those who trust the process while also making sure to make savvy in-season moves are generally sitting pretty at the end of the year.
Let's dive into my Tiers, which should be viewed as a window into how I'm approaching the week. As always, check out this piece for my most up-to-date rankings.
---
Go To: QB | RB | WR | TE | K | DEF
---
Week 2 Fantasy Tiers
Quarterbacks
Tier 1
Patrick Mahomes (at OAK)
Mahomes picked up right where he left off with a 378-yard, three-passing-TD performance against the stingy Jaguars pass defense. It was not all rosy for the reigning MVP as he lost his electric receiver in Tyreek Hill. That'll hurt Mahomes' upside some, but he is still the No. 1 quarterback in fantasy.
Tier 2
Lamar Jackson (vs. ARI)
Deshaun Watson (vs. JAX)
Wow. I had mentioned all offseason that Lamar Jackson was a high-floor quarterback thanks to his rushing ability. The thinking was that any growth he showed as a passer would unlock a QB1-type weekly ceiling. We actually saw the inverse of this Week 1, when he erupted for 324 pass yards and five touchdowns while only picking up six yards on the ground.
Due to the stomping the Ravens put on the Dolphins, it's hard to take away much from this game other than Jackson appears to have unlocked that QB1 upside now. He gets another cupcake matchup this week against the Cardinals, which means we could see either his passing or rushing stat lines land him in the top 10.
However, in closer-fought contests going forward, we could see a more optimal pass/rush blend to help consistently making him a high-floor/high-ceiling QB going forward.
Watson flashed his own QB1 upside Week 1 but has a tougher matchup at home against the Jaguars. The Texans should be able to beat the Nick Foles-less Jaguars, so Houston could give Watson's body a break and lean on their running game a bit more in Week 2, limiting his upside some.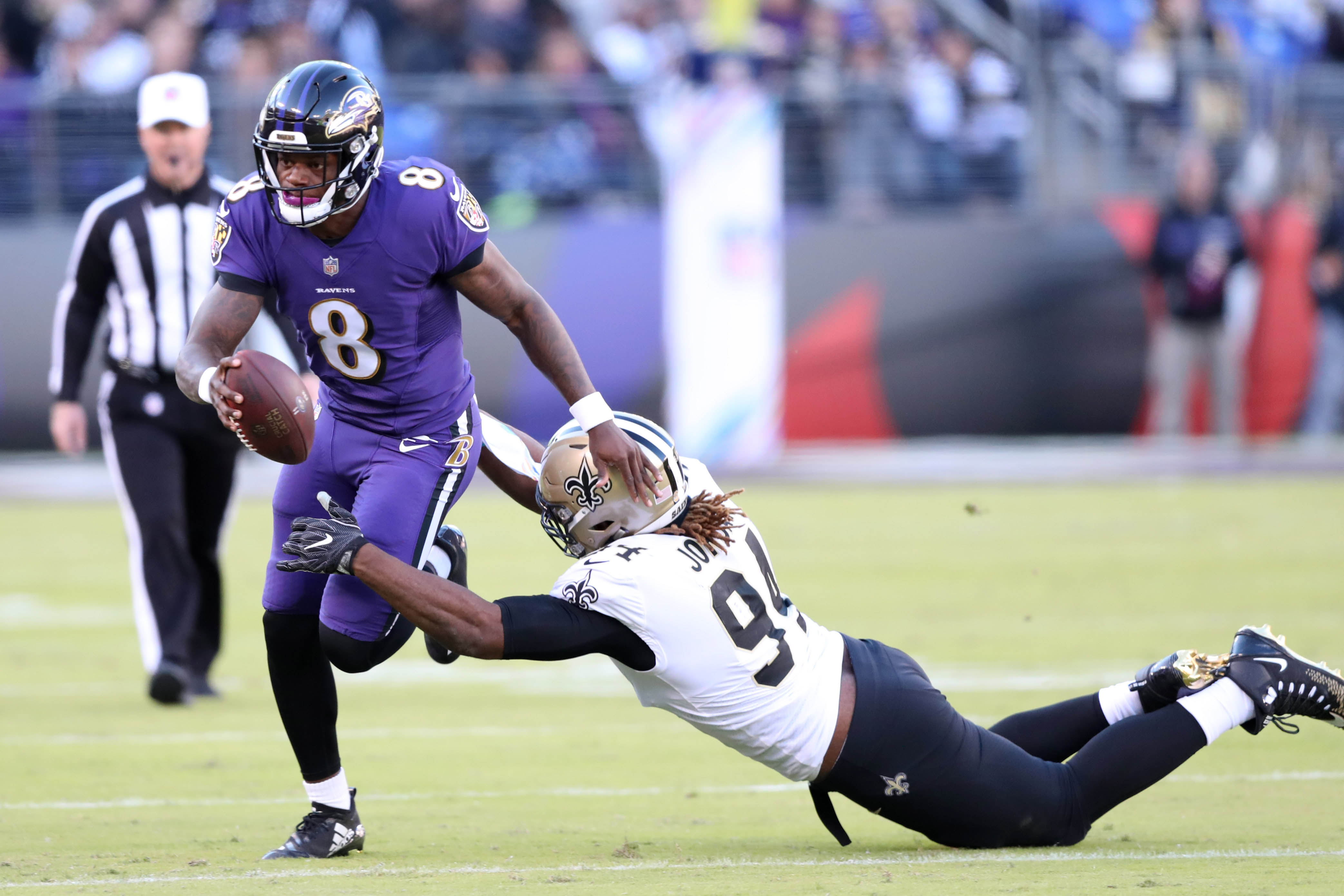 Tier 3
Tom Brady (at MIA)
Dak Prescott (at WAS)
Carson Wentz (at ATL)
Matt Ryan (vs. PHI)
Cam Newton (vs. TB)
Tom Brady is an extreme high-floor play this week as the Patriots get to face a Dolphins team that just gave up 59 points to the Ravens. Brady seems like a lock for 250 yards and two touchdowns, but his ceiling may be capped at bit. I'm actually projecting Jarrett Stidham to play in this game due to the high likelihood of a blowout (Pats are now up to 19-point favorites).
Dak Prescott and Carson Wentz came out firing in Week 1, and I expect them to keep it up this Sunday. Matt Ryan was a bit of a mixed bag as he looked pretty brutal in the first half, making an ill advised heave to Luke Stocker in the end zone that was picked off. He was able to salvage a decent end result for fantasy owners thanks to some second half garbage time.
The Falcons' offensive line is certainly going to be an issue going forward, but I think we can safely fire up Ryan this week as a low-end QB1. Cam Newton requires the biggest leap of faith to trust as a QB1 after a dreadful Week 1 performance against the Rams. His mechanics looked a bit off, which is worrisome with him coming off a shoulder procedure.
His shoulder is apparently 100% so we have to wonder if it was his ankle injury that was affecting him the most. It was the first time in Newton's entire career that he finished with negative rushing yards (-2), so we will need to monitor reports on his ankle's health leading up to the TNF game this week.
If he appears to be in better health this week, he should bounce back in a big way against Tampa. Check my updated rankings and my Thursday Night Football sit/start piece to know where I stand before you decide.
Tier 4
Josh Allen (at NYG)
Aaron Rodgers (vs. MIN)
Jared Goff (vs. NO)
Josh Allen is my top quarterback streamer this week. He is similar to Lamar Jackson in that the more he improves as a passer, the higher his fantasy ceiling.
So far the Bills' passing game looks promising, as Buffalo's veteran WR additions of John Brown and Cole Beasley should continue to help Allen's deep and short/intermediate passing game.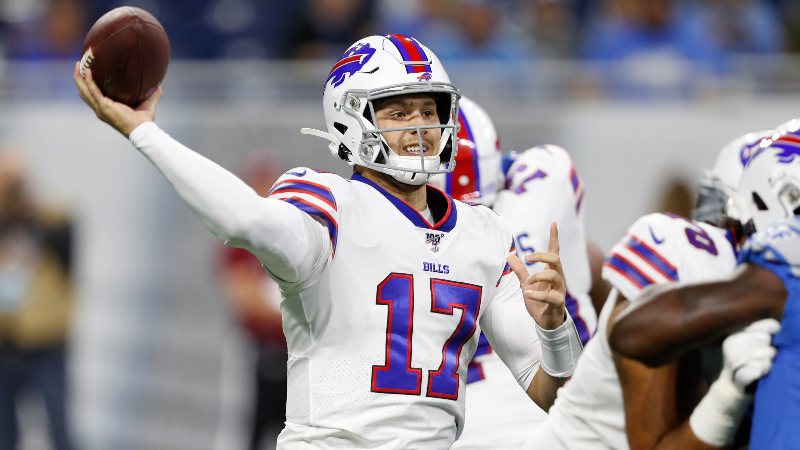 We also saw Allen's rushing potential carryover from 2018 with a 10/38/1 line on the ground. He faces a Giants defense that got torched for 400-plus yards from Dak Prescott, so we are more likely to see a ceiling game from Allen this week than a floor game.
Rodgers gets another tough test this week against the Vikings. He should re-enter the top six going forward in more favorable matchups. Goff was quiet Week 1 but should bounce back with a big game in what should be a shootout at home against the Saints.
Tier 5
Ben Roethlisberger (vs. SEA)
Philip Rivers (at DET)
Drew Brees (at LAR)
Baker Mayfield (at NYJ)
One of the main Week 1 fallouts that is causing panic is how bad the Steelers offense looked. While they did look out of sync, we have to wonder if this is just vintage home/road Big Ben. He gets to play at home this week against a Seattle defense that was just torched by Andy Dalton for 400-plus yards.
If Big Ben can't bounce back here, it may be time to cut him and just stream a quarterback going forward.
Baker was one of the quarterbacks who had a brutal Week 1 and should bounce back this week. I'm not expecting a massive game from him, but I think he can put up a 270-yard, 2-TD-type stat line, which would at least get him back on track before a possible ceiling game Week 3 vs. the Rams
Tier 6
Jameis Winston (at CAR)
Russell Wilson (at PIT)
I wrote an entire piece on what to do with Jameis Winston, so check that out for a deeper explanation. In summary, I'm not as panicked as everyone else. Having said that, you likely took him Round 10 or later, which means you don't need to feel handcuffed to him.
He has a bad matchup this week, so I feel like people will leave him on the waiver wire after this week if you or someone else drops him. I would then consider picking him up headed into Week 3 if you want a potential top-10 QB going forward.
Russell Wilson has a chance for a ceiling game on the road against the Steelers, who allowed plenty of big plays in the opener. Wilson is getting used to a new supporting cast of pass catchers, so I expect him to get better as the season goes.
This should also be a game where Seattle is forced to throw a bit more, helping Wilson's floor. He is still not a "must start," so if you have someone available above this Tier you need to consider starting them.
Tier 7
Matthew Stafford (vs. LAC)
Andy Dalton (vs. SF)
Mitchell Trubisky (at DEN)
Marcus Mariota (vs. IND)
Derek Carr (vs. KC)
Kyler Murray (at BAL)
Jimmy Garoppolo (at CIN)
Kirk Cousins (at GB)
Jacoby Brissett (at TEN)
Case Keenum (vs. DAL)
This massive tier are your 2QB/Superflex options this week. Stafford was my streaming quarterback last week and ended up being the QB4.
It's going to be tough for people who streamed him to cut bait after that game, but that is what streaming is all about. It's not about chasing points or committing; it's about being cold blooded and always looking ahead. Expect Stafford to regress this week against a much better defense.
Kyler Murray had a mixed debut but flashed his potential. Let him work out some flaws this week against a tough Ravens defense, and then I think we should see him start to really take off starting Week 3-4.
Kirk Cousins has turned into an extreme game manager. We saw hints of it last year after offensive coordinator Kevin Stefanski took in the final three weeks. The Vikings look set to lean on their improved running scheme under Gary Kubiak to win games. Cousins will be a spot-start streamer going forward in matchups where I think they will be forced to throw more.
Tier 8
Sam Darnold (vs. CLE)
Eli Manning (vs. BUF)
The only reason to play either of the low-ceiling/low-floor quarterback in this tier is if you have no other options in a 2QB/Superflex league.
Tier 9
Joe Flacco (vs. CHI)
Gardner Minshew (at HOU)
Garner Minshew is going to take over for Nick Foles (broken collarbone) for at least the next eight weeks. Minshew is worth a flier in 2QB leagues to see if some of the potential he flashed in Week 1 can continue when teams can actually game plan him as the starter.
Tier 10
With the Dolphins being 19-point underdogs I actually have the backup quarterbacks for both teams, Josh Rosen and Jarrett Stidham, projected to play at some point.
Translation: play Brady, avoid Fitz-Magic at all costs.
---
Running Backs
Based on Half-PPR scoring
Tier 1
Christian McCaffrey (vs. TB)
CMC gets his own tier this week, and it's not even close. I have him projected for nearly five full points more than Saquon Barkley. This is rarefied air.
It's the perfect storm of a dream matchup and the Panthers leaning on him a bit more while Newton tries to get his shoulder/ankle close to 100% health.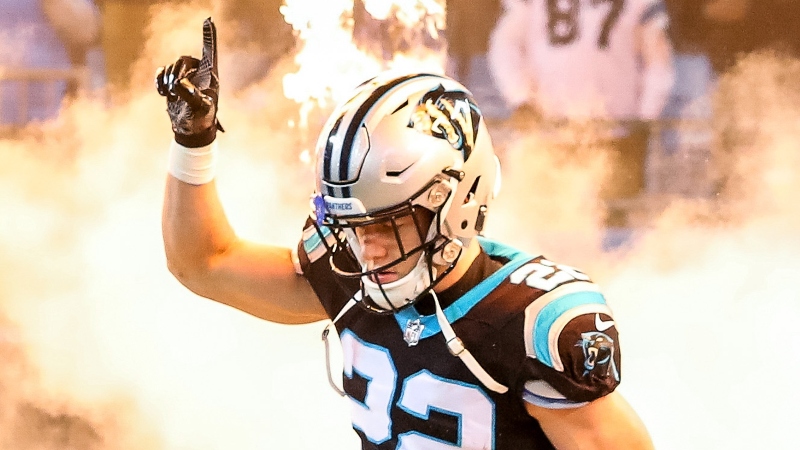 Tier 2
Saquon Barkley (vs. BUF)
Alvin Kamara (at LAR)
While CMC is by far the top running back for Week 2, Barkley and Kamara are also set up for huge weeks. Kamara owners likely felt their fantasy season flash before their eyes Monday night, when the Saints RB was hit mid-air and nearly did a full 360 degree helicopter spin.
Luckily he was fine, but it also shows just how durable he is. He has a running style where he is so elusive that he rarely faces major collisions, with that play being an obvious exception. The Saints/Rams game should be a shootout and Kamara should eat.
Tier 3
Le'Veon Bell (vs. CLE)
Nick Chubb (at NYJ)
Ezekiel Elliott (at WAS)
Zeke will likely need one more week before we start to see a 20+ touch workload. All this does is cap his ceiling but I think he's a safe bet as a RB1 and should still see all goal-line work.
Le'Veon Bell was supposed to be eased in, but instead had a solid 23-touch performance against the Bills. He faces a Browns defense that was just torched by Derrick Henry.
Tier 4
James Conner (vs. SEA)
Chris Carson (at PIT)
Dalvin Cook (at GB)
Conner's stock will rise/fall with the Steelers offense. He needs Big Ben and the passing game get back on track this week if we want to consider him a RB1 going forward. The good news is that he should be the workhorse back we expected. Jaylen Samuels could be a potential passing game weapon they utilize more of going forward, but he's is not an immediate threat to Conner's workload.
Carson and Cook both smashed in Week 1 and are set up to repeat again Week 2.
Tier 5
Leonard Fournette (at HOU)
Austin Ekeler (at DET)
David Johnson (at BAL)
Fournette's stock took a bit of a hit with the Foles news. We are right back to where we started with him: Defenses should be able to stack the box, making it harder for him to go off.
Ekeler is doing his best 2018 James Conner impression. The Chargers are likely going to keep feeding him in order to put more pressure on Melvin Gordon to end his holdout sooner than later.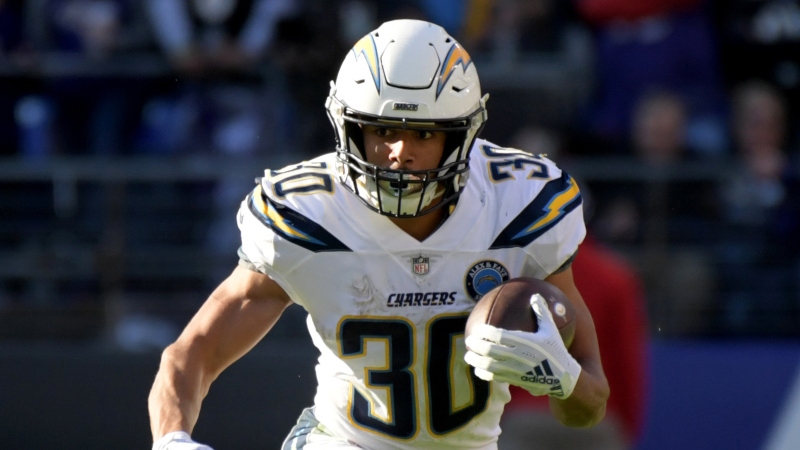 Tier 6
Derrick Henry (vs. IND)
Mark Ingram (vs. ARI)
Todd Gurley (vs. NO)
Josh Jacobs (vs. KC)
Mark Ingram should feast again this week against a soft Cardinals defense. If he puts up another top-10 performance and it looks like the backfield is fairly split between he, Edwards and Hill, it may be time to sell-high if you can.
We also can't forget that Lamar Jackson is part of that RBBC, so Ingram could be more of an inconsistent RB2 in Week 3 and beyond after their soft Week 1 and Week 2 opponents.
Tier 7
Damien Williams (at OAK)
Devonta Freeman (vs. PHI)
Damien Williams is entrenched in a RBBC with LeSean McCoy who is still learning the offense. Williams is still a dynamic pass catching back on arguably the best offense in football so he is going to still have some big games. If he gets off to a good start after 2-3 games, I think it would be a good time to sell high since McCoy's role should only grow.
Devonta Freeman owners are in full panic mode after a dreadful game. Yes, the offensive line could be an issue, but this offense will get going soon and Freeman is still their main back. It's worth floating a trade to the Freeman owner in your league to take advantage of their panic.
Tier 8
Marlon Mack (at TEN)
Kerryon Johnson (vs. LAC)
Sony Michel (at MIA)
Duke Johnson Jr. (vs. JAX)
Matt Breida (at CIN)
Aaron Jones (vs. MIN)
Phillip Lindsay (vs. CHI)
Despite every single one of these backs having some question marks and/or a slow start to the season, this is still a solid RB2 tier.
In theory, Sony Michel should be set up for a big game against the Dolphins with the Patriots being nearly 20-point favorites. But you almost have to wonder if Bill Belichick will try to bubble wrap Michel a bit here; there's really no reason to give him 15-20 carries in what should be a cake walk. Michel is one of the trickier backs to project this week as a result.
Matt Breida is set to take over as the 49ers' lead back with Tevin Coleman potentially missing multiple games with a high ankle sprain.
Tier 9
James White (at MIA)
Joe Mixon (vs. SF)
This is your RB2-handle-with-caution tier. The Patriots aren't likely to need James White's pass-catching ability to beat the Dolphins, which makes him a bit tougher to trust.
Joe Mixon is questionable with an ankle sprain. This is simply a placeholder rank assuming he plays at less than 100%. Check my updated rankings to see where he ranks before you make any final lineup decisions.
Tier 10
Adrian Peterson (vs. DAL)
Giovani Bernard (vs. SF)
Tarik Cohen (at DEN)
Chris Thompson (vs. DAL)
Miles Sanders (at ATL)
Devin Singletary (at NYG)
David Montgomery (at DEN)
Peterson was a healthy scratch for the first time in his career in Week 1, as the Redskins were set to move forward with Derrius Guice and Chris Thompson forming a RBBC. Guice ended up suffering a meniscus injury that will force him to miss a few games, which means AP is set to become the Redskins' lead back again.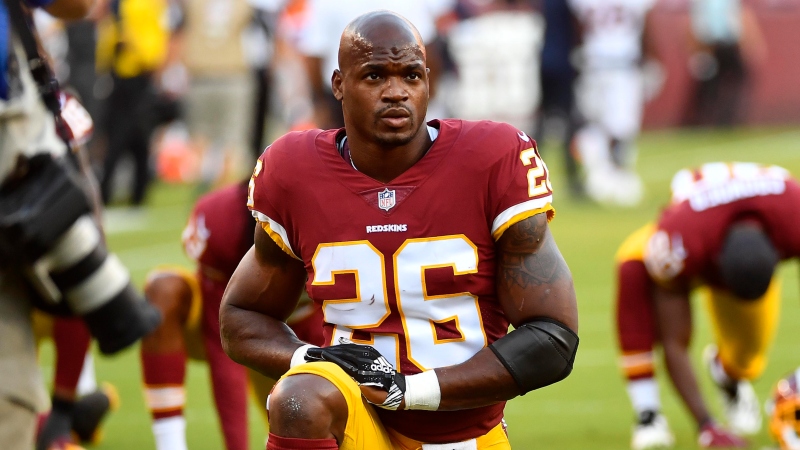 Look for Peterson to be even more motivated after last week's benching. Chris Thompson appears to be 100% and act as the Redskins full-time pass catching back, making him a PPR RB3/Flex as long as he stays healthy.
Gio Bernard is someone to keep an eye on this week; his rank will ultimately depend on Joe Mixon's health. Miles Sanders, Devin Singletary and David Montgomery are all rookies who flashed some potential in their debuts, but they're in 2- and 3-way RBBCs, which will make them hard to trust until they are able to leapfrog someone or an injury occurs.
Tier 11
Mike Davis (at DEN)
Rex Burkhead (at MIA)
Justin Jackson (at DET)
Royce Freeman (vs. CHI)
Latavius Murray (at LAR)
Kenyan Drake (vs. NE)
Ronald Jones (at CAR)
Peyton Barber (at CAR)
Frank Gore (at NYG)
LeSean McCoy (at OAK)
These backs are all the tail-end of a running back by committee. We really won't see any of these backs enter the RB3/Flex discussion until someone in their backfield gets hurt or we start getting BYE weeks.
Tier 12
Carlos Hyde (vs. JAX)
Nyheim Hines (at TEN)
Dion Lewis (vs. IND)
Jamaal Williams (vs. MIN)
Raheem Mostert (at CIN)
Jordan Howard (at ATL)
C.J. Anderson (vs. LAC)
Darren Sproles (at ATL)
Rashaad Penny (at PIT)
Most of these backs are simply bench stash running backs. C.J. Anderson was involved enough to be worth a RB3/Flex in the right matchup and could become a low-end RB2 if Kerryon Johnson ever missed time. Those are the type of backups I like to carry on my bench.
Raheem Mostert could fit that bill, too. As long as Tevin Coleman is out, Mostert should be part of a running back by committee with Matt Brieda. There's a chance Coleman's injury could keep him out for weeks, and with Brieda isn't known for his durability, there is a real chance we could see Mostert start a game or two this year.
---
Wide Receivers
Tier 1
DeAndre Hopkins (vs. JAX)
After Week 1's dominant performance, it's safe to call Nuk the clear-cut WR1 going forward. This is not an ideal matchup against Jalen Ramsey and the Jaguars, but Hopkins is matchup-proof.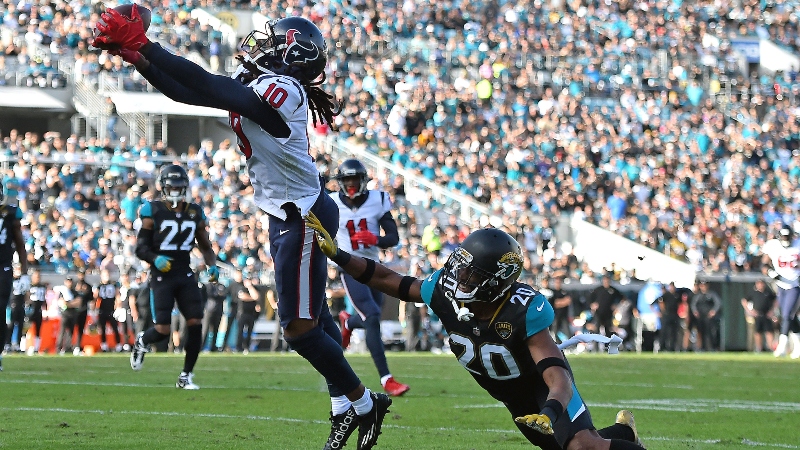 Tier 2
Michael Thomas (at LAR)
Davante Adams (vs. MIN)
Julio Jones (vs. PHI)
Odell Beckham (at NYJ)
JuJu Smith-Schuster (vs. SEA)
It was a bit of a rough week for this group but I expect them all to bounce back as soon as this week. The only one I'm concerned about is JuJu. We need to monitor his ankle injury this week to be sure he's going to play.
Luckily, he is part of the morning slate, so we won't have to be making lineup decisions by guessing he will be active. He is going to need for the Steelers' other WRs to step up in order to avoid double teams going forward.
Tier 3
Keenan Allen (at DET)
Sammy Watkins (at OAK)
Sammy Watkins erupted for a 9/198/3 game in Week 1, and the Chiefs also lost Tyreek Hill to a multi-week injury. Watkins is a low-end WR1 this week and owners who snagged him in the mid-rounds appeared to have hit the jackpot. A lot of the yardage he put up wasn't a fluke: He looked electric in creating extra yards with the ball in his hands.
Tier 4
Mike Evans (at CAR)
Amari Cooper (at WAS)
T.Y. Hilton (at TEN)
Robert Woods (vs. NO)
Brandin Cooks (vs. NO)
Antonio Brown (at MIA)
Adam Thielen (at GB)
Tyler Boyd (vs. SF)
Antonio Brown made all the headlines in Week 1 and he is going to be a fascinating player to project for Week 2. We may be completely in the dark as to how long we can expect him to play in his debut. He likely won't learn enough of the Patriots' playbook to play the entire game.
To make matters even more difficult, the Pats are 19-point favorites and likely won't need AB much to win. I'm just slotting AB here as a placeholder for now, so be sure to check my updated rankings on Sunday morning to see where he's ranked and how it impacts the other Pats pass catchers.
Tier 5
Kenny Golladay (vs. LAC)
Cooper Kupp (vs. NO)
Stefon Diggs (at GB)
D.J. Moore (vs. TB)
Tyler Lockett (at PIT)
I'm a bit lower on Golladay this week based on the matchup but also because of Stafford having so many mouths to feed now. Danny Amendola & T.J. Hockenson both impressed in Week 1, so it's going to be tough for Stafford to sustain more than one or two fantasy viable pass catchers each week as he won't get to face the Cardinals and drop 385 yards. I expect Golladay to still be the alpha target in this offense, but his target share may drop a bit.
Tyler Lockett was M.I.A. for much of the game until Wilson found him for a 44-yard touchdown. That seems to be par for the course with Lockett. I expect him to see more targets this week and the Steelers are prone to giving up big plays so we could see a ceiling game from Lockett this week. If you have him, you are starting him.
Tier 6
DeSean Jackson (at ATL)
Julian Edelman (at MIA)
Tyrell Williams (vs. KC)
Alshon Jeffery (at ATL)
The offseason reports about Wentz and DJax clicking appeared to be accurate. As always with DJax, you are going to have some massive weeks and you are going to have some duds. If he erupts again in Week 2 I think you would want to consider flipping him for a more consistent WR2 if you can find a buyer.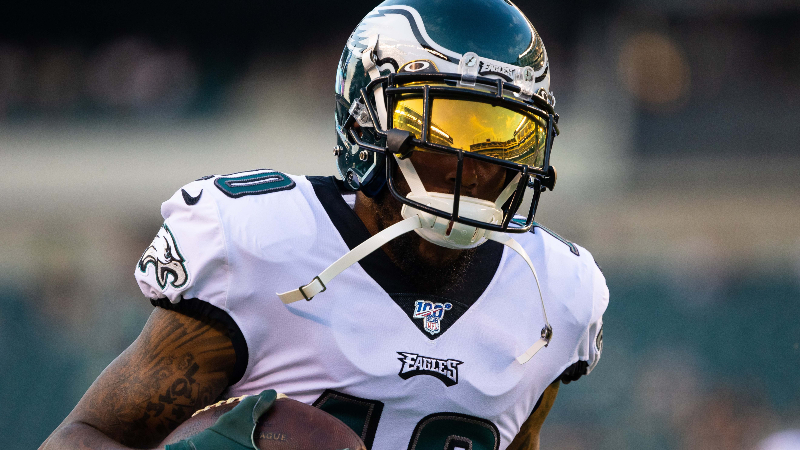 After the AB drama, it appears as if Tyrell Williams was the big-name free agent that the Raiders brought in to be their No. 1 WR. He looked the part on MNF against (what should be) a good Broncos defense, so he's a fantastic play this week against the Chiefs.
Tier 7
Allen Robinson (at DEN)
Chris Godwin (at CAR)
Both players have high end WR2 upside and performed pretty well in Week 1, but they get a downgrade based on their shaky quarterback play. The struggles could continue again this week with tougher matchups, so if you do not own either of these wideouts, you should be trying to buy-low on them in a trade ahead of Week 3.
Tier 8
D.K. Metcalf (at PIT)
John Brown (at NYG)
Christian Kirk (at BAL)
Jamison Crowder (vs. CLE)
Robby Anderson (vs. CLE)
Courtland Sutton (vs. CHI)
Michael Gallup (at WAS)
Larry Fitzgerald (at BAL)
Marquise Brown (vs. ARI)
Calvin Ridley (vs. PHI)
Emmanuel Sanders (vs. CHI)
Jarvis Landry (at NYJ)
Dede Westbrook (at HOU)
Marquez Valdes-Scantling (vs. MIN)
This is the WR3 boom/bust tier. A lot of these wide receivers flashed their ceiling in Week 1, while others flashed their floor. Two of the most notable performances where Jamison Crowder's 14-catch game and Marquise Brown's 4/127/2 eruption in his debut. A lot will be made about Brown's game given he only played 18% of the snaps.
It's safe to say Brown's snaps will only go up as the Ravens were easing him in as he recovers from a Lisfranc injury. I'm treating him as a boom/bust low-end WR3 until we see more. He has another cupcake matchup this week against the Cardinals, making it even that much tougher to leave him on your bench.
Tier 9
Marvin Jones (vs. LAC)
Curtis Samuel (vs. TB)
John Ross (vs. SF)
Will Fuller (vs. JAX)
Ted Ginn Jr. (at LAR)
Danny Amendola (vs. LAC)
Mohamed Sanu (vs. PHI)
Josh Gordon (at MIA)
Amendola, Sanu and Samuel are the high-floor receivers in this tier. John Ross finally broke out, but we'll want to see another solid performance before fully trusting him going forward.
Jones, Ross, Fuller, Ginn and Gordon are perfect WR3/Flex plays to trot out there if you are a fairly big underdog in your matchup this week. Getting high-ceiling players like that in your lineup if you are overmatched can help offset that a bit.
Tier 10
Terry McLaurin (vs. DAL)
Sterling Shepard (vs. BUF)
Donte Moncrief (vs. SEA)
Cole Beasley (at NYG)
Chris Conley (at HOU)
Mike Williams (at DET)
Corey Davis (vs. IND)
Paul Richardson (vs. DAL)
DeVante Parker (vs. NE)
Cody Latimer (vs. BUF)
Terry McLaurin was another breakout rookie in Week 1. He erupted for 5/125/1 and was even wide open for an easy 73-yard touchdown that Case Keenum inexplicably overthrew. The hype for him would have been even more off the charts had Keenum put that anywhere near him.
Mike Williams is someone to sit this week as he suffered a knee injury late in the game. If he does suit up, he is likely going to be less than 100% and bit tough to trust right now. There are also too many other great options who broke out in Week 1 that I'd rather roll the dice with this week.
Corey Davis' Week 1 goose egg is worrisome. I never really targeted Davis in drafts, and it was mainly due to there being not enough yards to go around for all of the Titans' pass catchers. After Delanie Walker looked like his old self and rookie A.J. Brown standing out as the true alpha WR, it's safe to leave Davis on the bench to see if he can get things going.
Tier 11
A.J. Brown (vs. IND)
Randall Cobb (at WAS)
D.J. Chark (at HOU)
James Washington (vs. SEA)
Mecole Hardman (at OAK)
Willie Snead (vs. ARI)
Zay Jones (at NYG)
Trey Quinn (vs. DAL)
Nelson Agholor (at ATL)
KeeSean Johnson (at BAL)
After a brutal Week 1 for the Steelers offense, I think it makes sense for them to consider making James Washington a full-time player over Donte Moncrief. Right now he still has massive upside in his limited role but I think you are hanging onto him as a bench stash until they finally announce him as a starter.
Mecole Hardman is worth a flier now that Hill is set to miss multiple games. He was expected to be a Hill-like player and he certainly flashed that at times in the preseason.
I would bet Marquise Brown and Terry McLaurin command the most attention from people's Week 1 reactions, but Hardman is the dark horse wide receiver who potentially saw the biggest boost despite catching a single ball.
---
Tight Ends
Tier 1
Travis Kelce (@ OAK)
Kelce gets Tier 1 all to himself while Hill is out until further notice.
Tier 2
George Kittle (@ CIN)
Kittle had a decent 8/54/0 game but had TWO touchdowns called back. He was that close to having a massive game and looked just as good as he did in 2018. The Niners' wide receiver situation is a bit of a mess right now and Kittle is far and away their pass catcher.
Tier 3
Evan Engram (vs. BUF)
Zach Ertz (at ATL)
Sound the alarm! We have our first tight end to slip into the Big 3 Tier! Not only is Engram in the same tier as a member of the Big 3, but I have him slightly ahead of Ertz. The Eagles simply have too many weapons to get the ball to now with DJax as the deep threat they've been trying to find for years now.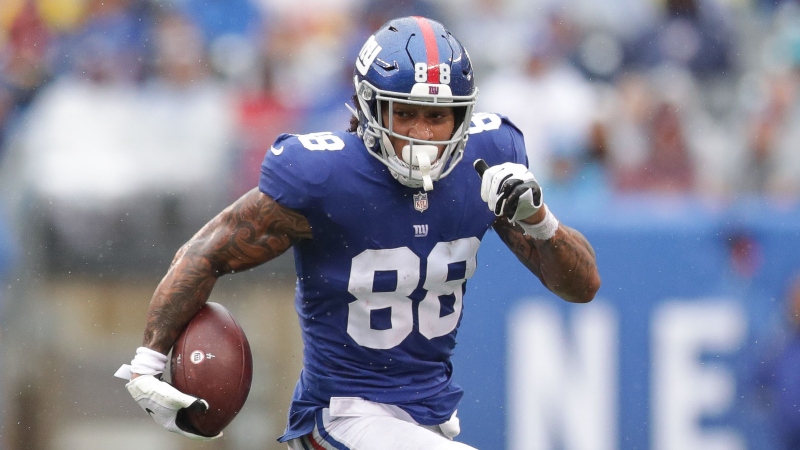 Engram is in the exact opposite situation right now: He could be the only pass catcher the Giants have outside of Saquon Barkley. Sterling Shepard is in the concussion protocol and could miss Week 2. If he ends up sitting out, we could see Engram come close to the 14 targets he saw a week ago.
Tier 4
O.J. Howard (at CAR)
Mark Andrews (vs. ARI)
Hunter Henry (at DET)
Mark Andrews erupted for a 8/108/1 game in Week 1. He actually caught a pass where he landed on the 1-yard line and nearly scored his second touchdown. An 8/109/2 wouldn't kicked the hype train into overdrive. He really could be the George Kittle of 2018 based on his upside and where he went in this year's draft.
Tier 5
T.J. Hockenson (vs. LAC)
Delanie Walker (vs. IND)
Austin Hooper (vs. PHI)
Vance McDonald (vs. SEA)
Darren Waller (vs. KC)
David Njoku (at NYJ)
Greg Olsen (vs. TB)
Jared Cook (at LAR)
T.J. Hockenson was yet another rookie pass catcher who erupted in his debut. Granted it was against the Cardinals, but anytime you can get a tight end to flash his potential as a rookie, it means he has likely adapted to the NFL faster than normal.
Hockenson worth adding even if you have a stud tight end to see if he's already a top-five tight end in the league.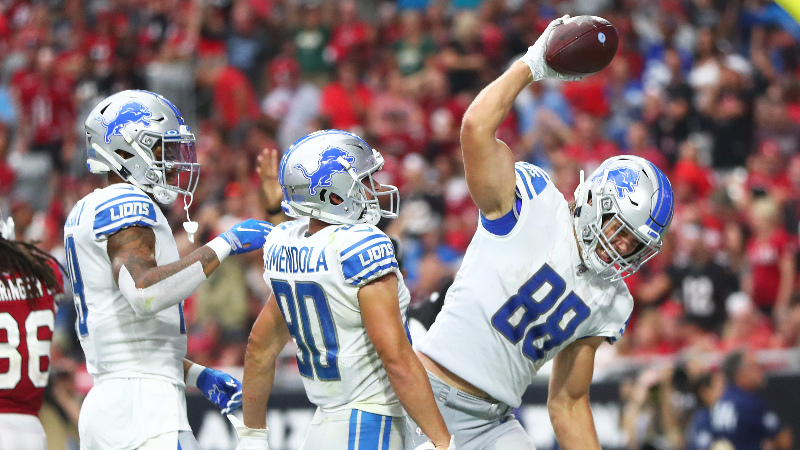 I think it would be too premature to assume that, but this is also true: It's pretty hard for us to definitively say he's NOT a top-five tight end at this point. Seeing how he fares against a much tougher defense this week will help us figure out where we can rank Hockenson going forward.
Tier 6
Jimmy Graham (vs. MIN)
Tyler Eifert (vs. SF)
These are two older tight ends who are TD-or-bust options, but they also happen to have fairly high touchdown odds for tight ends in this range. These are TE streamers to roll out there if you are an underdog. You are happy to take on a bit more of their variance to capitalize on their upside.
Tier 7
Kyle Rudolph (at GB)
Eric Ebron (at TEN)
Noah Fant (vs. CHI)
Trey Burton (at DEN)
C.J. Uzomah (vs. SF)
Jason Witten (at WAS)
It's hard to trust any of these tight ends unless you're in a deep TE league. Eric Ebron put up a predictable dud Week 1 with Jacoby Brissett taking over for Andrew Luck, but he was another player whose 1/8/0 box score could have looked a lot better had he not juggled a diving grab near the back of the end zone. At first it looked like he scored, but on the review it showed the ball just hit the ground before he controlled it. Ebron could end up being Brissett's go-to red zone option, especially with Devin Funchess placed on IR (broken collarbone).
Tier 8
Michael Gesicki (vs. NE)
Vernon Davis (vs. DAL)
Jordan Reed (vs. DAL)
Tyler Higbee (vs. NO)
Hayden Hurst (vs. ARI)
Jack Doyle (@ TEN)
Dallas Goedert (@ ATL)
Ryan Griffin (vs. CLE)
Blake Jarwin (@ WAS)
Geoff Swaim (@ HOU)
Just keep an eye on these tight ends for potential streamers going forward. If Jordan Reed misses yet another game due to his concussion, Vernon Davis would be back in the streamer mix again. Be sure to check my updated rankings on Sunday morning before making any final lineup decisions.
Kicker
Tier 1
Stephen Gostkowski (@ MIA)
Harrison Butker (@ OAK)
Justin Tucker (vs. ARI)
Greg Zuerlein (vs. NO)
Wil Lutz (@ LAR)
Tier 2
Jake Elliott (@ ATL)
Mike Badgley (@ DET)
Brett Maher (@ WAS)
Ka'imi Fairbairn (vs. JAX)
Matt Prater (vs. LAC)
Joey Slye (vs. TB)
Matt Bryant (vs. PHI)
Jason Myers (@ PIT)
Tier 3
Austin Seibert (@ NYJ)
Chris Boswell (vs. SEA)
Robbie Gould (@ CIN)
Cairo Santos (vs. IND)
Mason Crosby (vs. MIN)
Daniel Carlson (vs. KC)
Tier 4
Matt Gay (@ CAR)
Dan Bailey (@ GB)
Steven Hauschka (@ NYG)
Eddy Pineiro (@ DEN)
Josh Lambo (@ HOU)
Adam Vinatieri (@ TEN)
Kaare Vedvik (vs. CLE)
Tier 5
Dustin Hopkins (vs. DAL)
Aldrick Rosas (vs. BUF)
Randy Bullock (vs. SF)
Brandon McManus (vs. CHI)
Tier 6
Zane Gonzalez (@ BAL)
Jason Sanders (vs. NE)
---
Defenses
Tier 1
Houston Texans (vs. JAX)
Baltimore Ravens (vs. ARI)
New England Patriots (@ MIA)
Tier 2
Carolina Panthers (vs. TB)
Tier 3
Cleveland Browns (@ NYJ)
Chicago Bears (@ DEN)
Denver Broncos (vs. CHI)
Tennessee Titans (vs. IND)
Buffalo Bills (@ NYG)
Tier 4
Green Bay Packers (vs. MIN)
Cincinnati Bengals (vs. SF)
Dallas Cowboys (@ WAS)
San Francisco 49ers (@ CIN)
New York Giants (vs. BUF)
Seattle Seahawks (@ PIT)
Tier 5
Pittsburgh Steelers (vs. SEA)
Kansas City Chiefs (@ OAK)
Minnesota Vikings (@ GB)
New York Jets (vs. CLE)
Tier 6
Los Angeles Chargers (@ DET)
Philadelphia Eagles (@ ATL)
Jacksonville Jaguars (@ HOU)
Indianapolis Colts (@ TEN)
Detroit Lions (vs. LAC)
Tier 7
Atlanta Falcons (vs. PHI)
Washington Redskins (vs. DAL)
New Orleans Saints (@ LAR)
Los Angeles Rams (vs. NO)
Tampa Bay Buccaneers (@ CAR)
Arizona Cardinals (@ BAL)
Tier 8
Oakland Raiders (vs. KC)
Miami Dolphins (vs. NE)
How would you rate this article?