NFL Week 9 WR/CB Matchups: Will Julio Jones Finally Score vs. Josh Norman?
Week 9's WR/CB matchups will feature a shadow date between Julio Jones and Josh Norman.
The biggest matchup will be the Saints' defense vs. the Rams' offense -- namely Michael Thomas vs. Marcus Peters.
Eight other wide receivers are likely to draw shadow coverage this week. We also break down plus and minus matchups.
I'll be breaking down the top wide receiver/cornerback matchups every week throughout the 2018 NFL season.
Here's a data-driven analysis of the week's best passing-game matchup, nine potential shadow matchups and an additional three potential non-shadow matchups. Then we'll round it out with a quick look at plus and minus matchups.
Visit the FantasyLabs NFL page for more weekly breakdowns. You can also view all of this week's WR/CB matchups using the Matchups tool.
Jump to: Matchup of the Week | Shadow Matchup | Non Shadow Matchup | Plus/Minus
---
Matchup of the Week
Saints Offense vs. Rams Defense
The Rams added Ndamukong Suh to an already beastly defensive line in addition to boosting their secondary with cornerbacks Aqib Talib and Marcus Peters during their offseason quest to improve their overall talent level on defense.
The pass rush has been about as dominant as expected, but the secondary as a whole hasn't quite lived up to expectations. The absence of Talib (ankle, IR) hasn't helped, while Peters has continued to play through a painful calf injury. Either way, No. 1 wide receivers have largely had their way against the Rams' secondary since both corners were hurt in Week 3:
Week 1, Amari Cooper: 1 reception-9 yards-0 TD (3 targets)
Week 2, Larry Fitzgerald: 3-28-0 (5)
Week 3, Keenan Allen: 3-44-0 (7)
Week 4, Adam Thielen: 8-135-1 (12). Stefon Diggs: 11-123-0 (15)
Week 5, Tyler Lockett: 3-98-1 (5)
Week 6, Emmanuel Sanders: 7-115-1 (10)
Week 7, Marquise Goodwin: 2-24-0 (5)
Week 8, Davante Adams: 5-133-0 (7)
Overall, Peters is one of only six cornerbacks who have allowed at least five touchdown passes this season. The Rams deployed him in shadow coverage for the first time this season in Week 8 in an effort to slow down Adams.
This is all music to the ears of Michael Thomas. Still, the Saints' undisputed No. 1 receiver hasn't quite been the same monster after his hot start. He's followed up his PPR WR1 performance in Weeks 1-3 with WR39 production in Weeks 4-8. Overall, Thomas saw at least 10 targets per game through the first three weeks, but has averaged only six targets per game since and has failed to reach double-digit targets in a single game.
Ultimately, you shouldn't expect Thomas and Drew Brees to stay quiet for long. They're just about as locked in as any duo in NFL history after eight weeks:
Thomas caught 14 of 18 targets for 160 yards and two touchdowns in his two previous career matchups against the Rams. He carries a +0.56 correlation with Brees in fantasy points since the receiver was drafted in 2016, which is well above the league-average of +0.48 over that span.
Tre'Quan Smith is expected to join Thomas in 2-WR sets with Ted Ginn Jr. (knee, IR) sidelined, so Cameron Meredith will man the slot. Smith seems poised for plenty of downfield chances, as he's already received more targets thrown 20-plus yards downfield (5) than Thomas (4) has this season.
The Week 9 Shadow Club
Not many cornerbacks are consistently asked to travel with the opposition's No. 1 wide receiver, but we can expect at least 10 cornerbacks (including the potential aforementioned battle between Thomas and Peters) to regularly line up across from their opponent's top receiver in Week 9.
Bears WR Allen Robinson vs. Bills CB Tre'Davious White
It remains to be seen whether Robinson (groin) will play Sunday after failing to suit up last week. Be sure to monitor our Week 9 Injury Report for daily practice participation as well as estimated and official game statuses for every fantasy-relevant player.
Even if A-Rob does wind up playing, he'll have his work cut out for him against the Bills' No. 1 cornerback. White has largely erased the opposition's No. 1 outside receiver all season:
Week 1, John Brown: 3 receptions-44 yards-1 TD (4 targets)
Week 2, Keenan Allen: 6-67-0 (8)
Week 3, Stefon Diggs: 4-17-0 (10)
Week 4, Davante Adams: 8-81-0 (14)
Week 5, Corey Davis: 4-49-0 (6)
Week 6, DeAndre Hopkins: 5-63-1 (6)
Week 7, T.Y. Hilton: 4-25-2 (4)
Week 8, Josh Gordon: 4-42-0 (6)
It's worth noting that White has been charged with only one touchdown allowed in his coverage this season, and even that catch took a herculean effort from Hopkins to pull off: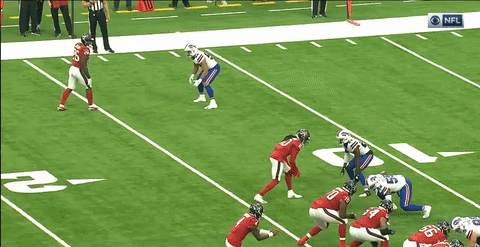 Josh Bellamy will start in 3-WR sets if Robinson is unable to suit up. A-Rob's continued absence could result in White focusing his efforts on Taylor Gabriel instead. Meanwhile, slot receiver Anthony Miller received seven targets with Robinson in Week 7 … and seven targets without him in Week 8.
They all have a tough matchup against the Bills' fourth-ranked defense in Football Outsiders' pass DVOA. The Bills were the league's only defense that hadn't allowed a quarterback to reach 300 passing yards until Tom Brady accomplished the feat in Week 8.
Buccaneers WR Mike Evans vs. Panthers CB James Bradberry
Evans' 6-179-1 explosion against the Bengals came on a season-high 13 targets. There isn't much reason to expect fewer opportunities for the Buccaneers' No. 1 receiver with Ryan Fitzpatrick under center:
Evans: 37 targets from FitzMagic
Chris Godwin: 24
DeSean Jackson: 22
O.J. Howard: 18
Adam Humphries: 14
Jacquizz Rodgers: 10
Cameron Brate: 8
Peyton Barber: 5
Evans caught 11 of 18 targets for 167 yards and a touchdown over two games in Bradberry's shadow last season. The Panthers' No. 1 cornerback has held up about as well as could be expected against A.J. Green (5-58-0) and Julio Jones (5-64-0) this season, but Odell Beckham Jr. (8-131-1) and Alshon Jeffery (7-88-1) have proven this isn't a matchup for fantasy owners to fear.
D-Jax and Godwin are set up well against the Panthers' pass-funnel defense that ranks seventh in DVOA against the run compared to 20th against the pass.
Chiefs WR Tyreek Hill vs. Browns CB Denzel Ward
Hill is dealing with a strained groin and should be considered questionable for Sunday. Sammy Watkins would likely draw shadow coverage from Ward if TyFreak is ultimately unable to suit up.
The fourth pick of this year's draft will present a challenge for either receiver. The rookie has earned Pro Football Focus' eighth-highest grade among all cornerbacks through eight weeks, and he has enough speed (4.32-second 40) to run with the Chiefs' weapons.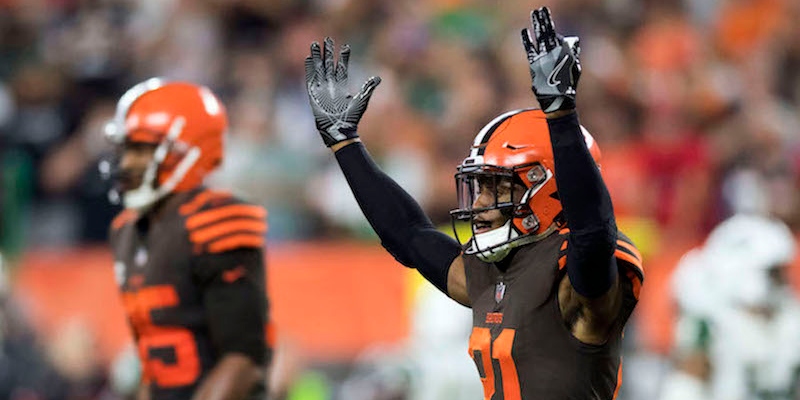 Overall, Ward has mostly blanketed John Brown (4-58-0), Keenan Allen (4-62-0) and, most recently, Antonio Brown (6-74-2).
The problem for the Browns is that the Chiefs have consistently created mismatches for their playmakers by moving them all over the formation. Hill (39%) and Watkins (34%) have all spent plenty of snaps in the slot this season, where Ward has ventured for only 7% of his snaps.
Jets WR Robby Anderson vs. Dolphins CB Xavien Howard
Anderson didn't play last week because of an ankle injury and should be considered questionable for Sunday. He's scored a touchdown in three of his five career matchups against the Dolphins, but Sam Darnold has fed the Jets' overqualified field-stretcher just 5.1 targets per game this season.
The continued absence of Quincy Enunwa (ankle) could certainly lead to more opportunities for Anderson, but a potential shadow date with Howard isn't the most ideal matchup (unless you're DeAndre Hopkins).
Overall, Howard has allowed 19 of 33 passes thrown into his coverage to be caught for 332 yards, three touchdowns and three interceptions through eight weeks.
Complicating matters for the Jets passing game is the presence of rookie Minkah Fitzpatrick, who ranks among the league's top five slot corners in yards given up per snap and quarterback rating allowed in coverage this season.
Vikings WR Stefon Diggs vs. Lions CB Darius Slay
Diggs rewarded patient fantasy owners with a sterling 10-119-1 line on 11 targets against the Saints this past Sunday night, and he's historically had little trouble winning his matchup with Slay:
Diggs vs. Lions in Week 7, 2015: 6 receptions-108 yards-1 TD (9 targets)
Week 9, 2016: 13-80-0 (14)
Week 4, 2017: 5-98-0 (7)
Week 12, 2017: 6-66-0 (7)
The Lions' first-team All-Pro cornerback chased Davante Adams (9-140-1) into the slot without much success in Week 5, and Slay could do so again with Diggs (30% slot rate).
It's probably not wise to bet the mortgage on Diggs dominating such a tough matchup, but his status as one of only six receivers with at least 80 targets this season makes him matchup proof.
This means Adam Thielen (53%) should be free from Slay's coverage for most of the game. Thielen will instead see plenty of Nevin Lawson, who ranks among the league's bottom-10 slot corners in quarterback rating and touchdowns allowed this season. Thielen will look to become the first NFL player to gain 100 receiving yards in nine consecutive games.
Lions WR Marvin Jones vs. Vikings CB Xavier Rhodes
Rhodes wasn't able to play this past Sunday night due to an ankle injury and should be considered questionable for Week 9's matchup against the Lions. The Vikings' first-team All-Pro cornerback is big enough (6-foot-1 and 210 pounds) with enough agility to give even the league's best receivers problems.
However, Jones has a good case as the Kryptonite of the Vikings' No. 1 cornerback. Last season's Thanksgiving Day matchup saw Jones catch 6-of-9 targets for 109 yards and a pair of touchdowns at the hands of Rhodes:
Of course, this hasn't exactly been the outcome every time these two have met up: Jones produced an underwhelming 7-101-0 total line on 21 targets in his first three matchups against the Vikings as a member of the Lions.
The difference this time is the absence of Golden Tate. The Lions' ex-No. 1 receiver (who was traded to the Eagles on Tuesday) was one of only 13 players with a target share of at least 25% after eight weeks, so Jones (18%) and Kenny Golladay (17%) could see their respective target shares sky-rocket.
Jones and Golladay already saw enough air yards to boast high weekly ceilings, but an increase of overall usage might just lead to enhanced week-to-week floors as well.
Falcons WR Julio Jones vs. Redskins CB Josh Norman
Jones again failed to score a touchdown during the Falcons' Week 8 bye. He's failed to find the end zone in a career-long 12 games, and it appears offensive coordinator Steve Sarkisian has largely given up on trying to get Jones more involved near the goal line.
Perhaps even more amazing than Jones' inability to find the end zone has been the fact that he's still the WR9 in PPR per game after eight weeks.
Next up could be a shadow date with Norman, who traveled with Beckham last week after largely sticking to the left side of the field from Week 1 of 2017 to Week 7 of 2018. OBJ still rung up an 8-136-0 line on 11 targets, but not a single catch came while in Norman's coverage (per PFF's Jeff Ratcliffe).
Jones and Norman have met plenty of times throughout their careers, with the Redskins' trash-talking corner more than holding his own in the matchup:
Week 4, 2012: 1 reception-30 yards-0 TD (8 targets)
Week 14, 2012: 5-66-1 (11)
Week 11, 2014: 6-59-0 (11)
Week 17, 2014: 4-58-0 (8)
Week 14, 2015: 7-88-0 (10)
Week 16, 2015: 9-178-1 (11)
The Redskins likely relented on letting Norman shadow due to the absence of No. 2 cornerback Quinton Dunbar (shin). The continued absence of Dunbar would be great news for Calvin Ridley and Mohamed Sanu, although both are averaging only five targets per game.
Seahawks WR Tyler Lockett vs. Chargers CB Casey Hayward
The Lions chose to shadow Lockett with Slay during his snaps on the outside last week, and it would behoove the Chargers to do the same with their own Pro Bowl cornerback.
Hayward hasn't faced the toughest strength of schedule this season, but that doesn't take away the fact he's dominated his individual matchups.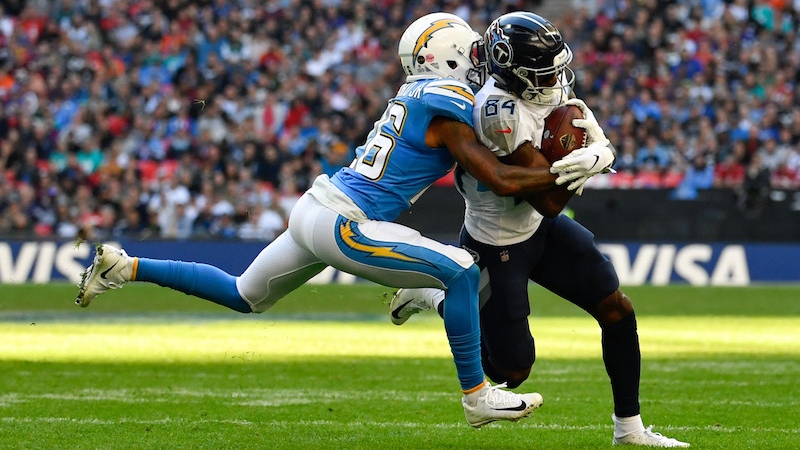 Every Wide Receiver Hayward has Shadowed in 2018
Kelvin Benjamin in Week 2: 2 receptions-19 yards-1 TD (3 targets)
Amari Cooper in Week 5: 1-10-0 (1)
Antonio Callaway in Week 6: 2-9-0 (11)
Corey Davis in Week 7: 3-10-0 (7)
Lockett has scored in six of seven games this season, but he's yet to receive even eight targets in a game. Doug Baldwin leads the Seahawks in air yards since returning in Week 4, but Russell Wilson has evenly distributed targets between Baldwin (13), Lockett (13) and David Moore (10) over that stretch.
The problem for anyone involved in the passing game is the inevitable week-to-week variance for any pass-catcher in the league's 32nd-ranked offense in total pass attempts.
Packers WR Davante Adams vs. Patriots CB Stephon Gilmore
Adams has been on an absolute tear over his past three games, hanging at least 130 receiving yards on the Lions, 49ers and Rams while finding the end zone three times.
Life as Aaron Rodgers' No. 1 target has predictably been productive, but the rest of the depth chart at wide receiver remains in flux:
There should be plenty of touchdown passes to go around in Green Bay, but predicting who will be featured behind Adams in any given week could prove to be a difficult task.
Adams himself also isn't exactly primed for success in Week 9, as Gilmore has emerged as one of the league's best shadow cornerbacks. Overall, PFF's No. 4 overall corner has largely shut down every No. 1 wide receiver he's been assigned this season.
Every Wide Receiver Gilmore has Shadowed in 2018
DeAndre Hopkins in Week 1: 8 receptions-78 yards-0 TD (11 targets)
Donte Moncrief in Week 2: 4-34-1 (9)
Marvin Jones in Week 3: 4-69-1 (6)
Sammy Watkins in Week 6: 2-18-0 (4)
Allen Robinson in Week 7: 1-4-0 (5)
Kelvin Benjamin in Week 8: 2-45-0 (7)
The Packers-Patriots matchup currently has a massive 56.5-point over/under (see live odds here).
Potential Non-Shadow Matchups
Steelers CB Joe Haden: The Steelers didn't ask Haden to shadow in their first matchup against the Ravens in Week 4. John Brown (3-116-1) proceeded to go wild, something that the league's leader in deep ball targets is capable of doing in any matchup. Willie Snead's (6-56-0) solid performance in Week 4 came with stud Steelers slot corner Mike Hilton sidelined. Michael Crabtree (3-29-0) always carries a relatively low ceiling considering he hasn't surpassed 100 yards in a game since November of 2016. The Ravens have averaged only 18.5 points per game in Weeks 5-8 after scoring 30.8 points per game in Weeks 1-4.
Falcons CBs Desmond Trufant and Robert Alford: The Falcons have refrained from asking their cornerbacks to travel with any individual receiver since that strategy led to 37 points for the Bengals back in Week 4. The league's 31st-ranked defense in overall DVOA isn't a unit to fear anyway, and each of the Falcons' top three cornerbacks ranks outside of PFF's top 75 corners. Still, the health of Jamison Crowder (ankle) and Paul Richardson (knee, shoulder) remains murky, and Josh Doctson has seen just 11 combined targets over the past two weeks as the offense's "featured" wide receiver.
Saints CB Marshon Lattimore: Lattimore didn't play last season against the Rams and wasn't asked to shadow against the Vikings this past Sunday night after the defense added Eli Apple to the starting lineup. The Rams' balanced offense could again lead the Saints to stashing Lattimore on the right side of the field. This would lead to Lattimore spending most of his time on Brandin Cooks, with Apple seeing plenty of Robert Woods. Cooper Kupp (knee, probable) has the arguably the week's best matchup among all wide receivers.
---
Potential Plus Matchups
Chargers WRs Keenan Allen, Tyrell Williams and Mike Williams vs. Seahawks
Allen's first-half pace leaves him on track for a solid — albeit underwhelming — 82-1,012-2 season-long line. Still, the Chargers' undisputed No. 1 receiver has routinely balled out over the second half of every season since 2014:
Allen in Sep-Oct: 15.3 DraftKings PPG, -0.5 Plus/Minus, 32% Consistency
In Nov-Dec: 21.4 DraftKings PPG, +5.9 Plus/Minus, 56% Consistency
Overall, Allen is one of only 13 receivers with a target share of at least 25% this season. Tyrell Williams (12%) and Mike Williams (13%) haven't seen the same level of target share, but they remain plenty involved as the offense's respective field-stretcher and red-zone threat.
Their matchup against the Seahawks' second-ranked overall defense in DVOA isn't ideal at first glance, but the strength of their defense is largely in the front-seven and at safety.
None of the Seahawks' starting cornerbacks ranks among PFF's top 60 corners this season.
---
Panthers WRs Devin Funchess and D.J. Moore vs. Buccaneers
Funchess' fantasy production was largely tied to whether Greg Olsen was healthy over the first three seasons of the receiver's career, but the Panthers' No. 1 wide receiver has managed to buck this trend through eight weeks in 2018.
Whether Moore will continue to work as the 'Robin' to Funchess' 'Batman' remains to be seen. Torrey Smith (knee) was sidelined during Moore's Week 8 breakout performance, although the electric first-round pick was expected to take on a larger role as the season progressed anyhow.
Up next is a Buccaneers defense that ranks dead last in both overall and pass DVOA. Only the Saints have allowed more DraftKings points per game to opposing wide receiver units.
---
Broncos WRs Emmanuel Sanders and Courtland Sutton vs. Texans
The Broncos' decision to trade Demaryius Thomas to the Texans indicates their belief in Sutton's ability to make an immediate impact.
The second-round pick provides a big-play threat downfield that has been missing in the Denver offense during the post-Peyton Manning era.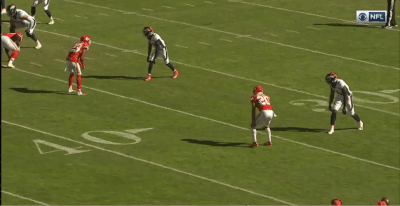 Sutton should see even more downfield opportunities with DT on to Houston, but the red-zone usage could be especially key. Overall, Thomas out-targeted Sutton 8 to 4 inside the 20-yard line. Sutton carries a slate-high projected ownership rate of 31% to 40% on DraftKings in our Pro Models.
Emmanuel Sanders (22% target share) had already emerged as the Broncos' clear-cut No. 1 receiver even before the Thomas trade. Sanders leads Denver in air yard market share and is the new featured red-zone target.
The Texans' fifth-ranked unit in overall DVOA isn't exactly a cake matchup, but it's unclear how much of Houston's success has been due to its defense's ability … and how much has been due to a strikingly soft quarterback schedule through eight weeks.
Overall, the Texans have allowed an average of 30.5 points per game to Brady and Andrew Luck this season, but only 17.7 points per game to the Cowboys, Bills, Jaguars, Dolphins, Titans and Giants.
---
Browns WRs Jarvis Landry and Antonio Callaway vs. Chiefs
It remains to be seen whether the departures of head coach Hue Jackson and offensive coordinator Todd Haley can make the league's 30th-ranked offense any worse than it already is. Theoretically, new offensive coordinator Freddie Kitchens (a Bruce Arians disciple) will at least be able to get things going against the Chiefs' 26th-ranked defense in overall DVOA.
The Chiefs' pass defense (13th) has been better than its rush defense (32nd), but the whole unit has routinely been a lesser beast away from the friendly confines of Arrowhead Stadium:
Chiefs defense at home, 2015-18: 16.7 PPG allowed, 227 pass yards
On the road: 23.6 PPG, 268.8 pass yards
Landry remains a must-start considering he joins Julio Jones as the league's only receivers with at least 30% of their team's target share. The rest of the position group remains a bit of a mess with Rashard Higgins' (knee) status uncertain, but Callaway at least started to show off some of his tantalizing upside in Week 8 with a 5-36-1 line on six targets against the Steelers.
Also, there's a slim chance that the Browns' coaching changes could finally help get one of the team's premier playmakers the damn ball.
---
Potential Minus Matchups
Texans WRs DeAndre Hopkins, Demaryius Thomas and Keke Coutee vs. Broncos
Thomas will fill the field-stretcher role left by Will Fuller, which has yielded an average of 6.1 targets per game over the past two seasons. Perhaps this will provide a boost to the artist formerly known as DT, as he's presently averaging a career-low 11.2 yards per reception and just 50.3 yards per game.
The larger issue for the Texans is whether Deshaun Watson will be the same weapon without Fuller available to draw attention:
Watson with Fuller: 30.2 PPR per game, 9.04 yards per attempt
Without: 17.4 PPR per game, 5.98 yards per attempt
And the same question holds true for Hopkins:
Hopkins with Fuller since 2017: 22.7 PPR per game, 10.7 targets
Without: 16.5 PPR per game, 11.6 targets
An extra target per game without Fuller hasn't been able to make up for the extra attention defenses have been able to pay toward Hopkins, and it's unlikely Thomas is viewed as an equal threat.
It remains to be seen whether Keke Coutee (hamstring) will return to the field this week. He would have the toughest matchup against all-world slot corner Chris Harris Jr. if Coutee is ultimately able to suit up, but the Broncos' second-ranked defense in pass DVOA presents problems for everyone involved.
---
Steelers WRs Antonio Brown and JuJu Smith-Schuster vs. Ravens
AB and JuJu have each caught 46 passes this season, but Brown's 8-2 lead in touchdowns has easily made up for Smith-Schuster's extra 42 receiving yards.
Both receivers remain weekly must-starts in any season-long format, but the Ravens' sixth-ranked defense in overall DVOA certainly deserves some respect, especially considering their history at home against AB.
The Ravens held the Steelers to a season-low 14 points in Week 4 without the services of cornerback Jimmy Smith, although the defense's long-time No. 1 cornerback has earned PFF's fifth-worst overall grade among 109 qualified corners this season.
Smith won't have anywhere to hide if Marlon Humphrey (thigh) is once again unable to suit up.
---
Patriots WRs Julian Edelman and Josh Gordon vs. Packers
The Packers enjoyed a breakout game of sorts in the secondary during their Week 8 loss to the Rams. First-rounder Jaire Alexander, last year's second-rounder Kevin King and 35-year-old Tramon Williams held Brandin Cooks and Robert Woods to respective 3-74-0 and 5-70-0 lines.
The Packers' decision to trade Ha-Ha Clinton Dix (PFF's No. 5 overall safety) was surprising to say the least, but Green Bay's secondary is still at least in a good place at cornerback. The question is whether it's good enough to survive a matchup in Foxborough with Brady and the Patriots' fourth-ranked scoring offense.
Gordon leads the Pats in air yards since arriving in New England, but he's been a distant third option in Brady's pecking order since Edelman's return.
Patriots players with double-digit targets in Weeks 5-8
James White: 44
Edelman: 34
Gordon: 26
Rob Gronkowski: 19
Chris Hogan: 17
Gordon has flashed during his brief time with the Patriots, but joins Kelvin Benjamin, Brandon Marshall, Allen Hurns and Chad Williams as the league's only wide receivers averaging fewer than two yards of separation per target.
---
---
Be sure to check out FantasyLabs' industry-leading NFL News and Models, along with the Multi-Lineup Builder, Stack Builder, ownership projections and more. Other tools for the 2018 season are also available, including the Matchups page, DFS Contests Dashboard, NFL Ownership page and NFL Correlations page.