Keenan Allen's Fantasy Football Projections Without Philip Rivers, T.Y. Hilton's with New QB
Credit:
Jayne Kamin-Oncea/Getty Images. Pictured: Keenan Allen, Philip Rivers
Philip Rivers has a new home.
The longtime Chargers quarterback is signing a one-year deal with the Colts, shifting the fantasy football value of wide receivers on both teams. Our trio of experts — Sean Koerner, Matthew Freedman and Chris Raybon — analyze what to expect from Keenan Allen in Los Angeles, T.Y. Hilton in Indianapolis and more (complete with projections).
---
Colts Price Freeze! Get crazy boosted odds on Indy to win the Super Bowl, AFC and AFC South after the Colts signed Philip Rivers
---
Koerner
The surprise retirement of Andrew Luck just before the 2019 season forced the Colts to roll with Jacoby Brissett at quarterback. He was able to get off to a fast start, throwing two or more touchdowns in five of the team's first six games, leading them to a 4-2 record.
Over the next nine starts, however, Brissett threw two-plus touchdowns only once while the Colts went 3-6.
Bringing in Rivers feels like the Colts' attempt to run an offense that was designed for Luck. Rivers should have plenty of weapons at his disposal in Hilton, Zach Pascal, Parris Campbell and Jack Doyle.
Hilton should be a big winner in this trade: Rivers tends to lock onto his top one or two options and pepper them with targets.
There should also be more passing yards and touchdowns to go around as the Colts will likely open up their passing game.
Rivers' fantasy value should remain fairly the same. He'll post similar stats in this offense, so I'm projecting him to average 276.5 passing yards per game.
How many passing yards will Philip Rivers (Ind) throw for in the 2020 season?

— Sean Koerner (@The_Oddsmaker) March 17, 2020
The biggest loser from this trade has to be Allen.
It remains to be seen who the Chargers will start at QB, but Allen has formed a mind meld with Rivers over his seven seasons as a pro. Allen will see a fairly significant dip in production this season.
Koerner's Projections
Rivers: 4286 passing yards, 25.9 pass touchdowns (QB20)
Hilton: 74 receptions; 1,058 yards; 6.2 rec TDs (WR18)
Allen: 80 rec, 954 yds, 5.6 rec TDs (WR22)
Freedman
Rivers to the Colts!
Meh.
Much has been made of the fact that Rivers is reuniting in Indianapolis with Frank Reich, current Colts head coach and Rivers' quarterbacks coach and offensive coordinator with the 2013-15 San Diego Chargers.
That's cool and all … but 2015 — for Rivers, that was maybe three to four children ago.
It's notable that Rivers completed 67.3% of his passes for 4,518.7 yards and 30.7 touchdowns to 14 interceptions in his three years with Reich, but in the four years since, his numbers have worsened: 64.2% completion rate, 4,456 yards, 29 touchdowns and 15.8 interceptions.
And last year, Rivers probably had his worst season since first working with Reich: He had a respectable 66.0% completion rate and 4,615 yards passing, but he had just 23 touchdowns to 20 interceptions.
And that was with wide receivers Keenan Allen and Mike Williams, tight end Hunter Henry and running back Austin Ekeler.
In Indianapolis, Rivers won't have anything close to this collection of pass-catching talent.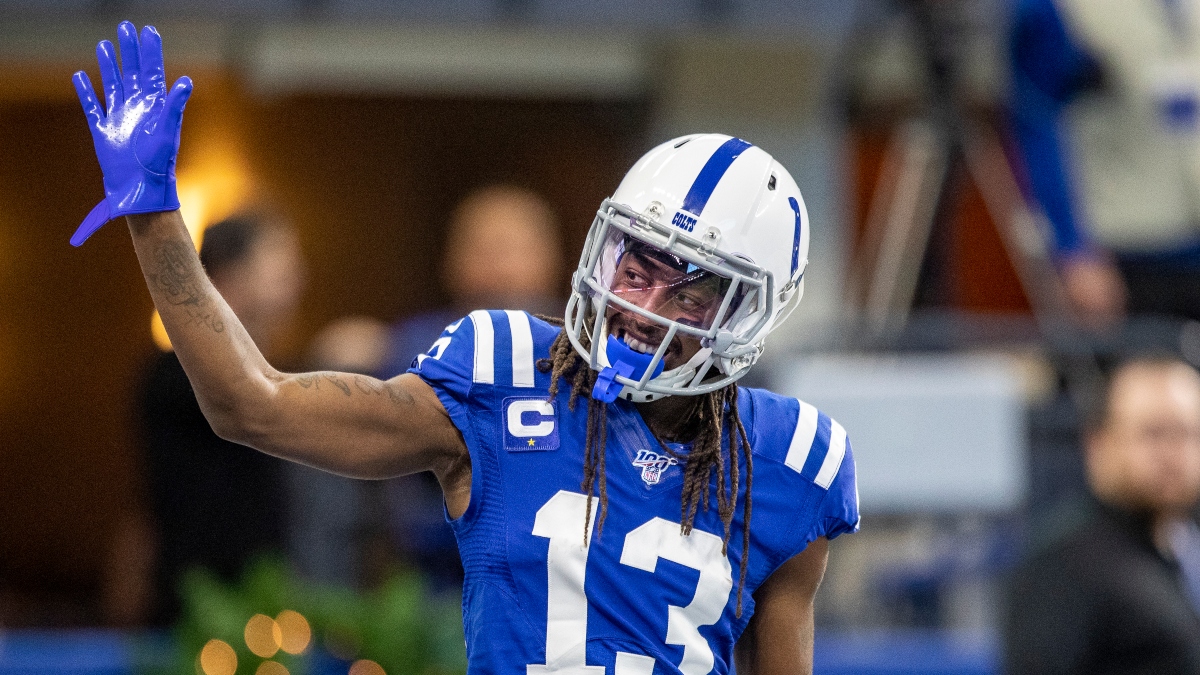 Hilton has averaged more than 1,100 yards receiving over the seven seasons since his rookie year, but in his two campaigns without Luck (2017 and 2019), Hilton has underwhelmed — and last year he managed just 50.1 yards per game in an injury-impacted season.
A small speedster, Hilton turns 31 years old this year and might be starting to slow down. It's far from certain that Rivers will be able to establish a strong connection with Hilton or that the receiver will be able to regain his former four-time Pro-Bowl form.
And after Hilton, the depth chart thins out quickly.
Pascal and Doyle don't excite anyone, and running back Nyheim Hines, though talented, is yet to develop into a true playmaking pass-catching option out of the backfield.
What Rivers was last year — an uninspiring low-end QB2 — is what I expect him to be this year.
As for Hilton, Pascal, Doyle and Hines, I doubt they'll be much better off with Rivers than they would have been with Brissett.
Hilton is a high-end WR3 with upside if he stays healthy. Pascal is someone I literally forgot existed until I started writing this analysis. Doyle is a TE2 who's better on your team than mine. Hines is nothing but a depth back with the dream of becoming Darren Sproles.
Raybon
If you're considering drafting Rivers in anything other than a 2QB or best ball league, you're about a half-decade too late.
Rivers hasn't finished better than the QB10 since 2013. In 2015, he led the league in pass attempts and still finished as the QB12. Last season, his highest weekly finish was QB7, and he only cracked the top-12 in four of 16 games.
The main culprit is his utter lack of rushing production: Since 2015, he's gained 97 rushing yards. Not per season. Total. Oh, and he hasn't scored a rushing TD since 2011.
Rivers will probably get better pass protection in Indy, but he already knew how to get the ball out quick. And though he leaves a Chargers offense that ranked dead last in pace, according to Football Outsiders, the Colts ranked 27th last year and attempted 84 fewer passes than the Chargers. He's been a low-ceiling fantasy QB with a painfully middling floor, and given his non-existent rushing production, a potential decrease in volume coupled with a downgrade in supporting cast could put him squarely in the dreaded low-ceiling/low-floor territory.
The outlook for his supporting cast is slightly more positive. Rivers has been good for peppering his top receiver with targets, which should allow Hilton to thrive and produce WR2 value — Hilton's average draft position as the WR35 at MyFantasyLeague.com at the time of Rivers' signing is about 10 spots too low.
Rivers has also been increasingly willing to dump the ball off to his back, so Marlon Mack should see an increase in his 1.2 targets per game from last season, which should allow him to beat his RB21 ADP at the time of Rivers signing.
It's tough to truly gauge the impact of Rivers' departure on Keenan Allen since we've never seen Allen without Rivers behind center and we don't know who the Chargers' quarterback will be at this point, but I wouldn't overreact. Allen is still one of the best wide receivers in the game and is still capable of dog-walking opposing cornerbacks, so his WR17 ADP at the time of Rivers' signing remains fair, in my opinion.
Reich is a great offensive mind and has worked with Rivers before, so the Colts should be better for the move, but Rivers' fantasy stock mimics the real stock market at the time of his signing: Trending toward record-lows.
How would you rate this article?