Kenneth Gainwell Dynasty Fantasy Outlook, NFL Draft Profile & Props
Credit:
Benjamin Solomon/Getty Images. Pick: Kenneth Gainwell.
"As optimistic as this sounds, Kenneth Gainwell has 'lead back' within his range of NFL outcomes."
NFL draft and fantasy football analyst Matthew Freedman examines Gainwell's professional outlook.
Find Freedman's full profile on Gainwell below, complete with dynasty analysis and draft props.
Kenneth Gainwell Draft Profile
| | |
| --- | --- |
| Position | RB |
| School | Memphis |
| Height | 5'8″ |
| Weight | 201 |
| 40-Yard Dash | 4.45 |
| 2021 Age | 22 |
| Class | Double Redshirt Freshman |
| Recruit. Stars | 3 |
| Projected Round | 3-4 |
---
Kenneth Gainwell Draft Props
While I rely on my own research, I also take a "wisdom of the crowds" approach by surveying an index of mock drafts. I find that these drafts — created by experts with established records of success — collectively give me a good sense of the realistic range of outcomes for what we might see with any given player or pick.
In not one of the surveyed mocks has Gainwell gone in Round 1. In fact, he's on the borderline of Rounds 3-4 (per Grinding the Mocks).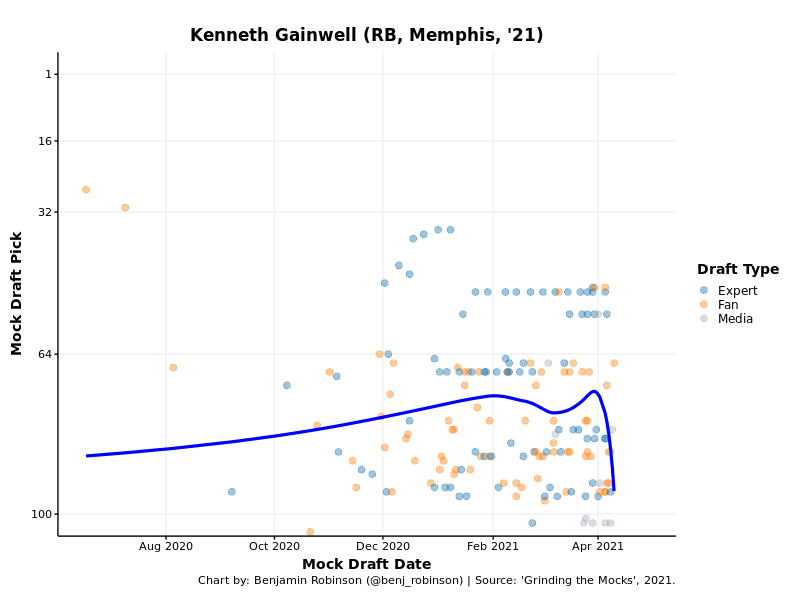 Gainwell is +5000 at FOX Bet to be the No. 1 back selected in the class, but I can't imagine betting him at any number.
---
Dynasty Fantasy Analysis
Every running back and all-purpose offensive weapon with a 1,000-yard season under former Memphis head coach Mike Norvell has made his way into the NFL.
Darrell Henderson (2017): 130-1,154-9 rushing | 24-226-2 receiving
Patrick Taylor (2017): 157-866-13 rushing | 19-148-1 receiving
Darrell Henderson (2018): 214-1,909-22 rushing | 19-295-3 receiving
Patrick Taylor (2018): 208-1,122-16 rushing | 17-197-2 receiving
Tony Pollard (2018): 78-552-6 rushing | 39-458-3 receiving
Antonio Gibson (2019): 33-369-4 rushing | 38-735-8 receiving
Henderson and Gibson were drafted in Round 3, while Pollard was selected in Round 4. All three of them have flashed in the league.
Taylor was an undrafted free agent in 2020, and he spent most of his rookie year on the non-football injury list because of a foot injury suffered in college, but he was at least on the Packers roster for the entire season.
Recent Memphis backs have proven themselves to be NFL-caliber players.
Add Gainwell's name to the list.
A dual-threat quarterback in high school, Gainwell played as a reserve offensive weapon behind Henderson, Taylor and Pollard for the first four games of his true freshman season. He flashed in limited action with 4-49-1 rushing and 6-52-0 receiving, but he decided to redshirt the rest of the season as he transitioned fully to running back.
And then in 2019 — with Henderson and Pollard in the NFL — Gainwell broke out. In Week 1 he played a supplementary-but-productive role behind Taylor with 100-plus scrimmage yards against SEC opponent Mississippi, and when Taylor missed the next eight games to injury, Gainwell seized control of the backfield in his absence.
Taylor returned for the final month of action, as well as the bowl game, but Gainwell was the clear lead back by then and he finished his redshirt freshman campaign with a dominant 231-1,459-13 rushing and 51-610-3 receiving.
In 2020, Gainwell lost four family members to COVID-19 before the start of the football season and decided to opt out of the campaign, and he declared for the NFL draft after the season. So Gainwell is an unconventional prospect in that he has just one year of collegiate playing time — but that one year was undeniably special.
Stylistically, Gainwell runs bigger than his size and is unafraid to fight for tough interior yards. The extent of his strength was seen at the Memphis pro day, where Gainwell had 21 bench press reps. And in space Gainwell is dangerous with sufficient speed, agility and vision to break long runs, make defenders miss and take advantageous angles on would-be tacklers.
But Gainwell's NFL bread will not be buttered with his rushing. His dough will be made thanks to his receiving.
Memphis recruited him as a receiver. In his shortened true freshman season he lined up in the slot or out wide on 67% of his snaps, and he brings a receiver's skill set to the running back position. If a team wanted to move Gainwell to the slot as a full-time receiver, he could probably make it work: On his 60 catchable targets, he had just three drops in college (per Pro Football Focus).
His hands are exceptional.
Gainwell's routes are also smooth. In 2019, he usually stuck to shorter routes typical of a running back, but he also flashed the ability to challenge defenses deep on wheel and seam routes.
With apologies to Travis Etienne, Gainwell is the best receiving back in this class (per SIS, 2021 Sports Info Solutions Football Rookie Handbook).
Yards per Route
Kenneth Gainwell (2018-19): 3.7 & 3.2
Travis Etienne (2019-20): 3.4 & 1.6
Najee Harris (2019-20): 2.1 & 0.9
Javonte Williams (2019-20): 2.6 & 1.1
Kylin Hill (2019-20): 1.6 & 2.2
Michael Carter (2019-20): 1.7 & 1.2
Chuba Hubbard (2019-20): 1.9 & 0.3
Demetric Felton (2019-20): 2.5 & 0.6
I could continue to list other backs, but I'll stop.
As a receiver, especially out of the backfield, Gainwell is dominant. At Memphis, he was even more efficient as a pass catcher than the playmaking Gibson.
Yards per Route
Kenneth Gainwell (2018-19): 3.7 & 3.2
Antonio Gibson (2019-20): 2.1 & 2.5
Think of the good receiving backs in last year's class, especially Clyde Edwards-Helaire and D'Andre Swift: Gainwell might be better than them,
Yards per Route
Kenneth Gainwell (2018-19): 3.7 & 3.2
Clyde Edwards-Helaire (2018-19): 3.3 & 1.2
D'Andre Swift (2018-19): 2.2 & 1.3
Whenever Gainwell went out on a route in college, regardless of where he lined up, he produced.
Of course, Gainwell is not without his problems. Even though he runs big, he's still small: He might not be able to withstand the grind of regularly running between the tackles in the NFL. If he can't do that, he almost certainly can't be a lead back.
Additionally, even though he's willing to run in the interior, Gainwell is something of a Bartleby in that he would prefer not to. He constantly looks to break his runs to the outside. He's too improvisational, and that won't endure him to NFL coaches.
Essentially, he's a scatback who can get tough yards when necessary but would rather try for the big play when possible.
I'm not dissuaded by the negatives.
Even if Gainwell is only a change-of-pace receiving back, he can still have success à la Darren Sproles and Nyheim Hines. In truth, they are two of his closest comps.
Darren Sproles with more size and fewer college seasons but no return production and less agility
Nyheim Hines with less speed and return production but an earlier breakout and more peak production
But perhaps Gainwell could develop into an NFL lead back. We have seen smaller prospects enter the league at a size comparable to Gainwell's and bulk up. LeSean McCoy, for instance.
And there's some evidence that Gainwell has bulk-up potential: As a recruit, he was 185 pounds. In his redshirt freshman year, he played at 191. And then at his pro day he was 201.
Even if all he does is add four more pounds of muscle, at 205 he would be a viable candidate to head a committee backfield.
As optimistic as this sounds, Gainwell has "lead back" within his range of NFL outcomes.
NFL Prospect Comp: Ray Rice with less draft capital, college production and agility but also more receiving ability
---
Matthew Freedman is 1,018-828-37 (55.1%) overall betting on the NFL. You can follow him in our free app.
How would you rate this article?
This site contains commercial content. We may be compensated for the links provided on this page. The content on this page is for informational purposes only. Action Network makes no representation or warranty as to the accuracy of the information given or the outcome of any game or event.