Early NFL Betting Picks for Week 11
Credit:
Douglas DeFelice-USA TODAY Sports. Pictured: New England Patriots quarterback Tom Brady (12).
NFL spreads usually open up on Sunday evenings for the following week — and after they do, they're almost immediately on the move. The early bets serve as a signal to bookmakers for what the "true" odds should be, and sportsbooks aren't shy about adjusting on the fly if the market is telling them they missed the mark.
Betting earlier in the week is a key way you can beat the closing line, which should be your goal as a bettor.
Our NFL experts hopped on four bets early in an attempt to beat the market on the following games:
Steelers at Browns (Odds: Browns -2.5)
Broncos at Vikings (Odds: Vikings -10)
Patriots at Eagles (Odds: Patriots -3)
Bears at Rams (Odds: Rams -7)
---
Odds as of Monday evening and via PointsBet, where Action Network users can access an exclusive promotion to get a 200% deposit match (deposit $50, bet with $150). No strings attached. No rollover required.
---
Below, they'll detail what led them to make their wagers — and the thresholds at which they still have value.
Let's dive in.
---
Mike Randle: Cleveland -2.5 vs. Steelers
8:20 p.m. ET, Thursday
Similar to last week's line against Buffalo, the Browns find themselves favored at home against a Pittsburgh team with a superior record. The Steelers have won four games in a row and five of their past six, yet still find themselves as the underdog in this Thursday Night Football matchup.
The Steelers' rushing attack has been greatly weakened by injuries to starting running back James Conner and rookie Benny Snell. PIttsburgh averaged an atrocious 1.6 yards per carry at home against the Rams. While Cleveland provides less defensive resistance on the ground, the Browns have a strong pass defense, which will cause problems for first-year starting quarterback Mason Rudolph.
On offense, the Browns should be able to prominently feature running backs Nick Chubb and Kareem Hunt against a Steelers rush defense that only ranks 16th in Football Outsiders' run defense DVOA. Hunt was a valuable offensive weapon in his first game back from suspension, tallying seven receptions on nine targets for 44 receiving yards.
On Thursday Night games, running backs usually have the advantage, and Cleveland has the healthiest and most talented rushers in this game.
Oddsmakers clearly believes in the Browns, making them favorites in two consecutive games despite their inferior record. The public is backing Pittsburgh with 65% of the betting tickets in the early going (see live data here), which is usually the case when a streaking team is an underdog.
I will continue to fade the public and bet against the overvalued Steelers in this AFC North showdown on a quick turnaround.
[In New Jersey? Bet now at PointsBet]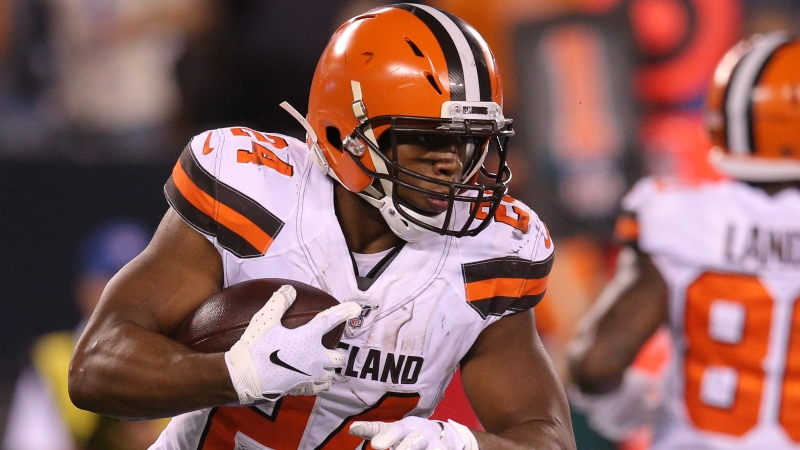 ---
Matthew Freedman: Vikings -10 vs. Broncos
1 p.m. ET, Sunday
This spot is very similar to when the Vikings played the Redskins back in Week 8, and while it didn't result in a cover for Minnesota, it's worth revisiting.
I have been impressed with the Vikings this season, and under head coach Mike Zimmer (since 2014), they have offered a strong return on investment in several different scenarios.
They have been a profitable regular-season team to back:
At home: 30-13-1, 35.1% ROI
As favorites: 34-17-1, 29.3% ROI
Outside of division: 41-15-1, 41.8% ROI
These trends make sense within the context of who Zimmer is as a coach and what kind of team the Vikings are.
Zimmer is a focused, no-nonsense, risk-adverse, process-oriented, defense-directed "manager" (for lack of a better word), and the Vikings are a disciplined team that doesn't often make big mistakes.
They don't waste the natural advantage they have at home. They don't play down to the level of their underdog opponents. They don't present a known and easy challenge to teams that aren't familiar with them.
This week, the Vikings are in a "solar eclipse" spot with all of Zimmer's historical edges lining up. As non-divisional home favorites, the Vikings are 19-3-1 ATS (66% ROI).
Even though the Broncos are coming off their bye, I still doubt they will be able to keep this game competitive given their dearth of offensive talent.
I wouldn't want to be this past -10, which is why I grabbed it as soon as I could.
[In New Jersey? Bet now at PointsBet]
---
John Ewing: Patriots -3.5 at Eagles
4:25 p.m. ET, Sunday
The last time we saw the Pats in action they were getting blown out by the Ravens. New England had the bye week to stew over that loss, and while recreational gamblers might be hesitant to back the Patriots after an ugly loss and as road favorites, this has historically this is a great spot to buy New England.
Since 2003, road favorites after a bye week have gone 64-34-2 (65%) against the spread. A $100 bettor would have returned a profit of $2,695 following this strategy.
Tom Brady is 6-1 ATS when matching this system. And for those wondering, this system works when the opponent is coming off a bye as well (8-3 ATS), as is the case here with Philly.
[In New Jersey? Bet now at PointsBet]
---
Sean Zerillo: Bears +7
8:20 p.m. ET, Sunday
In the NFL, whether during a single season or over the course of multiple seasons, any individual team's record ATS should regress towards the mean.
For example, the Chicago Bears went an NFL-best 12-5 ATS in 2018, but are just 3-6 ATS this season.
Meanwhile, the Los Angeles Rams are 6-3 ATS this season but went 9-9-1 ATS last year, including their Super Bowl loss.
In late-season matchups between two teams at the opposite ends of the ATS spectrum, trend bettors should target the team with the losing record ATS:
Since 2005, the above system has generated a 20% return on investment for a consistent $100 bettor.
Furthermore, in Week 10 the Rams lost two starters on their offensive line due to knee injuries — center Brian Allen (for the season) and tackle Rob Havenstein (for multiple weeks). The Rams have also struggled to throw downfield without Brandin Cooks, who remains sidelined with a concussion.
These injuries are factored into the spread, no doubt, but cluster injuries at a position (three injured starters on the OL) and losing a center, in particular, have a massive overall effect on a unit.
Take the Bears and their vicious front, getting a full touchdown on the road. I only like this at +7 or better.
How would you rate this article?