Our Experts' 5 Favorite Early NFL Bets for Week 6
Credit:
Kyle Terada-USA TODAY Sports. Pictured: Jimmy Garoppolo
Our experts wasted no time finding their best Week 6 bets.
They hit several games right away, including Seahawks-Browns, Saints-Jaguars, Titans-Broncos, 49ers-Rams and Steelers-Chargers.
Below you'll find their picks and breakdowns for each one.
NFL spreads usually open up on Sunday evenings for the following week — and after they do, they're almost immediately on the move. The early bets serve as a signal to bookmakers for what the "true" odds should be, and sportsbooks aren't shy about adjusting on the fly if the market is telling them they missed the mark.
Betting earlier in the week is a key way you can beat the closing line, which should be your goal as a bettor.
Our NFL experts hopped on five bets early in an attempt to beat the market. Below, they'll detail what led them to make their wagers — and the thresholds at which they still have value.
Let's dive in.
---
Odds as of Tuesday morning and via PointsBet, where Action Network users can access an exclusive promotion to get a 200% deposit match (deposit $50, bet with $150).
---
John Ewing: Browns +1 vs. Seahawks
Sunday, 1 p.m. ET
Here is my recap of Cleveland's Monday Night Football performance:
Baker Mayfield had a horrible game, completing 8-of-22 passes for a career-low 100 yards. He also threw two interceptions and fumbled twice. As a result the offense scored three points.
After losing two of their past three games, oddsmakers opened Cleveland as 2-point favorites vs. Seattle. More than 70% of spread tickets are on the Seahawks.
Baker & Co. gave us little reason to believe in them but teams are never as good or bad as they looked the previous week. Teams tend to bounce back after a bad offensive game and have historically been undervalued when the public bets against them. Our PRO system betting on teams in this spot has gone 148-95-4 since 2003, good for a 61% win rate and a $4,430 profit for a $100 bettor.
Look for the Browns offense to improve in Week 6. I would bet this up to Cleveland -3.
---
PRO Systems are data-driven betting strategies that turn winning long-term trends into easy-to-follow picks, all handpicked and monitored by our team of analysts. Try Action PRO now and instantly access real-time game matches for every PRO System.
---
Mike Randle: Jaguars -1 vs. Saints
Sunday, 1 p.m. ET
This was a strange opening line. New Orleans is coming off impressive home wins over the previously undefeated Cowboys and a Buccaneers team that trounced the Rams 55-40 at home. The Jags are 2-3 and still haven't resolved their friction with star cornerback Jalen Ramsey.
Yet, the line has opened at Jacksonville -1 and hasn't moved as of Tuesday morning despite 78% of the bets backing the Saints per our data.
The Jaguars will be able to generate much more pressure on QB Teddy Bridgewater than either of the Saints' past two home opponents. Jacksonville had nine sacks in its last home game (against Tennessee) and added three more at Carolina last Sunday. Bridgewater struggles against defenses that can get heat on him, ranking only 20th at the position with a 35% pressured completion rate.
I am officially a believer in Gardner Minshew, who has thrown seven touchdown passes and no interceptions over his past four starts. Jacksonville wide receiver D.J. Chark has shown promise with Minshew at the helm and teammate Dede Westbrook has recovered from his slow start, with 26 targets and 17 receptions over his past three games.
This line feels low and still hasn't moved despite the strong public support for New Orleans. If Ramsey returns, I like it even more. Even if he doesn't, I would bet this line up to Jaguars -2.
---
Danny Donahue: 6-point teaser — Saints +1.5 to +7.5 vs. Jaguars and Titans +2.5 to +8.5 vs. Broncos
Sunday, 1 p.m. ET and 4:25 p.m. ET
I'll be the first to admit, betting early is not my thing. Not because I don't believe in it (which I very much do), but because I'm not good enough at it. I'm no power-rater, so a lot of my betting strategy comes from waiting for the market to do its thing and siding with teams that sharps have hit at similar numbers or ones that have become big needs for sportsbooks.
However, I couldn't help but lock in this teaser when I saw both underdogs were playing in games with low over/unders and spreads in the 1.5-2.5 range.
Blindly doing 6-point teasers with underdogs from 1.5-2.5 has been historically profitable, as Stuckey has detailed each week in his teaser piece. Getting these numbers is crucial because you're crossing two key numbers — namely 3 and 7. The value is even more magnified when using the strategy in games with low over/unders. Tennessee, therefore, was an easy decision.
Picking the second leg wasn't quite as straightforward, and as much as I think the Jags may end up as one of this weekend's sharper plays, the value of going from +1.5 to +7.5 with the Saints was too good to pass up, especially since much of the market is showing a +1.
I'd bet this as long as both teams are listed +1.5 or higher.
---
Travis Reed: 49ers-Rams Over 49
Sunday, 4:05 p.m. ET
The simulations I run on a weekly basis are in love with the 49ers offense. My sims have the projected total for this game at 57.3 points, making this bet easily the biggest early edge.
The Rams defense just isn't as stout as it used to be and their corners are a liability, especially Marcus Peters. Kyle Shanahan should have no problem taking advantage of the Rams' weaknesses while trying to avoid Aaron Donald.
The Rams offense, and Jared Goff especially, have had some pretty big home/road splits, which should equate to some quick scoring drives for both teams.
I like the Over for multiple units as the line sits right now and would still easily bet this up to 53.5.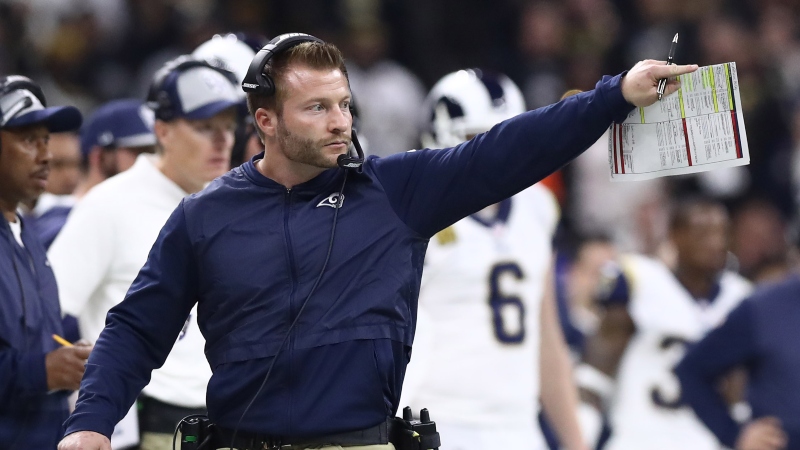 ---
Matthew Freedman: Chargers -6.5 vs. Steelers
Sunday, 8:20 p.m. ET
I grabbed this at -5.5 as early as I could on Sunday, but I'm comfortable taking it up to -7.
I don't give much credit to the Chargers in Los Angeles, where they have something of a neutral home-field advantage. But they are slated to face an undrafted third-string small-school rookie quarterback in his first NFL start.
Devlin Hodges was in fact the 2018 Walter Payton Award winner as the top player at the FCS level, so it's not as if he's a total slouch: He does have some Tony Romo/Jimmy Garoppolo potential as a small-school starter.
But the Steelers are 1-4, and they have struggled mightily on offense. They have yet to score more than 27 points in any week, and the only team they've beaten is the 0-5 Bengals — and they had to use the Wildcat to get their offense going in that game.
The Chargers are 2-3, but they have a real shot at the wild card. With cornerback Desmond King II on wide receiver JuJu Smith-Schuster in the slot and Casey Hayward Jr. on him out wide, the Chargers might be able to take JuJu out of the game.
If JuJu is neutralized, and with a rushing attack averaging just 3.5 yards per attempt, the Steelers could struggle mightily to put up points.
How would you rate this article?