Week 10 NFL Picks: How We're Betting Sunday's Games
Credit:
Philip G. Pavely-USA TODAY Sports. Pictured: Mason Rudolph, JuJu Smith-Schuster
Our experts run through their favorite Week 10 NFL picks, featuring spread and over/under bets for Sunday.
Find out how they're betting Chiefs-Titans, Bills-Browns, Ravens-Bengals and much more.
What are the best bets for Week 10?
Our experts reveal their favorites for Sunday's main slate, featuring spread and over/under picks for the following games:
Giants at Jets: 1 p.m. ET
Falcons at Saints: 1 p.m. ET
Chiefs at Titans: 1 p.m. ET
Ravens at Bengals: 1 p.m. ET
Bills at Browns: 1 p.m. ET
Cardinals at Buccaneers: 1 p.m. ET
Lions at Bears: 1 p.m. ET
Panthers at Packers: 4:25 p.m. ET
Rams at Steelers: 4:25 p.m. ET
Let's dig in.
---
Odds as of Sunday morning and via PointsBet, where Action Network users can access an exclusive promotion to get a 200% deposit match (deposit $50, bet with $150).
---
Mike Randle: Giants-Jets Under 44.5
As of writing, 67% of the bets and 39% of the money is on the over in the battle of New York (see live public betting data here). Both offenses have shown a propensity for turnovers with the Giants (-10) and Jets (-7) in the negative for turnover differential on the season.
More importantly, the respective offensive lines have struggled to protect their quarterback. The Giants have allowed the eighth-most sacks (28), while the Jets have allowed the third-most (32) quarterback sacks on the season.
The Giants' offense centers around running back Saquon Barkley, but the Jets should be able to limit his production with the second-best run defense DVOA in the league (per Football Outsiders). Giants quarterback Daniel Jones has experienced the normal rookie quarterback struggles, ranking first in intercept-able passes and danger plays as per Player Profiler.
The Jets offense is suffering through injury concerns with Bell and tight end Chris Herndon questionable. And the Giants will be without Shepard and Engram.
I'll fade the public and take the under in a rivalry game between two poor offenses with injury concerns across the board. I'd bet this under down to 44.
[In New Jersey? Bet now at PointsBet]
---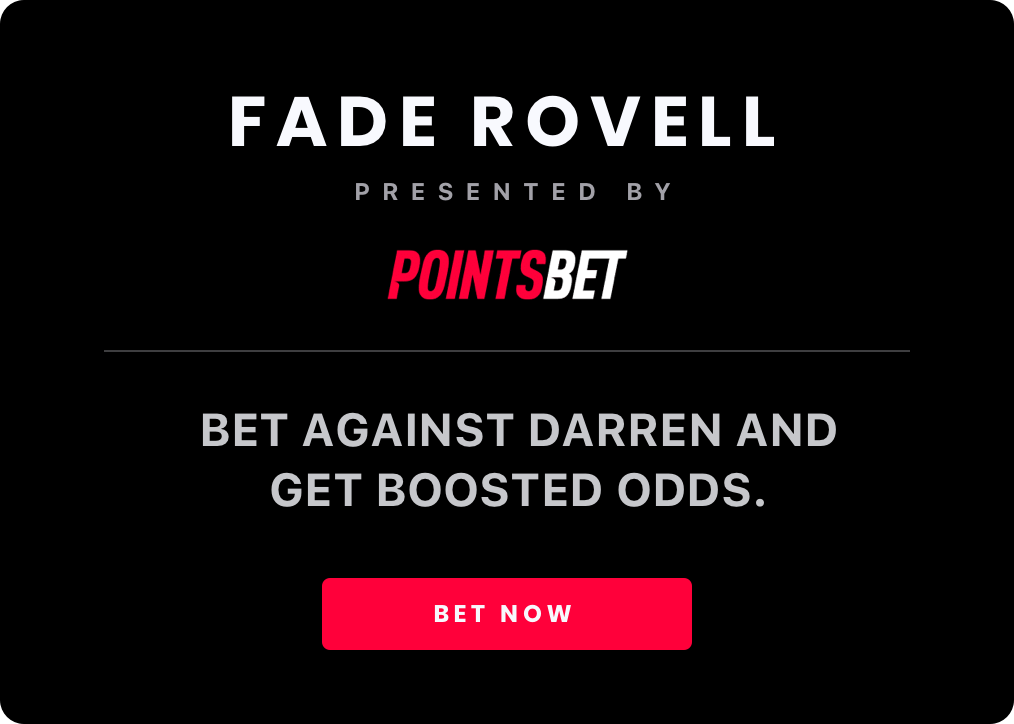 Darren Rovell loves the Giants to cover against the Jets this week. PointsBet is giving everyone in New Jersey boosted odds to bet the other side — Jets +2.5 (+110).
---
Randle: Falcons +14 at Saints
If Ryan returns, he should help the Atlanta offense back toward its usual production level even if he's facing a stiff Saints defense. Plus, the Falcons-Saints game always provides an intense battle between two bitter rivals.
Their meetings have been decided by more than 14 points just twice over the past 18 matchups. In fact, over the last eight game the average margin of victory has only been 8.1 points.
With the Falcons pass defense injured and struggling, look for Atlanta to rely on their offense to keep pace with New Orleans. Before his injury in Week 7, Ryan eclipsed 300 passing yards in every game this season. With three games of three or more passing touchdowns, Ryan and the Falcons offense have enough firepower to keep this game under two touchdowns.
The Saints are receiving 60% of the bets but only 36% of the money, representing a clear sharp vs. square dichotomy. I'll side with the money and grab Atlanta.
[In New Jersey? Bet now at PointsBet]
Patrick Mahomes is set to return from a knee injury that's kept him out of the past two games. The Chiefs managed to go 1-1 without him, and while the market appeared to value him as being worth seven to eight points to the spread, I'm hesitant to give them the full points back quite yet as he isn't likely to be 100% quite yet.
There's a chance he could have limited mobility. And while he isn't necessarily known for his rushing ability, he does use his legs to avoid pressure, extend plays and buy time for his receivers to get open for a huge play. We might not see that Mahomes in Tennessee, but a more conservative version.
One silver lining regarding his knee injury is that the time off has likely allowed him to overcome an ankle injury that had been nagging him previously. Getting that ankle closer to 100% could be the blessing in disguise.
There's some slight value on the Titans getting six points here if it appears Mahomes will be less than 100%. There's also a non-zero possibility Mahomes has an in-game setback, forcing the Chiefs to bring Matt Moore back in.
[In New Jersey? Bet now at PointsBet]
Stuckey: Bengals +10 vs. Ravens
Last week was fun when my team (the Ravens) won and covered for us. But it's money first, and we are going against Baltimore after that emotional win.
Yes, it's a great situational spot for the Bengals, who are coming off a bye and seeking their first win of the season against a division rival. And with a new QB under center, I expect a spirited effort from the last winless team in the NFL.
The Bengals aren't good by any stretch but they are better than what the market has been implying this season. Just take a look at some of their competitive losses (and covers) this season against winning teams:
Lost by one at Seattle
Lost by two at Buffalo
Lost by six at Baltimore
Bottom line: This line simply came out too high. There's a high risk of a flat spot for Baltimore after such an emotional win, which Cincinnati could take advantage of early against a potentially sleepy Ravens team.
Also, remember that Cincinnati was +11 at Baltimore just a few weeks ago and covered in Charm City.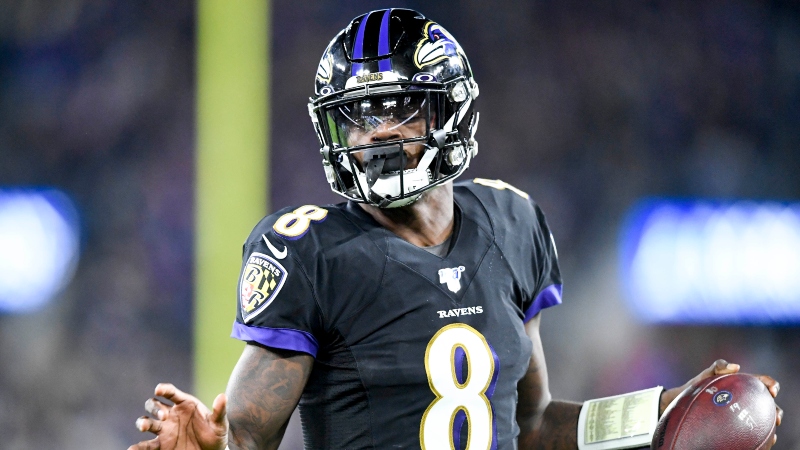 Yes, we have a new QB under center, but I don't think the drop-off is anywhere close to 6-7 points from what I saw of Finley in college. The Bengals will also have the benefit of two weeks to prepare and the element of surprise as the Ravens don't really know what to expect with the rookie signal caller.
[In New Jersey? Bet now at PointsBet]
Stuckey: Browns -3 vs. Bills
This is my favorite buy-low/sell-high spot of the weekend.
Yes, the Bills are 6-2, but they've beat absolutely nobody: Jets, Giants, Dolphins, Bengals, Redskins, Titans. They have six wins with an almost impossibly low strength of victory of .176 for that many wins. In the AFC, only the Dolphins and Bengals have lower SOVs and that's because they've combined for exactly one win, which came over the lowly Jets.
The Bills pass defense has played at a high level — albeit against mostly poor quarterbacks — thanks to safeties who give up nothing deep and a solid group of corners, and I expect that to continue barring injuries.
However, the run defense is very vulnerable, which you saw the Eagles exploit a few weeks ago.
In a game that should feature windy conditions, I trust Nick Chubb and the Cleveland rushing attack much more than Buffalo.
When the Browns went to New England in windy conditions a few weeks ago, the game plan was to feed Chubb against a great pass defense and vulnerable run defense. And if not for some flukey turnovers, they may have pulled out a win. I think that's the plan again on Sunday (with a few shots downfield) for a Cleveland squad that ranks second in the NFL at 5.2 yards per rush.
Points may come at a premium in this one, so I actually threw the Browns moneyline in a parlay with the Colts moneyline, but will also be on the Browns -2.5/3. Anything at 3 or under is good in my book.
[In New Jersey? Bet now at PointsBet]
Randle: Buccaneers -4.5 vs. Cardinals
The Buccaneers' defense has been a pass funnel all season. Defensive coordinator Todd Bowles has assembled the top run defense in the NFL, ranking first in run defense DVOA. Tampa Bay only allows 78.1 rushing yards per game.
This will put a premium on the Arizona passing game and rookie quarterback Kyler Murray. While the Oklahoma-product has flashed potential, he also has failed to throw a touchdown pass in four of his past six games.
In fact, in four road games this season, Murray has yet to throw a touchdown and has averaged just 16.5 fantasy points per game.
Arizona's pass defense has not received the boost it expected with the return of Patrick Peterson. I'll take the Buccaneers to cover the -4.5 at home against a Cardinals team that has yet to produce a quality road passing performance this season.
I would bet this line up to Buccaneers -5.5.
[In New Jersey? Bet now at PointsBet]
Editor's note: Picks were made prior to the news of Matthew Stafford's injury and the subsequent line move.
Put simply, I don't think the Bears will be able to keep up with the Lions offensively.
In six of their eight games, the Lions have scored at least 24 points, and the Bears defense — though still good — is not the fearsome unit it was last season. Meanwhile, the Bears have scored as many as 24 points just twice.
Since their Week 5 bye, the Lions have dramatically shifted toward the passing game, moving from a 54.6% pass play rate in Weeks 1-4 to a 65.5% mark in Weeks 6-9. That's significant because I think the Bears are overrated in pass defense. They rank No. 21 in pass success rate allowed, while the Lions are No. 10 in the metric on offense.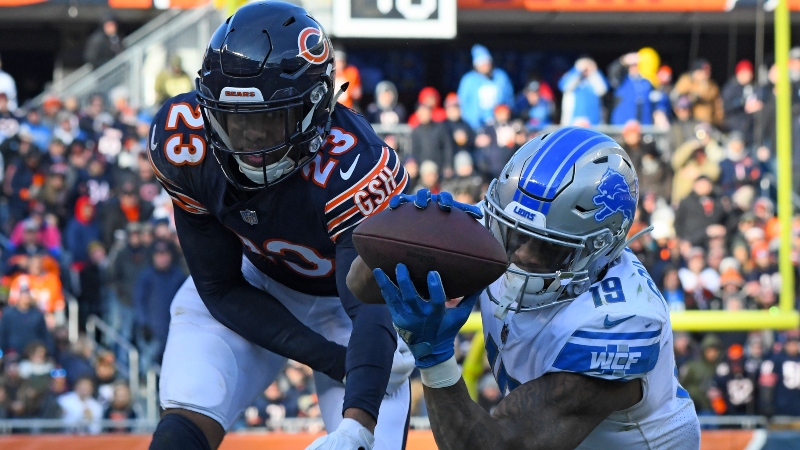 I specifically think that wide receiver Kenny Golladay will have his way against the Bears corners.
Golladay is getting high-value usage, and he's making the most of it: Since the bye, he has a 16-397-3 receiving line in four games. And last year, he was 11-168-1 in two games against the Bears. The connection between he and Matthew Stafford is the real difference in this game. That the Lions also have wide receivers Marvin Jones Jr. and Danny Amendola and tight end T.J. Hockenson is just a bonus.
Not that there's anything wrong with Bears wide receiver Allen Robinson … but there's definitely something wrong with the guy throwing to him.
I would bet this to a pick'em. [In New Jersey? Bet now at PointsBet]
Freedman: Panthers +4.5
To me, this game comes down to the various matchups of offensive and defensive strengths and weaknesses.
The Packers offense is built around Aaron Rodgers. He's the greatest strength of the unit. In Pro Football Focus grades, the Packers offense is No. 3 in passing but No. 12 in rushing.
But the Panthers defense is unquestionably good against the pass. They're No. 3 in pass defense DVOA and No. 4 in PFF coverage grade.
Fourth-year cornerback James Bradberry is becoming a true shutdown cover man: He's allowed a 54.5% catch rate this season and no receiving touchdowns. And I expect James Bradberry to shadow Davante Adams, who is still dealing with a turf toe injury and looked like a diminished version of himself in his return to action last week.
The Panthers' run defense is not good. In fact, it's No. 32 in DVOA. But I think that number might be overstating how bad the unit is.
I'm sure the Packers will try to use running backs Aaron Jones and Jamaal Williams to move the ball systematically down the field, but they might have less success than expected.
As for the Panthers pass offense — it's not great. They're No. 29 in PFF passing grade, but at least wide receivers D.J. Moore and Curtis Samuel are dynamic playmakers with the ability to occupy a defense and open up space underneath for passes to Christian McCaffrey.
And in targeting McCaffrey — the league's most consistently productive pass-catching back (6.2 receptions per game since last season) — the Panthers will probably have success.
And as a runner, McCaffrey is gonna get fed.
The difference in this game is that the Panthers' greatest offensive strength matches up precisely with the Packers' greatest defensive weakness: Their inability to stop running backs.
McCaffrey leads the league with 1,244 yards and 13 touchdowns from scrimmage. As it happens, the Packers have allowed 1,424 yards and 11 touchdowns from scrimmage to opposing backfields. If the Packers make opposing backfields look like McCaffrey … what will McCaffrey look like when he faces them? A winner.
I'd bet on the Panthers to +4. [In New Jersey? Bet now at PointsBet]
Stuckey: Rams-Steelers Under 43
Let's keep this simple: I think the Steelers' defensive front can get enough pressure on a consistent basis to stymie this Rams offense. And remember it's a different caliber of defense on the back end since Fitzpatrick arrived in the Steel City.
Plus, the Rams most likely won't have the services of Cooks, which really limits the explosiveness of their offense.
Speaking of limited explosiveness, that's exactly how I'd describe the Pitt offense with Mason Rudolph at the helm. It's a lot of running and plenty of short, easy passes that keep the clock bleeding.
I'm splitting the game under 44 (like it down to 43) and the first-half under 21.5 (like it down to 21). [In New Jersey? Bet now at PointsBet]
How would you rate this article?