Sonny Banks: Biggest Risers, Fallers in My NFL Betting Power Ratings
Credit:
Dan Powers/USA TODAY NETWORK-Wisconsin via USA TODAY Sports. Pictured: Green Bay Packers running back Jamaal Williams (30) celebrates with a Lambeau Leap into the stands.
Sonny Banks has updated his 2019 NFL power ratings.
Below you'll find each team listed from 1-32, as well as notes on what Sonny is looking out for the rest of the way.
For those who have followed @So_Money_Sports on Twitter, he's now bringing his written analysis to The Action Network. You can get real-time alerts for all of Sonny's bets in our app for free.
Early in the season is when I tend to make the biggest adjustments to my NFL power ratings. Through two weeks, I've dropped four teams seven spots from where they were preseason, and upgraded one team seven spots.
Below you'll find my complete 1-32 NFL betting power ratings.
Check out PointsBet, where Action Network users can exclusively bet every NFL spread this season at reduced juice (-105).
1. New England Patriots
Preseason rank: No. 1
Monitor offensive line inexperience/injuries — Marcus Cannon, Isaiah Wynn (Marshall Newhouse moves to LT), Korey Cunningham. Miami was not up for the challenge, but the Pats could be susceptible to strong pass rush.
2. Kansas City Chiefs
Preseason rank: No. 3
Possible decrease in defensive rating. Oakland's offensive mistakes kept game out of reach, but the Raiders moved the ball well enough.
3. Los Angeles Rams
Preseason rank: No. 2
Need to look deeper into offensive line numbers. Have some questions about Jared Goff's protection.
Have now had two games in a row with slow offensive starts. Made proper halftime adjustments both times.
Strong secondary play is allowing defensive line to be more aggressive. Not ready to increase defensive rating yet after getting the benefit of playing Teddy Bridgewater for the majority of Week 2, but will continue to monitor.
4. Dallas Cowboys
Preseason rank: No. 4
Increase offensive rating. Zone reads are stretching the defense for Dak and Zeke when they run 3-WR sets. (Watch Dak's 42-yard run last week.) Only "weakness" up front is LG Connor Williams, who continues to develop.
Lack of pass rush again. Need to look into D-line ratings.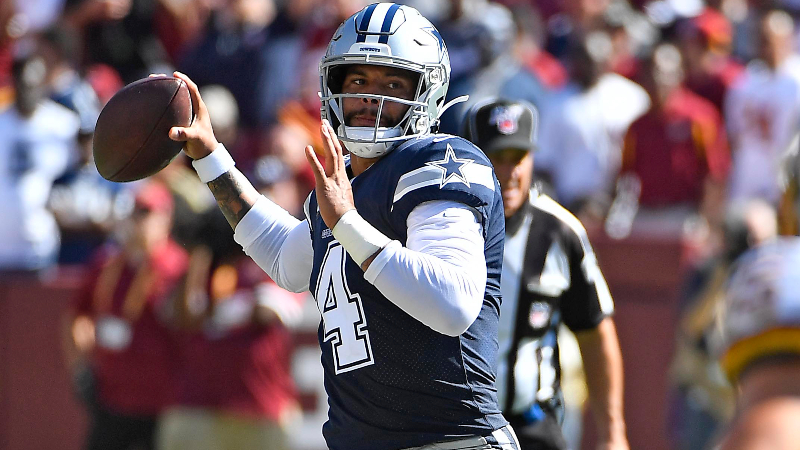 5. Baltimore Ravens
Preseason rank: No 6
Monitor pass rush vs. better O-Lines; could be overvalued. Eye test says they're struggling to get pressure.
Have concerns about the secondary; monitor impact of injuries (especially to CB Jimmy Smith).
6. Philadelphia Eagles
Preseason rank: No. 9
Monitor WR injuries. Need to consider TE Dallas Goedert's injury before downgrading rush offense.
Downgraded defensive rating. Secondary was exposed in coverage again, and the defense is not generating pass rush against weak offensive lines.
7. New Orleans Saints
Preseason rank: No. 5
Teddy Bridgewater didn't look good. Raw numbers dictate a 5-point drop from Drew Brees.
No change to defensive ratings. No sustained offensive drives led to increased amount of defensive snaps.
8. Los Angeles Chargers
Preseason rank: No. 11
Misleading final score vs. Lions. Chargers had a bunch of mistakes — two TDs called back, a goal-line fumble, interception, two missed FGs.
Monitor injuries to secondary.
Adjust offensive snaps for what looks like a slow-paced offense.
9. Green Bay Packers
Preseason rank: No. 16
Monitor Aaron Rodgers/Matt LaFleur situation. Not downgrading offense again, but offense is clearly still work in progress; showing commitment to Aaron Jones.
Upgrade defensive rating again. Secondary is really strong behind play from Jaire Alexander and Kevin King.
10. Seattle Seahawks
Preseason rank: No. 14
Made halftime adjustments vs. Steelers to prevent sacks with short throws. Was effective vs. aggressive pass rush.
Penalties are a concern: 8 vs. Bengals, 10 vs. Steelers.
Plays a Brees-less Saints team in Week 3. Some defenders said the team let up a little after Ben Roethlisberger left the game with an injury in Week 2.
11. Minnesota Vikings
Preseason rank: No. 15
Kirk Cousins making too many mistakes (2 INTs, 52.4% completion rate). Clearly aiming for a more balanced offense. Running game has been strong.
Defense improved after poor start with 11 empty possessions. Need to monitor injuries in the secondary.
Special teams concerns: Have missed one FG and one XP.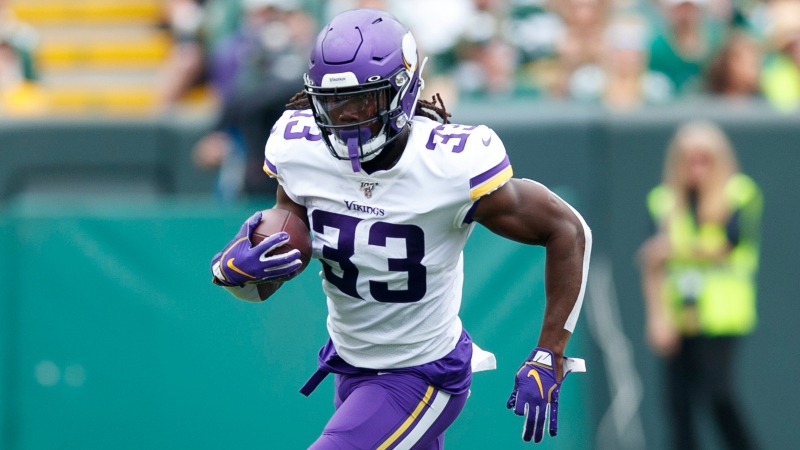 12. Buffalo Bills
Preseason rank: No. 13
Safety Micah Hyde said Giants surprised them with some of their scripted plays in the first drive. Good coaching adjustments from there. Barkley limited after first drive.
Monitor injury to RB Devin Singletary.
13. Cleveland Browns
Preseason rank: No. 7
Upgrade defensive line again. Myles Garrett five sacks in two games.
No changes to offensive rating. Different pieces still getting into place and injuries to offensive line.
Baker Mayfield mentioned after the game the need for more check-downs.
14. San Francisco 49ers
Preseason rank: No. 18
No upgrade on 49ers offense yet. Jimmy Garoppolo had poor first game due to the Bucs being improved. Need to further examine their strong offensive numbers vs. a bad Bengals team. Monitor impact of LT Joe Staley's injury (broken leg, out 6-8 weeks).
Stayed the week in Ohio; monitor for future road trips.
15. Indianapolis Colts
Preseason rank: No. 8
Elite offensive line play continues. Look to play vs. bad run defenses.
Monitor impact of CB Pierre Desir's knee injury. Not a big drop-off to his backup (Rock Ya-Sin). Don't downgrade defensive rating yet.
16. Atlanta Falcons
Preseason rank: No. 20
Matt Ryan's 5 INTs are a concern, but unusual. Not expecting it to continue. Hold on offensive rating adjustment for now.
Improved offensive line play, but monitor injuries.
Upgrade defensive line rating. Continuing to improve.
17. Chicago Bears
Preseason rank: No. 10
Unable to connect on long passes; concerned about Mitchell Trubisky's accuracy.
Another downgrade to offensive rating.
Upgrade defensive rating. Broncos' only success was in 4th quarter, even in the altitude.
18. Houston Texans
Preseason rank: No. 17
Coaching disadvantage with Bill O'Brien; see clock management mistakes at the end of the first half.
Better defensive play; showed pass rush, Whitney Mercilus in position to replace Jadaveon Clowney's sacks.
Monitor Lonnie Johnson moving forward and update grading.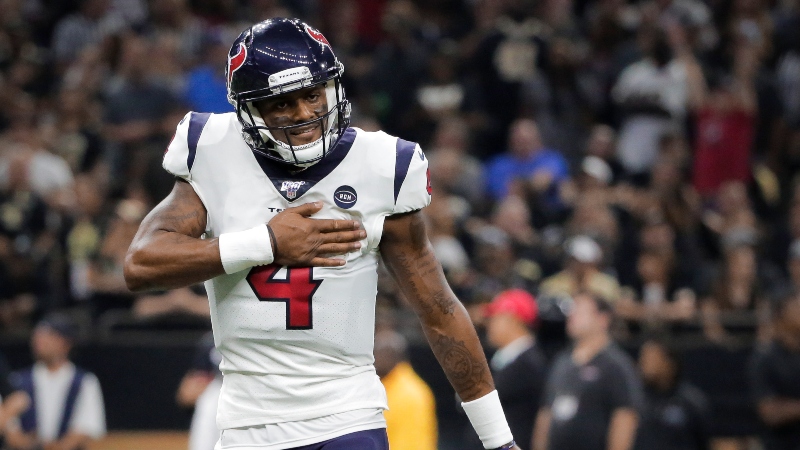 19. Pittsburgh Steelers
Preseason rank: No. 12
Monitor possible overreaction to Ben Roethlisberger injury; monitor James Conner injury.
Moved ball efficiently after Big Ben injury. Look into whether it was personnel related or Seattle letting up.
Mason Rudolph INT was on Donte Moncrief. Benched, monitor WR depth chart (Diontae Johnson, James Washington).
Downgrade offensive ratings for lack of running game.
Had trouble vs. TE (Will Dissly). Patriots used James White in role.
20. Tampa Bay Buccaneers
Preseason rank: No. 26
Jamies Winston showed better decision-making; offensive play-calling is protecting him and putting him in better situations to succeed.
Offense is focusing on the run, riding hot hand.
Upgrade defensive rating again. Getting better and more comfortable with Todd Bowles, but monitor Devin White and Jamel Dean.
Monitor O.J. Howard's lack of usage.
21. Carolina Panthers
Preseason rank: No. 21
More deep passes from Cam Newton, but inaccurate again. Monitor shoulder. New mechanics in play?
Daryl Williams at LT is a problem, not his natural position.
CB Donte Jackson continues to get burned (Chris Godwin).
Had a better pass rush; defensive play-calling more aggressive and better-suited for personnel.
Upgrade special teams rating. Joey Slye and Michael Palardy kicking game.
22. Tennessee Titans
Preseason rank: No. 22
Mike Vrabel shows coaching disadvantage again. Bad clock management again in the 4th quarter.
Taylor Lewan suspended for two more games. Eight sacks allowed; Marcus Mariota also showing indecisiveness and taking big hits.
Review Mariota's trouble with spy usage.
Look for more involvement from Derrick Henry on short week.
Mariota mentioned increasing Adam Humphries' involvement.
Game-opening drive again; watch in-game/2H totals.
23. Detroit Lions
Preseason rank: No. 24
Matthew Stafford mistakes again, bailed out. Watch for increased workload for Kerryon Johnson.
Downgrade defensive rating; not enough pressure from DL, run defense poor again.
Downgrade special teams rating again. Missed FG, missed XP, poor return game.
24. Jacksonville Jaguars
Preseason rank: No. 19
Monitor Jalen Ramsey situation. Defensive injuries.
25. Arizona Cardinals
Preseason rank: No. 29
Upgrade offensive rating; pace of play causing issues for defenses.
Willingness to throw deep; look for matchups vs. weak secondary.
Monitor run/pass distribution; not committed to run.
Undervalued run defense. Most rushing yards were from Lamar Jackson; good run defense vs. Lions.
26. Oakland Raiders
Preseason rank: No. 31
Monitor Josh Jacobs' groin.
Showing weakness in TE coverage.
Upgrade run defense rating.
27. Denver Broncos
Preseason rank: No. 25
Exposed against strong defensive lines. Need to run the ball to be successful. Are game-planning to limit Joe Flacco passes.
Monitor LT Garett Bolles; more holding penalties.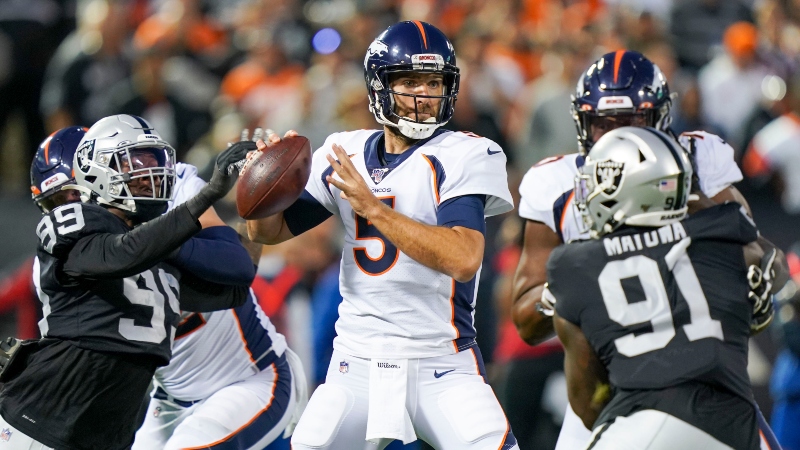 28. Washington Redskins
Preseason rank: No. 28
Strong defensive start again. Look into 1H/2H lines.
Downgrade Josh Norman rating. Not getting safety help.
Downgrade defensive rating; monitor secondary injuries.
29. Cincinnati Bengals
Preseason rank: No. 30
Zac Taylor criticized missed tackles, same problem as last year.
Downgrade overall offense and monitor OL injuries.
30. New York Jets
Preseason rank: No. 23
Le'Veon Bell is only weapon on offense. Look to target under.
Monitor C.J. Mosley's injury. Downgrade defense if out.
31. New York Giants
Preseason rank: No. 27
Downgrade Giants defensive ratings again. Secondary is worse than initial numbers.
Limited on offense (Sterling Shepard injury, Golden Tate suspension). Evan Engram only real option. Easier for defense to stop run.
32. Miami Dolphins
Preseason rank: No. 32
Some talent on defensive side of the ball. Monitor mindset. Play on unders, blowouts, limited offense.
Xavien Howard shut down corner. Look into Josh Gordon's numbers.
How would you rate this article?