NFL Week 7 Fantasy WR Breakdown: Adam Thielen Will Dominate the Jets
Credit:
Credit: Brad Rempel-USA TODAY Sports. Pictured: Minnesota Vikings wide receiver Adam Thielen (19) leaves the field after the game against the Chicago Bears at U.S. Bank Stadium.
Adam Thielen is one of the best high-priced options this week against the Jets.
DeAndre Hopkins is one of the top receivers in individual pro models against Jalen Ramsey and the Jaguars.
See the full version of this piece at FantasyLabs.
The 2018 NFL season rolls on, and we're still on pace for a record-breaking campaign with an average of 24.1 points per game per team. We could be in for another week of high scores with a 10-game main slate that kicks off on Sunday, Oct. 21, at 1 p.m. ET.
With four teams on bye, two at Wembley Stadium and six in prime-time games, we are without the following wide receivers.
Thursday Night Football: Broncos (Emmanuel Sanders, Demaryius Thomas) at Cardinals (Larry Fitzgerald, Christian Kirk)
International Series (London): Titans (Corey Davis, Taywan Taylor) at Chargers (Keenan Allen, Mike Williams, Tyrell Williams)
Sunday Night Football: Bengals (A.J. Green, Tyler Boyd, John Ross) at Chiefs (Tyreek Hill, Sammy Watkins)
Monday Night Football: Giants (Odell Beckham, Sterling Shepard) at Falcons (Julio Jones, Calvin Ridley, Mohamed Sanu)
Byes: Packers (Davante Adams, Randall Cobb, Geronimo Allison), Raiders (Amari Cooper, Jordy Nelson, Martavis Bryant), Steelers (Antonio Brown, JuJu Smith-Schuster), Seahawks (Doug Baldwin, Tyler Lockett, David Moore)
For analysis on the smaller slates, consult Chris Raybon's premium strategy guides (released throughout the week).
This breakdown is less of a comprehensive analysis of each wide receiver and more of an introduction to this week's players via our large suite of analytic DFS Tools. We'll start with three high-priced wide receivers, follow with three pass-catchers at the top of our individual Pro Models and finish with the rest of the field's fantasy-relevant receivers.
For updates on Vegas spreads and over/unders, check out The Action Network Live Odds page.
---
>> Sign up for The Action Network's daily newsletter to get the smartest NFL conversation delivered into your inbox each morning.
---
Highest-Priced Wide Receivers
This week, three wide receivers have top-five positional salaries on DraftKings and FanDuel.
Adam Thielen is the most notable of the three.
Adam Thielen: Minnesota Vikings (-3.5) at New York Jets, 46 O/U
$8,600 DraftKings; $8,700 FanDuel
On the Wednesday edition of The Action Network NFL Podcast, we talked about Thielen as a potential cash-game wide receiver. While some DFS players may opt to pay down at the position for the purposes of roster construction, there's no question that in a vacuum Thielen is utterly worthy of a roster spot in all formats. Thielen leads all wide receivers in our Models with his median and ceiling projections.
Thielen is the only player in the modern-era NFL to open a season with six consecutive games with at least 100 yards receiving. For an undrafted, small-school, average-sized hometown receiver, he's not bad.
Entering Week 7, Thielen leads the league with 81 targets, 58 receptions and 712 yards receiving. He's second among all wide receivers with 260 yards after the catch. A masterful route runner, Thielen has run 60.6% of his snaps in the slot, where he leads the league with 49 targets and 37 receptions.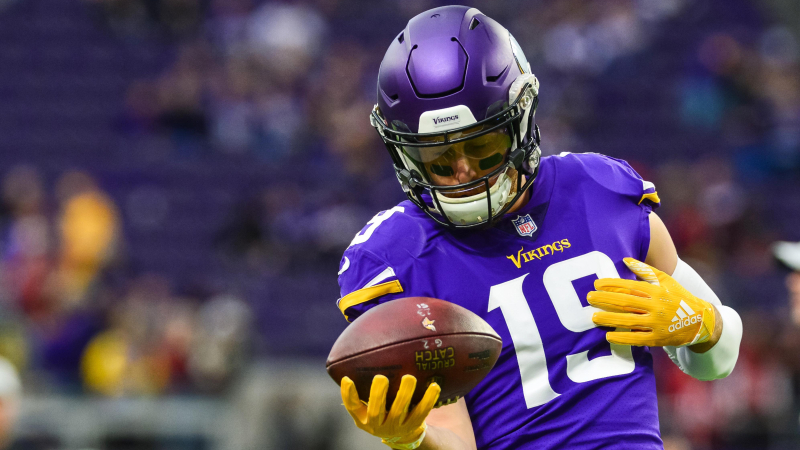 He's been so dominant this season that Thielen is the only wide receiver to score 18 or more DraftKings points each week. His position-high 28.5 DraftKings points per game is almost five points higher than TyFreak's No. 2 mark (23.7).
Even though he is the slate's most expensive wide receiver, he's still arguably undervalued because Thielen's +11.9 Plus/Minus is order of magnitudes greater than that of any other receiver in his salary range.
Other than a few low-priced non-relevant No. 3 receivers who get 2-3 useless receptions per game, Thielen is the only wide receiver in the league with a 100% DraftKings Consistency Rating.
Because Thielen plays primarily in the slot, he often faces the weakest starting cornerback in opposing secondaries, which makes him something of a macro-perspective matchup-independent player.
Basically, regardless of the defense he's facing, he's always in play. But he's especially desirable this week because Thielen has a great matchup against the Jets. He has 15-catch, 200-yard, two-touchdown upside. Seriously.
The Jets are sixth in pass defense with a -7.6% mark in Football Outsiders' DVOA, but they are beyond vulnerable this week. Most importantly, the Jets are likely to be without three starting defensive backs.
No. 2 cornerback Trumaine Johnson: Quad, questionable — missed Weeks 4-5, yet to practice this week
No. 3 cornerback Buster Skrine: Concussion, questionable — missed Week 5, yet to practice this week
Free safety Marcus Maye: Hand, out
On top of that No. 1 cornerback Morris Claiborne hasn't been used in shadow coverage this year. Rather, the Jets have lined Claiborne up almost exclusively at right corner (82.0% snap rate), so he's unlikely to follow Thielen across the formation.
And as it is, Claiborne isn't especially imposing anyway with his 73.8 Pro Football Focus (PFF) coverage grade. When matched up with Claiborne, Thielen should be fine — and he won't be facing Claiborne for much of the game.
Instead, Thielen will have the pleasure of running most of his routes against backups Darryl Roberts and Parry Nickerson. Filling in for Johnson, Roberts will play primarily on the outside.
He's a third-year seventh-rounder with subpar (55.6, 66.2) PFF coverage grades in his first two seasons and a 70.6% catch rate allowed in his coverage this year. He's utterly beatable. In Week 5, he allowed the decrepit Demaryius Thomas to get by him for a 42-yard touchdown. He's a backup for a reason.
And amazingly, Roberts isn't nearly as bad Nickerson, a rookie sixth-rounder whose horrid 38.4 PFF coverage grade is the sixth-worst mark among all cornerbacks.
He's allowed a 78.3% catch rate on 23 targets in his coverage, and just last week he was targeted a pitiful 12 times, allowing an 8-74-2 receiving line to the Colts and their backup-caliber receivers with No. 1 wide receiver T.Y. Hilton and No. 1 tight end Jack Doyle out.
The week before that, he allowed six different Broncos to ring up a combined 7-95-0 receiving line on seven targets. That's the guy Thielen is going to run routes against in the slot.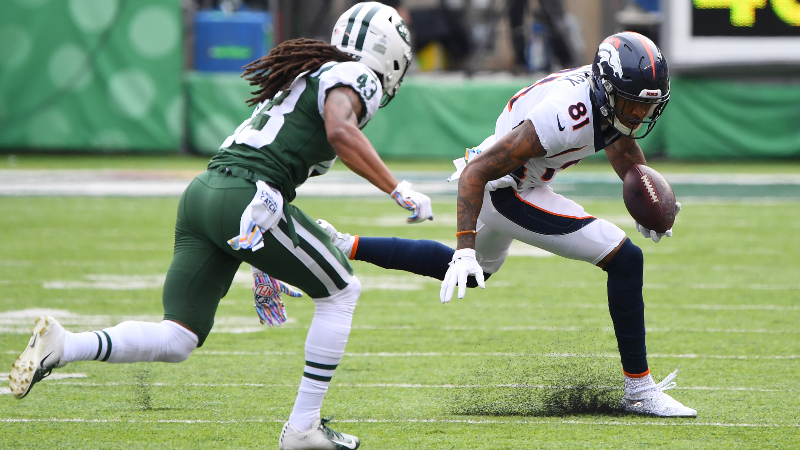 With the abuse Thielen's liable to sling Nickerson's way from the very first snap, there's a non-zero chance the late-round rook retires at halftime. In front of the New York faithful, Thielen's going to Vontae Davis this kid's soul.
On Sunday morning, I actually might look to bet the over on Thielen's yardage prop, which I think will be no lower than 89.5 and probably closer to 94.5. On the one hand, it's borderline ludicrous to bet the over on a prop that high.
On the other hand, the Vikings are the league's third-most pass-happy team (68.5% pass rate), the Jets have no defender who can stop Thielen and he has crushed his yardage prop each week. He leads the slate with his 0.31 market share of targets and 0.45 share of air yards.
To find the best bets in the props market, use our Player Props Tool, which is powered by our industry-leading projections. Since Week 1, the props with a bet quality of 10 have gone 137-64-4, which is good for a 67% win rate. Without question, you should supplement your DFS action with player props.
Thielen is the No. 1 FanDuel wide receiver in the Freedman Model.
Also on the Vikings:
Stefon Diggs: $7,200 DraftKings; $8,700 FanDuel
Not to be entirely outdone by Thielen, Diggs has three games this year with at least 20 DraftKings points, and since 2016 he has trailed Thielen by less than a point per game (15.7 vs. 16.6). Because Claiborne plays primarily on one side of the field, the Vikings should be able to scheme Diggs away from him and into the coverage of the exploitable Roberts and even Nickerson for a majority of his snaps.
Model Wide Receivers
Besides Thielen, there are three wide receivers at the top of the individual Pro Models that Jonathan Bales, Peter Jennings (CSURAM88), Adam Levitan, Sean Koerner, Chris Raybon, Kevin McClelland (SportsGeek) and I have constructed.
DeAndre Hopkins probably has the most upside of the three.
DeAndre Hopkins: Houston Texans (+4.5) at Jacksonville Jaguars, 41 O/U
$6,900 DraftKings; $8,500 FanDuel
UPDATE (10/20): Tight end Ryan Griffin (illness) is out.
Hopkins (foot) is questionable with an injury, and after getting in a limited session on Wednesday he didn't practice at all on Thursday. This is not a good sign but as of now he's still expected to play.
Hopkins is top three in the slate with 63 targets, 44 receptions, 657 yards receiving, 926 air yards, eight targets inside the 10-yard line and eight targets in the end zone. He's yet to find his groove as a scorer, but that will come: Since 2014, Hopkins has been the No. 4 fantasy wide receiver, averaging 18.2 DraftKings points per game. He's the No. 3 receiver this year, with 22.5 DraftKings points per game and a +3.87 Plus/Minus.
Hopkins has a tough matchup. Even though the Jags in Week 6 got destroyed by the wide receiver-less Cowboys in a 40-7 loss, they have still limited the position to a league-low 131.5 yards per game.
Outside cornerbacks Jalen Ramsey and A.J. Bouye are still yet to allow a touchdown this season. The Jags have held wide receivers to a bottom-three mark of 31.0 DraftKings points per game. And Hopkins is likely to face shadow coverage from Ramsey, a 23-year-old All-Pro shutdown corner in his athletic prime.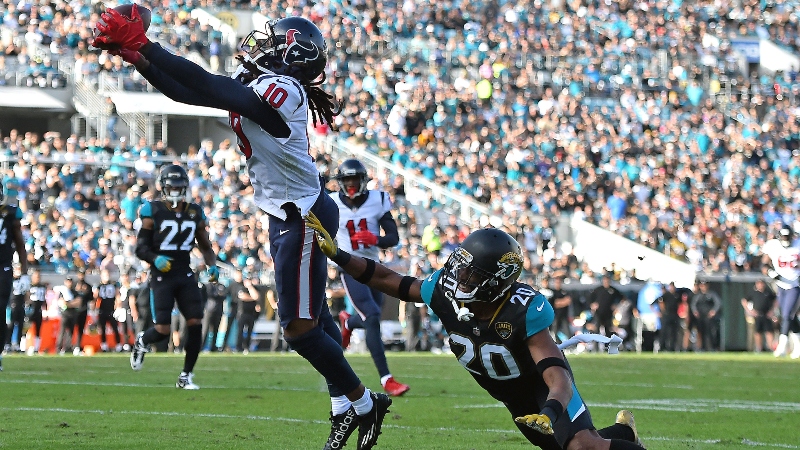 Even so, Hopkins is in play: In his two games against the Jags last year — Even so, Hopkins is in play: In his two games against the Jags last season — games featuring "starting" quarterbacks Tom Savage and T.J. Yates with rookie Deshaun Watson in relief in his first NFL appearance — Hopkins averaged 18.3 DraftKings points per game. Ballers ball.
In nine games with Watson, Hopkins and playmaking No. 2 wide receiver Will Fuller, the Texans average 30.3 points per game. They probably won't approach that total in Week 7, but it highlights the extent to which they have the Black Swan potential to put up points against a Jags defense that gets little support from its offense and just last week was utterly exposed.
Hopkins leads the position with 10 Pro Trends on DraftKings, where he's the No. 1 wide receiver in the Bales, CSURAM88, Levitan, Raybon and Freedman Models.
Also on the Texans:
Will Fuller: $5,500 DraftKings; $6,200 FanDuel
Keke Coutee: $4,300 DraftKings; $5,600 FanDuel
In Fuller's nine games with Watson, the receiver has averaged 18.1 DraftKings points with a strong +6.53 Plus/Minus on the strength of 3.8 receptions, 65.6 yards receiving and 1.11 touchdowns per game.
The problem is that Fuller (hamstring, hip) exited Week 4 early with an injury and since then has played as a glorified field-stretching decoy. He has practiced on a limited basis this week and is likely to play on Sunday, but he's hard to trust at less than full health in this matchup.
As I mention in The Action Network NFL Week 7 Betting Guide, the Jags have been without starting slot corner D.J. Hayden (toe) since the middle of Week 2, and have been routinely exploited by pass-catchers in the middle of the field since: Chris Hogan (3-42-2), Quincy Enunwa (4-66-0), Travis Kelce (5-100-0) and Cole Beasley (9-101-2).
Backup slot cornerback Tyler Patmon is a liability in coverage (53.7 PFF coverage grade), and when safeties Tashaun Gipson and Barry Church and linebackers Telvin Smith and Myles Jack have been matched up with slot receivers or move tight ends in the slot they have allowed four touchdowns.
The emergence of the rookie Coutee as the starting slot receiver is by no means a fluke: He was productive as the slot-bound playmaker in the Texas Tech offense for two seasons and is an athletic 21-year-old selected with a draft pick just outside the first three rounds (No. 103).
Since he entered the starting lineup three weeks ago, he's been a close second on the team with 27 targets and 20 receptions, accumulating 193 yards and a touchdown. Given how weak the Jags have been against slot receivers, Coutee could lead the Texans in targets.
Positional Breakdowns & News
Be sure to read the other Week 7 positional breakdowns.
• Quarterbacks
• Running Backs
• Tight Ends
For more in-depth NFL analysis information, check out The Action Network.
After this piece is published, FantasyLabs is likely to provide news updates on a number of players. Be sure to stay ahead of your competition with our industry-leading DFS-focused news blurbs.
---
---
Matthew Freedman is the Editor-in-Chief of FantasyLabs. He has a dog and sometimes a British accent. In Cedar Rapids, Iowa, he's known only as The Labyrinthian.