35 NFL Divisional Weekend Betting Trends, Stats & Nuggets: History on Side of Tom Brady, Patrick Mahomes, Aaron Rodgers
Credit:
Getty Images. Pictured: Tom Brady, Patrick Mahomes and Aaron Rodgers
The Divisional Round of the NFL Playoffs offers us eight legitimate Super Bowl contenders, a host of fascinating players and a whole lot of betting history.
We've compiled 35 statistical nuggets, betting trends and things to know for all six games (via Bet Labs and other historical sources).
Divisional Game Trends
1. Underdogs are 41-29-1 against the spread (58.6%) in the Divisional Round of the playoffs since 2003. A $100 bettor would be up $956, the most of any round of the playoffs.
Underdog Cover Pct in the NFL Playoffs Since 2003
Super Bowl: 11-7 ATS (61.1%)
Divisional: 41-29-1 ATS (58.6%)
Wild Card: 40-37-3 ATS (51.9%)
Conference: 16-20 ATS (44.4%)
2. Between 2003 and 2020, NFL Playoff teams that became smaller underdogs (+4 to +3) went 43-14-2 (75%) against the spread — In 2021 so far, those teams are 0-4 ATS.
3. ​​Since 2003, NFL teams coming off a bye week in the Divisional Round have gone 48-22 (69%) straight up, but just 31-38-1 against the spread.
4. ​​Over the last three years in the Divisional Round, only one team has won against a team on a bye (1-9 straight up): the Tennessee Titans over the Baltimore Ravens as 10-point underdogs.
5. ​​Public sides went 5-1 ATS in Wild Card Round. Public hasn't finished over .500 ATS in playoffs since 2016-17.
6. ​​Fun Fact: Every team remaining in the NFL Playoffs has a record of .500 or better against the spread this season:
Packers 12-5 ATS
Bengals 11-7 ATS
Titans 10-7 ATS
Bills 10-6-2 ATS
Buccaneers 10-8 ATS
49ers 10-8 ATS
Rams 9-9 ATS
Chiefs 9-9 ATS
7. ​​No spread in the Divisional Round this year is listed at a touchdown or more for the first time since 1988-89. The Super Bowl in 1989 was between the San Francisco 49ers and the Cincinnati Bengals … still a possibility in 2021-22.
8. ​​The total combined points the four Divisional Round favorites are favored by this week equals 13, the lowest combined number since adding a Wild Card Round to the playoff structure in 1978.
Lowest Combined Point Spread in All 4 Divisional Round Games
13: 2021

18: 1982

19: 1980

19: 1988

19.5: 2020
Bengals at Titans (-3.5)
9. ​​The Bengals entered the season at 150-1 odds to win the Super Bowl. Cincinnati owns the longest preseason Super Bowl odds to make the Divisional Round of the playoffs since the 1999-2000 St. Louis Rams, who won the Super Bowl.
Only 10 teams have had preseason odds of 100-1 or higher and made the Divisional Round of the playoffs — only the 1999-2000 Rams even made the Super Bowl.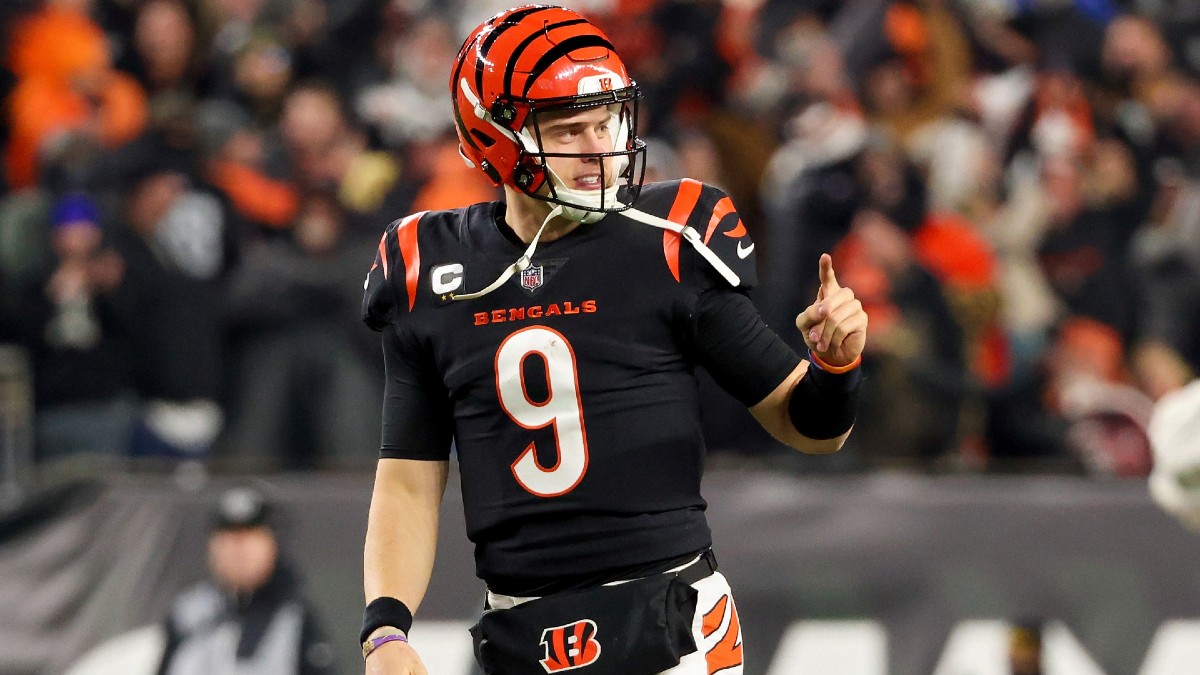 10. Joe Burrow is 10-4 against the spread vs. teams above .500 (straight up) for the season, the most profitable QB in the NFL since he was drafted two years ago. Burrow has covered the spread in four consecutive games in that spot.
11. The Bengals are 0-7 straight up and 1-6 against the spread in their franchise history on the road in the playoffs. If we count neutral sites, basically away from home, Cincinnati is 0-9 straight up and 2-7 against the spread in the playoffs.
12. Cincinnati is coming off a playoff win for the ages, a win against the Las Vegas Raiders for its first postseason victory in 31 years. Can we expect a letdown?
Five teams in NFL history have gone 30 seasons or longer without a playoff win. The Detroit Lions' streak is still active (1992-current) and the previous three to break the streak lost the subsequent week.
Detroit Lions: 1960 to 1991 (31 years)

Lions break streak in Divisional Round vs. Cowboys (38-6)

Lost next week at Washington (41-10) in Conference Championship.
Arizona Cardinals: 1960 to 1998 (38 years)

Cardinals break streak in Wild Card Round vs. Cowboys (20-7)

Lost next week at Vikings (41-21) in Divisional Round.
New Orleans Saints: 1967 to 2000 (33 years)

Saints break streak in Wild Card Round vs. Rams (31-28)

Lost next week at Vikings (34-16) in Divisional Round
13. Can Burrow win again? In his career, Burrow has been listed as the underdog a week after winning straight up as an underdog just twice and he is 0-2 straight up in those games.
2021, Week 2 at Bears (L, 20-17)

2020, Week 10 at Steelers (L, 36-10)
14. The Tennessee Titans have a bye week to prepare for the Bengals and if you're betting on Mike Vrabel, that's a good thing. Under Vrabel, the Titans are 8-0 straight up and against the spread on 10 days rest or longer, outscoring their opponents by almost 19 PPG.
49ers at Packers (-5.5)
13. The Packers had the bye week this year after earning the top seed in the NFC. Aaron Rodgers is 13-1 straight up and 9-3-2 against the spread on at least 10 days rest playing at home.
Rodgers has won 11 consecutive games in that spot with his only loss coming against Eli Manning and the New York Giants in 2012.
14. Aaron Rodgers and the Packers are 7-1 against the spread at home this season, the most profitable team in the NFL in that spot.
Rodgers' seven covers at home this year is his most in a single season in his career.
15. Rodgers is 31-7 straight up and 24-13-1 against the spread at home in December and January. Since his first start back in 2008, only Tom Brady is more profitable ATS in similar spots.
16. The temperature is expected to be 9 degrees Saturday night at Lambeau Field. Since 2009, Aaron Rodgers is 8-1 straight up and 6-2-1 against the spread in 20 degree or colder temperatures.
His only loss? A 2014 Wild Card game vs. the 49ers and Collin Kaepernick.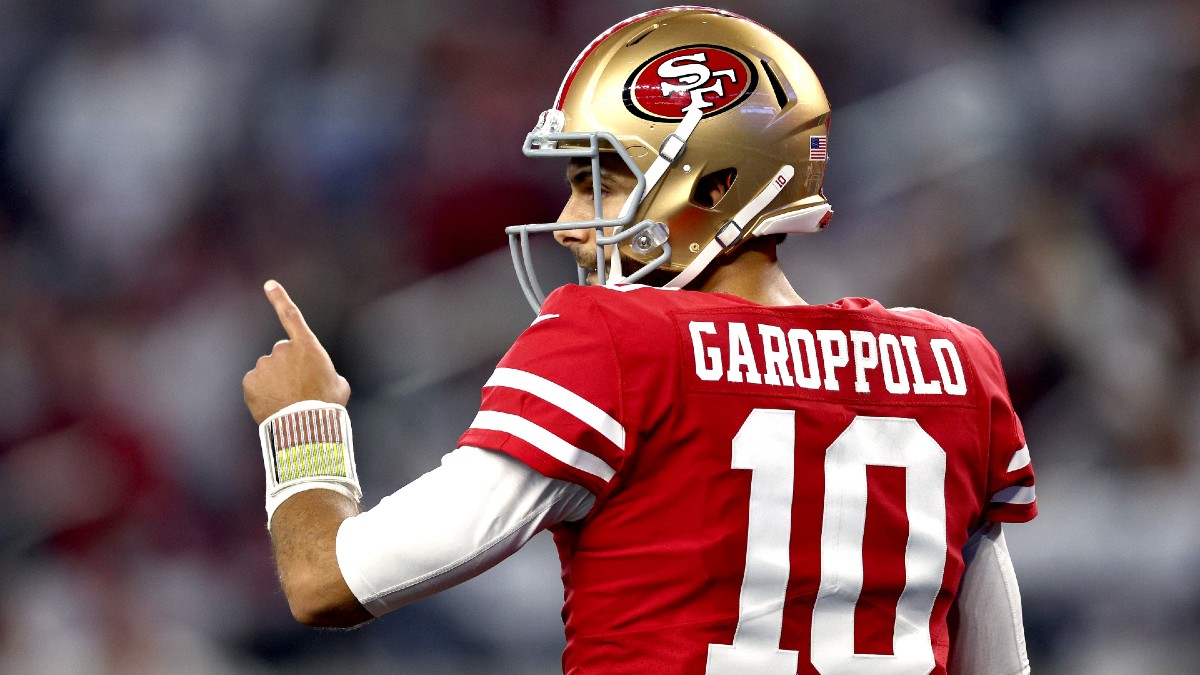 17. Jimmy Garoppolo has made 51 starts in his NFL career and he has never made a start with the average temperature of 32 degrees or colder (39 degrees is his coldest start).
In below 32-degree temperatures, Rodgers has made 43 career starts with a 31-11-1 ATS record (74%).
18. For the San Francisco 49ers specifically, this will be the coldest game they play as a franchise since the 2014 Wild Card Round win vs. the Packers (3 degrees) and this will be just their second game below 20 degrees since 1985.
19. In Rodgers' playoff career, he is 0-3 straight up and 0-2-1 against the spread vs. the 49ers.
20. Garoppolo is 13-5 straight up and 14-4 against the spread as an underdog in his NFL career.
Garoppolo is the most profitable QB against the spread as an underdog since his first start in 2016 and currently owns the best winning percentage by any QB as an underdog in the Super Bowl era, including the playoffs.
21. The 49ers are currently 5.5-point underdogs against the Packers in the Divisional Round. If the line rises to +6 it would tie the largest spread for the duo of Garoppolo and Kyle Shanahan with the 49ers (2018 vs. Chiefs and Vikings).
San Francisco lost both its previous games as a large underdog by more than a touchdown.
Rams at Bucs (-2.5)
22. Since 2016, Brady is 11-4 against the spread in the playoffs — not only is he the most profitable QB ATS in the playoffs during that span, but he also  accounted for 17.2% of all playoff covers by any quarterback during that span.
23. The 2022 Divisional Round is full of "coin-flip" games — Games with a point spread under a full touchdown. Over the last decade, Brady is 52-32 ATS (61.9%) in games with a spread of less than a touchdown, the most profitable QB in the NFL.
24. Entering the Divisional Round against the Rams, Brady is 35-11 straight up and 25-20-1 against the spread in his playoff career.
All-time, only one franchise has more than 36 playoff victories and that's the New England Patriots (37).
One caveat: the Green Bay Packers have 36 playoff wins, which could extend to 37 with a win over the 49ers.
25. Brady loves the Divisional Round…
He's 14-2 straight up and 10-5-1 against the spread in the Divisional Round.
Brady has won nine consecutive games straight up in the Divisional Round.
Brady has covered five consecutive games in the Divisional Round (8-1 ATS since 2012).
26. Since October 10th, the Bucs have played 14 total games and only three of those games have come against playoff teams.
Playoff Teams: Eagles (twice), Bills
Non-playoff teams: Panthers (twice), Saints (twice), Falcons, Jets, Colts, Giants, Washington, Bears, Dolphins
27. Sunday's Rams-Buccaneers game will be played exactly 22 years to the day since their last playoff meeting in the 1999 NFC Championship game.
In 1999, the Bucs were +14 against the Rams and lost 11-6.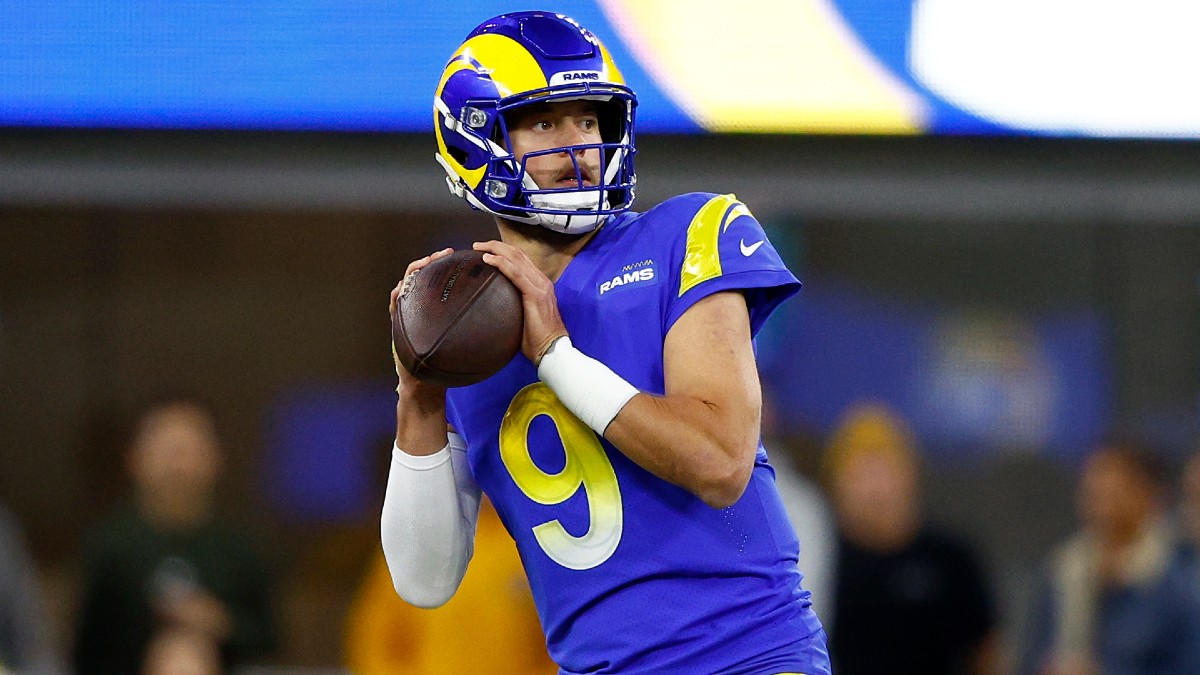 28. Matthew Stafford is 1-20 straight up and 5-16 against the spread as an underdog vs. teams .500 or better in December or January.
Stafford was 0-20 straight up entering his December game in Arizona against the Cardinals in which he won.
29. Stafford's career against opponents above .500 straight up:
As a favorite: 15-14 SU

As an underdog: 12-47 SU
Bills at Chiefs (-1.5)
30. The Chiefs are currently 1.5-point home favorites against the Bills.
If that seems like a short spread for Patrick Mahomes, you would be right. Mahomes has made 37 home starts in his career — this is the shortest spread of any start by a full point (-2.5 vs. Cowboys and Bills this season).
31. When Mahomes is a 3-point favorite or shorter (including an underdog), the Chiefs are 14-4-1 (78%) against the spread. Two of those losses have come against Brady, with the other two vs. Russell Wilson and Josh Allen.
32. Over the last two years in the playoffs, Travis Kelce is 4-0 to the over on his receiving yards prop.
Kelce has 100+ receiving yards in four straight postseason games, the longest such streak in the Super Bowl era.
33. The Chiefs lost 38-20 to the Bills back on October 10th in Kansas City and now Buffalo looks to capture two in a row in Arrowhead.
In Mahomes' career, he has lost by a touchdown or more and had the opportunity for revenge within the same season two other times.
2019-20 vs. Texans: He lost 31-24 in Week 6 and beat Houston 51-31 in the playoffs.
2020-21 vs. Raiders: He lost 40-32 in Week 5 and beat Las Vegas 35-21 in Week 11.
34. Mahomes has played five games in his NFL career looking to avenge a loss to the same team twice in the same season. Mahomes is 4-1 straight up in the second game, with his only loss coming to Brady and the Patriots back in 2018-19 (won four straight games since).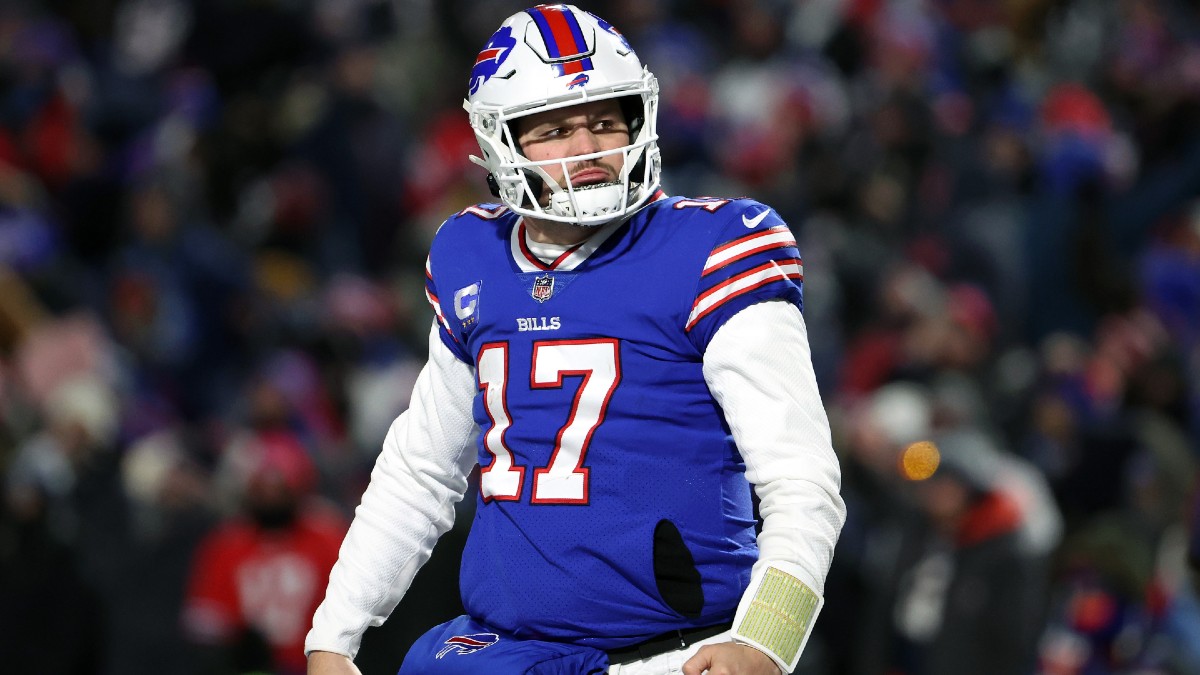 35. Allen is a man of the people. In his NFL career, he is 24-13-4 (64.9%) against the spread when the public is taking the Bills as the majority side (51% of tickets or higher).
In this spot, Allen is the most profitable QB in the NFL since his first start in 2018.
When bettors are fading the Bills, Allen is just 10-11 (47.6%) against the spread.
This week against the Chiefs, Buffalo is currently receiving 37% of bets on the road.
How would you rate this article?