NFL Funnel Defense Ratings for Week 17: Browns-Ravens Could Be a Run-Heavy Slugfest
Ryan Collinsworth breaks down how you can leverage fantasy football matchups against funnel defenses.
Falcons-Buccaneers has shootout potential while the Browns could heavily feature Nick Chubb against the Ravens.
Action Network senior editor Bryan Mears introduced the funnel defense metric last season, and after a brief hiatus, it has made its glorious return.
These ratings use advanced data to analyze situations in which teams are more likely to pass or run than they usually do. For a comprehensive explanation of how Bryan developed this metric, check out his take here.
Let's start with a brief recap, then dig into the Week 17 ratings and how to leverage them.
---
Funnel Defense Explained
Funnel defenses are successful at defending either the run or the pass, but not both. Strong funnel defenses are so good against either the run or the pass that they tend to "funnel" offensive play-calling toward their complementary weakness.
---
Measuring the Strength of a Funnel Defense
Using data to quantify the strength of a defensive funnel is complex. We must weigh several factors simultaneously:
How good is a defense versus the running game and passing game? We employ Football Outsiders' DVOA metric to measure this.
What is the difference between DVOA production defending the run versus the pass? If the differential is great, it would imply the probability of a funnel.
How good is an offense in the running game and passing game? We can use DVOA here, as well.
What is the difference between offensive DVOA production?
What are the offense's typical run/pass splits?
Our metric weighs each of these statistical factors and produces weekly matchup-based ratings for each NFL team.
Week 17 Funnel Ratings
Check out our live odds page for the latest lines, spreads, totals and betting percentages.
---
Potential Shootout Games
By averaging the pass funnel ratings for both teams in a given matchup, we can more easily identify games that could favor a passing-game script on both sides. Heavy passing volume presents an opportunity for a potential shootout.
Consider rostering or stacking players from these high-volume games in DFS, and also consider taking the over on games toward the top of this list.
Atlanta Falcons at Tampa Bay Buccaneers
The Falcons and Buccaneers reprise their NFC South rivalry in Tampa Bay, but unfortunately, neither has any path to the playoffs. This one is all about bragging rights.
That lack of on-field incentive could result in a high-octane, undisciplined passing product for both teams.
This matchup boasts the top combined pass funnel rating on the slate (72.98) and has the second-highest Vegas total (51). When these two teams met in Atlanta in Week 6, they delivered a 34-29 barn-burner. Matt Ryan posted a 355-3-0 passing line on his way to 27.5 PPR points. And not to be outdone, Jameis Winston threw for 395 yards and four touchdowns to finish as the top fantasy quarterback (30.9 PPR points) of the week.
Targeting the Falcons Offense
Atlanta ranks third in offensive pass ratio (65.6%), fifth in passing yards per game (284.9) and eighth in offensive pass DVOA. The Falcons bring that highly-touted passing offense into Tampa Bay to face one of the worst secondary units in the league — the Bucs rank 30th in defensive pass DVOA and 10th in passing yards per game allowed (251.4).
However, the Falcons could be without star wide receiver Julio Jones (hip, questionable) and Tevin Coleman (groin, questionable), which would be huge losses for their potent offense.
Jones has seven touchdowns since their Week 8 bye despite failing to score in their first seven games. His PPR points per game since the bye sits at 20.5 points per game, which ranks third among wide receivers.
Coleman is an adept passing threat out of the backfield, and should benefit from the absence of Ito Smith (Injured Reserve). However, if Coleman is forced to miss the regular-season finale, it will be up to Brian Hill to pick up the slack. In relief of Coleman last week, Hill rushed eight times for 115 yards but failed to record a passing target.
Calvin Ridley is currently in a bit of a rookie slump. From Weeks 1 to 7, he averaged 14.8 PPR points per game and was the 20th-ranked fantasy wide receiver over that span. But since the bye, his average has dropped to 11.1 PPR points per game and his position rank has fallen to 25th over that span.
Austin Hooper has also experienced marked declines in the second half of the season. His PPR average has dropped from 11.3 to 9.0, and his average depth of target (aDOT) has decreased from 7.5 to 5.2.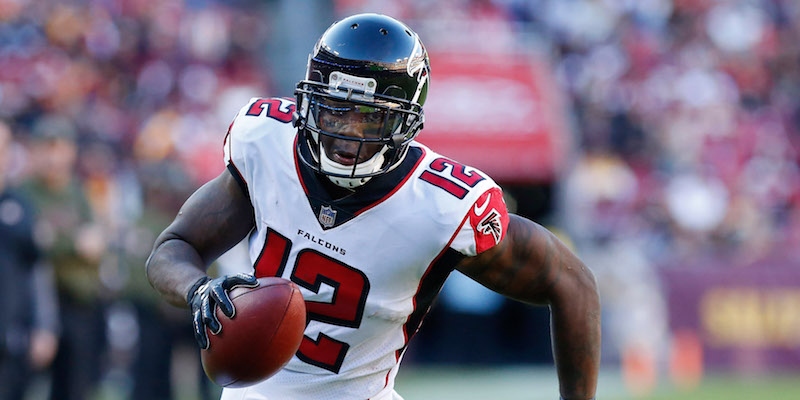 So, your best option might be Mohamed Sanu. His target share has risen from 13% to 16% since Week 8, and his air-yards market share has also increased from 12% to 17%. He's also coming off a 5-81-1 receiving game against the Panthers, and he also rushed twice for 29 yards. His 22.0 PPR points in Week 16 ranked eighth among wide receivers.
Targeting the Buccaneers Offense
Similar to Atlanta, the Buccaneers also boast elite passing metrics and face a soft Falcons secondary. Tampa Bay ranks 10th in offensive pass DVOA, sixth in offensive pass ratio (63.1%) and first in passing yards per game (318.9). Their opponent might not provide much resistance, as the Falcons rank 29th in defensive pass DVOA and eighth in passing yards per game allowed (254.1).
However, also like the Falcons, Tampa Bay has its own injury concerns in this game. Most notably, wide receiver DeSean Jackson is questionable with an Achilles injury and did not practice on Wednesday. He missed three previous games due to a thumb injury and injured his Achilles on his first and only catch against the Cowboys.
If Jackson misses this game, that does not necessarily mean an uptick in fantasy production for Mike Evans or Chris Godwin. In fact, it's arguable that Jackson's field-stretching ability has benefitted both of them, despite increased demand for targets.
Without Jackson in the lineup from Weeks 13 to 15, Evans' PPR points per game dropped from 17.6 to 10.0. Godwin's PPR average also fell from 11.0 to 7.8, despite receiving a 7% increase in target share and 15% increase in air-yards market share.
Nonetheless, one player who has remained resilient to lineup changes and matchup is Adam Humphries. Since Tampa Bay's Week 5 bye, he's averaged 7.3 targets, 5.3 receptions, 59 receiving yards and 0.5 touchdowns per game. His 14.0 PPR points per game ranks 14th among wide receivers over that span. He's also coming off a 10-79-0 receiving line at Dallas in Week 16, when he received a season-high 12 targets.
Potential Run Funnel Matchup: Cleveland Browns at Baltimore Ravens
This game features the second-lowest pass funnel rating (26.61) of the slate and carries enormous playoff implications. The Ravens must win in order to make the playoffs while Browns head coach Gregg Williams has stated his team will treat this matchup as its playoff game.
Cleveland (7-7-1) will be highly motivated to deliver a winning season for a hungry fanbase. It also provides another precious opportunity to develop quarterback Baker Mayfield and running back Nick Chubb.
The Browns coaching staff will relish the opportunity for their talented rookies to earn valuable playoff-like experience, which should result in a fiercely competitive game.
Targeting the Browns Offense
The Browns have been a completely different team since firing Hue Jackson and Todd Haley following their Week 8 loss to the Steelers. Cleveland has gone 5-2 since then, with the only losses coming against the Chiefs and Texans — both of whom are playoff teams.
Chubb has thrived in Freddie Kitchens' spread offense, ranking sixth among running backs in PPR points since Week 9. He's averaged 113.8 total yards, one touchdown and 19.7 fantasy points per game over that span. He's also coming off back-to-back weeks of 100 or more rushing yards.
The Browns' passing game is hard to target in fantasy due to Kitchens' spread offense. Cleveland also draws a very difficult matchup against Baltimore's elite secondary.
Over the past five weeks, the Ravens have played the Raiders, Falcons, Chiefs, Buccaneers and Chargers — all of whom rank in the top-14 in pass offense DVOA.
Of course, Patrick Mahomes is the real-life cheat code, so he still put up a 377-2-1 passing line and 20.6 fantasy points on the Ravens. However, the other four quarterbacks in those matchups did not fare so well.
Carr, Ryan, Winston and Rivers averaged a combined 165.8 passing yards and 6.3 fantasy points against the Ravens. That does not bode well for Mayfield and the Browns' passing offense.
Instead, Cleveland would be wise to tailor its offensive game plan to feature Chubb in the running game, especially considering how dynamic and productive he's been since earning the starting job.
Targeting the Ravens Offense
The Ravens rank third in offensive run ratio (47.1%). However, that run ratio is for the entire season.
If you isolate games since Lamar Jackson became the starter in Week 11, the Ravens' run ratio jumps to a staggering 65.6%, which would rank first in the NFL by a wide margin. Baltimore's 44.8 rush attempts per game and 218.5 rushing yards per game over that span would also lead the league.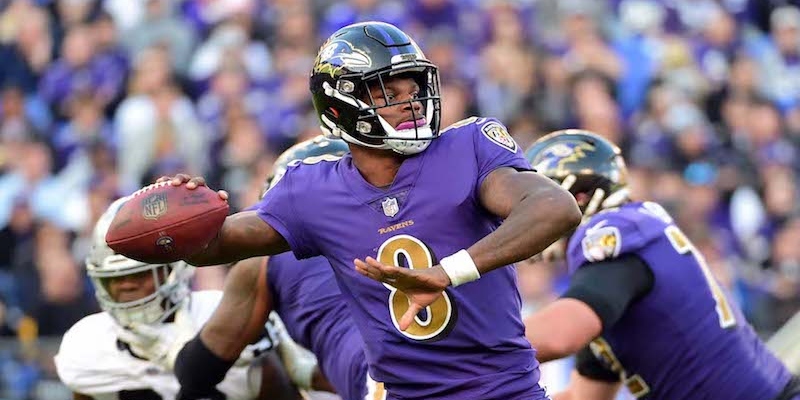 With Jackson running the offense, the Ravens have won five of their past six games, including a huge road win over the Chargers last week. Jackson has averaged 16.5 rush attempts and 77.7 rushing yards per game. His 17.4 PPR points per game ranks ninth among quarterbacks since Week 11.
Running back Gus Edwards is also worth targeting in this game. Playing alongside Jackson, he's averaged 18.3 rush attempts and 96.3 rushing yards per game. That has translated to 12.4 PPR points per game, which ranks 18th among running backs over that span. However, his lack of red-zone touches limits his fantasy ceiling; instead, he should be considered a high-floor fantasy RB3.
Kenneth Dixon could also be worth a flier this week. Since returning from IR in Week 13, he's been increasingly mixed into the rushing game plan and provides meaningful receiving upside (unlike Edwards). His 6.5 PPR points per game is not overly-inspiring, but if you're looking for a dart throw tournament option, you could do worse than Dixon.