Chiefs vs. Buccaneers Odds & Picks: Patrick Mahomes Has Edge vs. Tom Brady On Sunday
Credit:
William Purnell/Icon Sportswire via Getty Images. Pictured: Patrick Mahomes
Chiefs vs. Buccaneers Odds
Chiefs Odds

-3.5 [BET NOW]

Buccaneers Odds

+3.5 [BET NOW]

Over/Under

56 [BET NOW]

Kickoff

4:25 p.m. ET

TV

FOX

Odds as of early Sunday and via PointsBet, where you can bet $20 on the Chiefs or Buccaneers to win $250 if they cover.
For 21 seasons, Tom Brady has been the standard of excellence.
Six Super Bowl rings, four Super Bowl MVPs, three league MVPs, 14 Pro Bowl appearances and an NFL 100th Anniversary All-Time Team selection have made the 43-year-old quarterback the undisputed GOAT.
But after winning the MVP award in 2018 with a sensational sophomore season — throwing for 5,097 yards and 50 touchdowns and leading the Chiefs to their first championship since 1970 — the 25-year old Patrick Mahomes appears to be the new sheriff in town.
Brady has gotten the best of Mahomes, leading his team to victory in two of their three matchups, including the 2019 AFC Championship Game with a 37-31 overtime victory that sent the Brady and the Patriots to the Super Bowl. But can Brady still hang?
After a 27-24 home loss to the Rams, the 7-4 Bucs hope to rebound against the 9-1 Chiefs, who look poised to repeat as Super Bowl champions.
Who will prevail in Brady vs. Mahomes Part IV?
Kansas City Chiefs
Mahomes continues to put his stamp on the NFL MVP race.
In last week's 35-31 victory over the Raiders, Mahomes completed 35-of-45 passes for two touchdowns and executed the winning drive with 1:43 left in the fourth quarter.
This game was just a continuation of an MVP caliber season in which Mahomes ranks first in Football Outsiders' DVOA and ESPN's Total QBR while throwing 27 touchdowns to just two interceptions. 

If dealing with Travis Kelce, Tyreek Hill, Clyde Edwards-Helaire, Demarcus Robinson and Le'Veon Bell wasn't tough enough, the rich get richer coming into Sunday's game, as the Chiefs welcome the return of wide receiver Sammy Watkins, who hasn't played since Week 5.
They also should get a full workload from wide receiver Mecole Hardman, who played just seven snaps in Week 11 after being activated from the COVID-19 reserve list.
With the defense giving up 62 points in the last two games against the Panthers and Raiders, Mahomes has had to play at an MVP level for this team to win. While the Chiefs are fourth in DVOA, they're first in offensive efficiency and 14th in defensive efficiency.
Last week, Derek Carr stood toe-to-toe with this prolific Chiefs offense, completing 23-of-31 passes for 275 yards and three touchdowns, only losing because the Raiders left too much time on the clock for Mahomes. It appears the Raiders have had the Chiefs' number this season, as Las Vegas put up the biggest offenses performances Kansas City has given up all season.
The Chiefs are 10th in defensive pass efficiency and allowing just a 44% success rate on pass plays, fifth in the NFL (per Sharp Football Stats).
Kansas City particularly struggles to stop the run as the Chiefs are 32nd in rushing success rate, giving up 4.6 yards per carry and 133.5 yards per game. If there's a positive, Steve Spagnuolo's defense is limiting explosive plays and they rank eighth in pressure rate (25.1%), which is key for defending Brady.
If there's an interesting caveat to note going into this matchup, it's that Spagnuolo was the defensive coordinator for the 2007-08 Giants and devised the game plan that held Brady and the 16-0 Patriots to just 14 points in Super Bowl XLII.
Tampa Bay Buccaneers
Ten games into the season, you have to wonder if the Buccaneers are on their way to becoming the newer version of 2008 Brett Favre-led New York Jets.
Similar to these Buccaneers, those Jets came into the season with a ton of excitement and hype after signing a Hall of Fame quarterback. The Jets started 8-3 and the season completely went into the tank as they lost four of their remaining five games, missing the playoffs completely after Favre tore his biceps.
The Buccaneers sit at 7-4 after dropping two of their last three games, and while they are a long way from that being their destiny, it's clear their offense isn't where it needs to be to be a true contender.
After a disappointing 2019 season with career-lows in completion percentage, QBR and DVOA, Brady is statistically putting up a solid season. Through the first 11 games, he's thrown for 2,955 yards and 25 touchdowns to just nine interceptions, while ranking eighth in DVOA. Although he's dominated the poor defenses like the Raiders, Chargers and Panthers, we've seen Brady struggle when he takes a step up in class against defenses like the Saints or Rams.
As a whole, the Buccaneers offense lacks an identity.
They're just 23rd in total success rate (48%) and ranks 23rd in rushing (49%) and 21st in passing success rate (47%). They're also just 22nd in early down success rate (42.1%) and often find themselves behind the chains as have the seventh-highest run vs. pass ratio (54% run vs. 46% pass) on first downs despite having just a 42% success rate on first down runs.
If the Buccaneers could be more efficient, this could work out well against a Chiefs defense that struggles to stop the run.
The Buccaneers are loaded with weapons in Mike Evans, Chris Godwin, Rob Gronkowski and Antonio Brown, but it's clear Bruce Arians' "no risk-it, no biscuit" philosophy was more suited for Jameis Winston than Tom Brady.
Unlike his time in New England, there's no short-to-intermediate passing game, and Brady ranks seventh in intended air yards (8.7). Brady leads the league in deep incompletions, with 40, and has an adjusted completion percentage of 36.2 on deep throws, according to Pro Football Focus.
Left guard Ali Marpet (concussion) and left tackle Donovan Smith (ankle) are both listed as questionable. Although the Chiefs don't have the pass rush the Rams did, the absence of either would be big losses for a team that insists on throwing deep passes with a 43-year-old Brady.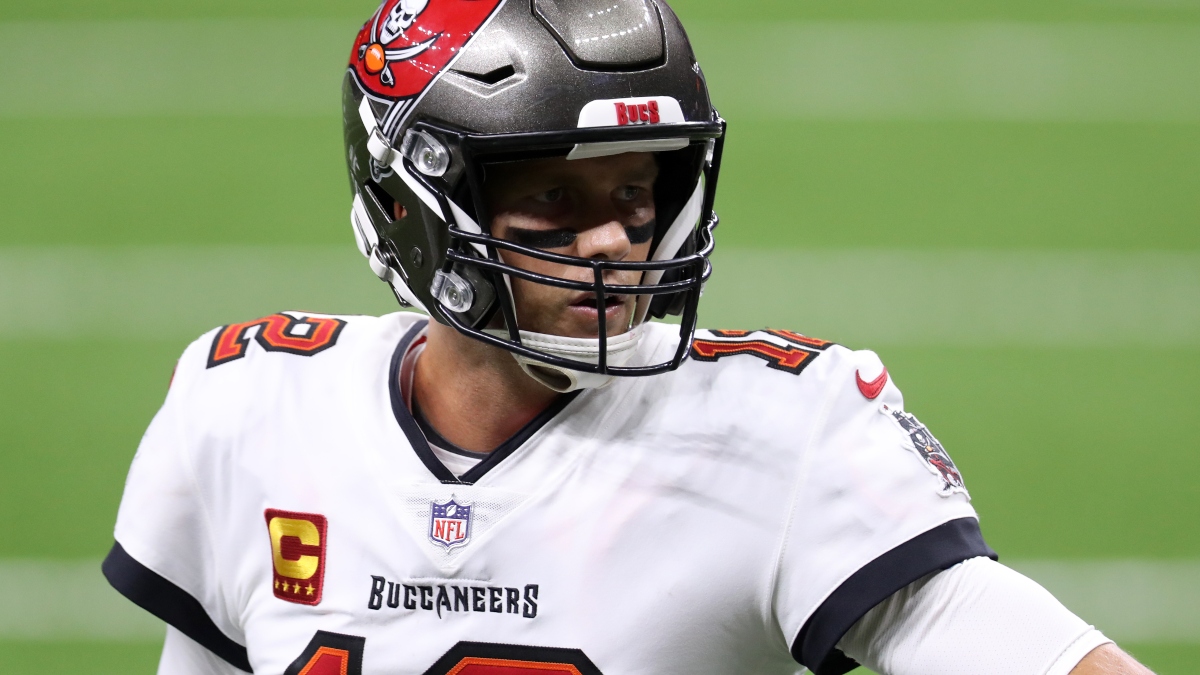 The Buccaneers are second in defensive efficiency, first in rushing and second in passing. They're allowing a league-low 3.2 yards per carry, and they're fourth in sacks (32) and pressure rate (25.6%). But digging deeper, this unit has had some issues.
Although the rushing defense hasn't skipped a beat, the loss of Vita Vea has severely impacted the pass rush. Without left tackle Andrew Whitworth, Jared Goff dropped back to pass 51 times without being sacked a single time, completing 39 of those 51 passes for 376 yards and three touchdowns.
Tampa Bay's youth-led secondary with Antoine Winfield Jr., Jordan Whitehead, Sean Murphy-Bunting and Carlton-Davis is beginning to show its inexperience. The Bucs are coming off a game in which Cooper Kupp had 11 receptions for 145 yards and Robert Woods caught 12 passes for 130 yards and a touchdown.
Nevertheless, given how this defense has performed against the Rams, Saints and Giants, it's clear the Buccaneers offense will have to come alive fast to have a chance in this game.
Chiefs-Buccaneers Pick
From a numbers perspective, most models will see value on the Buccaneers at +3.5 –they're a top-tier team coming off a disappointing primetime loss, creating value within the betting markets as the public looks to back the other side.
Typically this is a spot that I would be all over.
Not this time.
For 20 years, Brady and the Patriots broke the rules. They broke models, they defied any conventional handicapping wisdom and if you dared to fade them, they probably broke your bankroll.
Things have changed. Mahomes is now the heir to the throne.
With oddsmakers setting the total at 56, betting the Buccaneers suggests they're going to keep up with the Chiefs' offense. Maybe the Bucs can for a quarter, a half or maybe even three quarters, but over the course of a full game, I'm willing to bet against that.
I'll back Mahomes to come out on top in Brady-Mahomes Part IV.
PICK: Chiefs -3.5
How would you rate this article?