The 2020 NFL MVP Race: What Odds Tell Us About Russell Wilson, Kyler Murray & the Rest
Credit:
Getty Images. Pictured: Kyler Murray, Russell Wilson
Editor's note: The following column was written before Russell Wilson and the Seahawks' win over Kyler Murray and the Cardinals on Thursday Night Football, but the analysis is still relevant for betting the 2020 NFL MVP market until the rest of Week 11 kicks off. Read on or skip to our analyst's picks.
---
Ten weeks into the season, and the race for 2020 NFL MVP is wide open.
Russell Wilson emerged as the early betting favorite, opening the season on a historic pace, but a string of turnovers and losses have since left the door ajar for others.
Patrick Mahomes has been consistently dominant and has back-to-back games of four or more touchdowns. Aaron Rodgers has the Packers poised for another deep playoff run despite a lack of receiving threats outside of Davante Adams. And the 43-year-old Tom Brady has turned the Buccaneers from an NFC South bottom-feeder to a legitimate Super Bowl contender.
But the biggest surprise is second-year quarterback Kyler Murray, who vaulted himself into the MVP discussion with his game-winning Hail Mary to beat the Bills in a 32-30 thriller last week.
With five legitimate candidates,the final seven weeks of the season will be a sprint for these quarterbacks. As we approach Thursday night's primetime showdown between Murray and Wilson, let's take a closer look at the MVP race to find out where the betting value lies.
QBs Dominate the Annual NFL MVP Race
No betting analysis is complete without considering historical trends.
Since the inception of the AP Most Valuable Player Award in 1957, offensive players have won all but three times with two defensive players (DT Alan Page in 1971 and LB Lawrence Taylor in 1986) and one kicker (Mark Moseley in 1982) winning.
Historically, the award favors quarterbacks, who have won 45 out of the 65 awards. Running backs have also won their fair share, coming home with the award 18 times with Jim Brown winning three times between 1957 and 1965.
Recent voting results paint a grim picture for non-quarterbacks. Here are the results of the 988 total votes for NFL MVP since 2000:
Quarterbacks: 793
Running Backs: 182
Defensive Players: 23
Defensive backs, wide receivers, tight ends and offensive linemen have combined for zero votes since the 2000 season — and that includes Calvin Johnson's record-breaking 1,964-yard campaign in 2012.
Since the 2013 season, only five non-quarterbacks garnered MVP votes:
DE J.J. Watt: 13 votes in 2013
RB DeMarco Murray: 2 in 2014
LB Bobby Wagner: 1 in 2014
RB Ezekiel Elliott: 6 in 2016
RB Todd Gurley: 8 in 2017
There are, of course, a few historical outliers.
O.J. Simpson was the only player since the 1970 merger to win MVP despite playing on a 1973 Bills team that didn't make the playoffs — and he had to have the greatest individual season for a running back to that point with 2,003 rushing yards and 12 touchdowns in a 14-game season to do it.
And of course, you can't mention outlier seasons without Adrian Peterson, whose 2012 MVP campaign was nothing short of remarkable. When he tore his ACL and MCL on Christmas Eve of the 2011 season, no one could have imagined him not only returning eight months later, but finishing just nine yards short of breaking Erick Dickerson's single-season rushing record.
Peterson in 2012 was both the last non-quarterback and player from a team that didn't finish with a first-round bye to win MVP — Peyton Manning (2008) was the last quarterback to win MVP without playing on a team that didn't have a first-round bye.
Why Strength of Schedules Matters
The NFL has expanded to a 14-team playoff this season, with four division winners and three wild-card teams in each conference.
Unlike previous season, only one team from each conference will receive a bye, which places a premium on earning the No. 1 seed and home-field advantage throughout the postseason. And given the premium placed on a team finishing with the best record in their conference, seeding should have a major impact on each candidate's chances of winning MVP.
Since the NFL/AFL merger in 1970, there have been 51 MVPs awarded with co-winners in 1997 (Brett Favre and Barry Sanders) and 2003 (Peyton Manning and Steve McNair). And among those 51 MVP winners, 41 played on teams that earned a first-round bye with 31 attaining the 1-seed and 10 finishing as the 2-seed. Then nine of the remaining 10 winners played on teams that made the playoffs as division or wild-card winners.
Since team wins have a considerable impact on whether a player earns MVP honors, I've outlined my projected team wins for each of the 2020 candidates:
Murray's vs. Wilson's MVP Odds
The Thursday Night Football showdown between the Seahawks and Cardinals will likely be the end of the road for either Murray's or Wilson's MVP chances.
The loser will see their team drop to 6-4 with both the opposing team and a third divisional rival Rams ahead of them in the NFC West standings. A loss will also put either team two games behind the Packers and Saints and a full game behind the Buccaneers.
Unfortunately for Wilson and Murray, the biggest threat to their MVP chances is playing in the NFC West — arguably the best division in football. Ten weeks into the season, and it's the only division in which every team has a positive point differential, including the 49ers, who have dealt with a laundry list of injuries on both sides of the ball.
Let's take a closer look at both quarterbacks' paths to winning the award.
Russell Wilson +225 
Wilson appeared to be on track to run away with the award as he threw for 2,151 yards, 26 touchdowns with a 71.23% competition percentage and a 119.5 quarterback rating while rushing for 260 yards through the first seven games of the season.
With Wilson never receiving a single MVP vote in seasons past, he had the narrative behind him. More importantly, his team had the wins as the Seahawks sat at 6-1 heading into a Week 8 matchup against the Bills. But Wilson's season has since gone off the rails: The Seahawks have lost three of their past four games as Wilson has turned the ball over 10 times, throwing seven interceptions and losing three fumbles over that span.
Despite a bad stretch, Wilson still leads the league in touchdowns (28), yards per game (309.9) and is fourth in completion percentage despite having an average depth of target of nine yards, third among NFL quarterbacks.
Fortunately for Wilson and the Seahawks, they have an easy schedule the rest of the way as they face the winless Jets in addition to three out of the four teams from the NFC East.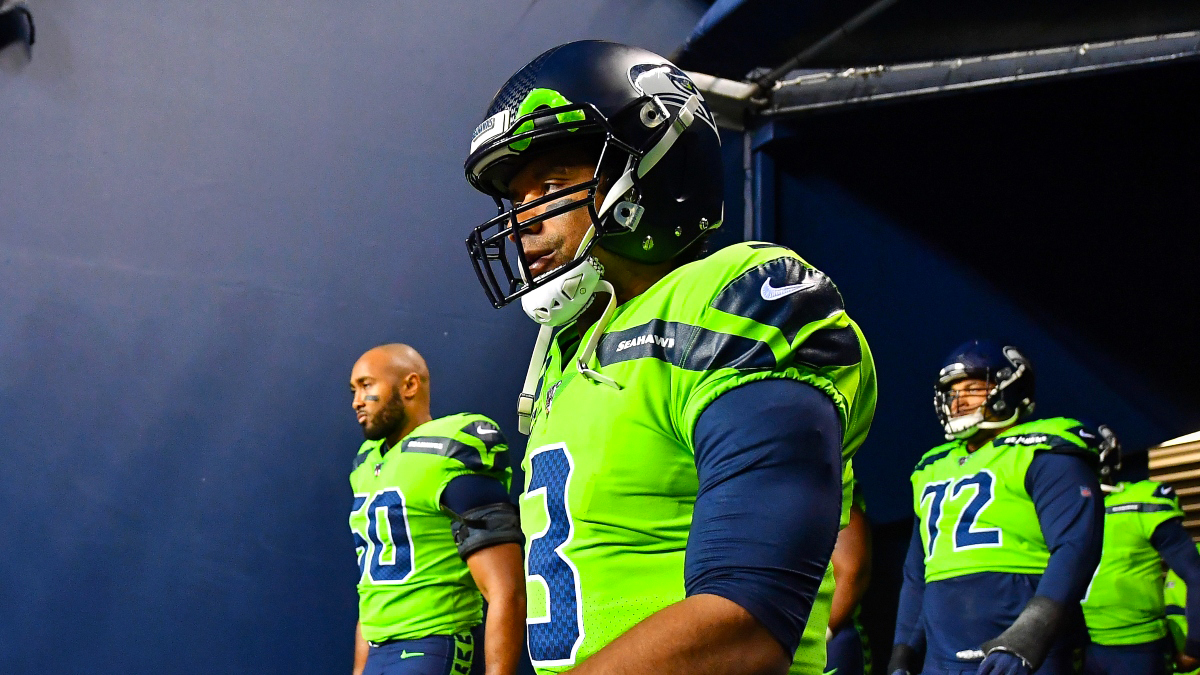 Division matchups against the Cardinals, Rams and 49ers could present a challenge, but Wilson still has a shot at winning MVP … provided he gets back to his early-season form and can overcome the NFL's worst passing defense of all time.
Kyler Murray +700
Second-year NFL quarterbacks have rewritten the phrase "sophomore slump" in recent years.
Mahomes set the world on fire in 2018 with a 50-touchdown, 5,097-yard passing campaign that saw him take home the MVP hardware in his second season. A season later, Lamar Jackson made a gigantic Year 2 leap, passing for 3,127 yards and 36 touchdowns while rushing for another 1,206 yards to lead the Ravens to a 14-2 record en route to being named the unanimous 2019 MVP.
In 2017, Carson Wentz passed for 3,296 yards and 32 touchdowns, leading the Eagles to an 11-2 record. He was the betting favorite to win MVP in December of 2017 before an ACL tear ended his season.
Can Murray continue the trend?
With three game-winning drives and come-from-behind wins over the 49ers, Seahawks and Bills, Murray has inserted himself into the race as a viable MVP candidate.
Murray's advanced metrics aren't exactly setting the world on fire, but he's the biggest reason the Cardinals lead the league in total yards (425.4 per game) and are seventh in points scored (29.6 points per game). With 2,375 yards passing and another 604 on the ground, Murray is on pace to throw for 4,000 yards and rush for another 1,000 this season.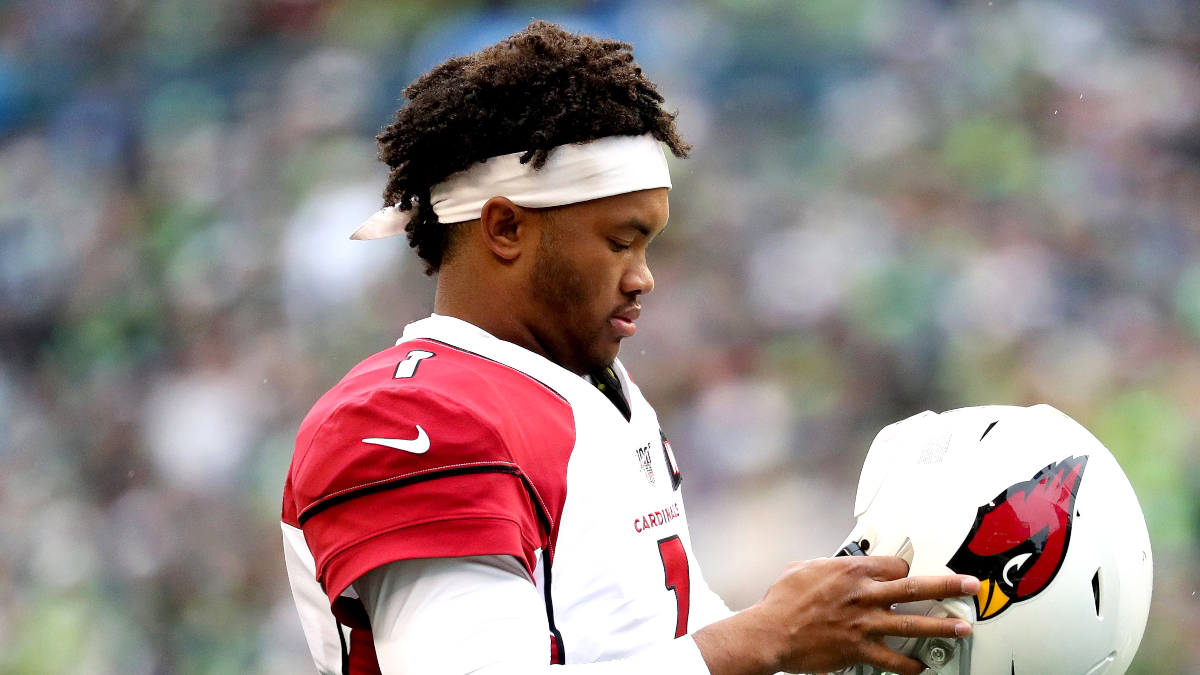 His dual-threat ability makes Arizona's offense extremely dangerous as he's passed for 17 touchdowns and rushed for 10 — the first quarterback to do so since Cam Newton, who set the single-season rushing record for quarterbacks with 14 touchdowns. With two rushing touchdowns against the Bills, Murray became the first quarterback to score a rushing touchdown in five straight games since Tobin Rote in 1965, which is before the Super Bowl Era.
A win over the Seahawks on Thursday would represent a changing of the guard in the NFC West and certainly increase Murray's odds of winning the MVP as it would give the Cardinals the season sweep against Wilson and the Seahawks.
Nevertheless, the Cardinals don't face an easy remaining schedule as they face four divisional opponents in the Seahawks, Rams (twice) and 49ers in addition to the Patriots in Foxborough over the final stretch.
Although the Cardinals are lookahead favorites against the Giants and the Eagles, four out of the Cardinals' final seven games are on the road and they would need to play perfect football for Murray to leapfrog the other candidates.

+3300 -> +700

Kyler Murray vaulted himself into the MVP race with last weekend's game-winning Hail Mary.@djrtodaizza analyzes if there's still any betting value left entering his dual w/ long time front runner Russell Wilson tonight: pic.twitter.com/gP5XDPGjRE

— The Action Network (@ActionNetworkHQ) November 19, 2020
Value NFL MVP Picks
With Murray and Wilson facing an uphill battle in the NFC West relative to the rest of the field, here are three contenders whose odds are still offering value.
Patrick Mahomes +180
Mahomes has a 25-to-1 touchdown to interception ratio. Read that again.
Wilson has 13 turnovers. Murray has 10. Brady has 11.
Mahomes has one.
If that's not enough to convince you of his greatness, Mahomes has led the Chiefs to a 8-1 record and is first in Football Outsiders' DVOA as well as ESPN's Total QBR (87.0), second in quarterback rating (115.9) and third in touchdowns (25) while throwing for 317.6 yards per game.
Over the past two weeks, Mahomes has been down right dominant, passing for a combined 788 yards and nine touchdowns with a 132 quarterback rating.
With the Chiefs favored in every game for the rest of the season, Tampa Bay appears to be Kansas City's only true test. If the Chiefs don't stumble between now and the end of the season, this award is Mahomes' to lose.
Aaron Rodgers +300
Back in September, I outlined the case for Rodgers to win MVP at +1100 — as well as the Packers to win the Super Bowl and NFC — largely thanks to his schedule.
Unlike the Seahawks and Cardinals, the Packers play in a division where the rest of their opponents have a negative point differential. Their Week 11 matchup against the Colts is the only game in which the Packers will be an underdog for the rest of the season.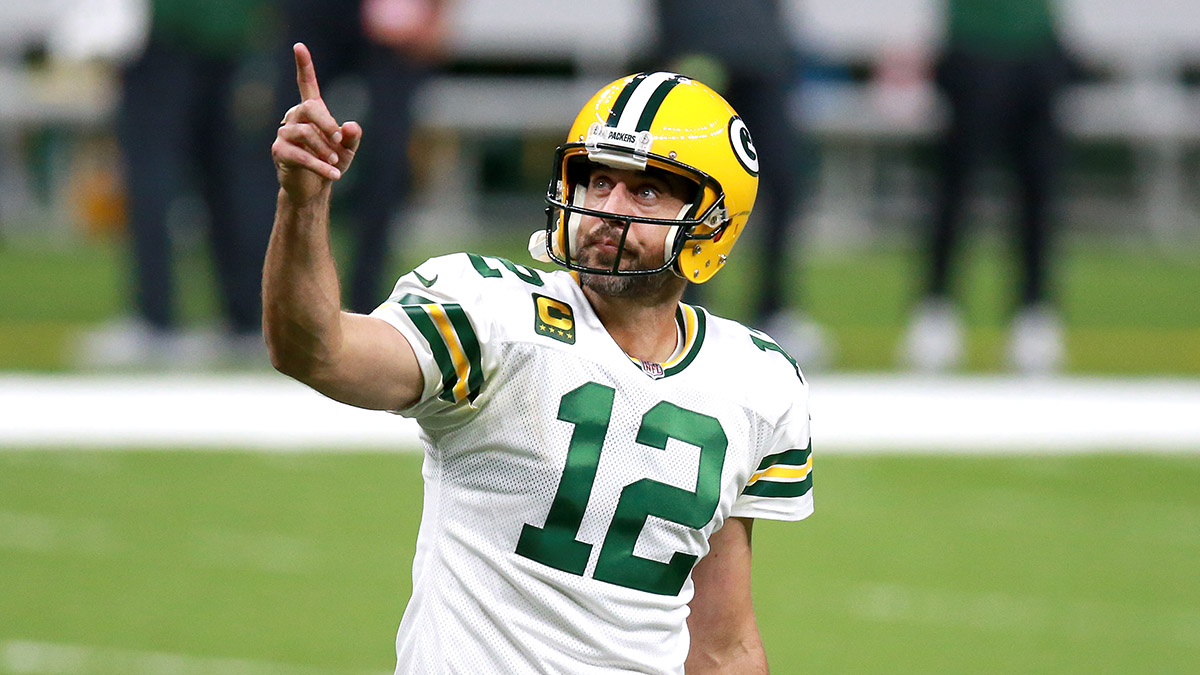 Schedule aside, outside of his game against the Buccaneers, Rodgers continues to play lights out even with a general manager who drafts his future replacement quarterback in Jordan Love instead of another weapon. Rodgers is first in quarterback rating (116.4), sixth in passing yards, and second in touchdown passes (26), DVOA and QBR (85.4).
He's been a mark of consistency all season: He's thrown two touchdown passes in every game except for one and only three interceptions, two of which occurred in the Week 6 road loss to the Buccaneers. If the Packers can get the No. 1 seed and/or Mahomes slips up, this ticket has a real shot at cashing.
Tom Brady

 +2000
A week and a half ago, we were talking about the Buccaneers as one of the best teams in football as Brady's MVP odds improved to +950 at some books. Then a 38-3 beatdown at the hands of the Saints changed everything.
Does perception meet reality?
Brady isn't the player he used to be, but he's getting the job done as he's fourth in touchdowns (23) and leading a Buccaneers offense that's sixth in points scored (29.6 points per game) and eighth in offensive efficiency.
The Buccaneers host the Rams as 4-point favorites on Monday Night Football then have a marquee 4:25 p.m. ET matchup in Week 12 as three-point underdogs against the Chiefs (find real-time odds here), which should definitely shape the perception of fans and MVP voters alike.
With a 7-2 record, these odds could look much different if the Buccaneers take care of business against a Rams team missing left tackle Andrew Whitworth and if they can upset Mahomes and the Chiefs.
With the Buccaneers owning the tie-breaker against the Packers due to their Week 6 win, the path through the NFC could go through Tampa, which could open up the door for a Brady MVP win should he catch fire down the stretch.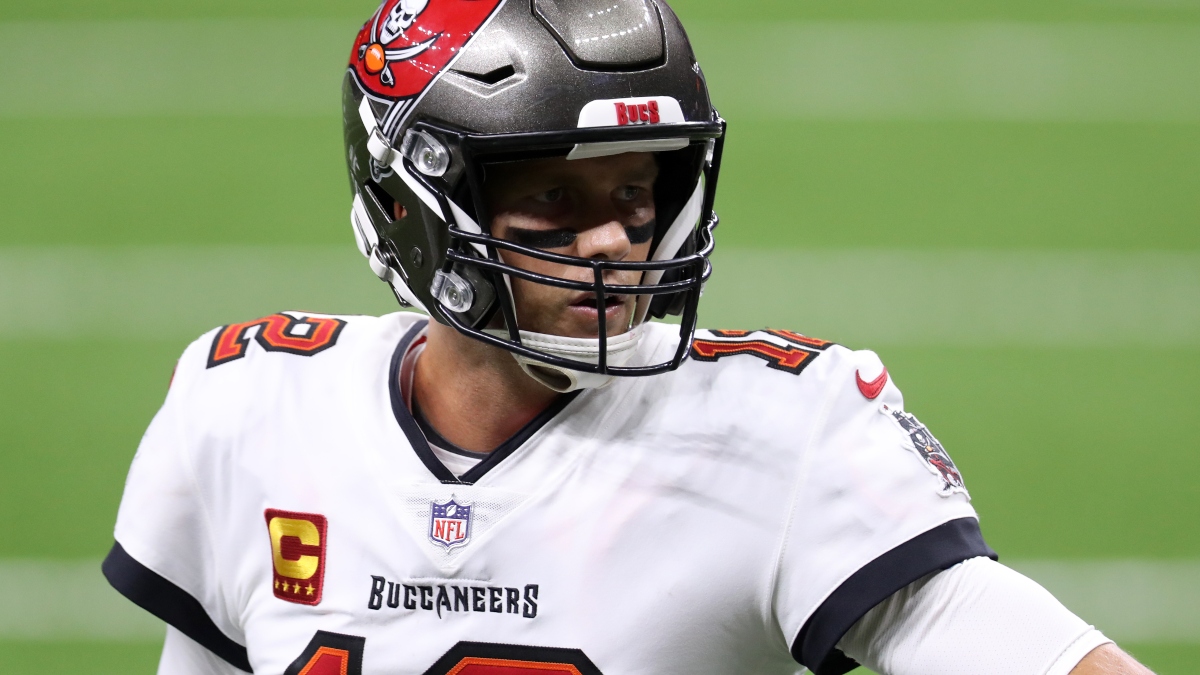 Longshot NFL Picks Picks
In addition to the top contenders still offering value, there are two longshots who could be worth a chance if you're looking for a lottery ticket.
Ben Roethlisberger +3000
The Steelers have the best record in the NFL at 9-0, and although many will credit a defense that's second in defensive efficiency as well as first in sacks (36) and pressure rate (35.0%), we have to remember that this was the team that struggled to win eight games as they flipped flopped between Mason Rudolph and Delvin "Duck" Hodges at quarterback.
Now with Roethlisberger back, 16-0 is in play, and the Steelers will find themselves favored in every game for the rest of the season. Their only true tests are at home against Baltimore on Thanksgiving Day, on the road in Buffalo in Week 14, then against the Colts in Week 16.
Roethlisberger doesn't have a particularly strong case when looking at his numbers — he's just 11th in DVOA, 20th in QBR, 15th in yards and ninth in quarterback rating. He has thrown for 22 touchdowns and just four interceptions. Nonetheless, if the Steelers finish 16-0 or even 15-1 with any of the other candidates stumbling, this could be a nice lottery ticket.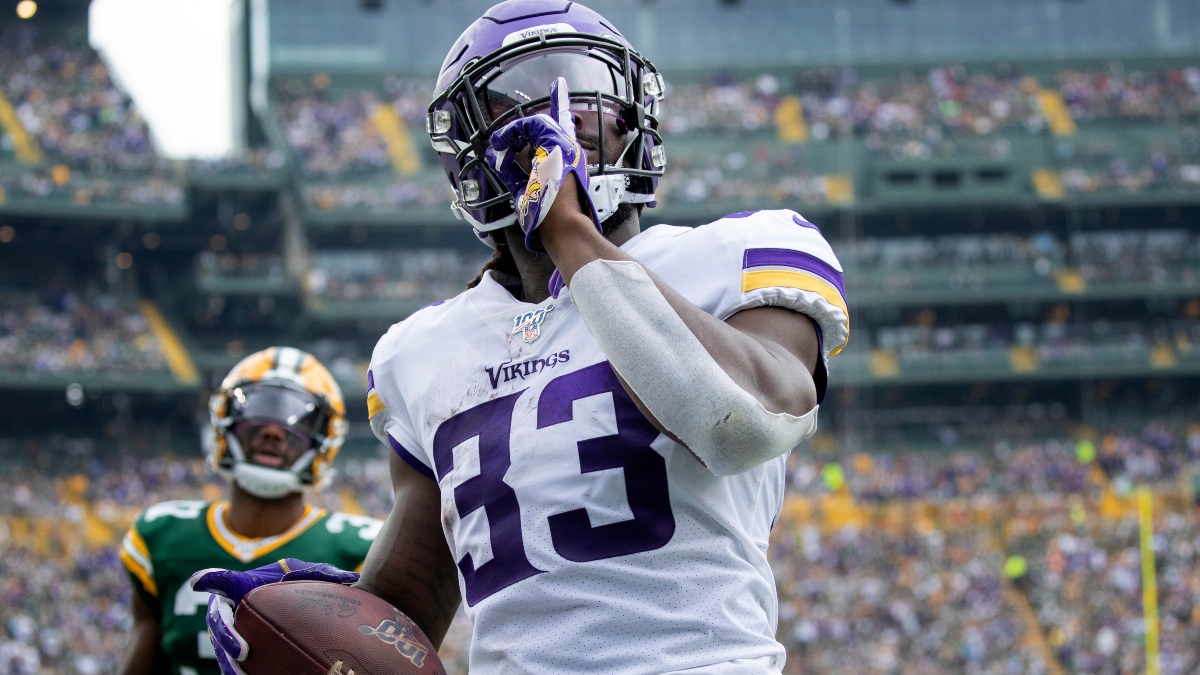 Dalvin Cook +5000
If you've gotten to this point of the article, you should already know non-quarterbacks rarely win MVP. However, if you're going to select a non-quarterback to win MVP, you have to go with a running back.
Dalvin Cook has been the best running back of 2020 and has been the biggest difference in the Vikings' turnaround over the past five weeks.
Through the first nine games, Cook is outpacing Peterson's 2,097-yard MVP campaign in 2012 despite missing Week 6 with a groin injury.
Cook in 2020: 174 carries, 954 yards (119.3 yards per game), 12 rushing touchdowns, 20 receptions 189 yards, 1 receiving touchdown.
Peterson in 2012: 168 carries, 957 yards (106.3 yards per game), six rushing touchdowns, 26 receptions 150 yards.
Of course, the Vikings' 4-5 record will make it tough for him to get vote. Nonetheless, he's on pace to put up one of the best seasons from a running back in NFL history and certainly has a legitimate MVP argument.
Even if Cook doesn't win, we could see him lead the Vikings to a playoff run as they're favorites in every game for the rest of the season.
How would you rate this article?