NFL Odds & Picks For Every Week 6 Game: Bucs, Chiefs & Bills Among Bets To Make Now
Credit:
Joshua Bessex/Getty Images. Pictured: Bills WR Emmanuel Sanders, Dawson Knox
Well, we made it to the bye weeks, so you know that the NFL season is truly underway now. Congratulations to Jets and Falcons fans — at least we know you can't lose another game this week. You, too, Saints and Niners.
With five weeks under our belts, it's starting to feel like we really have a good feel for these teams. That's the good news. The bad news is that sportsbooks are getting a pretty good feel for them, too.
These lines are wicked. Be careful out there, folks. Remember, sometimes the best bet is the one you never made. When my colleague Raheem Palmer and I pored over these lines on Sunday night for our usual Hot Read segment, we had a terribly difficult time coming up with two picks each — and that was before the lines began to move and eliminate value.
As always, we'll make early picks on these games, then come back Saturday to make final decisions. For now, every pick is a "bet," "lean" or "wait."
Last week, the favorites finally dominated the underdogs for the first time all season. This week sees six favorites of six or more points. Will the favorites rule the day again, or will Week 6 turn our paradigm upside down again?
Note: Odds highlighted below are the best available for each pick as of writing. Shop for the best real-time lines with our NFL odds page.
---
Bucs at Eagles
Odds: Bucs -6.5
Time: 8:20 p.m. ET on Thursday
This over/under opened at 53.5 points with the books expecting a ton of points after another huge Tom Brady game this past Sunday. Brady threw five more touchdowns and leads the league now in passing yards and TDs, and I am feeling awfully good about my MVP ticket right now, especially with the upcoming cake schedule for Tampa.
I don't agree with the high line, though.
Thursday games tend to be a bit disjointed and sloppy. It's a short week, guys aren't fully rested and game plans aren't totally developed. I checked our data in Action Labs, and the trends agree with me. Thursday games that open with a total of 53 or higher have gone under in 4-of-17 (76.5%) games, going under by an average of more than 10 points a game. This Thursday's total is dropping already, but this was my top Hot Read on Sunday night and I still like the under.
Normally it's not a great idea to take a big favorite if you like the under, but I just don't see how this anemic Eagles offense will score enough points.
Tampa Bay's secondary is held together by duct tape right now, but Philly hasn't been been passing the ball well. The Eagles are a running offense — they rank fourth in rush offense DVOA but just 21st in pass offense DVOA, per Football Outsiders. The Bucs are still one of the league's elite run defenses, so much that a couple opponents haven't even tried to run against them.
The Eagles have had a hard time scoring this season, frequently lingering in single points until late or garbage time, and the O-line is in rough shape. If Jalen Hurts can't hit some big passes, I don't see how Philly keeps up with this high-powered Tampa offense, even if it's a bit creaky on a short week.
A lot of the trends favor the Bucs, too. Thursday favorites of a touchdown or more are 46-25 (65%) against the spread (ATS) while Thursday non-division favorites are 57-40-4 (59%) ATS. Brady is also 76-47-7 ATS (62%) as a one-score favorite.
Grab this before it gets to 7 or past, and this looks a great teaser to lock in to start your week too.
THE PICK: Bet Bucs -6.5
---
Dolphins vs. Jaguars in London

Odds: Dolphins -3.5
Time: 9:30 a.m. ET on Sunday
Oh baby, another spectacular Sunday morning game!
We really send our very best to London, don't we? I'm gonna start calling these London games Sunday Morning I'd Like To Football. SMILF! This Sunday is our last London game for the year, and thank God, because we might have sent our four worst teams overseas.
Look, we already know that the Jaguars are bad. Urban Meyer is a disaster but somehow escaped being the first head coach to lose their job this season. And Trevor Lawrence continues to throw the ball all over the place. But are we sure the Dolphins are much better?
Tua Tagovailoa is back at practice but wasn't particularly good before getting sidelined with his fractured ribs and will probably be rusty in his return. The Dolphins rank in the bottom quartile of rushing and passing DVOA on both offense and defense. Even the Jags aren't that bad! In fact, they actually rank second in rushing DVOA. James Robinson has been the best, most efficient RB outside of Dallas. And we send the Jags to London so much this should practically be a home game.
Teams that are between 0-20% ATS (like the Jags at 1-4 ATS) are 151-111-6 ATS (58%) in Week 6 or later — regression to the mean, basically. The Jaguars can't be that bad, right? I'll take the points. If Jacksonville gets blown out again, I'm not sure they're letting Urban on the jet back out of the country. SMILF!!
THE PICK: Lean Jaguars +3.5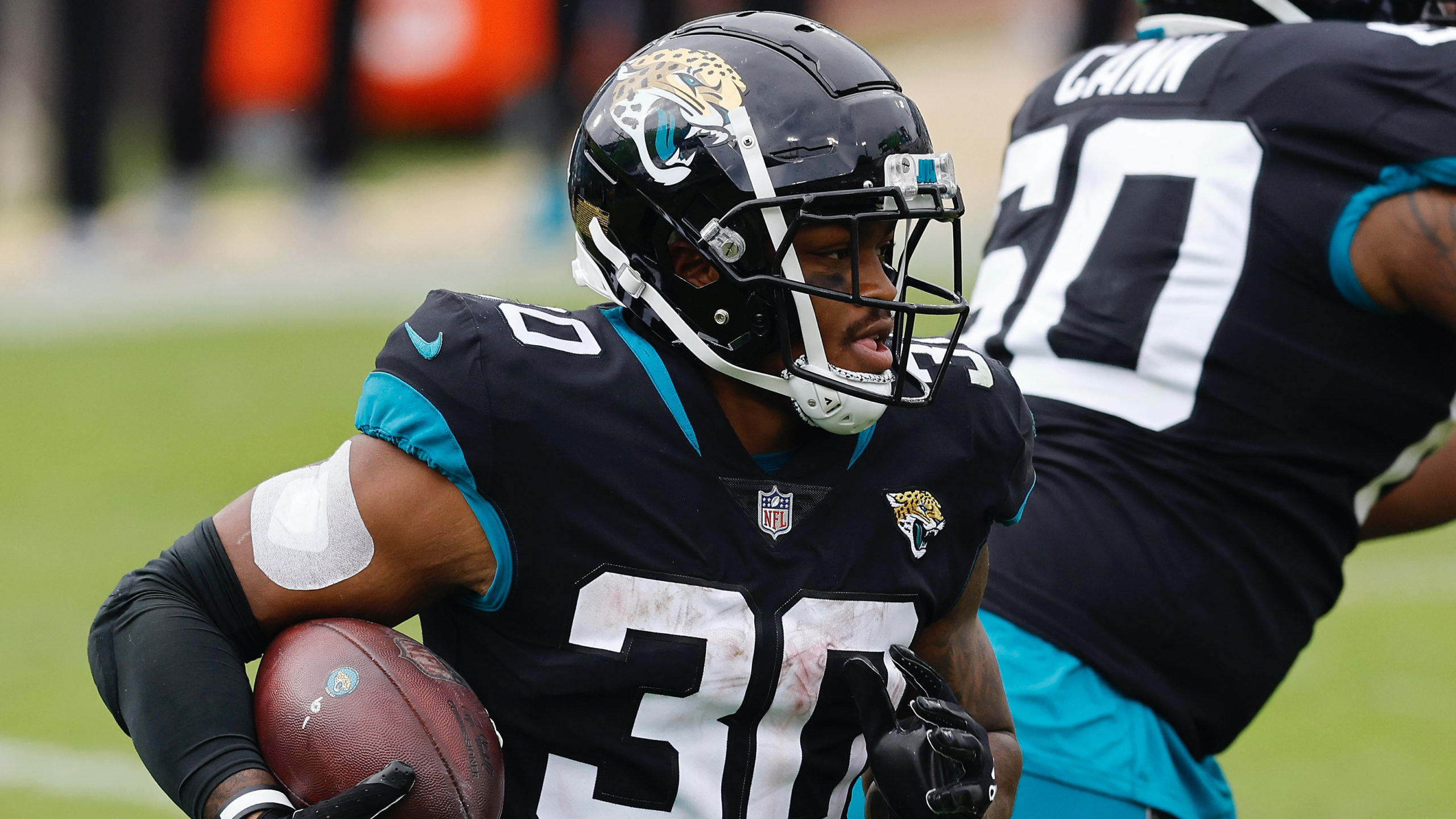 Chargers at Ravens

Odds: Ravens -3
Time: 1 p.m. ET on Sunday
The Ravens are 4-1, but I find them incredibly underwhelming right now. They haven't looked particularly impressive for most of the game in four of their five now. They were hot and cold against the Chiefs and looked miserable for most of the Monday night games against the Raiders and Colts. And they should've lost to the Lions!
Baltimore's trademarks haven't been as strong. This team is built around defense and the run game, and neither has been much better than average. Ty'Son Williams ran well early in the season but has disappeared, and Latavius Murray stinks. He's rushed for 76 yards on 24 carries the last two starts, barely three yards per carry behind an O-line that's in shambles. The defense ranks only 22nd in DVOA. Injuries have killed Baltimore there, too.
This is not the same old Ravens team, other than the always-elite special teams that could be a massive advantage here if the Chargers aren't careful.
At first glance, I loved this matchup for Baltimore. A tough defense to slow down this red-hot Chargers attack plus an elite run game to mash the bad LA run defense? Sounded like the perfect formula. But that formula didn't work for the Browns last week, and that's not the Ravens right now anyway.
Somehow, Baltimore's best unit this season has been the passing game. And that's not going to fly against Brandon Staley's pass defense. Lamar Jackson has been super aggressive downfield as a passer this season, which I don't think will work this week.
Remember, short road underdogs continue to kill it this season. Road underdogs of three or fewer points are now 11-4 ATS, and all four teams that covered won straight up, too. I like the Chargers' chances of making it 12.
THE PICK: Lean Chargers +3
Packers at Bears

Odds: Packers -4.5
Time: 1 p.m. ET on Sunday
I loved the Packers when I saw this line, so much that it was my Week 6 lookahead on last Friday's podcast.
Aaron Rodgers wins so much in Chicago the city is gonna have to build a statue for him here after he retires. The Packers have won 19-of-22 against Chicago, and they've covered this line in 17 of those 19 wins. The Bears aren't even putting up a fight. Rodgers is 55-29-1 (65%) ATS as a one-score favorite and 39-22 (64%) ATS as a division favorite. He absolutely eats in these spots.
My deeper research then leaves a few red flags.
Green Bay is winning games but measures out something like the 10th-best team in football, not the elite team we saw the last few years. The run D has been particularly vulnerable, and Chicago has run the ball well. Even with David Montgomery out, Khalil Herbert and Damien Williams combined for 139 yards on 34 carries. And Chicago's defense is looking really good.
Tough defense in a home division game with a rushing attack that can keep Rodgers on the sideline? Sounds like a formula to stay in the game, especially since Rodgers' underlying metrics have been a little blah this season.
Still, I think the Bears are a bit overvalued after a win over the Raiders that looks a lot different now that we know how distracted that team was with the looming Jon Gruden news. I won't be surprised if the Bears hang around in this game, and if they do, I'd love the opportunity to bet on Rodgers live as a moneyline underdog. He'll get the job done in Chicago, like always.
THE PICK: Lean Packers -4.5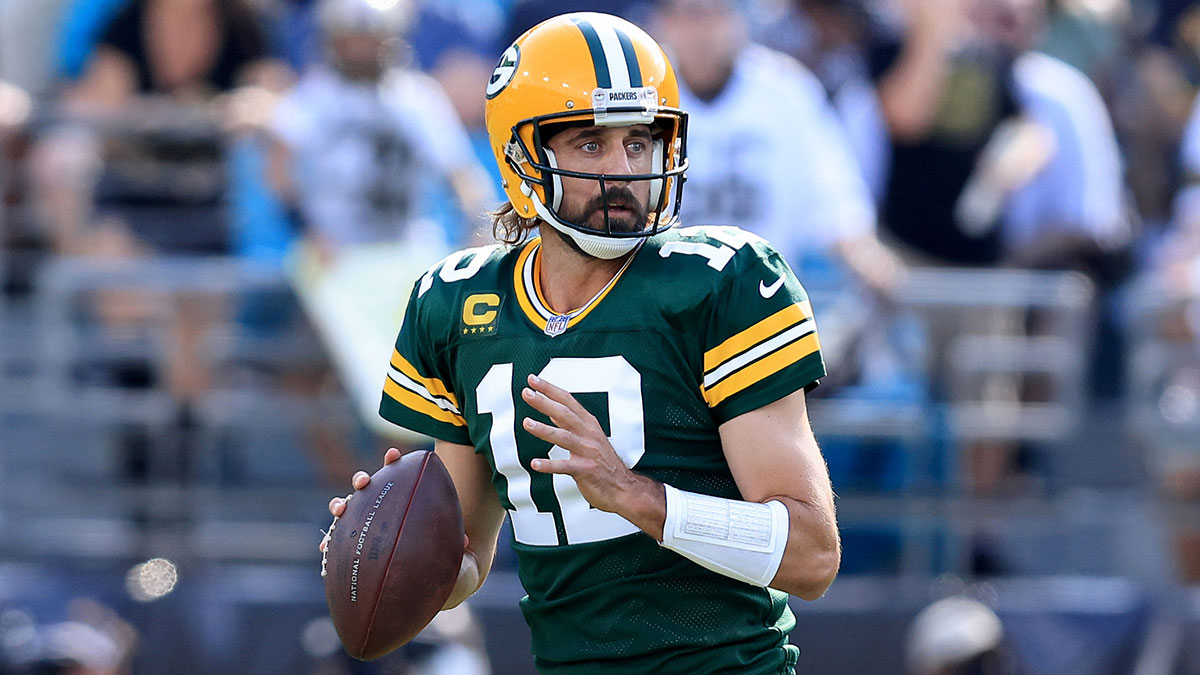 Chiefs at Washington

Odds: Chiefs -6.5
Time: 1 p.m. ET on Sunday
The Chiefs have allowed 29+ points in all five games, tied for the most such games ever to start a season, but the good news is that the Football Team's defense hasn't been much better. They rank 28th in DVOA defense, including 29th in passing defense. That's not gonna work against Patrick Mahomes.
Clyde Edwards-Helaire is out, but honestly, that may help the Chiefs. They tend to lean too heavily on him to make good on their first-round investment, but CEH hasn't been very good anyway. All the better if the run option is removed and Mahomes has to pass on this bad secondary.
Kansas City hasn't lived up to its lofty standard, but the sky is not falling. The Chiefs still have the best offense in the league, and getting them at under a touchdown is a road gift. I don't care how many one-score games Mahomes has played in — he's going to torch this Washington secondary.
Grab the -6.5 if you can find it before the market hits -7. I'm having a really difficult time figuring out how this incredibly obvious Bucs-Chiefs teaser loses.
THE PICK: Bet Chiefs -6.5
Bengals at Lions

Odds: Bengals -3
Time: 1 p.m. ET on Sunday
It feels like this line reflects an incorrect perception, maybe on both of these teams.
The Lions are not good.
All of Jared Goff's metrics scream replacement-level. Per Next Gen Stats, he has he lowest averaged completed air yards of any starter, the lowest air yard differential, the lowest longest completed air yards, and the second-lowest aggression. The Lions also rank second-lowest in pass frequency.  And D'Andre Swift has been one of the most inefficient backs who is now running behind a decimated O-line missing multiple key starters.
All of that paints the picture of an offense lacking talent and modern direction.
That's not going to fly against a Bengals team that looks decidedly not terrible. They might not be good, but they are clearly better than expected. Cincinnati ranks 12th overall in DVOA, and the defense has been especially strong at seventh.
In many ways, the Bengals profile very similarly to the Vikings — a terrific defense with an average offense led by a conservative QB and an elite young receiver. The Vikings led the Lions 16-6 with 2.5 minutes left on Sunday before things fell apart late. Minnesota was a 10-point favorite and was pushing the spread until the late disaster. How is Cincinnati a 3-point favorite one week later with basically the same profile?
The trends love the Lions here, but the Bengals are undervalued.
THE PICK: Lean Bengals -3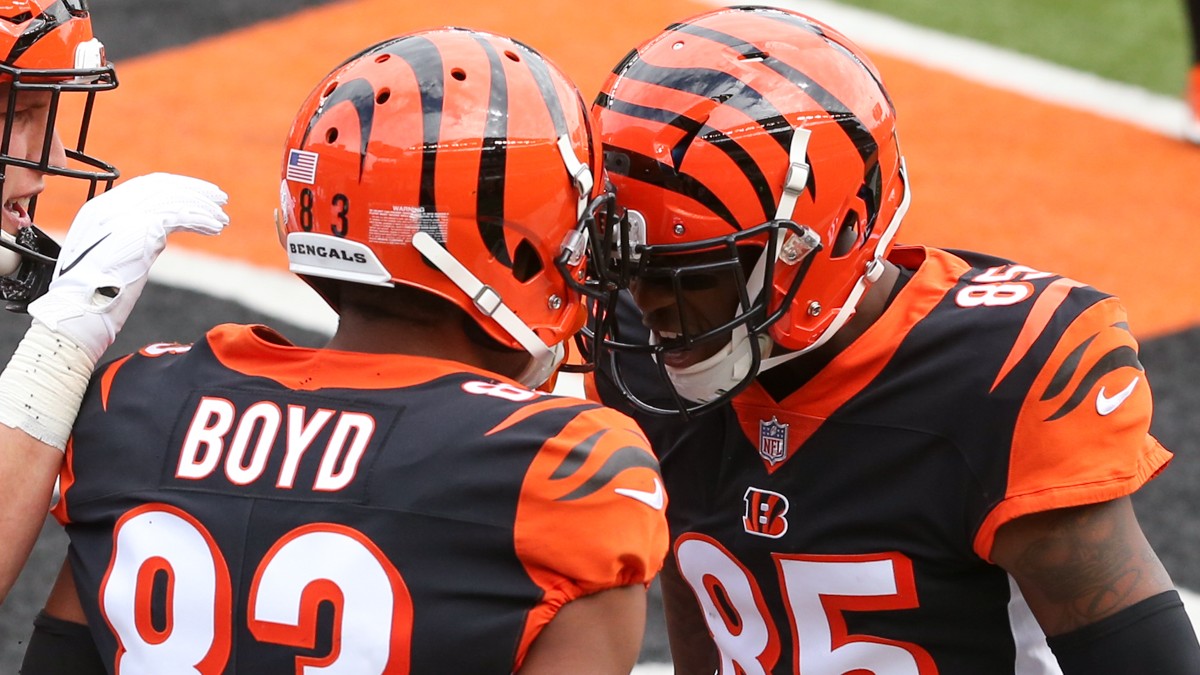 Texans at Colts

Odds: Colts -10
Time: 1 p.m. ET on Sunday
Danger spot for the Colts.
Indianapolis is banged up and exhausted physically and emotionally after blowing a 16-point lead with under 10 minutes left on Monday Night Football. That one stung. The Colts had a chance to escape a brutal opening five-game stretch at 2-3 despite all the injuries and a rough schedule. Instead, they're tied with the Texans.
Life comes at you fast.
I really like the Texans in this spot, as long as they don't over-commit to the run. Indianapolis has been excellent against the run and Houston ranks dead-last in rush offense DVOA, but the Colts' secondary is eminently beatable and super shorthanded, and Davis Mills can do a few things.
Five of the last six games between these division rivals have been one-score affairs. Double-digit division underdogs are 110-85-7 (56%) ATS. Ten points is just too much in a division game, especially for a Colts team that can hemorrhage points like this.
THE PICK: Lean Texans +10
Vikings -1 at Panthers

Odds: Vikings -1
Time: 1 p.m. ET on Sunday
Holy cow, did books turn on the Panthers in a hurry. Sam Darnold turned into a pumpkin just in time for all the basic pumpkin spice latte folks in October.
I'm liking the home dogs here in a nice bounce-back spot, but I do want to wait to make sure Christian McCaffrey plays and check for the availability of Shaq Thompson and the Carolina corners. Let's wait and check the injury report.
THE PICK: Wait for Carolina injury news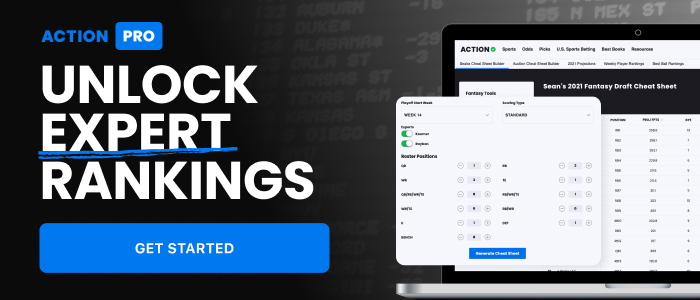 Rams at Giants

Odds: Rams -10.5
Time: 1 p.m. ET on Sunday
Sign me up for the Rams. This line jumped from -6.5 on Sunday morning once the Giants injuries stacked up. I regret missing the line then, but I'm still happy to stick with LA.
The G-Men will be without Saquon Barkley and Kenny Golladay, and I'll be really surprised if Daniel Jones plays after what we saw on Sunday as he staggered off the field. That would leave Mike Glennon at QB with backup RBs and WRs and the worst O-line in the league up against one of the league's finest offenses. The Rams should be able to pass all over this bad Giants defense, and I don't see any way New York keeps up, especially if it's Glennon.
If you like the Rams, grab this line early. It will only go up as bad Giants injury news comes out and the books try to get this one to -13 as teaser protection.
THE PICK: Lean Rams -10.5
Cardinals at Browns

Odds: Browns -3
Time: 4:05 p.m. ET on Sunday
This is a really fun, really interesting game and I don't feel like I have a great read on it yet. The books apparently don't, either, with this line right at -3. I'm going to wait this one out and see which direction the line moves. With two teams playing this well, that hook in either direction could be our edge.
THE PICK: Wait to see where the line ends up
Raiders at Broncos

Odds: Broncos -3.5
Time: 4:25 p.m. ET on Sunday
This Gruden thing is a mess. Good riddance. There is no place for language like that in this league or in this world.
I don't know what to make of the football product the Raiders will put on the field. Typically I love to bet on teams in their first game after firing a coach, but this feels like a different animal altogether. The Raiders laid a complete egg against the Bears this past Sunday in a spot they should've dominated.
I don't have a good feel for how the emotions play out here. Are the Raiders in disarray? Or will they be relieved and ready to move on?
The home team has won nine of the last 10 games in this division rivalry. Both defenses have been much better than the offenses. I'd lean under, and 3.5 is a bit of a high line in a lower scoring division game. I'll probably end up passing on this one but lean Raiders for now at +3.5.
THE PICK: Lean Raiders +3.5
Cowboys at Patriots

Odds: Cowboys -4
Time: 4:25 p.m. ET on Sunday
America's Game of the Week, if ever there was one!
I loved the Cowboys when Raheem Palmer and I talked about Week 6 lookaheads on the podcast last Friday. Dallas was just -1 then, and I felt great about taking a red-hot Cowboys team as basically a moneyline pick. Now the line has slipped away quickly, and it could move further by kickoff. All the trends love Bill Belichick at home, as an underdog, against an NFC team. Belichick lives for these games against elite offenses.
I don't have a great read yet, and I'm writing the preview for this one, so I'm going to dig into it a little more and come to a better conclusion Saturday.
THE PICK: Wait for more information and a better read
Seahawks at Steelers

Odds: Steelers -5
Time: 8:20 p.m. ET on Sunday
Well, our streak of awesome Sunday night games was bound to come to an end at some point.
This one looks ugly.
One of these teams has a completely washed QB who probably should have retired years ago with his complete inability to read the defense or get the ball downfield. And the other team has to start Geno Smith. Rough look.
The Steelers are not good. They're not very good at anything really. They stop the run, I guess? Bully for them. Pittsburgh is scoring a measly 18.8 points per game. Big Been continues to throw check down passes on fourth down, and this total is at 42.5 and falling with not much offense to be found in this game.
It sucks that Russell Wilson is out, but are we totally sure Smith is much worse than Roethlisberger at this point? Smith moved in the pocket and hit a few throws in relief after basically not playing real action since 2017, and Seattle's offense has actually been quite good this season. The Seahawks rank fifth in offensive DVOA, including fourth in pass DVOA and seventh in rush DVOA.
Call me crazy, but I trust Seahawks offensive coordinator Shane Waldron to give Smith a chance, especially with D.K. Metcalf and Tyler Lockett against a pretty beatable Steelers pass D.
Really, neither team has much of a pass defense, so the question is which quarterback you trust to take advantage of it. I don't know how you answer that positively with Big Been at this point. I'll give Geno a chance with a line that's too high. This could end up being our Week 6 Upset Special.
THE PICK: Lean Seahawks +5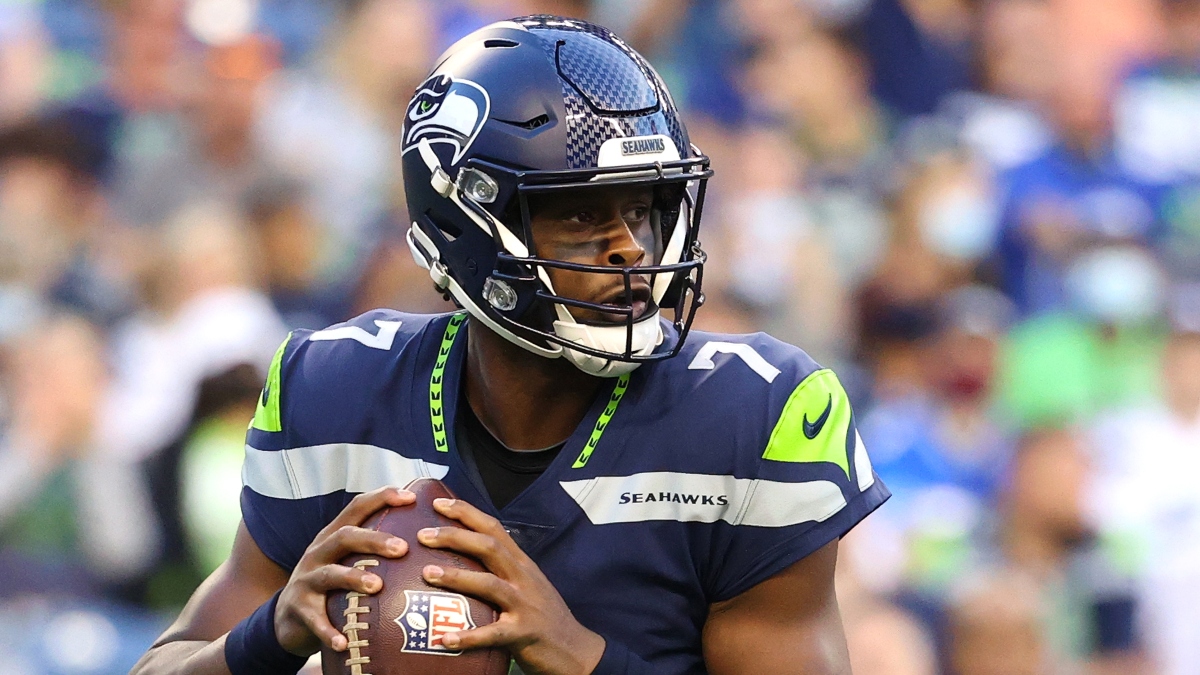 Bills at Titans

Odds: Bills -5
Time: 8:15 p.m. ET on Monday
What really worries me about all these 5- to 7-point road favorites is just how easy they all look — and this one is the scariest.
Everyone and their crazy uncle will have the Bills as the last leg in their weekend teaser or parlay, and that almost always spells trouble. Buffalo is flying high after its win of the season over Kansas City, and this is an obvious emotional letdown spot with Monday night dogs always tough.
Everything about this game screams "trap." And still, I cannot talk myself into the Titans.
Tennessee is terrible. I don't care that the Titans are 3-2 and comfortably leading the division. They barely beat the mediocre Colts and Seahawks, lost to the Jets, and got blown out by the Cardinals.
The Tennessee defense is absolutely miserable, almost as bad as Kansas City's D, and we saw what the Bills just did to the Chiefs. The Titans' passing game has gone missing, too. The only thing working is Derrick Henry, but Buffalo has allowed 45, 25, 31, 24 and 27 yards to opposing lead RBs this season and it's tough to commit to the run if you're trailing all game.
The Bills are the best team in football right now, and the offense is still on its way up. Josh Allen should have another huge night against this D. The Bills probably would've scored 50 in Kansas City if not for the second half monsoon, and Buffalo's terrific defensive line should have its way against a Tennessee O-line that has lost its way.
Your instinct is to lean toward home underdogs on Monday night, but that's wrong. Per our Action Labs data, Monday night home dogs of 3-to-7 points are an ugly 27-43 ATS, with the favorite covering 61% of the time by an average of 4.72 points. The Bills also have a massive QB advantage in primetime games, where Allen is 5-1 ATS (83%) while Tannehill is an ugly 3-10 (23%).
The one Allen nighttime loss? That was that weird Tuesday night COVID-makeup game last October when the Titans crushed a Bills team that didn't look ready. Buffalo strikes me as the sort of team that remembers that sort of thing. I think the Bills roll and emerge Monday night as clear Super Bowl front runners.
THE PICK: Bet Bills -5
How would you rate this article?
This site contains commercial content. We may be compensated for the links provided on this page. The content on this page is for informational purposes only. Action Network makes no representation or warranty as to the accuracy of the information given or the outcome of any game or event.