Bills vs. Titans Odds & Picks: How We're Betting Tuesday Night NFL
The 3-0 Tennessee Titans return from a COVID-induced bye to host the 4-0 Buffalo Bills for a Tuesday (!) night matchup.
Will the Titans be able to shake off the rust to upset the visiting favorites? Or is there value on Buffalo?
Reed Wallach analyzes the matchup, takes a closer look at the betting odds and makes his pick on the spread.
Bills vs. Titans Odds
Odds via PointsBet, where you can get $250 FREE instantly after signing up AND your bets automatically sync to the Action app. Learn more about BetSync here.
---
NFL football? On a Tuesday? 2020 continues to rewrite the script.
Following a COVID-19 outbreak that sidelined them for Week 4 and now has them closing out Week 5 a day later than usual, the Tennessee Titans can finally take the field once again to face the Buffalo Bills.
With the weekly changes in narrative and momentum in the NFL, the Titans are the forgotten unbeaten at 3-0. On the other sideline, the Bills are 4-0 and are developing momentum as a serious contender in the AFC. By continuing to take care of business with Josh Allen at the helm, they can continue their march toward winning their first AFC East crown for the first time since 1995.
Buffalo Bills
Simply put, the Bills are rolling.
While its schedule has not been full of contenders, Buffalo has handled every challenge thrown its way. The key factor to all of this is the maturation of Allen.
In Year 3 of his career, Allen has finally honed in on his deep ball, which has turned this unit from a prodding offense in 2019 to a dynamic one in 2020. Offseason acquisition Stefon Diggs has helped stretch the field, and Allen's precision has led to the Bills' jump in explosive play rate, where they rank in the top half of the league. Allen's completion percentage is up to better than 70% from 58% a year ago.
The Bills are humming on that side of the ball, ranking third in points per drive heading into this matchup, and scoring more than three points every time they set up on offense.
Against what has been an underwhelming Tennessee defense, Buffalo can take it to the air, but also establish the run. Allen has shown to be a dangerous passer this season but is also not afraid to use his legs. The Titans have been one of the worst teams in the league at stopping the run, allowing 5.8 yards per carry, the worst rate in the league. In addition to Allen, the Bills can also rely on their duo of young running backs in Devin Singletary and Zack Moss — the latter of whom is questionable — to attack the cracks in this Tennessee defense.
On defense, Buffalo is going to be tasked with trying to slow down what has been a strong offense in Tennessee. This may be troublesome for a unit that has not been able to carry over its success from 2019. The linebacker group has battled injuries all season and starter Matt Milano will be out again for this Tuesday night showdown.
Buffalo's D has been average across the board, but has been aided by some turnover luck, finishing 14% of defensive drives with a turnover. However, this defense is falling below head coach Sean McDermott's expectations.
Tennessee Titans
Trying to handicap how a team responds to getting an unexpected week off due to COVID-19 restrictions is uncharted territory, but something does have to be said about the the Titans' conditioning. Considering they practiced only once since Sept. 25, I believe there will be some issues for them ramping back to full speed in this one, and they could potentially fade as the game goes on.
In my eyes, Tennessee was a fraudulent 3-0 to begin with. Mike Vrabel's club has beaten three non-playoff teams that have combined for only three wins, and two of those matchups were shootouts while the Titans failed to cover in all three. Now, they're getting a red-hot Buffalo team that comes in a 4-0 and in game shape.
For the Titans to win this one, Derrick Henry is going to have to get going. While he's a historically slow starter, Henry is going to be able to run through Buffalo's defense. The Bills' run D has been the most suspect part of their mediocre defense thus far, allowing an opponent rush success rate of 60%, per Sharp Football Stats. To translate, that means running backs are deemed as having a successful rush six out of 10 times per carry. The only two teams with worse marks than Buffalo heading into Week 5 were the Lions and Chargers.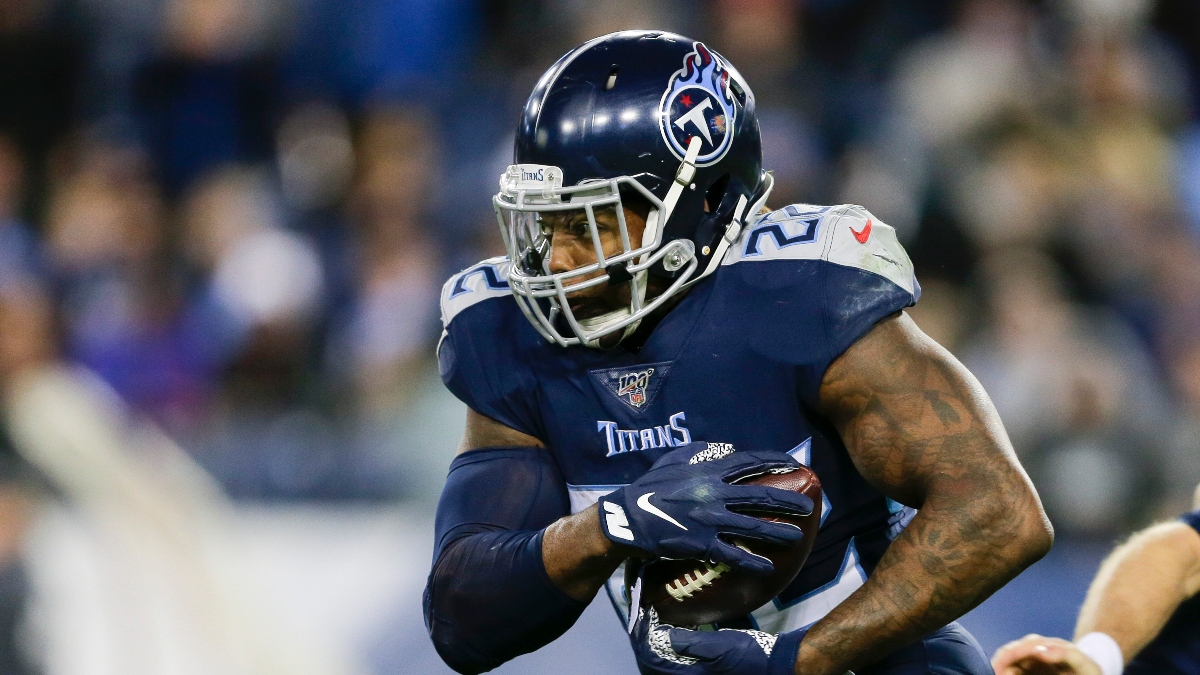 If Henry can get going on the ground, that can open things up for Ryan Tannehill.
Tannehill has had a great start to the season, operating with confidence and helping pace a high-level Tennessee offense. The Titans are scoring on 51% of their possessions and have committed a turnover on only 3% of them. The Titans are also likely to have stud second-year receiver A.J. Brown (questionable) back on the field, which should only help an offense that will be without Adam Humphries, who is on the Injured Reserve/COVID-19 list.
On top of that, the offense has done a great job of keeping Tannehill clean, posting the third-best Adjusted Sack Rate at 3.7% (per Football Outsiders). This trend of keeping the quarterback upright may continue for Tennessee, because while Buffalo sends blitzes at a top-five rate, the Bills get hurries on only 4% of passing plays, the second-worst number in the league.
Tannehill should have time to throw in this one, so his strong start to the year is likely to continue.
Bills-Titans Pick
It's difficult to try and handicap how the Titans will respond to the extended layoff with very limited practice time. Even before that situation was factored in, I did not buy that this Titans team was a true contender — plus, the Bills will be a step up in competition and are coming into this matchup with confidence.
This line opened at Buffalo -3.5, which is where I made it before accounting for the potential COVID impacts. At anything under -4, the Bills are a play for me as Allen should be able to set the tone against an out-of-sorts Titans defense that's just trying to get itself back on track following the layoff.
Make sure to keep an eye on the second-half line — the Titans' limited conditioning could catch up with them and the Bills may be able to pull away against their winded opponent. If the game is tied or the Bills are within one score, that could be a sound time to invest in Buffalo in-game if you would rather wait to see Tennessee's approach.
PICK: Buffalo -3.5 (up to -4)
[Bet now at PointsBet and get $125 if the Bills score a point]
How would you rate this article?