NFL Odds, Picks, Predictions: Can Browns Cover As Double-Digit Favorites? Plus Bet Colts and Steelers Spreads
Credit:
Nick Cammett/Diamond Images/Getty Images. Pictured: Cleveland Browns star running back Nick Chubb.
NFL Week 11 is here, so it's time to finalize our picks.
Remember, the biggest advantage we have as bettors is that we do not have to bet every game. If the line moves against us, if the injury situation is too tough to figure out or if the game is just too much of a toss-up, we can just pass and wait for a better spot.
We've got more "passes" this week than any of the season so far. Sometimes, you just have to wait for your spot.
Other times, the uncertainty creates opportunity.
Pittsburgh is missing a whole bunch of key players — T.J. Watt, Minkah Fitzpatrick, among others — but Mike Tomlin thrives in these underdog spots and the Steelers defense is good enough to keep them in games. All of their injury question marks have inflated the line too far for a mostly average Chargers team that will probably have a home disadvantage.
The Steelers and Colts are my favorite plays of the week as road underdogs with lines priced too high. I'm also playing both moneylines, and even parlayed the two dogs for an AFC Wildcard Race Upset Special parlay (+1025) at BetRivers.
Now let's finalize the rest our picks for the week.
---
NFL Odds, Picks, Predictions
First, the picks that remain unchanged — and reminder you can read more about these below:
Bet Colts +7.5 at Bills
Lean Packers PK at Vikings
Lean Jaguars +7 vs 49ers
Lean Texans +10.5 at Titans
Lean Panthers -3 vs Washington
Lean Cowboys +2.5 at Chiefs
Bet Steelers +6 at Chargers
Lean Giants +11 at Bucs
We're going on the record with a spread pick for every game, but that doesn't mean we have to actually bet every one of them. Here are the games we're passing on, with the direction I'm leaning if you need a pick for a contest:
PassEagles -2.5 vs Saints
Pass Bears +6.5 vs Ravens
Pass Dolphins -3.5 at Jets
Pass Bengals -1 at Raiders
Alright, now let's dive into the two games we waited on.
Lions at Browns (-11.5)

Meet Tim Boyle.
Boyle played college ball at UConn and Eastern Kentucky. He started only one year, at EKU where he threw more interceptions than touchdowns. That was four years ago, at an FCS school. Somehow Boyle has stuck around the NFL ever since, throwing a grand total of four career passes.
Now it looks like he'll make his first career start — and maybe a second on Thanksgiving.
The question is how much of a downgrade Boyle can really be from Jared Goff, who is hardly worthy of a starting role at this point. Boyle has a big arm, so maybe Detroit opens things up and attacks a beatable Cleveland secondary downfield.
Maybe Tim Boyle is the new Mike White.
Maybe not.
The Browns have only three double-digit wins, but they came against the three worst opponents on the schedule, based on Football Outsiders' DVOA. Detroit is Cleveland's worst opponent yet. The Lions are starting their third-string QB, plus are missing their two best offensive linemen and their best defender.
This roster was already one of the worst in the league. Detroit is effectively a JV team.
Baker Mayfield is nursing endless injuries, Donovan Peoples-Jones is hurt and Odell Beckham Jr. is gone. The obvious move here is to hand the ball 30 times to Nick Chubb, especially considering the Browns rank first in Expected Points Added (EPA) per run play and the Lions have one of the league's worst run defenses.
Remember when the Eagles ran all over this Lions team with 46 carries, 236 yards, and four TDs? That was two games ago in a blowout 44-6 loss for the Lions, and the Browns are better than the Eagles.
The Lions aren't as bad as their 0-8-1 record, but that doesn't mean they're not bad. They haven't played two decent games in a row all year and are coming off their best result of the season.
I trust Cleveland's healthy defense and run game to take care of business in what may end up a glorified scrimmage. I may even bet the Browns to shut the Lions out (+1500 at DraftKings).
THE PICK: Bet Browns -11.5 | Previously "Wait"
Cardinals (-1.5) at Rams

I'm getting tired of writing an updated take on the Cardinals every Saturday. because for a third straight game, Kyler Murray remains on the the injury report as a game-time decision. He sat the last two games, and my gut says that he sits one more with Arizona on bye next week — a chance for him to get truly healthy.
The surprising Rams loss also gives the Cardinals a bit more cushion. Plus DeAndre Hopkins is already out.
Backup QB Colt McCoy is also a game-time decision. Could we get Chris Streveler this week? Maybe, but the fact that Arizona didn't sign an emergency QB makes me believe at least one of these guys is a go.
We know Russell Wilson will go, but we don't know what version of Russ we're getting. Wilson was a shell of himself last week, with that hammer finger still clearly bothering him in his return. His accuracy was far below his typical standard, especially on those usually lethal deep balls. He also can't really go under center to take snaps right now, so that throws the Shane Waldron scheme off and limits the offense.
Historically, Wilson is 67% against the spread (ATS) as an underdog. And underdogs coming off a shutout loss are 63% ATS, according to our Action Labs data. If I trusted Russ, I'd absolutely love this spot for the Seahawks — they're 3-6 and playing for their season, maybe even for this version of the franchise with all the Wilson questions. But I wonder if the Cards are also undervalued here after a weird blowout loss that was over in the first 10 minutes.
The one unit I definitely trust in this game is Arizona's defense, which ranks second in DVOA on the season.
I just don't trust either QB situation or offense, and that means the under 48.5 looks like the most appealing play on the board. Otherwise, I'm staying away. Something about this game smells off, and the Seattle underdog play feels a bit too easy. Eight of the last 10 games in this division rivalry have been one-score affairs, usually close, and often weird. Too much weird for me.
THE PICK: Pass Cardinals -1.5 | Previously "Wait"
---
Editor's Note: The content below was published on Wednesday. Please check out the information above to see how Brandon Anderson's picks have changed — and why — since then.
---
Ohh baby, we've got ourselves a fun Sunday slate — enough for a full pre-Thanksgiving meal!
Chiefs-Cowboys is a delectable main course. Packers-Vikings and Cards-Seahawks are tasty division-rivalry side dishes. Colts-Bills, Bengals-Raiders and Saints-Eagles are delicious accoutrements with playoff implications. It's a veritable smorgasbord of great toss-up games that could go either way.
And as fun as that is at a fan, it makes life difficult for bettors when games are so close and can swing either direction on a few plays. That's why we're starting Week 11 off with two important reminders:
1. You don't have to bet everything.
As my colleague Raheem Palmer points out, this is the single greatest advantage bettors have over the books. We don't have to play! If there are too many question marks for a given game, we can just pass on betting it. Books don't have that luxury! They have to post a line for every game, every angle, every prop. Sometimes, the best play is no play at all.
2. Looks can be deceiving.
Remember, the books are setting traps all over the place. They know exactly what the public thinks when it sees a matchup, and the line reflects it accordingly. If a side looks too obvious, you're probably missing something.
With those two lessons in mind ahead of a very tricky slate, let's dig into Week 11. As always, we'll make early picks on every game — with "bet," "lean" or "wait" confidence ratings — but be sure to check our final decisions on Saturday once we have more information.
Note: Odds highlighted below are the best available for each pick as of writing. Shop for the best real-time lines with our NFL odds page.
NFL Odds, Picks, Predictions
---
Patriots (-6.5) at Falcons
Thursday Night Football
This was my first case of "Looks Can Be Deceiving" for Week 11.
At first glance, my spidey senses leapt off the charts to ride with Atlanta: New England is coming off a huge win over Cleveland, Atlanta just got spelunked by Dallas, and this line is three points higher than it was this past Sunday before those results.
You might recall this is a Super Bowl rematch. Not many guys on either side are still around from that 28-3 collapse, but you know Matt Ryan would like to have a good night. He almost always plays better at home, and he's been sharp lately. On the other side, Bill Belichick is only 8-6-1 against the spread (ATS) on Thursdays — low by his standards — and trends point to the Falcons being undervalued.
But if a side seems too easy to pick, it's because it probably is.
This Falcons offense has laid an absolute egg a handful of times this season. Now, they're missing Calvin Ridley and Cordarrelle Patterson. Kyle Pitts is great, but he's the only real weapon left, and you know Belichick will scheme that way. So how else will Atlanta move the ball?
The Falcons rank dead last in overall DVOA at Football Outsiders. They're 29th in offensive DVOA, 31st on defense and 32nd on special teams. The Patriots, meanwhile, are up to fifth in overall and defensive DVOA. The one thing the Falcons do well is pass the ball, and the Patriots pass defense has been elite.
It's a short week on the road for rookie quarterback Mac Jones. That, plus all the trends pointing toward Atlanta being undervalued, prevent this pick from being a "bet" for me. But I love the matchup for New England and trust Belichick to beat the trends.
THE PICK: Lean Patriots -6.5
---
Colts at Bills (-7.5)

When I made the Colts my Hot Read pick on The Action Network Podcast this week, I mentioned how it reminds me of one of those early Saturday afternoon Wild Card Weekend matchups that kickoff the playoffs — the ones that always feature a couple smaller marker AFC teams, lots of smash-mouth football and some no-no-yes quarterback moments in a tight, low-scoring game.
That's exactly what this game feels like — and maybe that's because we did see this exact matchup in the wild-card round last postseason.
The Bills won that one, but it was close, and it was tight late. The Colts trailed by 10 points but scored a touchdown to pull within three, then drove the ball into Bills territory in the final minute before coming up a couple plays short.
The 2021 Colts feel a lot like the 2020 Colts. They're not really great at anything, but pretty good at everything. They have a very stout defense, an excellent offensive line and a terrific rushing attack led by Jonathan Taylor. Plus Carson Wentz has been mostly good.
The Colts have been competitive in every game since the opener, even if they haven't always finished the job.
The 2021 Bills, on the other hand, are a much different version than the 2020 Bills. The offense is much worse and far less reliable. It's actually the defense that's carrying the Bills now — they lead the league in defensive DVOA, ranking top-three against the pass and run. Otherwise, this Bills team has been high variance: Their six wins have each come by 15 or more points while they've lost their other three.
The Bills also aren't very battle-tested just yet. They've played only three games all season against teams currently among the top 21 in DVOA and only two games against top-15 defenses. They lost both of those, to the Titans and Steelers. By DVOA, the Colts are the best defense and best overall opponent the Bills have faced this season.
The one real weak spot for the Colts has been their pass D, which means this game could come down to which version of Josh Allen we get. Allen is the betting favorite for NFL MVP, and he plays like it, he could have another big game throwing to Stefon Diggs and the Bills could roll. But if Allen has a more pedestrian outing and this offense stalls like it often has this season, this game should be close all the way.
The Bills have no chance to run on this stout rush defense, so it's all on Allen. The Colts have the more rounded team and a lot of paths to hang around. I make this line around Bills -4, so we're getting at least a field goal of value here, and across a couple big key numbers.
I love the Colts in this spot, so I'll bet them before I lose the hook. I'll grab the moneyline, too.
THE PICK: Bet Colts +7.5
---
Packers (-2.5) at Vikings

It doesn't get any bigger than this rivalry in the NFC North.
It's been a wild decade between these two: Minnesota won only one of the first 11 matchups before the series swung, then Green Bay won only one of the next seven. Now the Packers have won three of the last four and look ready to go streaking again. Only three of those 32 games were wins by a field goal or less — although, hilariously, two others were ties.
These games are always competitive but aren't usually close. And home field hasn't been much of an advantage in the recent rivalry, either. It's just come down to the better team.
So, which team is better?
The standings make it seem clear, but the advanced metrics think it's much closer. In fact, Minnesota is the better team by Expected Points Added (EPA), ranking ninth overall compared to Green Bay at 12th. The Vikings are 12th on offense and eighth on defense while the Packers are seventh and 11th.
It's a relatively even matchup overall, despite the gap in the standings. Beware the direction the teams are trending, though.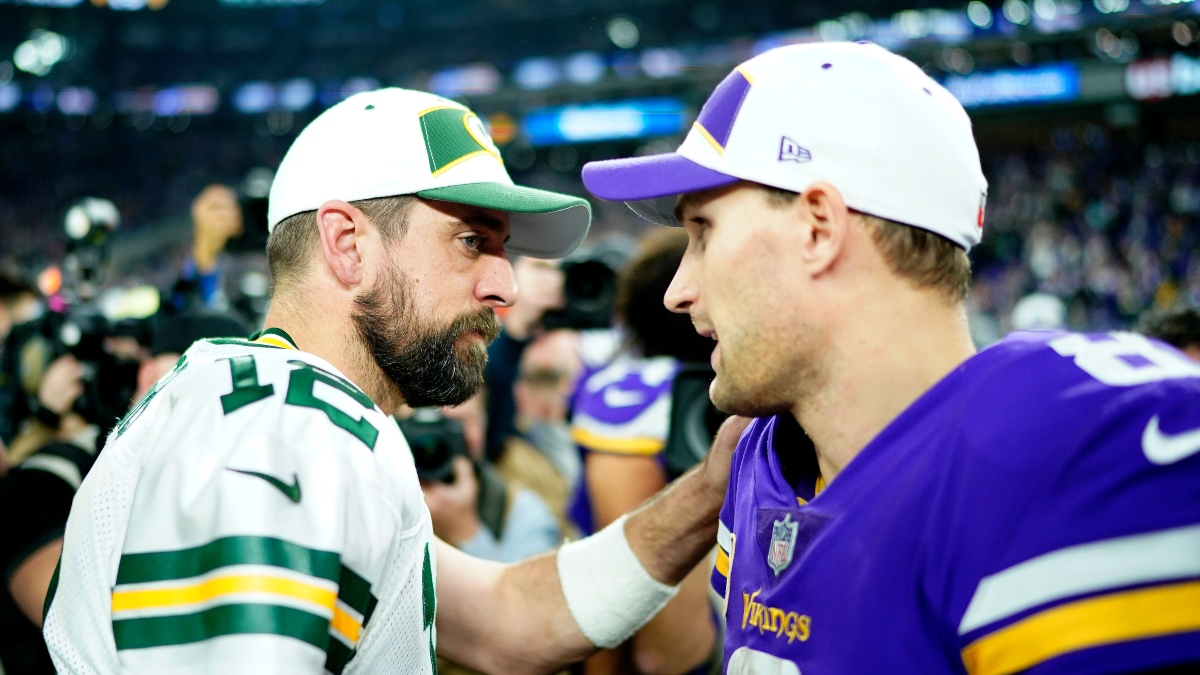 The Packers' metrics include that awful Week 1 loss to the Saints, plus the Jordan Love loss, so they're superficially depreciated. That 11th-ranked defensive DVOA? The Packers ranked 17th the first six weeks of the season, but they're sixth since then. Plus Aaron Rodgers and Davante Adams are back, and stud left tackle David Bakhtiari could finally play this week.
Meanwhile, Minnesota's defense looks headed in the wrong direction. Danielle Hunter is done, Michael Pierce is out, and Anthony Barr and Harrison Smith are question marks. Those are big misses, names who have been big in this particular rivalry.
There is one Aaron missing from this game, and it's a big loss considering Aaron Jones has arguably been the better Aaron in this rivalry recently, shredding the Vikings both as a runner and a receiver. His absence could impact the one real mismatch in this game, too: Minnesota's shoddy run defense vs. Green Bay's third-ranked rushing EPA.
Backup A.J. Dillon gets his chance now, but he's a very different back than Jones. Dillon brings a power component, but he isn't as dynamic as Jones and doesn't offer much as a pass catcher.
I'd love the Packers with a healthy Jones; I like them less with Dillon.
Still, Green Bay is the better team, even if it's not by as much as the standings make it seem. And the trends tell us to trust Rodgers in this spot: He's 63% ATS in division games, 67% ATS as a one-score favorite, and 72% ATS as a one-score division favorite. The trends also tell you not to trust Kirk Cousins and Mike Zimmer when the spread is a field goal or below; they're an ugly 5-13 ATS in this spot, covering only 28% of the time.
If you like the Pack, grab the -2.5 because it will likely hit that key number by kickoff. These teams are close enough that it could come down to a late field goal, and you know you'll want Rodgers — not Cousins — if it gets to that spot.
THE PICK: Lean Packers -2.5
---
Saints at Eagles (-1)

This is a great nerd game between two of the NFL's more unique teams.
The Saints were already unique with the way they use Taysom Hill in the run game and red zone, and they're still an outstanding and dominant defensive team. Now, the Eagles have joined the Saints after making a hard offensive pivot three weeks ago.
Philly is a running team now.
The Eagles barely ran at all the first seven games: They rushed 165 times for 547 yards and five touchdowns over that stretch. They've rushed 125 times for 626 yards and six touchdowns in just the last three games alone. That's more yards and scores in three games than the previous seven — an increase from 23.6 to 41.7 carries per game. The Eagles lead the NFL in offensive EPA over the last four weeks.
Of course, that's where this gets interesting, because the Saints have the No. 1 rush defense by DVOA. They've been dominant on that front all season, and at first glance, that looks like it sets up in their favor. But the Eagles have been stopping the run well, too, which means this could come down to the quarterbacks and the passing game. And that's why I like Philly.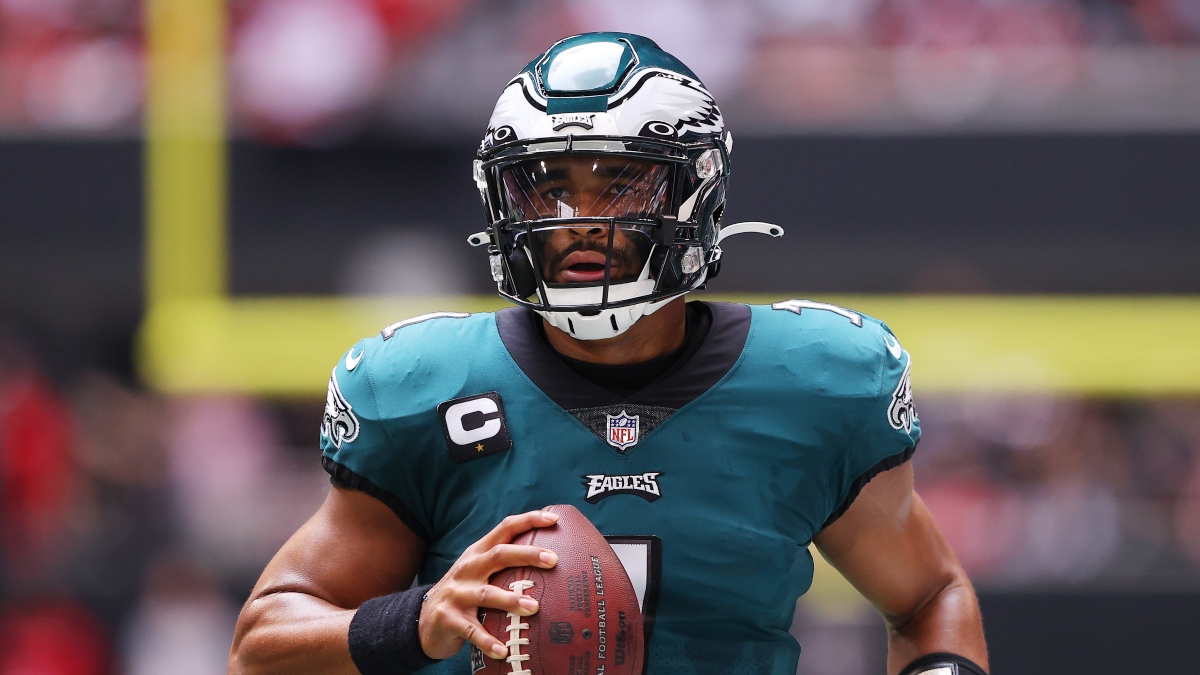 Remember, the Saints are starting their third-string QB in Trevor Siemian. Meanwhile, Jalen Hurts has actually been outstanding over this stretch. He's running the ball well but also hitting passes when he does throw. He's second in EPA + CPOE — i.e. Completion Percentage Over Expectation — over the last month. He's also first in air yards per throw at 10.9, dialing it up deep and often connecting with budding star rookie receiver DeVonta Smith.
The run game is the Eagles' identity now, but it's the passing ability of Hurts that I like here. A Philly win would really jumble that NFC wild-card picture, and the Saints are -139 to miss the playoffs (risk $139 to win $100) at DraftKings, if you're so inclined.
THE PICK: Lean Eagles -1
---
49ers (-6.5) at Jaguars

It's another "Looks Can Be Deceiving" game!
I loved this spot for the 49ers at first. I mean, come on, you watched Monday Night Football. The Niners looked great, totally dismantling the Rams. And now they get to play the hapless Fightin' Urban Meyers? Nobody — nobody!! — wants to bet the Jaguars here. And that's exactly why we have to.
This is an obvious letdown spot for the Niners on a short week coming off a huge emotional win over the Rams. Now the 49ers have to travel across the country to face a terrible team no one respects.
Teams based in the Pacific or Mountain Time Zones traveling to the East Coast for an early kickoff are just 50-71-1 ATS, covering only 41% of the time, per our Action Labs data. They're also only 3-9 ATS when they played Monday night. And don't forget, Kyle Shanahan is 9-22-1 (29%) ATS as a favorite.
The Jags can run the ball and defend the run. Both pass defenses are very beatable — and are you sure you trust Jimmy Garoppolo to exploit that more than Trevor Lawrence? The No. 1 pick has struggled mightily, but this could be a nice spot. Trust the trends and fade the far better Niners in a bad spot.
THE PICK: Lean Jaguars +6.5
---
---
Washington at Panthers (-3.5)
Cam Newton is BACK!! There's no official announcement yet, but you can bet he'll start this one in lieu of professional 7-0 footballer P.J. Walker. And honestly? That's the only angle I need. Panthers fans adore their man Cam, and I expect an absolutely electric home crowd as he returns to the starting lineup for a game those fans never thought they'd get.
Could the Panthers be a sleeper with Newton? They've hung around the wild-card race for 10 weeks with Sam Darnold and Walker, and don't forget, they were also missing Christian McCaffrey for much of that.
What could this offense look like with peak CMC, a healthy and motivated Newton, plus maybe the best set of receivers he's ever had in Carolina? Add to that a defense that's ranked first in EPA over the last four weeks now that it's healthy again, and I must admit I've been giving those 300-to-1 longshot Super Bowl odds some side eyes this week.
In the immediate future, I like the Panthers better on both sides. Washington is missing Chase Young and Montez Sweat, and the defense has disappointed anyway. In some ways, the Carolina defense has become what we expected the WFT defense to be.
I loved this one and bet it Sunday when it was under a field goal. Now that it's on the other side of the key number, it's just a "lean."
THE PICK: Lean Panthers -3.5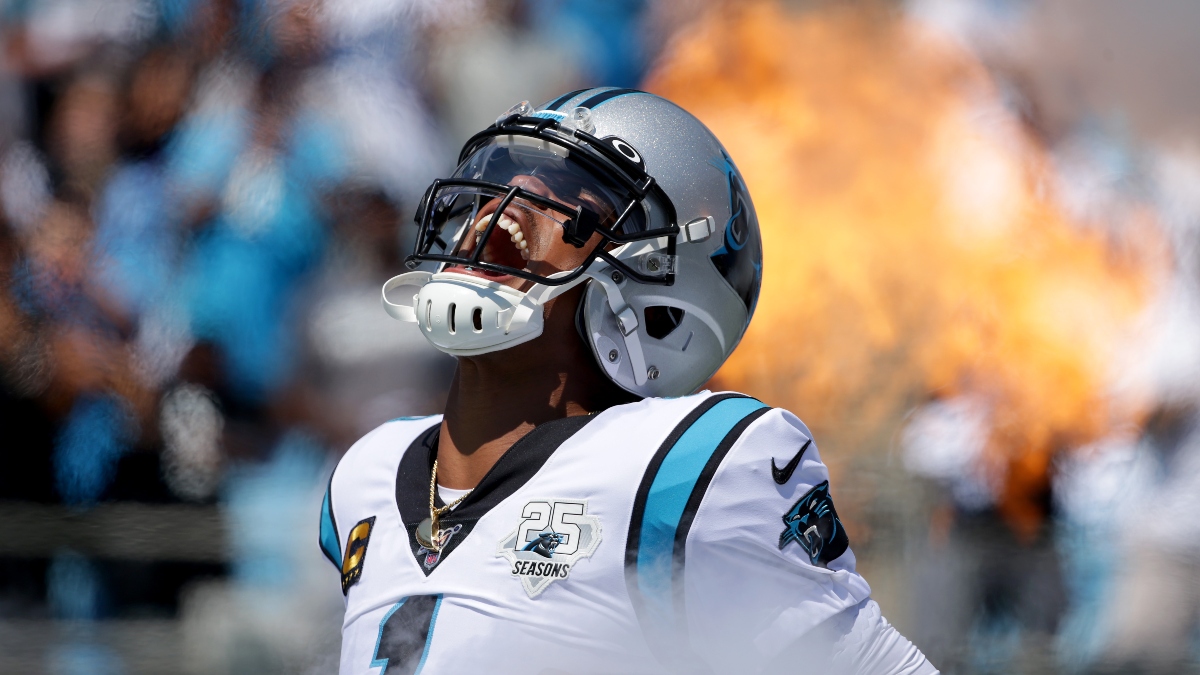 ---
Ravens (-6.5) at Bears
I faded the Ravens all season before finally talking myself into backing them the last two weeks.
I bet Baltimore against Minnesota thinking the defense would hold up like in past years. Undeterred by the Ravens' failure to cover those seven points, I bet them against the Dolphins thinking the Ravens would blow out a bad team like they always had in the past.
It's clear now that these are not the Ravens of yesteryear.
The run game metrics are still very strong but are mostly just Lamar Jackson, if we're being honest. He's still doing everything for this team, and not in a good way. Baltimore just doesn't have much else going for it this season. Marquise Brown has been awesome, of course, but the other receivers aren't getting open and they're playing running back roulette behind a faltering O-line. And the defense is nowhere near its usual standards.
Truthfully, these defenses have embarrassed the fan bases. Both rank bottom four in EPA defensively over the past four weeks and bottom 10 in DVOA for the season. The secondaries have been shoddy while the pass rush isn't getting home. The hope for Chicago is that Khalil Mack and Eddie Jackson return healthy out of the Week 10 bye, which could change everything for the Bears defense.
Baltimore has won only twice by this margin all season. Plus the Ravens have been terrible on the road while Justin Fields and the Bears have been much better at home. Fields and Jackson rank first and second in air yards per throw, so they'll be chucking it deep against two beatable secondaries. If it's Fields who connects instead of Jackson, this could be a surprise upset.
THE PICK: Lean Bears +6.5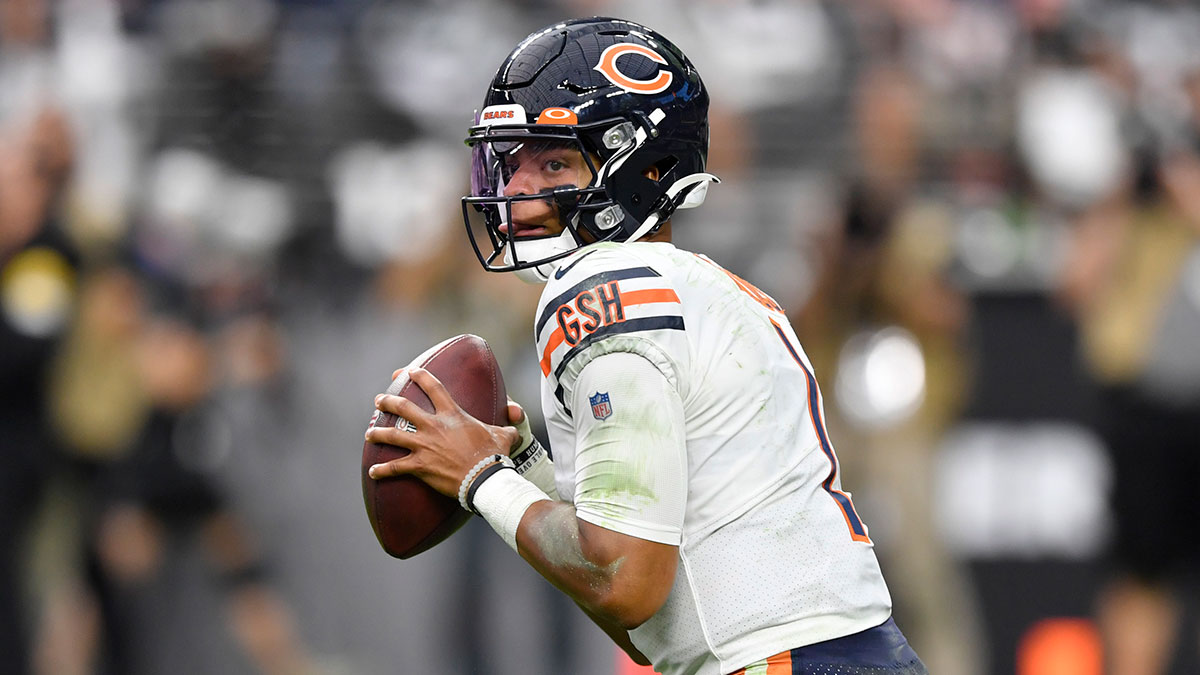 ---
Lions at Browns (-10)

Baker Mayfield and Jared Goff are questionable for this game, along with stud Browns RB Nick Chubb. I suspect at least Mayfield and Goff end up playing, but those are key enough names that we better wait to see how things look closer to kickoff.
Besides, I'm leaning toward Detroit right now, and this line should only give the Lions more value as the public plays the favorites.
THE PICK: Wait for injury news
---
Dolphins (-3) at Jets

This is a gross game.
Who starts for the Jets? Mike White? Zach Wilson? Joe Flacco? Honestly, does it really matter? (Spoiler: It's Flacco, apparently.)
The Jets are awful. At everything, really. The defense has allowed 54, 31, 45 and 45 points since the bye. The Dolphins beat the Jets 44-3 combined in last year's pair of games and have won six of seven against New York. Per our Casey Halpern, the Jets are 3-18 in division games since 2018 and 5-16 ATS.
The Dolphins' defense dominated the Ravens last time out, and the Dolphins are top-five in EPA defensively over the last five games. Let's stick with that.
THE PICK: Lean Dolphins -3
---
---
Texans at Titans (-11)

The Titans are 8-2 and well on their way to the AFC 1-seed, but they should have only 4.8 estimated wins, per Football Outsiders. Five of their games have been decided by a field goal or less, they just happen to have won four of them. Flip those five results and the Titans are 5-5 instead, which feels more representative of this team.
Tennessee ranks only 18th in DVOA for the season, and the best unit — the run game, of course — has been crippled with the loss of Derrick Henry.
The Titans are due to regress in a big way. And don't be stunned if it starts here against a Texans team coming out of the bye.
Tyrod Taylor struggled in his return, but Houston has still been far better with him in the lineup. The Texans have scored 60 points in 2.5 games with Taylor; they scored only 68 in the 6.5 without him.
Their defense has also been quietly much better than expected, especially against the pass. Henry still would have run all over this unit, but D'Onta Foreman isn't getting the job done.
Seven of the last 10 matchups between these division rivals has been within this spread. History also tells us teams as bad as the Texans end up undervalued on the spread: Teams with an average scoring margin of -14 or worse over the past five games (Houston is at -16.2) cover 60% of the time, and underdogs with that scoring margin for the season cover 66% of the time in October or later.
The numbers all tell us the same two things: Tennessee is overrated while Houston is undervalued, so the Texans could be a live dog here. This is a "lean" for now, only because the line will probably rise in our favor. It could be a "bet" by Saturday. It might even be a moneyline sprinkle.
THE PICK: Lean Texans +11
---
Cowboys at Chiefs (-3)

On one side of the field, we have a team absolutely loaded up and down the roster with weapons all over the offense, including a genuine MVP hopeful at quarterback, and a real shot at a Super Bowl run. On the other side, we have the Chiefs.
Life comes at you fast.
Both teams looked awesome last Sunday for the first time in awhile. The Cowboys ran the Falcons off the field while the Chiefs finally looked themselves again with 400 yards and five touchdowns from Patrick Mahomes.
Are the Chiefs finally the Chiefs again? I'll wait another week before crowning them as such. The Raiders played Cover 3 and let Mahomes play comfortably all game, and the Chiefs finally caught all the bounces. And yes, KC's defense has looked much better over the past month, but it's mostly been against poor competition.
Is Kansas City's defense decent now? Is Mahomes playing like a top QB again? Are the Chiefs weapons ready to produce at a high level? The question here is why bother betting on all of those answers being "yes" when we can just look at the other sideline and find a team already good at all of those things.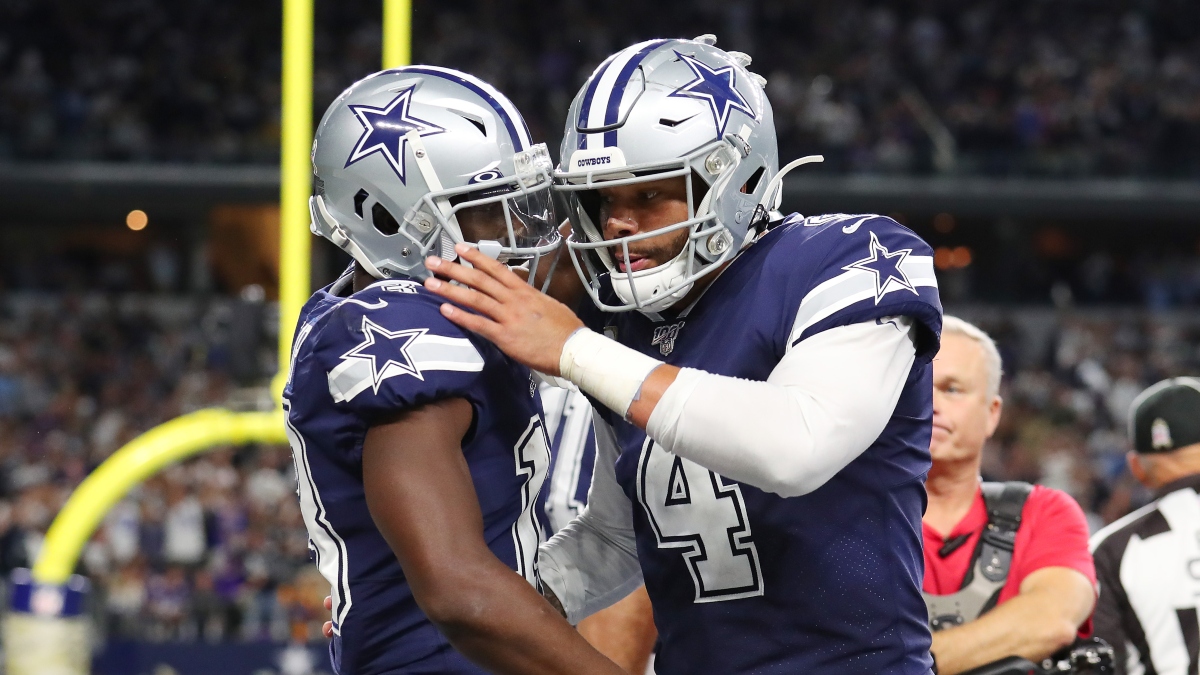 Dallas ranks top-five in both DVOA and EPA defensively. The Cowboys have been genuinely terrific on that end. On the other, Dak Prescott looks healthy again and could arguably be the MVP frontrunner, especially if he wins this game. (He's +800 to win MVP at DraftKings, if you're interested.) Michael Gallup's return also makes this the most dangerous receiving corps in the league while the run game can keep Mahomes on the sidelines.
Are the Chiefs back? Honestly, I dunno. But the Cowboys never left, so I'm happy just taking the team I already know is good, especially while we get the full three points. Remember how good short road dogs have been this season.
THE PICK: Lean Cowboys +3
---
Cardinals (-2.5) at Seahawks

Another week waiting on the status of Kyler Murray and DeAndre Hopkins. You'd think they'd be back for this one after missing two games, but the Cardinals have a bye after this, and the Rams' loss to the Niners just bought the Cardinals a little extra margin.
We have to wait to see if they play before making a call.
THE PICK: Wait for injury news
---
Bengals (-0.5) at Raiders

What in the world do we make of either of these teams?
The Bengals and Raiders have been up and down all season. Both are coming off ugly blowout losses, though the Bengals' was an extra week ago before the bye and wasn't nearly as bad as the final 41-16 score looked. An early 99-yard pick-six was basically a 14-point swing in the Browns' favor, and the game really got away late.
Every other Bengals game, though, has either been a win or a loss by three or fewer points. In other words, they've been competitive in every other game. That's not true of the Raiders, who seem to be all-or-nothing, and in very unpredictable fashion.
This is an intriguing matchup between unexpected playoff hopefuls.
The Raiders are running better lately and should be able to run on the Bengals, but Joe Burrow should be able to pass on the Raiders. In the end, Cincinnati is a little better as an overall team. And short favorites coming off a bye cover 61% of the time while road favorites coming off a bye cover 58% of the time. The Bengals fit both of those trends.
Tread lightly, though — this is the sort of script that could go in any direction.
THE PICK: Lean Bengals -0.5
---
Steelers at Chargers (-6)

Sunday Night Football
Folks, this is both a "bet" and a "wait," disguised for now as a "lean."
I love the Steelers… I think. We don't really know which Steelers we're getting yet. Ben Roethlisberger was a late scratch in Week 10 and could miss again. Now Minkah Fitzpatrick is in the COVID protocol, too, as are two Chargers: Joey Bosa and Jerry Tillery. And the Steelers could also be without stud defender T.J. Watt, cornerback Joe Haden and a couple linemen due to injury.
The early line movement from Chargers -3.5 to -6 suggests the books don't expect Big Ben to play, which is my feeling, too. I'm not counting on Fitzpatrick or Bosa either. But I already thought Chargers -3.5 was too high, so I believe the 2.5-point move is a mistake.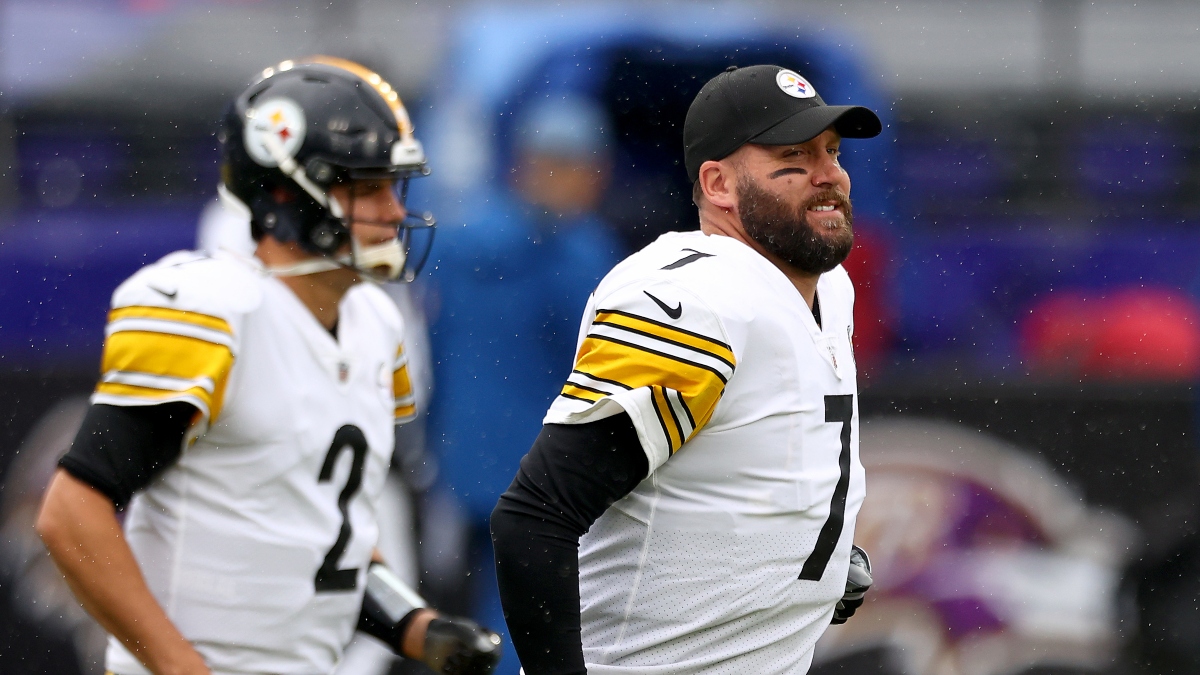 Roethlisberger is only 51% ATS lifetime. Steelers backup QBs during the Big Ben era have covered 57% of the time, including Mason Rudolph's 7-3 (70%) ATS record. Steelers backup QBs are also 17-7-2 ATS (71%) as underdogs. In seven such games since 2017, that includes four outright wins, plus losses by two and three points.
None of that should come as a surprise! Mike Tomlin smashes in these underdog spots. He's 41-20-2 (67%) ATS as a dog, including 34-29 straight up with a 36% ROI on the moneyline.
Besides, are we totally positive Rudolph is a downgrade from Big Ben at this point? Roethlisberger can't move, and Rudolph's ability to play under center opens this run game because it means getting the ball to Najee Harris going downhill, which could be huge against this bad Chargers rush defense.
Are we sure the Chargers are better than the Steelers? I'm not. And it's not like home-field advantage is a factor, either. There will be more Steelers fans at SoFi Stadium than Bolts fans.
I like the Steelers a lot here, maybe even more if it's Rudolph because of the matchup and the likely higher line. We better wait out the line in case the injury news swings wildly in the Chargers' favor, but this probably ends up a "bet" by Saturday. It's also likely our Week 11 Upset Special.
THE PICK: Lean Steelers +6, but wait to bet at peak price
---
Giants at Bucs (-11)

Monday Night Football
Let's see, Tom Brady vs. the New York Giants, where have I seen this before?
The Giants are the one team that's had Brady's number over the past two decades. Brady is 181-122-9 ATS in the regular and postseason, covering an incredible 59.7% of the time against every team not named the Giants. Against them, he's 2-6 ATS lifetime — that includes a near loss in December 2007 to almost blow the perfect season, a Super Bowl loss two months later to actually blow it, and another Super Bowl loss to the Giants a few years later.
Five of Brady's eight meetings with the Giants have finished within four points. And by the way, Peyton and Eli Manning will be covering this game over on ESPN2. Some things are just meant to be.
The Bucs are obviously a far better team, but this squad hasn't been the same over the last month. I thought they would be a regular-season juggernaut, but they've just been crushed by injuries. Brady hasn't looked the same without Antonio Brown and Rob Gronkowski, and the secondary remains beatable without Carlton Davis, Sean Murphy-Bunting and Richard Sherman. Now supreme run-stuffer Vita Vea is out, too.
It feels like the Bucs are just trying to make it to the postseason, and for the first time all year, I'm getting a little worried about my BradyMVP tickets.
Brady's 60% ATS cover rate drops to 55% as a double-digit favorite and just 5-9 ATS as a double-digit favorite in night games. Weirdly enough, the last two of such games have come against these Giants, including a 25-23 Bucs escape last year. Then again, Brady is 4-1 ATS as a double-digit favorite with the Bucs, with wins by 35, 28, 23 and 40. Then again, that one failed cover was that Giants game.
We know Daniel Jones is better on the road. Saquon Barkley could finally be back, right as Vea goes missing. Some teams just have your number, even if you're Tom Brady.
THE PICK: Lean Giants +11
How would you rate this article?
This site contains commercial content. We may be compensated for the links provided on this page. The content on this page is for informational purposes only. Action Network makes no representation or warranty as to the accuracy of the information given or the outcome of any game or event.