NFL Odds, Picks, Predictions: Raiders, Colts, Seahawks To Cover Among Week 10 Spreads To Bet
Credit:
Chris Unger/Getty Images. Pictured: Raiders QB Derek Carr
"I take to the open road, healthy, free, the world before me."
Walt Whitman took to the road strong, lighthearted and content, and NFL teams in 2021 seem to be following in his footsteps. It no longer appears to be a grueling journey to hit the road in the NFL — visiting teams are playing open and free, routinely punishing opponents on the road.
Road teams this season are 77-56-1 against the spread (ATS), covering 57.9% of the time with a 12% ROI. That's a huge advantage, considering we're officially halfway through the season now. If you never watched a minute of football and just blindly bet on every road team so far this season, you'd have a losing record in only one of nine weeks (Week 7). Pretty easy living.
Road underdogs have been especially prolific: They're 51-30-1 ATS, covering 63% of the time. If you bet the moneyline instead, road dogs are 36-46 straight up with an impressive 21.4% ROI on the season.
Home stadiums are not the fortresses they once were. It's easy as bettors to default to the home favorite, but this season has been all about the road teams.
Now it's time to study the Week 10 slate and make some picks. We've got nine home underdogs, and if we've learned anything this season, we should look long and hard at every one of them.
Like always, we'll make early picks on every game below, but be sure to check back Saturday for final decisions once we have more information on these games. For now, every pick is a "bet," "lean" or "wait."
Note: Odds highlighted below are the best available for each pick as of writing. Shop for the best real-time lines with our NFL odds page.
NFL Odds, Picks, Predictions
---
---
Click to expand Anderson's Thursday Night Football analysis

Ravens (-7) at Dolphins

Thursday Night Football

I loved the Ravens heading into the season, but cast them aside by the time the real games began.

It looked like the season from hell was taking shape in Baltimore. The Ravens lost star corner Marcus Peters along with their top three running backs in preseason, and the injuries only piled up from there. Stud left tackle Ronnie Stanley is out for the year again, and there have been injuries up and down the roster.

But the Ravens have weathered the storm thus far, with Lamar Jackson carrying the weight. The special teams are outstanding as always, the run game remains devastatingly dominant, and the defense is a work in progress — especially against the pass — but has proven to be built for the long haul.

These are the same Ravens that have been a regular-season juggernaut in recent years, and those Ravens always take care of bad teams. Entering this season, Baltimore had covered 10 of its last 13 games as a touchdown favorite. The Ravens are 0-3 in that spot so far this season, but fought through injuries for wins in all three, and this looks like a great spot against a bad Dolphins team.

The Ravens are No. 1 in rushing Expected Points Added (EPA) per play over the last four weeks, per RBSDM, and by a massive margin. They're 50% ahead of the second-best team and triple ahead of all but four teams. They actually have a higher rushing EPA than all but three teams have passing EPA, so that's really saying something, especially since it's almost entirely Jackson.

Meanwhile, Miami's defense has literally been MIA, and the Dolphins don't have the passing game to hurt this beatable Ravens secondary — especially since Tua Tagovailoa (questionable) could miss again.

I'm a little concerned about the start of this game since the Dolphins have been awesome in first quarters and the Ravens are playing their first road game since September, but the Dolphins have been miserable in the second half, and that's where the Ravens' run game thrives.

I won't be afraid to live bet the Ravens if they fall behind early, too, especially if it ends up being Jacoby Brissett at QB for the Dolphins.

THE PICK: Bet Ravens -7
---
Jaguars at Colts (-10)
For a second straight week, the Colts find themselves playing at home against a bad opponent coming off a shocking upset win. And for a second straight week, I absolutely love the Colts.
The Colts are somehow one of only five AFC teams below .500, but they're playing very well on both sides of the ball. They're 10th in Football Outsiders' overall DVOA, ranking top-12 on both offense and defense. They're also sixth in EPA over the last four weeks, so they're starting to peak.
The one thing the Jaguars have done consistently well this season is run the ball, but that has cratered lately with James Robinson ailing, and the Colts' run defense is elite. Jacksonville's pass rush was the star of its win in Buffalo, but Indy's offensive line won't let that play, either.
Per our Action Labs data, teams that eke out close upset wins as double-digit underdogs and are listed as underdogs (of any size) in their next game are just 15-28-1 against the spread (ATS) in that next game, covering only 45% of the time. And when they're double-digit underdogs in that next game, like the Jaguars are here, they're just 1-7 ATS.
The Colts also literally just dominated an overvalued Jets team that was coming off a big upset win like the Jags are now.
The home team has won 11 of the last 12 in this division rivalry, so you have to trust the home team here, especially since six of those 12 games were won by double digits.
This line will rise by kickoff, especially with Robinson and Trevor Lawrence ailing. Grab it while it's artificially deflated after the Jags' upset win.
THE PICK: Bet Colts -10
Saints at Titans (-3)
Remember when the Titans lost to the Jets? The Titans are 5-0 since, both straight up and ATS, with impressive wins against a difficult slate that included the Chiefs, Bills, Colts and Rams.
Even without Derrick Henry, the Titans offense did the trick in LA this past Sunday night with a dominant performance. And Tennessee's defense, once a huge weakness, is now top-10 in DVOA — Jeffery Simmons, Denico Autry, Kevin Byard and others are playing outstanding ball.
What goes up must come down.
The Saints defense has been even better than the Titans: New Orleans ranks third in defensive DVOA and is first in rush defense EPA for the season, which could neuter the Titans' bread-and-butter even further. And a good Saints' offensive line should help against this red-hot Titans' defensive front.
There's also the fact that Saints head coach Sean Payton is 32-20 (60%) ATS after a loss while Titans head coach Mike Vrabel has covered only 40% of games with a line at a field goal or shorter.
It's just too easy to pick the Titans here. The NFL is a parity league, and these things even out, so I'm trusting the coaching mismatch. This feels closer to a coin-flip game, so I'll grab the Saints before we lose the hook at +3.
THE PICK: Lean Saints +3
Browns at Patriots (-2.5)
Running backs aren't supposed to matter anymore, but the run game is key for both of these teams.
With Browns RB Nick Chubb in COVID protocol and Kareem Hunt already on the sideline, and with Patriots RBs Damien Harris and Rhamondre Stevenson questionable on the other, we're going to wait to see how the injury report shakes out before making a decision on this toss-up AFC wild-card battle.
THE PICK: Wait for the injury report from both teams
Falcons at Cowboys (-9)

It's been a weird couple weeks for the Cowboys, first winning on the road on Sunday night with Cooper Rush at QB, then getting blown out at home with Dak Prescott back at the helm by the lowly Broncos.
I'm not making too much of either outcome. It does seem, though, that sportsbooks have finally caught up with how good the Cowboys are — they were 7-0 ATS before last week's 30-16 loss to the Broncos. We played Denver in that one with the overinflated line, and that's the read on Atlanta here, too.
The Falcons are actually a playoff team right now, and Matt Ryan and the passing attack are quietly playing super well. They rank fourth in EPA per passing play behind only the Cards, Rams, and Bucs. The Cowboys' secondary has also been beatable at times, which sets the Falcons up for a backdoor cover if necessary.
Dallas is also banged up with Prescott and left tackle Tyron Smith playing through injuries. The Cowboys offense took the field with about six minutes left while trailing the Broncos 30-0 with barely 13 minutes of possession at that point. That's more than just an off game.
Dallas will have to prove it can win comfortably again now, especially with Atlanta passing so well.
THE PICK: Lean Falcons +9
Bills (-12.5) at Jets
Well, that was embarrassing. The Bills closed as 16-point favorites against the Jaguars, and then 16 total points weren't even scored in the Bills' 9-3 loss, the sixth-biggest upset since 1990.
So was it a sign of a faltering team? Or just an off game? A little bit of both, I think, but mostly the former.
The Bills were without TE Dawson Knox, who should be back for this game. The offensive line should be whole again, too. Josh Allen has not been the MVP-caliber player he was a year ago, but he should get much better protection in this one, especially with a Jets defense that's been second-worst in EPA over the last month.
The Bills are the highest variance team in the NFL, per Football Outsiders. When they're off, they're really off. But when they playing well, they fire on all cylinders — all five of their wins have been by 15 or more points.
Mike White had a nice time against the Bengals' 18th-ranked defense in DVOA, but the Bills have the top defense in DVOA. I trust them to get back on track with an easy division win over a bad opponent, and I think we're getting a couple points of value here thanks to their awful showing last week.
THE PICK: Lean Bills -12.5
Bucs (-9) at Washington
Washington was supposed to have an elite pass defense, but it's been anything but that this season. The Football Team ranks second-to-last in pass defense DVOA, and the Bucs seem like precisely the wrong team to face when you can't stop the pass — they rank first in passing and offensive DVOA, and Tom Brady is on pace for 5,600 yards and 53 touchdowns.
Even when the Football Team was actually playing defense last season, Brady lit them up for 381 yards and two scores in the playoffs. Now Washington's pass rush isn't getting home, and Tampa's O-line has dominated.
Favorites cover off the bye, road favorites cover even more, and road favorites of 5.5 or more points coming off the bye are 27-13 (68%) ATS. Brady is 8-2 ATS on the road off a bye, covering by an average of 10.7 points. And by the way, that leaky Bucs defense is quietly back to top-five in EPA over the past four games, including second against the pass.
The Bucs should roll.
THE PICK: Lean Bucs -9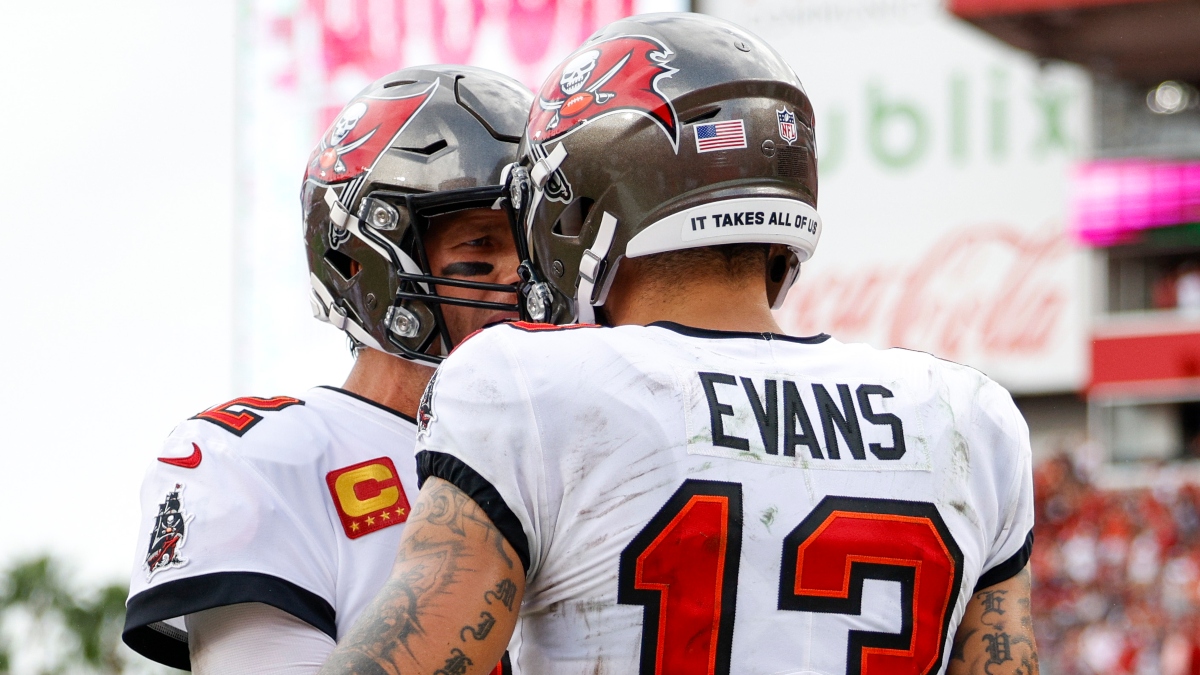 Lions at Steelers (-9.5)
Pittsburgh is 5-3 on a four-win streak, but are we sure the Steelers are good? All four of those wins were by one score against the Broncos (27-19), Seahawks (23-20), Browns (15-10) and Bears (29-27). The Steelers could (and probably should) have lost each of the last three. They love to play to the level of their opponent though — that's why we play Mike Tomlin as an underdog but fade him as a favorite.
The Lions obviously aren't good, but the gap between these teams is far smaller than their 0-8 vs. 5-3 records lead you to believe. Detroit should have 1.6 expected wins, per Football Reference, while Pittsburgh has 3.8. That's a much closer matchup and feels more representative of what we've seen on the field.
The Steelers defense has been fine but not particularly overwhelming. And Ben Roethlisberger has struggled all season and may not be much better than Jared Goff at this point.
This line is just too high, and history says there's value on Detroit. Winless teams facing winning teams with at least one loss are 63-38-2 ATS from Week 4 forward, covering 62% of the time. Teams coming off a blowout loss cover 58% of the time, and teams with a scoring margin of -14 or worse over the past five (like the Lions) cover 60% of the time. All those numbers tell us the same thing: Lines inflate too far against the really bad teams because books know we don't want to bet them.
Close your eyes and bite the bullet.
THE PICK: Lean Lions +9.5
Seahawks at Packers (-3.5)

A third straight  Packers game is in question with COVID protocols. First, Davante Adams missed against the undefeated Cardinals, then Aaron Rodgers was out against Patrick Mahomes and the Chiefs.
This time, both quarterbacks are a question mark. Russell Wilson is practicing and looks set to return from his long injury absence, the first of his career, but you never know until we see him on the field. And Rodgers is still in COVID protocol until at least Saturday. It's a home game for the Packers and it certainly appears Rodgers will play, but again, we don't know — and who knows how his team will respond?
Normally that would make this a complete stay-away-and-wait, but I'm not waiting around. I trust Wilson to be out there, and that's all I need to know to make me get my money in on the Seahawks right now.
I might have taken Seattle, even if both sides were healthy.
The Seahawks rank ahead of the Packers in DVOA, even with Geno Smith at QB for the past month. Seattle's defense found itself during that stretch, ranking third in EPA over the last four weeks. The offense has been elite on early downs; the defense has been awesome on late down. Seattle has a big special teams advantage, and Wilson has outplayed Rodgers this season, too.
I absolutely expect Seattle to be a factor in the NFC playoff picture, and that starts with a win on the road here. I'm not waiting around for Green Bay injury news. If Rodgers is cleared, and if LT David Bakhtiari is back, I probably gain a little value here. But if Rodgers ends up out, Seattle will be a deserving favorite here as bad as Jordan Love looked in his debut.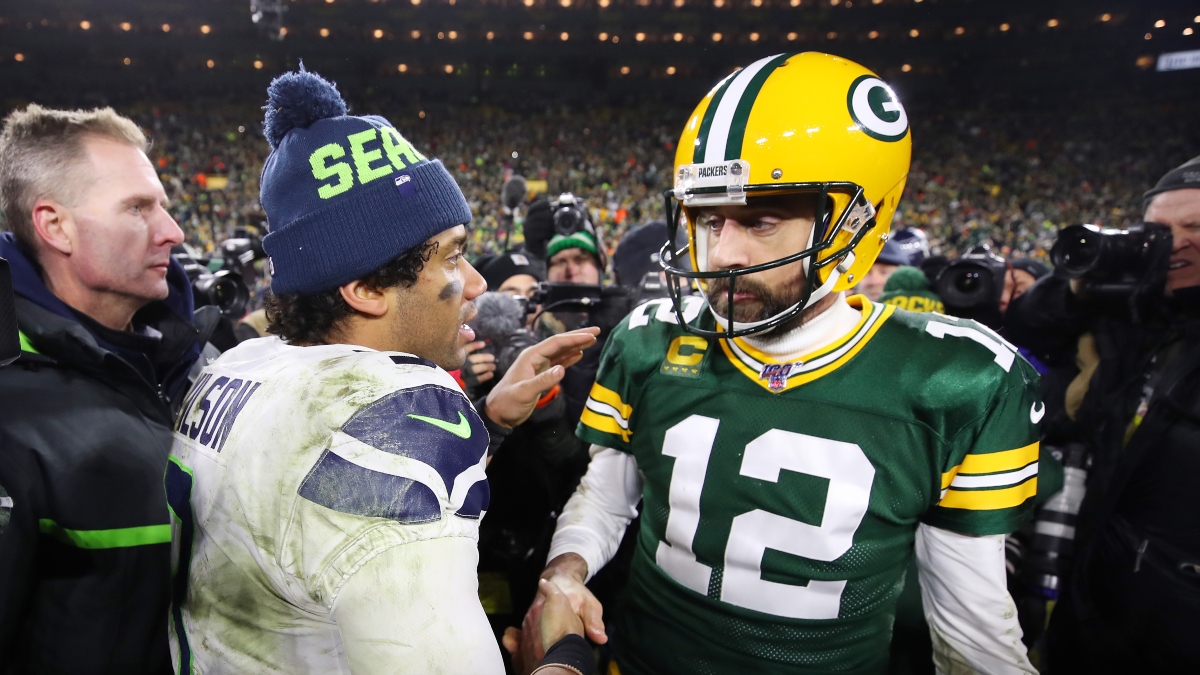 I like the Seahawks as more than field goal underdogs in one of those games that feels like it comes down to the last team with the ball. I'm betting Seattle now while the line is in our favor. We'll see by Saturday whether we want to add to our position and bet the moneyline or hold off on more.
THE PICK: Bet Seahawks +3.5
Vikings at Chargers (-2.5)
I can't figure my Vikings out. Every time I think I've got it, they zigzag the other way. Maybe that's because Minnesota has been impossible for anyone to figure out, with all its late finishes.
As Sports Illustrated's Will Ragatz put it, the Vikings could play the 2007 Patriots or the 2008 Lions and either matchup would come down to the final play.
The Chargers aren't much more predictable. These teams have played 16 combined games so far this season, and 13 of them have been one-score affairs. Neither one can put an opponent away. That's scary because it means there's a pretty good chance this ends up close late, and then it's in the hands of Kirk Cousins and Justin Herbert, neither of whom has been reliable.
That said, the Vikings have the better team metrics.
The pass defense has been elite and should limit Herbert, and while Minnesota remains far too committed to the run, that should play well against the league's worst run defense. The Vikings could win this game outright pretty easily. It's also full in play for them to lose by a point or two and still cover, so I have to take the points on the road in a toss-up.
THE PICK: Lean Vikings +2.5
Eagles at Broncos (-3)

Don't look now, but the Eagles have quietly become one of the run-heaviest teams in the NFL since September:
Philadelphia has ranked near the top of the league in rush DVOA, but the Eagles were super pass-heavy early. Lately, it seems like they've discovered their best identity as a running team. They rank second in rush EPA per play and first in success rate. The offense as a whole has ranked sixth in EPA per play over the last four weeks.
The wrong team is favored here. The Eagles have an identity now, and the Broncos' defense has struggled, especially against the run. This is a great spot to back one of those road dogs, especially while we get the +3. I'll look to sprinkle the moneyline, too.
THE PICK: Lean Eagles +3
Panthers at Cardinals (-10)
The injury list here is long, so we better wait to see what happens.
We know Cardinals running back Chase Edmonds is out, but don't yet know if Kyler Murray or DeAndre Hopkins will be cleared, nor if Panthers defensive end Brian Burns will be either.
I sorta kinda like this matchup for the Panthers, as good as their pass defense has been. I'm tempted to just grab the points on what feels like a super inflated line. But for now, there's just too many unknowns, so we better wait.
THE PICK: Wait for all the injury news from both sides
Chiefs (-2.5) at Raiders

Sunday Night Football
I'm out on the Chiefs. I'm just out. I don't believe anymore. It's time to stop pretending this is the same team that shredded league defenses the last few years. This is a different team right now. And they're not good.
Patrick Mahomes is not himself. He ranks just 19th in EPA on third and fourth downs for the season. He's 22nd of 26 qualified quarterbacks in overall EPA over the last four weeks, ahead of only Trevor Lawrence, Taylor Heinicke, Daniel Jones and Sam Darnold. The Chiefs rank 28th in EPA per pass play over that stretch. And while it feels like their defense has been better over the past month, the three decent games came against Heinicke, Jones and Jordan Love, so what did that really prove?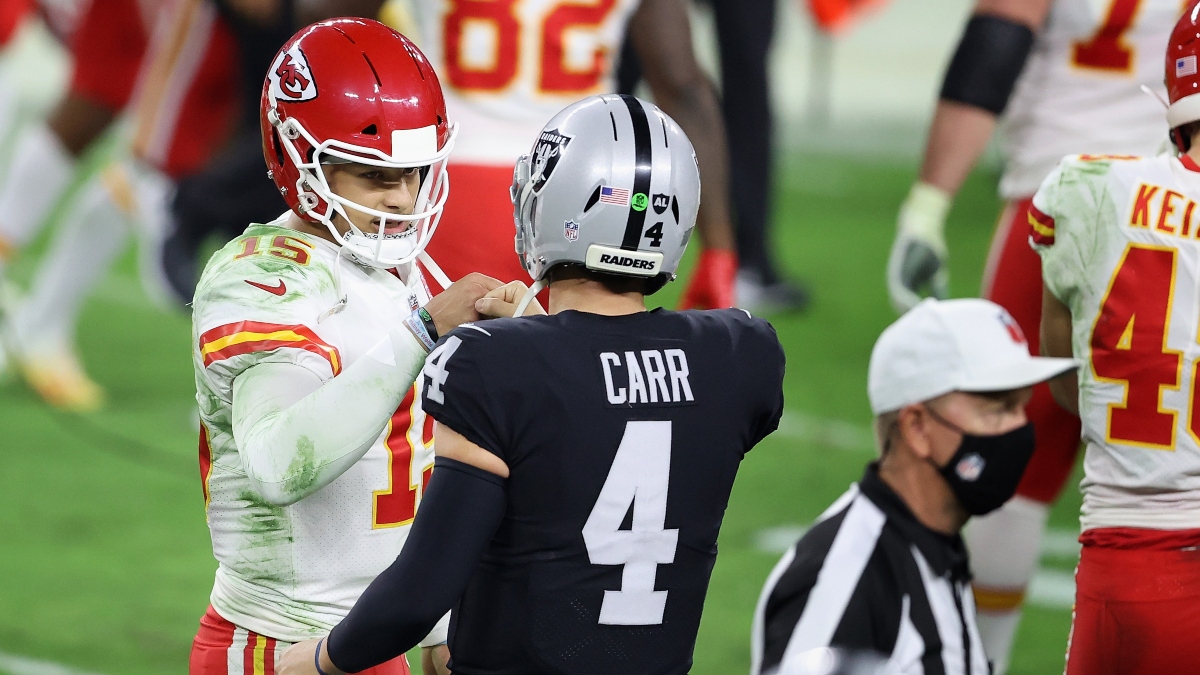 I just think the Raiders are better.
They beat the Chiefs last season, even when they were playing well, and the Raiders are playing great football over the past month. They rank second in EPA per rushing play over that stretch, and Derek Carr has been playing far better than Mahomes. They also have a far better defense, with a dominant pass rush that should have a big impact on Sunday night.
The Raiders lost to the Giants last week, but I'm undaunted. The Raiders went 1-for-6 in the red zone and had three turnovers and still had a chance to tie in the final minute. Honestly, they played better than the Chiefs, who had to hold on for a win against Love in the final minutes.
The Raiders are the best and most complete team in the division right now and his game feels badly mispriced — I would make them favorites. And while I would call this our Week 10 Upset Special, it's not an upset at this point.
THE PICK: Bet Raiders +2.5
Rams (-4.5) at 49ers

Monday Night Football
This one lost a bit of its luster after the Rams and 49ers got into a fight over which team could have the most disappointing loss in Week 9. The Rams were dominated at home on national television against a Titans team missing its MVP. The 49ers were even worse, getting blown out by a Cardinals team also missing its MVP, along with several other key players.
It was a Sunday to forget for both of these teams, and now they each get one extra day before a key Monday night battle with some big mismatches. The biggest one will feature a terrible Niners pass defense that couldn't even get off the field against Colt McCoy. The 49ers rank dead-last in passing EPA over the past four weeks while the Rams first in the same stat on D and third in pass DVOA offensively.
There's a chance Matthew Stafford and Cooper Kupp just pass all over this team.
The Niners have some key mismatches in their favor, too, though.
As good as the Rams are, their special teams have been pretty bad, so that could be a hidden advantage for the 49ers. And if San Francisco wants to hang in this game, it needs to run the ball against a very beatable LA offense. And the Niners offense has been better than you think — they rank sixth in offensive DVOA and third in rush offense DVOA, and the run game is only stronger with George Kittle back in the lineup blocking.
Sean McVay is great, but Kyle Shanahan is the one coach McVay can't seem to figure out. McVay is just 3-5 ATS against Shanahan, including two losses straight up last season as a favorite. The Niners actually swept the Rams each of the past two seasons. We hate Shanahan as a favorite, but like him much better as an underdog, where he's 23-17 ATS (58%).
The 49ers are better than you think, and this is a high line for a tough division rivalry game, especially for a road favorite on Monday night. It's too easy to just chalk this one up for the Rams. I think the Niners keep this close all the way.
THE PICK: Lean 49ers +4.5
How would you rate this article?