NFL Odds, Picks, Predictions For Every Game: Bills, Texans and Raiders To Cover Among Spreads To Bet Sunday
Credit:
Joshua Bessex/Getty Images. Pictured: Bills QB Josh Allen
There's not always value in betting NFL spreads, but our analyst makes picks on every Week 9 matchup with his confidence level so you can decide which to bet or pass on.
Find out why the Bills, Texans and Raiders to cover their spreads are among the picks he does recommend betting this Sunday.
What a week it's been in the NFL. It feels like it's been a month or even a year with this wild news cycle. It will be a relief just to watch some games at this point.
We've already covered every Week 9 game in detail below, but let's circle back with a few late-week updates to our positions now that we have more information on injuries and how the lines moved.
---
NFL Odds, Picks Predictions
First, let's recap our early-week picks that remain mostly unchanged, apart from the Texans pick that moves from a "lean" to a "bet" now that Tyrod Taylor is confirmed as starting, and the Ravens pick that moves from a "bet" to a "lean" with the line moving from -5.5 to the key number of -6.
I'll sprinkle the Texans moneyline, too, in what could be our Week 9 Upset Special.
Lean Ravens -6 vs Vikings
Lean Browns +2.5 at Bengals
Lean Patriots -3.5 at Panthers
Bet Bills -14.5 at Jaguars
Bet Raiders -3 at Giants
Bet Texans +6 at Dolphins
Lean Chargers -1 at Eagles
Lean Rams -7 vs Titans
Lean Bears +6.5 at Steelers
And don't worry — there are a couple "passes" still to come. Let's dive into the four games that shifted this week with big injury news and line moves.
Packers at Chiefs (-7.5)
So much for our game of the week.
What a circus this Aaron Rodgers nonsense has been all week. We'll save that for the tabloids, but either way, Jordan Love will make his first NFL start Sunday on the road at Arrowhead. And he'll do it against Patrick Mahomes, which is poetic — Mahomes is who everyone tried to compare Love to in the draft as a raw, toolsy, athletic prospect who needed some time and needed to learn how to actually read a defense, because he sure couldn't do much of that at Utah State.
Luckily for Love, you can't ask for a much softer landing spot in a first start than against this Chiefs defense. They still rank 31st in Football Outsiders' DVOA, including 30th against the pass and 29th against the run. Love gets Davante Adams back, and more importantly, Love has a great run game at his back. The Packers should lean hard on Aaron Jones and A.J. Dillon; Green Bay's run game has ranked second in EPA the past four games.
We knew the Chiefs defense wasn't good, though. The real worry is this offense, which just doesn't look itself anymore.
Kansas City ranks just 24th in EPA per play offensively over the last four games. Mahomes ranks 25th in EPA + CPOE (Completion Percentage Over Expectation) over that span. These aren't the metrics of a great offense that's downshifted a gear or two. The Chiefs are more like the profile of a team like the Dolphins or the Giants — with a defense that's even worse.
Travis Kelce doesn't look himself this season, and Tyreek Hill isn't beating teams over the top anymore. Green Bay naturally plays that two-high defense that's been limiting Kansas City all season, and the Chiefs don't have the run game to attack this bad rushing defense. The Chiefs have failed to cover in seven straight home games, and they've also failed to cover their last six games when favored by more than a touchdown.
Somehow, this is only the fifth QB not named Favre or Rodgers to start for Green Bay since 1993. Charmed life. Brett Hundley, Matt Flynn, Scott Tolzein and Seneca Wallace went 7-11 against the spread (ATS) as fill-ins, but Love is a far better prospect than any of those career backups.
Raheem Palmer and I covered this game on our Strong Side Fridays podcast, and we're in harmony. This line is just too high, thus creating value on the Packers. Rodgers didn't get his shot, but Jordan Love is about to get his.
THE PICK: Lean Packers +7.5 | Previously Wait
Falcons at Saints (-6.5)
Sean Payton announced on Friday that Trevor Siemian will make just his second start since 2017.
Jameis Winston is out for the season, and it sounds like Taysom Hill will play some, presumably in his usual packages. That feels like an odd decision, especially since Hill started twice against these very Falcons last season, scoring two touchdowns each in a pair of wins.
The Saints have dominated Atlanta in recent years, winning six of the last seven games, with all but one of those wins by at least six points. Matt Ryan just hasn't had success against this defense.
Ryan and the Falcons had a nice month offensively and looked like they were figuring some things out, but it looks like that may have just been because they faced four weeks of bad defenses. They couldn't do anything against the Panthers last week, and the Saints defense is far better. It doesn't help that Calvin Ridley is not with the team.
It's hard to see Atlanta scoring much. The question is whether New Orleans will score that much, either.
Atlanta's defense has not been good, but Siemian didn't do much to inspire confidence last week. He had just a 41% Success Rate and added only 1.7 EPA, per RBSDM — let's not forget, this is the third-string guy for a reason. Siemian has covered in only five of his last 16 starts. He's missing his only good target, now that Michael Thomas is officially out for the season, and the Saints run game has not been great this season.
The 41.5-point total suggests a low-scoring affair, and I think that's right. And that means 6.5 points is a lot, especially in a division game. How many third-string QBs would be a touchdown favorite in their debut?
Plus, we know how dangerous road underdogs under a TD have been this season. Road dogs of 3.5-6.5 points in division games have also covered 55.4% of the time historically across a large sample, according to our Action Labs data, including 7-3 ATS this season and 6-4 straight up.
I have to side with Atlanta here until Siemian proves he belongs out there. It could end up a prime upset spot for the Falcons if Siemian falters.
THE PICK: Lean Falcons +6.5 | Previously Wait
Broncos at Cowboys (-10)
The Cowboys are 7-0 ATS and look untouchable after winning last Sunday night without their star quarterback, but it feels like this line has finally pushed things too far. Star LT Tyron Smith is out, a couple D-linemen are missing and both Amari Cooper and CeeDee Lamb are listed as questionable.
Denver isn't exactly healthy, either. The Broncos are missing all four presumed starting linebackers now that they've traded Von Miller, and they're also missing their starting LT and featuring a banged up WR corps.
This feels like a survive-and-advance type game for the Cowboys while they wait out these injuries.
I'm not sure we should expect many points. Denver games have averaged just 36.8 this season, and there are so many injuries on both offenses. I don't play many totals, but this total at 49.5 feels shockingly high. I like the under here better than either side as both offenses could struggle.
If we do see fewer points, a double-digit win is much harder to come by. The Cowboys' rushing attack hasn't been as strong over the past month, and all the key passing game players are question marks.
As great as Dallas has been, the Cowboys have only two double-digit wins all season, and Teddy Bridgewater is 23-5 (82%) ATS on the road lifetime.
THE PICK: Pass Broncos +10 | Previously Wait
Cardinals at 49ers (-2)
This game and line felt wonky earlier this week. They still do now.
We opened at Arizona -2.5, and that felt like a trap set by the books begging for money on the Cards. By midweek, the line was all over the place… Cards -1 at some books, Niners -1 at others. As of Friday, it's creeping toward San Francisco now as a clear favorite.
How do we keep making Kyle Shanahan a favorite? He's 2-4 ATS as a favorite this season and now 9-21-1 ATS all-time when favored, covering only 30% of the time.
The 49ers have Jimmy Garoppolo and now George Kittle back in the lineup, but star WR Deebo Samuel is struggling with a calf injury and the defense is missing five of its planned starters, including both safeties.
That's the team that's favored?
Well, yes, because have you seen Arizona's injury report? Center Rodney Hudson is out again, and his absence has been big. J.J. Watt is out for the season, and he was a real difference maker in defense. A.J. Green is on the COVID list. And we still have no idea if Kyler Murray (ankle) or DeAndre Hopkins (hamstring) will play. Both of them look like true game-time decisions.
This game is a mess, and it's a true stay away for me.
These teams have played 10 straight games within 10 points. The games are always close, and the Niners could easily have won a month ago when they played. I'm just as confused as the books are. I'll take the 49ers side just because there's a real chance Murray doesn't play, or isn't himself if he does.
THE PICK: Pass 49ers -2 | Previously Wait
---
Editor's Note: The content below was published on Wednesday. Please check out the information above to see how Brandon Anderson's picks have changed — and why — since then.
---
Wait, it's November? It's already Week 9 in the NFL? How did this happen?!
With the new 18-week schedule, we'll be exactly halfway through the regular season once games conclude this weekend. In the NFC, we're really getting a good picture of which teams are contenders in what figures to be an amazing postseason. And in the AFC? It's an absolute mess of the Bills and about 10 other teams fighting for six spots.
As we start to get a feel for which teams are definitely good, the lines begin to balloon. Eight of our 14 games this week have favorites of 5.5 or more points, including five in the early Sunday window and all three primetime games. Historically, favorites or 5.5 or more points win 77.4% of the time. That's pretty good! But it also means two of those eight big underdogs could win.
The Jets, Patriots, Cowboys, Saints, Steelers and Packers all won as more than a field goal underdog last week. Somehow, we were on the right side of all six of those lines in the Week 8 edition of this column and even played Saints, Pats and Steelers moneylines.
So who will be this week's big upset winners?
Let's run through the entire Week 9 slate and make some picks. Like usual, we'll make early picks on every game, but check back Saturday for final decisions once we have more information on these games.
For now, every pick below is a "bet," "lean" or "wait."
Note: Odds highlighted below are the best available for each pick as of writing. Shop for the best real-time lines with our NFL odds page.
---
NFL Odds, Picks, Predictions
---
Jets at Colts (-10.5)
Thursday Night Football
So apparently Mike White is a thing now.
The Jets pulled off the biggest upset of the season so far with their 34-31 win over the Bengals as double-digit underdogs. White made his debut start with the game of his life, completing his 10 first passes and 82% of his passes on the day, throwing for 405 yards and three scores, even catching a Philly Special two-point conversion for the cherry on top.
A charmed life for a man who is apparently the most efficient quarterback in football now:
Except maybe he's not.
White completed 13.6% of his passes over expectation, per RBSDM, and his Expected Points Added (EPA) were basically MVP-level production despite an absurdly low 3.5 average air yards. Basically, the Bengals crapped the bed, White completed a lot of short passes and Cincinnati wasn't ready for the changed offense from Zach Wilson. But Indianapolis will be.
The Colts defense has played very well and now gets a full game of film on White and a week to prepare, which could swing things for the grown-man rookie. Indianapolis is a pretty good team that's finally healthy now, unlike New York, and the Colts should dominate this game on the ground and on defense.
Thursday night double-digit favorites are 46-27 against the spread (ATS) per our Action Labs data, covering 63% of the time. This line was a full -14 this past Sunday morning before the Jets upset. We really think Mike White is worth more than a field goal? I don't buy it.
Teams that eke out a one-score win as double-digit underdogs are just 15-27-1 ATS the following game when they're double-digit dogs again. Time for a Colts reality check. This should be a get-White game for Indy.
THE PICK: Lean Colts -10.5
Vikings at Ravens (-5.5)
Just when it felt like the Vikings could get their season back on track at home with Dak Prescott sidelined, they blew it and are on the brink once again. And this is a really rough spot against an angry Ravens team coming out of the bye after waiting two weeks to get the taste of a 24-point defeat to the Bengals out of their mouths.
This is two straight opponents coming off the bye for Minnesota, which is terrible news since Kirk Cousins is now 1-10 ATS lifetime against teams coming off a bye — especially since John Harbaugh is 9-4 ATS coming off the bye, one of the better coaches in our system, and Action Labs also likes favorites coming off the bye along with teams coming off a blowout ATS loss.
That's two more trends for the Ravens, and there's one more thing — Baltimore's last road game was Oct. 3, more than a month ago. This is the fourth straight home game for the Ravens, plus a restful bye week in-between. And with all the early-season injuries for Baltimore, this team is finally starting to get healthy.
We know the Ravens love to run the ball, and the Vikings' run defense has been terrible again this season. Baltimore's defense was awful against Cincinnati, but should be healthier now and ready to make a statement against a struggling Minnesota team. The Ravens are also the best special teams unit in football against one of the league's worst.
This looks like a bad, bad spot for Minnesota. Like, could-get-ugly-and-is-Mike-Zimmer-safe-on-Monday bad.
THE PICK: Bet Ravens -5.5
---
Browns at Bengals (-3)

This may be the most intriguing game of the day, and that's saying something about a matchup between the Cleveland Browns and the Cincinnati Bengals.
The Browns swept the Bengals last season, but Cincinnati covered both times. The most recent game was wild, with 34 points and five lead changes in the fourth quarter, including two go-ahead touchdowns in the final 66 seconds. Kevin Stefanski's Browns have actually never covered a division game (0-7 ATS).
The Browns have won five of the last six in this rivalry. The Bengals are finally home after a three-game road trip, while the Browns are coming off a three-game home stand but don't exactly have to travel far.
All three Cincy home games this season have ended with a kick on the final play, which makes it five of seven games that have finished with a three-point margin. Everyone got really excited about the Bengals after they thrashed the Ravens, but the truth is that this probably isn't a great team — it's just finally not a bad one, either.
The Bengals are fine! Even above average, at times. But they were never really the AFC 1-seed, no matter what last week's standings said.
But are the Browns as good as we hoped? They were my favorite Super Bowl sleeper, but when have the Browns actually looked good this season? They dominated Justin Fields in his first start on the road. They looked great for a half against the Chiefs and Chargers, but lost both games. And … that's about it.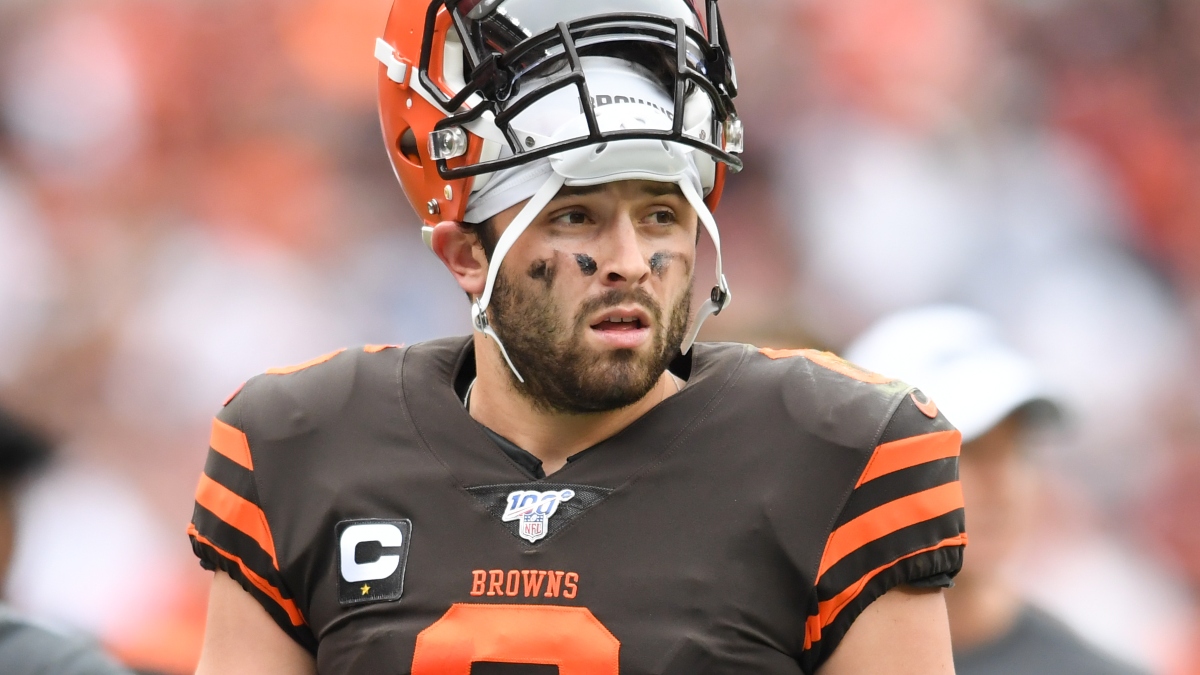 There are ugly wins over the Texans, Vikings and Broncos, and the Browns have scored 10, 17 and 14 points over their last three games. Baker Mayfield's numbers are pretty rough over the past month, though it's worth noting that he's faced some really tough pass defenses. Still, maybe we got too excited too fast. The Browns aren't bad anymore! They just might not be great yet.
This matchup feels like a toss-up, and I can talk myself out of either side. That means I'm just going to take the points here, especially at the key number.
One matchup that could swing this one: The Bengals rank dead last in defensive rushing EPA over the past five weeks. Nick Chubb is healthy again, and the Browns are the best rushing team in the league. We know short road underdogs have killed it this year, too. I have to take the points.
THE PICK: Lean Browns +3
---
Patriots (-3.5) at Panthers

We don't know yet if Carolina will start Sam Darnold or P.J. Walker, but does it even matter? Darnold has been the worst full-time starter since his hot 3-0 start to the season, so how much worse can Walker be?
Bill Belichick has made a career out of dominating inexperienced and bad quarterbacks. He's 3-0 ATS against Darnold with wins by 14, 33 and 35 points.
The Patriots have been a solid team all season. They've competed and had a shot in every matchup. Plus, Belichick knows how to manage a game to not lose it by letting the other team hang itself, and that's Darnold's specialty. I'm also curious whether we'll see Belichick pick on Stephon Gilmore now that he's on the other sideline.
Carolina's defense bounced back last week and is getting healthy, so that could keep things close. I bet this at -2.5, but don't like it as much on the other side of that key number. It's just a lean now and may be a pass by the end of the week if it gets to -4. I have to believe Belichick manages this game and finds a W, though.
THE PICK: Lean Patriots -3.5
---
---
Bills (-14) at Jaguars

The Jaguars are awful. The Bills are great. You know this.
The question is just whether Buffalo covers this high line. I think they will.
Buffalo's dangerous passing game is finally getting back on track at fourth in EPA per play over the past four games while Jacksonville's pass defense ranks dead last in the NFL by DVOA at Football Outsiders. This feels like it could be the week we start talking about Josh Allen as the midseason MVP leader.
Buffalo's run defense has been a bit leaky lately, and that's the one thing the Jags do well — but not without James Robinson, who Urban Meyer has described as day-to-day with a heel injury.
You'd think it's smart to fade teams coming off big wins like Buffalo, but two-TD favorites coming off two-TD wins are actually 23-12-1 ATS, covering 66% of the time. That includes a 40-0 Bills win over the Texans a month ago. The Bills have five wins this season, and they've covered this high line in all five, winning by 15, 18, 22, 35 and 40.
This isn't even a trap spot with the Jets up next, but it might be your last great chance to grab Bills futures if you're a believer. They look like the class of a very weird AFC to me. They'd be my Super Bowl pick right now.
THE PICK: Bet Bills -14
---
Raiders (-2.5) at Giants

This line feels straight up disrespectful.
The Giants are 2-6. They've lost to Washington, Atlanta and Denver. Their wins came against P.J. Walker, and in overtime after trailing the Saints by 11 halfway through the fourth quarter. New York is not good. The offense is a mess and isn't really doing anything right.
The Raiders, meanwhile, are 5-2 and a half-game out of the AFC 1-seed.
Las Vegas started 3-0, lost two games that make a lot more sense now that we know they came during the Jon Gruden mess, then the Raiders won their two most recent matchups with their best games of the season. They ranked top-seven in overall and passing EPA defensively over the last four games, and their outstanding pass rush is going to give this awful Giants O-line nightmares.
Plus, the Raiders are coming off a bye while the Giants have a short week after playing at Arrowhead and prepping for that Chiefs attack.
I love the Raiders at better than -3. Short favorites coming out of the bye week are 51-32-5 ATS, and road favorites out of the bye are 71-50-2. The Raiders are both, and I'm grabbing this one before it hits the key number.
THE PICK: Bet Raiders -2.5
---
Falcons at Saints (-6)

Jameis Winston has a torn ACL, so that means it's either Trevor Siemian again or Taysom Hill, if the latter finally clears concussion protocols. Those are two wildly different quarterbacks, so we definitely need to wait and see who is playing, especially with this line pretty inflated for a division rivalry game.
THE PICK: Wait to see who's playing QB for New Orleans
---
Texans at Dolphins (-6.5)

My podcast co-host Raheem Palmer and I both liked the Texans at +7 in our early Week 9 preview, under the premise that Tyrod Taylor should return. He looked close last week, and if he does play, this line is at least a field goal too high.
The Texans are not good, but the Dolphins aren't, either. Houston is actually solid against the pass but miserable against the run, which is not an area Miami can hurt Houston. The Dolphins' pass defense is vulnerable, too, which is where Taylor can be a huge advantage.
This is an entirely different offense with Taylor at the helm.
The Texans' average game margin so far this season is -15.25. Teams at -14 or worse in Week 5 or later are 96-48-1 ATS, covering 67% of the time. If this was still at +7, we'd make it a bet, but below that key number, we'll call it a lean and be ready to pounce if we get good news on Taylor.
I already bet it at +7, and I'll nibble the moneyline, too.
THE PICK: Lean Texans +6.5
---
---
Broncos at Cowboys (-10.5)

The Cowboys remain unbeaten ATS, and this line moved from -7.5 on Sunday morning to -10.5 by mid-week. That sure makes it look like Dak Prescott is expected to play, but let's wait and find out for sure.
For now, I'm liking the under 49.5 since the Broncos average only 36.8 points per game and we could always end up with Cooper Rush again for the Cowboys.
THE PICK: Wait for Dak Prescott injury clearance
---
Packers at Chiefs (-7.5)

Welp, so much for the Game of the Week.
For a second straight week, a marquee Green Bay Packers game has been waylaid by unfortunate COVID protocol news to a star player. Last week, it was Davante Adams missing Thursday Night Football against the undefeated Cardinals. This week it's even worse: Aaron Rodgers is out for their visit to Arrowhead.
We may never actually get to see Rodgers and Patrick Mahomes go head-to-head.
This is late-breaking news as we go to publish, and quite obviously this line immediately spiked heavily in Kansas City's direction. It looks like Jordan Love will get his first career start in a national TV game, with Blake Bortles coming in as the emergency backup.
For now, we'll wait this out and see if anyone else ends up in protocol and where this line ends up, and we'll circle back with a decision on Saturday.
THE PICK: Wait to see where the dust settles
---
---
Chargers at Eagles (-1)

This line feels very trappy.
The Chargers are really only 1-point favorites against the Eagles? It feels like the books are dying to take my L.A. money, but in this case, I'm obliging.
The Eagles have wins against the Falcons, Panthers and Lions. Color me unimpressed. The Eagles' losses have come by 6, 6, 11, 12 and 20 points. We're getting some value after they demolished the awful Lions, and sure enough, teams coming off wins of 35 or more points are just 46-60-5 ATS (43%) in their following game.
The Chargers' run D is still terrible, but Miles Sanders is out, and I don't trust the Eagles to run enough for it to matter. There's a chance that is very wrong — Philly ran all game on Detroit, rushing 46 times for 236 yards and four scores. Maybe that's the new plan, as efficient as the Eagles have been running the ball. And if it is, they can control the clock and win this.
They absolutely should run the ball all game. I just don't trust Nick Sirianni to do it.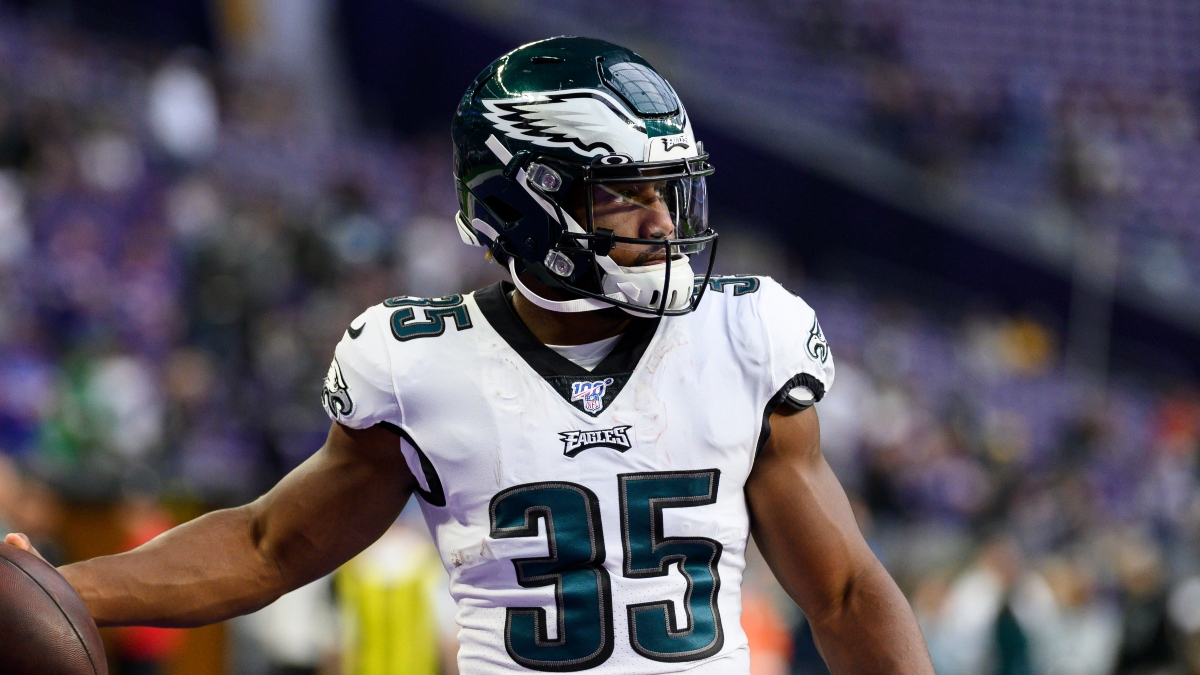 I'm treading carefully with the Chargers. This would've been a smash spot a few weeks ago, but L.A. is still having problems on early downs, and Justin Herbert has had consecutive bad games. But Jalen Hurts is the worst QB in the NFL by EPA + CPOE over the last four games, and Herbert is still far more reliable even as he battles a sophomore slump.
This is a weird and intriguing line. It feels like a trap. I'm taking the bait.
THE PICK: Lean Chargers -1
---
Cardinals (-2) at 49ers

Something smells fishy.
I projected the Cardinals as 3.5-point favorites. They've lost only once and continue to play well on both sides of the ball. They opened at -3 but quickly fell to -2.5, with books begging for Cards action. As of writing, they're anywhere between -2 and +1.
Super, super weird.
That would imply value if I had any idea what to make of it. Is that Kyler Murray ankle injury a bigger concern than it seemed? Is there a COVID scare? Gonna have to wait to see how this thing looks on Saturday.
THE PICK: Wait to see where this line ends up and how Murray looks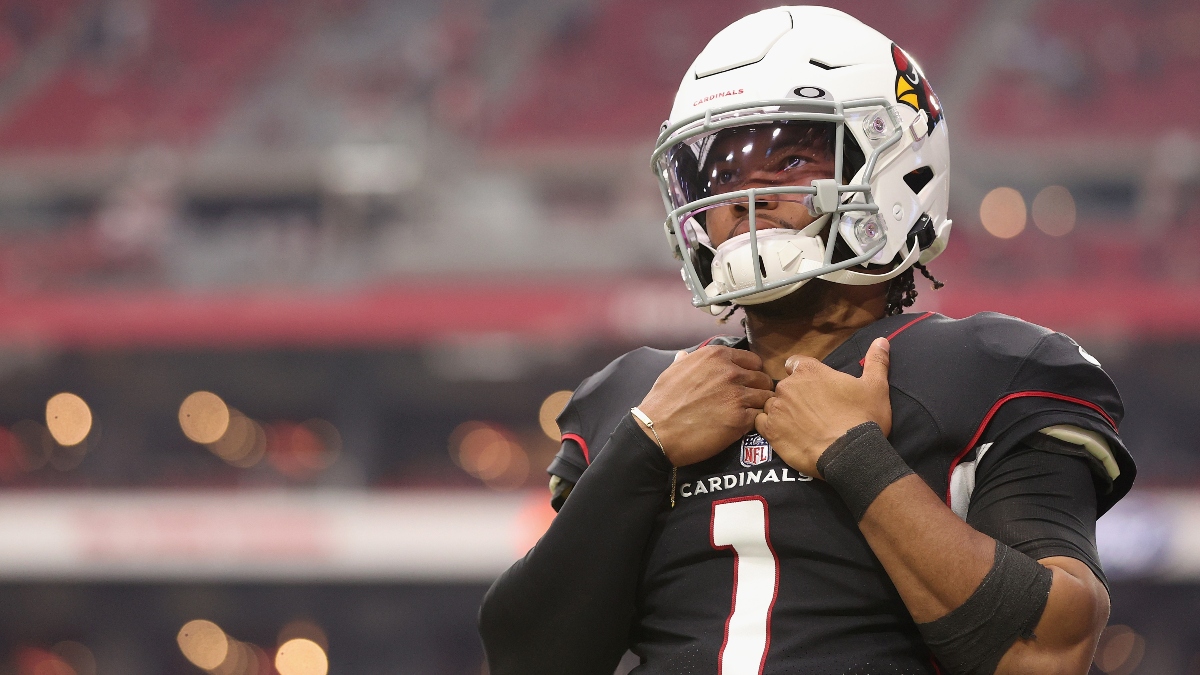 ---
Titans at Rams (-7.5)

Sunday Night Football
This is a Super Bowl rematch from that incredible Mike Jones goal line tackle on Kevin Dyson, and a few days ago, it was starting to look like a potential Super Bowl preview with both teams at the top of their conference.
Now Derrick Henry is out for the foreseeable future, and the entire future of these Titans is in question. We've heard for years that running backs don't matter, but this will be the ultimate test. Tennessee's entire identity was built around Henry. This is a second-half team. A bad defense hangs on for dear life early while Henry wears down the opponent, and then Henry does all the dirty work late and opens up the play-action for Ryan Tannehill and A.J. Brown.
There's no real depth behind Henry, and though Tennessee signed Adrian Peterson, Purple Jesus hasn't been an efficient runner since 2015. There's no replacing King Henry.
With Henry, the Titans would have been a very intriguing underdog here. The Rams defense has been below average against the run, and chewing clock with Henry is the perfect antidote against the league's No. 1 offense by DVOA.
Without Henry, this all falls on Tannehill, who has actually been awesome lately — these are the top two teams in passing by EPA over the last four weeks, and the Rams aren't No. 1 — but I worry that so much of that has been the play-action threat, and that Jalen Ramsey can hang with A.J. Brown, too.
Even before the Henry news, I was already a little worried about the late injury Tannehill picked up. He's also 4-10 ATS in night games, rarely at his best when the lights shine brightest. The Titans line hasn't been great, either, and that's not a great formula with Aaron Donald coming up the middle and, apparently, Von Miller running in now off the edge too.
I'd like this line a lot better under a touchdown, but I just can't talk myself into the Titans without Henry. I'm still not positive running backs matter, but Henry definitely matters. He was the one non-QB MVP candidate for a reason.
THE PICK: Lean Rams -7.5
---
Bears at Steelers (-6.5)

Monday Night Football
Feel free to make alternate Monday night plans. This one could be ugly.
The total is at 40 and falling, and even that still feels a smidge high. Bears games are averaging 39.8 points per game this season, and Steelers games are even lower at 37.7. Chicago games have been at 41 or fewer points in six of eight, and no Steelers game has hit 47 yet.
Every point will matter in this game, and that's why I lean Bears +6.5.
Both defenses are better than either offense.
The Bears' defensive metrics have slipped over the past month, but that'll happen against the Raiders, Packers, Bucs and 49ers. Pittsburgh ain't any of those teams. Chicago can be run on, but Pittsburgh's line still can't create holes. And while the Steelers' pass defense has looked elite lately, the Bears can't pass, and they'd rather run anyway.
The Bears are on a three-game losing streak, but such teams opponents on a two- or three-game winning streak are 58-32-2 ATS, covering 64% of what's usually an inflated line.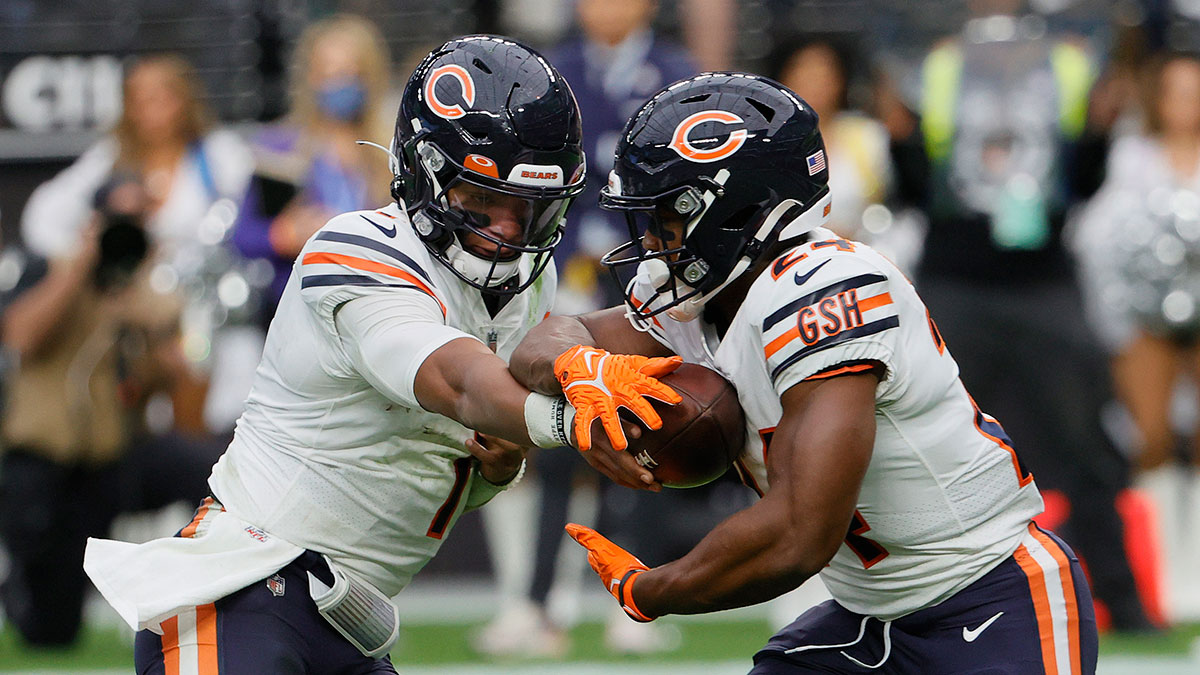 Remember, we back Mike Tomlin as an underdog and fade him as a favorite. When Tomlin is favored by more than a field goal, he's just 54-69-1 ATS. His Steelers have failed to cover five straight in that spot and lost three of them outright. Pittsburgh just loves to play to the level of its opponent.
Pittsburgh will be a popular teaser on Monday night, and it feels like a trap. Chicago covers in an ugly, low-scoring game, and the Bears should have a chance to steal one on the road.
THE PICK: Lean Bears +6.5
How would you rate this article?
This site contains commercial content. We may be compensated for the links provided on this page. The content on this page is for informational purposes only. Action Network makes no representation or warranty as to the accuracy of the information given or the outcome of any game or event.