Cowboys vs. Washington Odds & Picks: Fade America's Team on Thanksgiving (Seriously)
Credit:
Andrew Dieb/Icon Sportswire via Getty Images. Pictured: Cowboys RB Ezekiel Elliott, Washington CB Greg Stroman
The Dallas Cowboys host the Washington Football Team for an NFC East showdown on Thanksgiving Day.
With the division wide open, whichever team wins Thursday's matchup will take over the lead.
Our NFL betting analyst Brandon Anderson likes Washington's chances of covering this spread -- and winning. He explains his picks below.
Cowboys vs. Washington Odds
Washington Odds

+3 [BET NOW]

Cowboys Odds

-3 [BET NOW]

Over/Under

46 [BET NOW]

Kickoff

4:30 p.m. ET

TV

FOX

Odds as of 5:30 p.m. ET on Wednesday and via The Score, where you can bet anything on Washington-Dallas to get $200 for free.
There's nothing quite like the proven Thanksgiving tradition of settling in on the couch after eating four too many plates, letting the tryptophan kick in, and falling asleep to another boring Cowboys game and the soothing intonations of Pat Summerall and John Madden.
There's no Pat and John this Thursday, and probably no turducken either, but the traditional snooze fest is here for sure. And like any good Dallas Cowboys game, this matchup is somehow both vitally important and completely irrelevant at the same time.
Washington and Dallas enter this Thanksgiving showdown on rare one-win streaks, and whichever team wins this game will somehow take over the NFC East lead. But which side offers betting value?
Washington Football Team
Of all the NFC East teams, Washington is the least awful. The Football Team is the highest-ranked team in the division in Football Outsiders' DVOA, at 21st overall. That's not even in the bottom 10!
Washington is really bad on offense, especially passing the ball, but they're actually quite good on defense. They rank sixth in defensive DVOA — that's the top quarter of the league! — and have been especially good against the pass.
Washington's pass rush has been ferocious at times. Rookie stud Chase Young has had some moments, and the unit overall has gotten after quarterbacks and shut down receivers.
Washington has actually been quite competent over their past five games since moving on from Dwayne Haskins. Washington has losses by one, three and three points over that stretch, plus a pair of double-digit wins, allowing only 17 points per game during that stretch. And sure, it's not the most impressive set of opponents — not a single one is at or above .500 — but it's not like they're playing the '85 Bears in this one.
Washington is not good, but they are competent. Alex Smith has found his footing and steadied the team, they run the ball well and their defense is good enough to keep them in almost any game.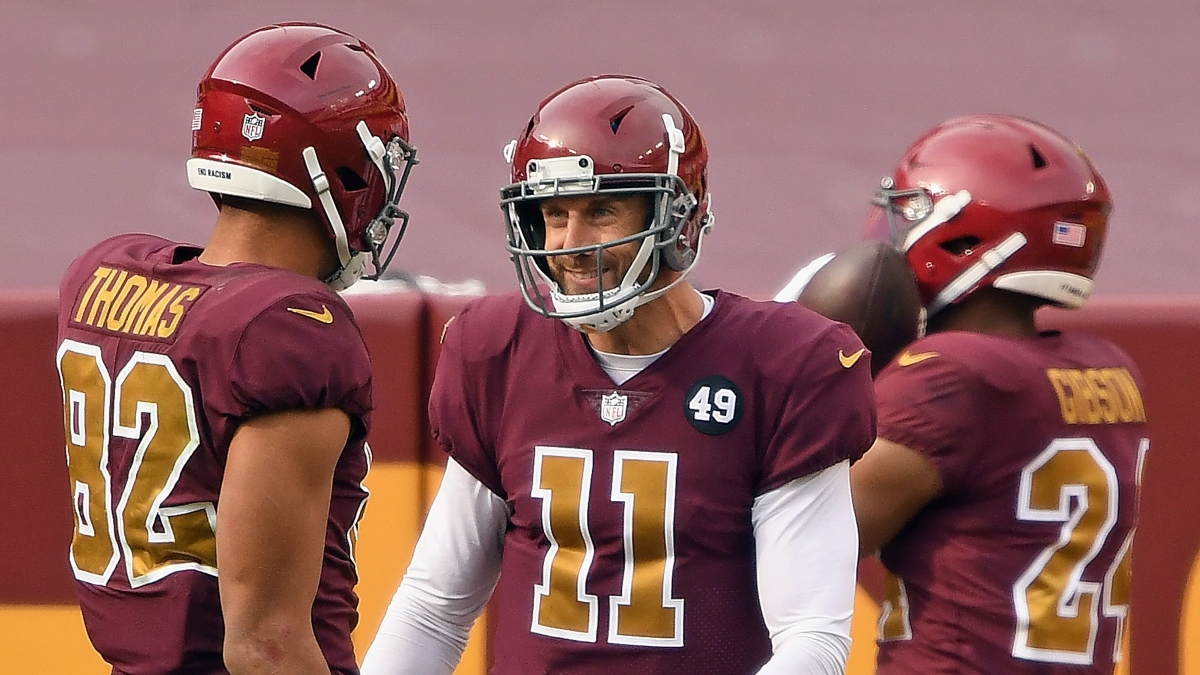 Dallas Cowboys
Dallas, on the other hand, is still a bad football team.
The Cowboys rank 27th in DVOA — just barely not last in the division — and worse than 20th in passing and rushing offense and passing and rushing defense. In sum, they're good at approximately nothing except special teams.
And sure, the Cowboys beat the Vikings in a classic letdown spot last week, but Dallas had scored just 41 points over its four previous games. One of those games came against this very Washington team, an ugly 25-3 beatdown that wasn't even really that close.
It seems like Dallas' offense was great early in the season while the defense was bad, and the defense has tightened up as the season has gone along. None of that is particularly true.
Dallas' offense was more fast than great. The Cowboys led the league in pace early and racked up huge yardage totals without being particularly efficient. As the season has gone on, and once Dak Prescott went out, that pace has slowed way down. That means less time on the field on defense, which makes the D look not quite as bad — think of it like an NBA team preferring to lose 95-81 instead of 127-115. Either way, you're losing.
The Cowboys have three wins by a total of seven points, and they had to sweat out every one of them into the final minutes. By every available measure, the Cowboys are not good.
Washington-Cowboys Pick
Washington's 25-3 win over Dallas a month ago gives us a decent idea of how this game might look — and don't throw that matchup out just because it was awhile ago. Besides, Dallas was probably injured, right?
Actually, Andy Dalton played almost the entire game but was terrible against Washington's pressure. And Washington played Kyle Allen that game, so they should be even better now that they have a real quarterback in Smith.
The wrong team is favored here, and it's solely because it's Thanksgiving and America loves to bet on the Cowboys while they stuff turkey into their mouths.
Don't fall for the trap.
Dallas is 1-8 against the spread on Thanksgiving over the past decade. The bookies are making a killing on Uncle Dave plopping $100 down on the Cowboys every year, for old time's sake. Don't be like Uncle Dave. Washington is the better team and the right play, especially as an underdog.
But there's an even better angle to play here: The winner of this game gets to four wins, and it looks increasingly likely that an NFC East champion may only need five or six. Either team getting to four wins here puts them in excellent position to win the division.
You know how when you bet an underdog, it's usually a good idea to sprinkle a small portion of your bet on the moneyline too, in case they win? Washington is +425 to win the division right now, and those odds are ludicrous if they win this game.
Play Washington, and get some of your cash on those long division odds while you still can. With any luck, you'll make a little Thanksgiving money and then come back for the rest at Christmas.
How would you rate this article?