NFL Picks, Buy Low & Sell High Bets, More Betting Advice For Week 4
Credit:
Cliff Welch/Icon Sportswire via Getty Images. Pictured: Ronald Jones, Tom Brady
Editor's note: With Cam Newton testing positive for COVID-19 on Saturday morning, the Patriots-Chiefs game that was originally scheduled for Sunday is being postponed. 
---
Welcome to Week 4 of the NFL season. Just like most weeks, we continue to hunt for opportunities to buy low and sell high, assuming the line has value after taking into account on-field matchups, situational spots and injuries.
Let's start with the obvious buy-low spots then get into the sell-high spots, which look much more promising this week. I'll also share my quick thoughts on the games I don't touch on as well as my seven favorite Week 4 betting targets.
---
SKIP TO:
My Full Week 4 Betting Card
---
Buy Low NFL Spots
Let's first take a look at the most obvious buy-low candidates who are 0-3 against the spread. Overall, 0-3 ATS teams haven't performed particularly well in Week 4. Since 2003, per our Bet Labs database, they've gone just 25-28-2 (47.2%) ATS since 2003.
Three teams with 0-3 ATS records will play on Sunday, including:
Philadelphia Eagles
Houston Texans
Dallas Cowboys
Sometimes, the market just doesn't properly downgrade the worst teams early enough. Over the first few weeks of the season, there's a fine line between not overreacting to a small sample size and taking a stance by severely marking a team down.
Last year, it was the Dolphins in the first half of the season. This year, it could be the Eagles.
Eagles +7 at 49ers
Kickoff: 8:20 p.m. ET on Sunday
Fortunately for me, I don't see any value on the Eagles this week. My line is spot on with the market (compare real-time odds here), but that could change after we gain more clarity on player availability as both teams have been bit hard by the injury bug in 2020.
Carson Wentz has arguably been the worst quarterback in the NFL so far this season, and he could be without his top pass-catchers on Sunday: Tight end Dallas Goedert joined rookie wide receiver Jalen Reagor on Injured Reserve, WRs DeSean Jackson and J.J. Arcega-Whiteside have yet to practice, and Alshon Jeffrey just made his return to practice this week in a limited fashion.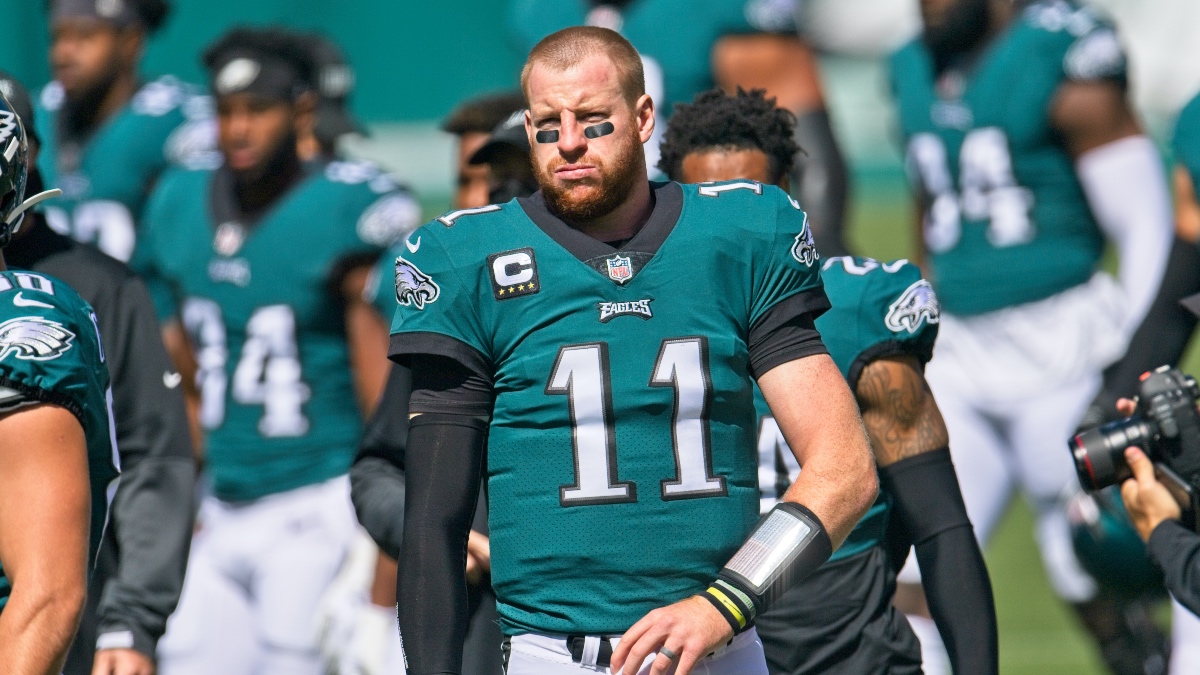 You also can't blame Wentz's issues on the offensive line — he has the lowest passer rating from a clean pocket of any quarterback in the NFL. Yes, even worse than Sam Darnold.
The Bet: Pass
Texans -4 vs. Vikings
Kickoff: 1 p.m. ET on Sunday
The Texans line looks a tad high, but not enough to entice me to get involved in a side between these two desperate 0-3 teams.
There's just too much uncertainty surrounding Minnesota, which had to move team meetings online and shut down Wednesday's practice due to COVID-19 protocols after playing the Titans, who are dealing with the NFL's first team outbreak. It's very difficult to quantify the impact that will have on the field come Sunday.
The Bet: Pass
Cowboys -4.5 vs. Browns
Kickoff: 1 p.m. ET on Sunday
Lastly, the cover-less Cowboys will try to get back to .500 at home against the Browns.
We'll learn a lot more about the Browns after they recovered from an embarrassing loss in Baltimore with two straight wins against subpar competition. But don't be fooled by their 34-20 victory over Washington — that game was pretty much even outside of Dwayne Haskins' three interceptions. If you remove takeaways from the equation, Cleveland's defense has allowed more points per drive than any other team. That won't bode well against a Dallas offense littered with weapons — although getting back Greedy Williams and Olivier Vernon should provide a boost for the Browns.
The Cowboys could easily be 3-0 with a few bounces, but I actually don't see much value in this current line. Remember that Dallas still isn't fully healthy, although it could get tackle Tyron Smith.
This looks like a game I won't have any pre-kick action on.
The Bet: Pass
Sell High NFL Spots
Historically, you would have burned money in Week 4 betting on teams that started out the season 3-0 ATS. Those teams have gone 24-38-1 ATS (38.7%) for a miserable -22.6% ROI.
Let's take a journey back to Week 4 of last season.
The undefeated Rams and Packers both lost to outright at home to the Bucs and Eagles, respectively. The undefeated Cowboys also lost and failed to cover in New Orleans. The Chiefs were the lone undefeated 3-0 ATS team to actually win in Week 4. However, they also failed to cover and should've lost to the Lions if not for some complete late flukes.
The teams you think that are unbeatable after three weeks usually aren't.
Two teams have started this season 3-0 ATS (and 3-0 to the over):
Seattle Seahawks
Green Bay Packers
If you want to fade both, you'll have to back the Dolphins and Falcons, who have combined for one win. I actually held my nose and bet both underdogs.
Dolphins +7 vs. Seahawks
Kickoff: 1 p.m. ET on Sunday
Since I made the Seahawks slightly under 6-point favorites, I bought the Dolphins to +7 (-120) after considering the spot and Seattle's dire injury situation.
The Seahawks are 3-0, but are far from perfect.
Their defense has had a number of key injuries and just isn't playing at a high level (23rd in Football Outsiders' DVOA). In fact, Seattle is the first team in NFL history to have allowed 1,200 total passing yards over the first three weeks of a season.
The offensive line is still a liability and Chris Carson is now nicked up. I'm sure Russell Wilson will cook enough to lead the Seahawks to a fourth straight win, but I'm willing to bet it will be by less than a touchdown.
Including the playoffs, Pete Carroll's bunch won 12 games last year. Only one of those 12 came by more than one possession. This year, two of their three wins have come by one possession.
Despite Wilson playing flawless football, the Patriots still came up only one yard short of a victory. The Seahawks also got almost every single possible bounce against Dallas and Atlanta — two teams that finished with more yards and either out-gained or matched Seattle's yards per play output.
Seattle has averaged only 0.1 yards per play more than what it's allowed this season. Regression also looms in the turnover and fourth down departments.
Plus, this sets up as a favorable situational spot for Miami, which gets extra prep time (with a staff I rate highly) after a Thursday night victory. Meanwhile, Seattle comes across the country for a date with the lowly Dolphins. You could potentially get a flat effort early from the Hawks.
I'd look under this high number between two snails, but I'm not sure I trust either defense enough.
Unfortunately, this line has moved to 6 across the market, but look to grab the Dolphins if it ticks back to +7 before kickoff.
The Bet: Dolphins +7 or better
[Compare real-time Dolphins-Seahawks odds now]
Falcons +7 at Packers
Kickoff: 8:15 p.m. ET on Monday
I make the Packers under 6-point favorites, so I clearly jumped on Atlanta at +7.5. Check out my Monday Night Football preview for additional thoughts once that's live on Sunday night.
The Bet: Falcons +7 or better
[Bet Falcons +7 at BetMGM and get a $500 INSTANT deposit match]
---
More Sell High Candidates
I came into the week looking to fade two other undefeated teams: The Chicago Bears and Buffalo Bills.
Bears +2.5 vs. Colts
The Bears have somehow started 3-0 after three semi-miraculous wins — all over winless teams — all by four points. I haven't even budged my initial Chicago power rating rom the beginning of the season. I don't think Nick Foles presents any sort of significant upgrade at quarterback over Mitchell Trubisky, and the Colts' dominant offensive line can neutralize the Bears' defensive font in this week's matchup.
That said, I think the Bears +2.5 is pretty spot on. Therefore, I may look for a spot to get in on the Colts live.
The Bet: Pass
Bills -3.5 at Raiders
The Bills also come into Week 4 with a perfect 3-0 record, but it's a bit of a mirage. Yes, Josh Allen has played well, but they have wins over the Jets and Dolphins in addition to a very fortunate last-second win over the Rams.
Buffalo's rush defense also remains a liability. The Bills rank 26th in rush defense DVOA as a result of a defensive front seven that ranks 24th in Adjusted Line Yards and 26th in Second Level Rank. Now, the Bills will go up against one of the NFL's best offensive lines and one of a premier back in Josh Jacobs.
Vegas is fully capable of exploiting a vulnerable defensive interior.
Even without the likely services of both of their promising rookie receivers Henry Ruggs (doubtful) and Bryan Edwards (out), I still see value in the banged up Raiders at +3 or better.
The Bet: Raiders +3.5
[Bet Raiders +3.5 at BetMGM and get a $500 INSTANT deposit match]
My Favorite Week 4 NFL Spread
The Bet: Patriots +7 at Chiefs [Bet Now]
Kickoff: 4:25 p.m. ET on Sunday
I have to fade the Chiefs after their dominant win over the Ravens on Monday Night Football, coming back home to play on a short week against the Patriots.
I'll gladly ride with Bill Belichick as a 7-point dog, which almost feels like an auto play at this point for the legendary coach, who boasts an absurd 23-10-2 (69.7%) ATS record as an underdog since 2003, covering by an average margin of more than SEVEN POINTS PER GAME. That includes an 11-5 straight up record the past 15 times he's been an underdog over the past decade. He's also 7-1 ATS when catching 4.5 or more points since 2003.
The Ravens simply lost the game script after falling behind early to the Chiefs last week and kept insisting on blitzing the house against Patrick Mahomes — the last thing you want to do against the best quarterback in the NFL. The Ravens had their chances in the passing game, missing a few wide open potential touchdowns, but they really lost the game when they went down early, which led to them abandoning the ground game against Kansas City's horrendous run defense.
I trust Belichick to come up with a sound defensive game plan (not filled with blitzing everybody) that can rely on a secondary with as much talent as Baltimore. Meanwhile, New England should control the clock by moving the ball with ease on the ground against a Chiefs defense that ranks 30th against the run DVOA.
The loss of center David Andrews (IR) didn't cause as many issues as I had feared for New England last week with Joe Thuney filling in admirably. Cam Newton — who has had plenty of ATS success as an underdog in his career (33-23) — will also have a couple promising opportunities down the field against a banged up KC secondary that we saw Lamar Jackson just miss on Monday.
[Bet Patriots +7 at DraftKings and get a $1,000 bonus, including a $500 risk-free bet]
My Favorite Week 4 NFL Total
The Bet: Chargers-Bucs Under 43.5 [Bet Now]
Kickoff: 1 p.m. ET on Sunday
Betting unders has been a fool's errand so far, but the Chargers have been the exception to the rule: My favorite preseason target for unders, it's gone 3-0 for the Chargers thus far.
Tampa Bay's defense is the real deal under Todd Bowles, while the offense is still growing. Star wideout Chris Godwin won't suit up on Sunday, and slot Scotty Miller is questionable. That will help a Chargers defense that recently lost cornerback Chris Harris Jr. to injury. Their defense has suffered some unfortunate injuries across the board but can still battle here.
On the other side of the ball, the Chargers are playing faster than I expected, but this isn't a great matchup for them. The Bucs' defense can defend the run, get pressure against a weak and wounded offensive line and take away Austin Ekeler in the passing game at an elite level.
Rookie Just Herbert could really struggle here in his first road start — although I did have to take the Chargers +7.5 based on my number. Getting a touchdown or more will go a long way in this game if it plays out how I expect.
[Bet the Under 43.5 at BetMGM and get a $500 INSTANT deposit match]
The Rest of the Week 4 NFL Slate
Here are a few thoughts on the five games I didn't touch on above. You can check out our power ratings and projections for every game here.
Ravens -14 at Football Team: Washington's elite defensive line could keep Baltimore's rushing attack in check, especially if All-Pro tackle Ronnie Stanley doesn't play. However, Washington has some key injuries up front and Lamar Jackson should get plenty of open opportunities deep against Washington's vulnerable back seven. Baltimore's relentless blitzing should also cause a world of problems for Dwayne Haskins.
Jaguars at Bengals -3: Gross. I do make this closer to a coin flip, so it's Jags +3 or pass.
Giants at Rams -13: This line is a tad high, but I don't want to get in front of this new-look Rams offense — Sean McVay has them firing on all cylinders. I'm not interested in taking Los Angeles on with a New York defense that doesn't get pressure and now has injuries in an already poor secondary.
Cardinals -3.5 at Panthers: This line looks spot on. Keep your eye on DeAndre Hopkins' status with our injury tracker.
Saints -4.5 at Lions: New Orleans may benefit from the return of Michael Thomas and Marcus Davenport, but I still see value in the finally healthy home dog Lions. The Saints should have real concerns about Drew Brees. Father Time is undefeated.
---
Stuckey's Week 4 NFL Picks
These are the lines I'm targeting for Sunday:
Lions +4.5 (-110) or better
Raiders +3 (-110) or better
Dolphins +7 (-125) or better
Falcons +7 (-110) or better
Chargers +7 (-110) or better
Patriots +7 (-110) or better
Bucs-Chargers Under 43.5 (-110) or better
How would you rate this article?