NFL Picks For Falcons vs. Panthers: How We're Betting the Thursday Night Football Spread & Total
Credit:
Scott Cunningham/Getty Images. Pictured: Julio Jones
NFL Picks for Falcons vs. Panthers
One of these teams has a quarterback playing really well, a handful of dynamic wide receivers making big plays, multiple backs making plays out of the backfield, and a really strong all around passing game.
The other team is the Atlanta Falcons.
How many times do we need to see these Falcons to understand that they just aren't very good? The Panthers are 2-point home favorites, and since oddsmakers are still giving the 3-point home-field advantage, that means they're marking Atlanta as the better team. Are you kidding me? What league have they been watching?
The Panthers are a very solid, average, middle-of-the-road football team. They beat the Cardinals and the Chargers. They played the Saints and Bears within one score over the past two weeks. Heck, they just beat these Falcons earlier this month, and that was in Atlanta.
The Panthers have been competitive in every game, and they have a top-10 offense by Football Outsiders' DVOA.
I know you think the Falcons offense is good, but the numbers say otherwise: They're a bottom-10 offense by DVOA. They rank even worse on defense, and they have the third-worst pass defense in the NFL. I know you think Atlanta is a pretty good team that just can't close games, but there's a reason the Falcons can't get the win — it's because they're not really good at anything in particular.
Carolina is just better. The Panthers are better at almost everything right now, and they're better enough that they still need to win and stay in the fringe of the playoff hunt, too.
I'm gladly grabbing the Panthers at anything under a field goal.
[Bet now at PointsBet and get $125 if the Panthers gain a yard]
Tropical storm Zeta is making its presence felt in the Southeast, and it may have an effect on this game: Wind gusts could be as high as 12 mph after kickoff with intermittent rain.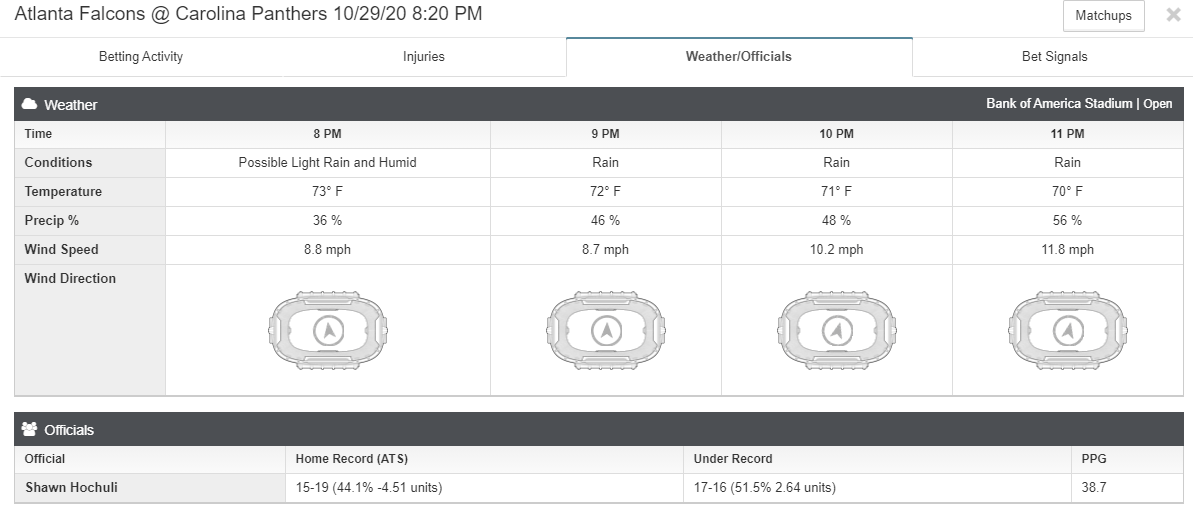 The weather can certainly impact the passing game for both teams, but the Falcons could be more adversely affected. For one, they're a dome team and they'll be facing a Panthers' secondary ranked third with 6.2 opponent yards per pass attempt. Even if the Falcons look to keep the ball on the ground, they've managed only 3.8 yards per rush, which is 28th in the league.
But the weather is just one factor that could lead to fewer points in this matchup. There are other elements to consider are the fact that both teams are in the bottom-half of the league in red-zone scoring percentage — Atlanta at 58.3% and Carolina at 52% — and pace, as Carolina averages 29.34 seconds per play, which is 29th in the league per Football Outsiders.
Look for the Panthers to continue with their slower-paced offense especially with Christian McCaffrey set to miss his sixth consecutive game. As for the Falcons, All-Pro wide receiver Julio Jones is expected to play but was listed with a hip injury on the practice report. And with this being a short week, it's tough to expect him to be at full strength.
These teams are obviously familiar with one another with this being a divisional game: Per our Bet Labs data, the under is 11-3-1 in their meetings. And when the game is played in Carolina, the under is 12-3-2. Lastly, NFC South divisional games played on Thursday are 8-3-1 to the under for 4.71 units.
I wouldn't take this below 51 considering that it's a key number in the NFL.
[Bet now at BetMGM and win $100 if there's a touchdown scored]
How would you rate this article?