4 Ways To Bet the AFC Championship: Spread, Total & Prop Picks For Chiefs vs. Bills
Credit:
Matthew Stockman/Getty Images. Pictured: Devin Singletary, Stefon Diggs
NFL betting markets are generally extremely efficient at this time of year as far as sides and totals are concerned, so the largest edges usually are usually found in player props.
Below are the four props I see the biggest edge on for the Conference Championship slate as well as the spreads and totals I'm betting. I may end up being on additional props leading up to kickoff, so if you're looking for more action be sure to follow me in the Action Network App.
Editor's note: Bills-Chiefs picks have been rotated above Bucs-Packers.
Bills +3; Over 54
I backed the Chiefs -6 in their eventual 26-16 win over the Bills in Week 6, but I don't expect a repeat of that result from a side nor a total perspective.
From a big-picture perspective, the Bills are now the better team in every sense but record: They're No. 4 in Football Outsiders' overall DVOA, while the Chiefs are sixth. The gap widens when we look only at weighted DVOA (which weights resent games more heavily), as Buffalo is No. 1 while Kansas City remains No. 6. The Chiefs have a small edge over the Bills in weighted DVOA on offense (third vs. fifth), but the Bills have sizable edges on defense (eighth vs. 24th) and special teams (second vs. 11th).
More importantly, the Chiefs are struggling mightily with situational football.
The Chefs rank dead last on defense in red-zone conversion rate and red-zone DVOA, while the Bills rank 13th and ninth. The Chiefs also finished dead last in short yardage on both sides of the ball, which is an edge you don't want to give away to the Bills, who don't put much emphasis on the run on either side of the ball but have been good in short-yardage defense (seventh) and respectable on offense (17th). And while both teams are top-five in DVOA on third/fourth-down offense, the Bills are also top-five on defense while the Chiefs rank 19th.
Ultimately, it's Kansas City's defensive drop-off that is most concerning: It was sixth in pass DVOA in the first half of the season but 29th in the second half. And while the defense was set up well to defend a Browns offense featuring slot receiver Jarvis Landry as its biggest threat, the Chiefs could struggle against the Bills' deeper receiving corps.
The Chiefs have been playing Tyrann Mathieu at deep safety much more over the second half of the season in place of the struggling Juan Thornhill, but used Mathieu closer to the line of scrimmage and in the slot against Landry last week. Mathieu gave up -4 yards on six targets with a pick overall, and Landry finished with 20 yards and a touchdown on 10 targets. But Kansas City's cornerbacks allowed a catch on 15-of-18 targets for 153 yards and a touchdown.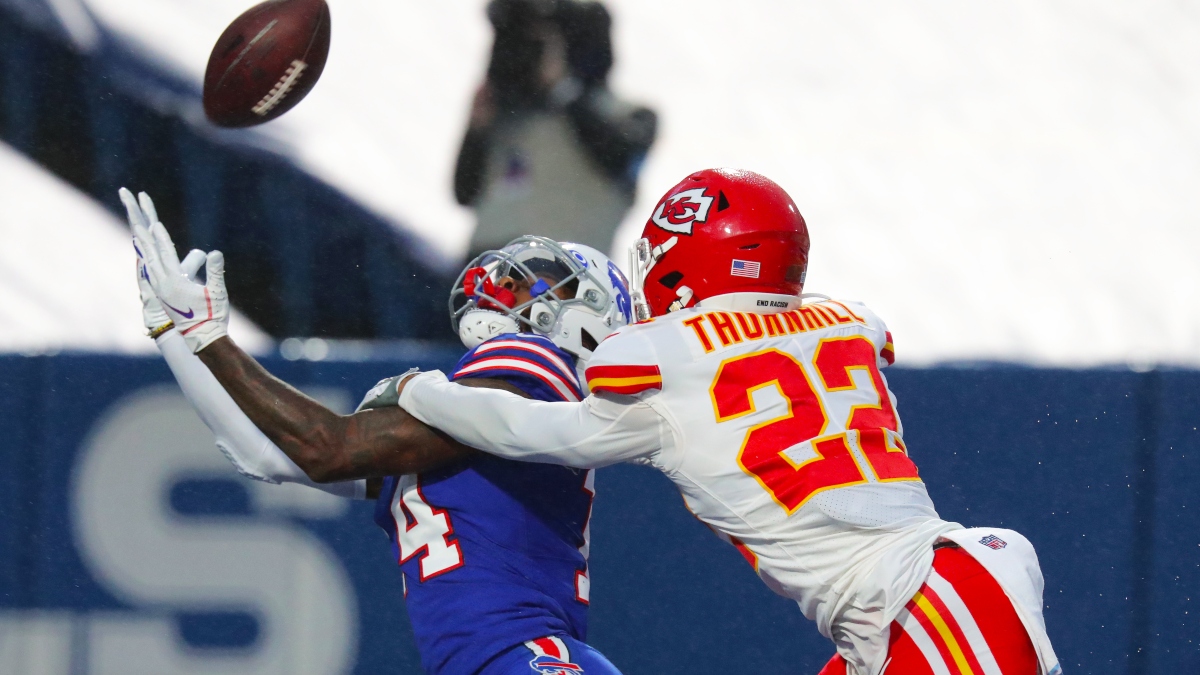 Chiefs defensive coordinator Steve Spagnuolo has done a good job of scheming them help all season — they allowed the second-fewest yards to wide receivers during the regular season — mostly using two-deep shells. But if he plays two-deep man, he exposes himself to the threat of Josh Allen running, and the Bills can use four-wide looks to carve up the Chiefs in the vertical seams if they leave their cornerbacks close to the line and play two-deep zone.
On the other side of the ball, Buffalo blitzed Mahomes only once on 34 dropbacks (2.9%) in that first matchup. And despite his toe injury, the Bills will likely employ a similar game-plan rather than the blitz-heavy approach they used against the Ravens (30.0%). Buffalo improved from 16th in defensive DVOA over the first half of the season to seventh over the second half thanks to some schematic changes mostly made possible by the return of linebacker Matt Milano, who did not play due to injury in the Week 6 matchup.
While I wouldn't expect Buffalo to have enough success to keep this game under the total on the basis of its defense, the Bills are now capable of getting a key stop or two that can allow them to keep them in striking distance to win what should be a coin-flip game that should clear the total. I like the over up to 55 points.


Darrel Williams Under 36.5 Rush Yards (-105)
Williams received 13-of-15 backfield carries with Clyde Edwards-Helaire out last week, but Edwards-Helaire is slated to return this week and has averaged a 69% share of backfield carries when active (excluding Week 13, when he was active but did not play due to injury).
The Chiefs average 19.5 backfield carries per game this season, meaning the most likely outcome for Williams is 5-8 carries. He averages 4.3 yards per carry this season and 3.8 for his career, so his yardage total is likely to top out in the mid-30s barring another Edwards-Helaire injury.
You can bet this line at FanDuel as of writing.
Limit: Under 35.5 (-120)
Devin Singletary Over 40.5 Rush Yards (-115)
In 14 games without Zack Moss (out, knee), Bills running backs are averaging 80.1 rushing yards per game with a median of 75.5. Singletary played 85.7% of the snaps and handled 81.8% of the backfield carries last week, which puts his true projected median closer to 60 yards.
The market is slightly overweighting Buffalo's average of 10.5 backfield carries this postseason, but that came against two top-12 run defenses in terms of DVOA in the Colts (ninth) and Ravens (12th), whereas the Chiefs rank 31st.
This is available at FanDuel as of early Sunday afternoon.
Limit: Over 49.5 (-120)
Buccaneers +3.5; Over 51.5
Can the Packers beat a team by more than a field goal that crushed them, 38-10, back in Week 6? Perhaps, but I'm willing to pay to find out.
The Bucs are the better team in terms of Football Outsiders' overall DVOA, and they are top-five on offense and defense, leaving the Packers' 17th-ranked defense as the weakest unit in this game (outside of special teams, which are both bottom-10).
The Bucs showed the ability to limit the Packers offense, holding them to their lowest point total (10) and total yardage output of the season (201). Keyed by cornerback Carlton Davis, Tampa Bay has also fared better against No. 1 wide receivers (sixth in DVOA) than even Green Bay's Divisional Round opponent (Los Angeles, 13th in DVOA). The Bucs proved their mettle by holding Michael Thomas catch-less on four targets and 28 pass routes last week while Adams posted a 9/66/1 line on 10 targets and 33 routes against Jalen Ramsey and Co.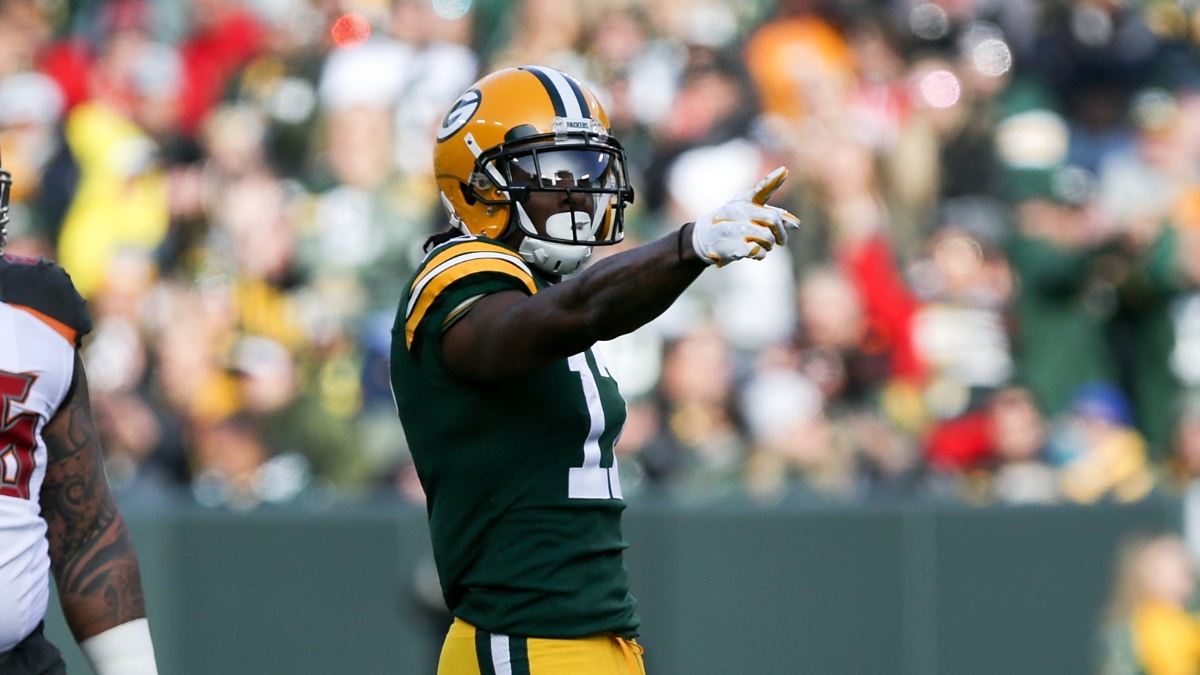 Despite the Bucs defense being able to do what the Rams could not, the more compelling reason for the Bucs being able to hang close in this game is their offense. The Packers ranked No. 1 in scoring offense during the regular season (31.8 per game) and have scored 30 or more points in 13-of-17 games, so the Bucs' ability to pile up points (30.8 per game, third) will be crucial.
Green Bay also tends to start fast, leading the NFL in first-half scoring (18.7 per game), but Tampa Bay is the league's second-highest scoring offense in the second half (15.4 per game).
Even without Antonio Brown (out, knee), the Bucs posses enough pass-catching weapons to force Packers defensive coordinator Mike Pettine to keep extra defensive backs on the field. That's his preferred scheme but wasn't always the case against the Rams last week (or the Titans in the Packers' impressive 40-14 win). This should open Tampa Bay's run game, which posted 35 carries for 127 yards and a touchdown against New Orleans' second-ranked run defense last week.
On the flip side, the Bucs won't be able to play as much press man as they did against Drew Brees' downfield-averse throwing arm. They'll have to revert to their signature zone blitz scheme with more off coverage, so the defense is unlikely to produce another four-turnover 20-points allowed showing like they did against the Saints. The Packers torched a somewhat similar Rams scheme (albeit with less blitzing) for 507 yards and 32 points last week, so all in all, there should be no shortage of points in this game despite the cold weather at Lambeau Field.
For the reasons outlined above, I like the Bucs and the over here. While winners of the regular-season matchup have gone 55-39 in playoff rematches since 2002, I don't think Tampa Bay will be able to win with defense this time around. However, the Saints have been the only team all year to beat the Bucs by more than a field goal all season, and only nine of Tom Brady's 43 postseason starts (20.9%) have ended with his team losing by more than three points. Meanwhile, Rodgers has come out with a win of more than three in only 11-of-20 playoff starts (55.0%), and for what it's worth, has lost his last three conference championships by an average score of 36.3-21.0 (though none came at Lambeau).
Limits: Buccaneers +3; Over 53.5
Equanimeous St. Brown Under 1.5 Receptions (-215)
St. Brown has caught more than one pass in a game just once all season in 13 appearances. He ran 11 routes against the Rams in the Divisional Round and averages 8.6 routes run per game this season, according to Pro Football Focus, which isn't enough to project him anywhere near two catches given his career average of 0.08 receptions per route run.
At 11 routes, he'd project for 0.88 receptions. And at his season average of 8.6 routes run, he would project for 0.69 catches. You can currently bet this line at DraftKings.
Limit: Under 1.5 (-900)
Cameron Brate Over 2.5 Receptions (-140)
Brate has caught three or more passes in six of his past nine games, including four grabs in each of the Bucs' two postseason contests. He's run 38 postseason routes to Rob Gronkowski's 37, and with Antonio Brown (knee) out, we could see even more two-tight end sets from the Bucs.
This is currently available at DraftKings.
Limit: Over 2.5 (-200)
How would you rate this article?