How the Buffalo Bills Were Built Into Super Bowl Contenders (And Why They're Built To Last)
Credit:
Getty Images. Pictured: Stefon Diggs, Josh Allen, Sean McDermott
The Bills ended their 17-year playoff drought in Sean McDermott's first season as head coach.
Now they're on the cusp of their first Super Bowl appearance in 27 years. But how exactly did they get here?
Senior NFL analyst Chris Raybon examines how Buffalo was built into a contender -- and why the team is built to last.
Maybe we should have known when Sean McDermott dragged Buffalo to the playoffs in his first year despite a -57 point differential that the Bills would become a force to be reckoned with.
On the eve of the AFC Championship against the Chiefs, the Bills stand No. 1 in Football Outsiders' weighted overall DVOA, which weights recent games more heavily. That means as the season has worn on, they have essentially become best team in football.
Though the Bills have one of the better draft track records over the past few years — Tre'Davious White, Josh Allen, Matt Milano, Dion Dawkins, Devin Singletary, etc. — what sticks out most in evaluating their success since head coach Sean McDermott and general manager Brandon Beane took over in 2017 is their ability to accurately self-evaluate their strengths and weakness.
Let's take a look at their rise.
How the Bills Built This Offense
McDermott and Beane not getting deluded by a 9-7 finish in 2017, Buffalo's first winning season in three years, was key to their long-term success. Despite their record, the Bills' point differential went from +21 in 2016 to -57 in 2017 — 78-point drop, and it would have been silly (but expected) for them to pat themselves on the back and attempt to build on their nine wins instead of rebuild.
McDermott looked like the world's biggest idiot for benching starting quarterback Tyrod Taylor for rookie Nathan Peterman in Week 11 of 2017, which resulted in five first-half interceptions and a 54-24 loss. But McDermott has to be given credit for seeing that despite moderate success as the Bills starter (a 22-20 record), Taylor was not the long-term answer. Neither was offensive coordinator Rick Dennison, who was fired after just one year.
Brian Daboll was hired as the new offensive coordinator in 2018, then Josh Allen was drafted with the seventh overall pick. In Year 1, Allen looked like nothing but a bigger, stronger but less accurate version of Taylor who scrambled even more. The offense dropped from 22nd in points per game 18.9) to 30th (16.8), but this time McDermott and Beane didn't give up on the struggling leaders of the offense.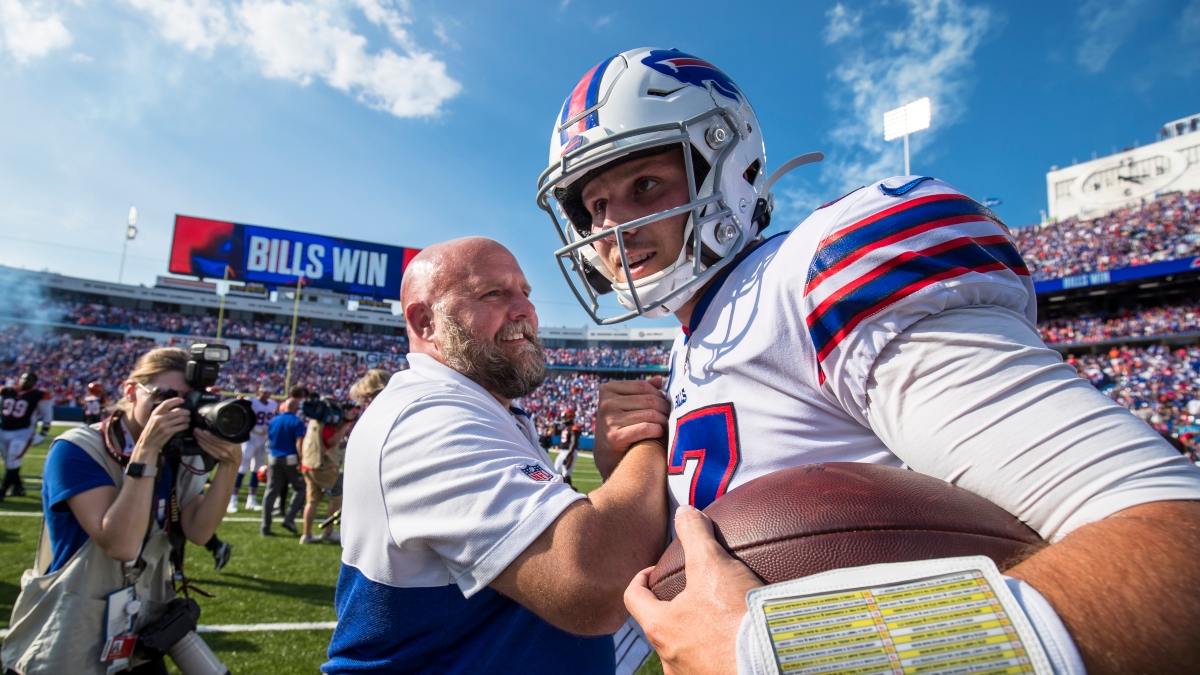 Instead, they sought to improve the scheme and the players around them. The Bills made what seemed like questionable decisions at the time to sign free-agent wide receivers John Brown and Cole Beasley.
While Brown was a deep threat, it didn't change the fact that he had routinely posted one of the lowest catch rates in the league, which didn't seem like a good match for Allen's then-inaccurate ways — especially since undrafted rookie receiver Robert Foster had posted a 61.4% catch rate on a 20.7-yard average depth of target the year before and seemed primed to take a second-year leap. And if the Bills were going to roll with deep threats Brown and Foster on the outside, why did they need Beasley when Zay Jones could play inside? Especially since Jones was coming off a major Year 2 leap, posting 56 catches for 652 yards and a team-leading seven touchdowns and almost fooling the world into believing he was an NFL-caliber wide receiver.
Demoting what looked like breakout performers on the rise for middling veteran free agents and questionable fits didn't seem like the best way to develop a young quarterback, but of course, we now know that the moves worked out brilliantly: Brown (72/1,060/6) and Beasley (67/778/6) have posted career years while accounting for nearly half of the team's targets (45.6%).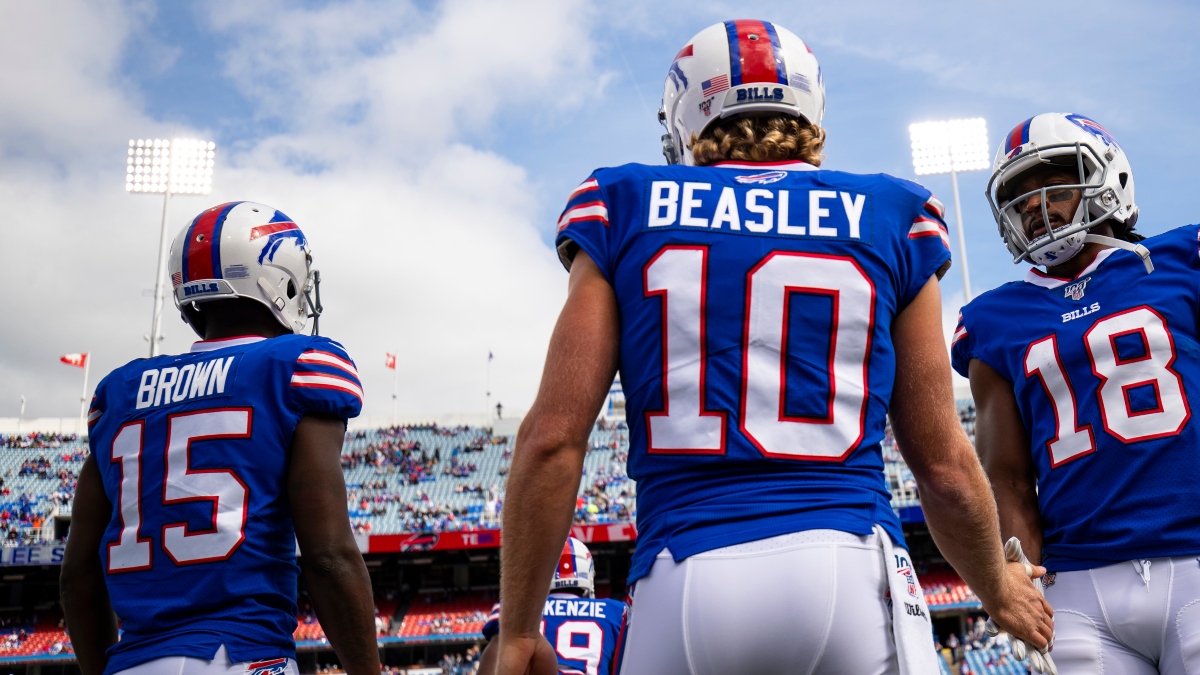 Despite their success in the free-agent market with Brown and Beasley, McDermott and Beane didn't get overconfident and go back to the well to complete their receiving corps the next offseason. Nor did they get fooled into thinking they didn't need more of a true No. 1 target for Allen, so they went out and traded for Stefon Diggs, giving up a boatload of picks — 2020 first-, fifth- and sixth-rounders and a 2021 fourth — that now look like a pittance after Diggs led the NFL in catches (127) and yards (1,535) this season.
Another sharp but often overlooked decision: Despite Diggs leading the league in deep receiving in 2019 — 635 yards on passes traveling 20-plus yards in the air, according to Pro Football Focus — and Allen's strong arm, they decided that Diggs would have the most value to the offense as a short-to-intermediate receiver, cutting his deep targets nearly in half (29 to 16) while letting Brown and rookie Gabriel Davis (another quality draft pick) handle the deep routes.
That all laid the groundwork for Allen and the offense to score 31.3 points per game this season, the second-best in the league. Accuracy concerns are a thing of the past, as Allen's 69.2% completion rate was one of the top 25 in NFL history.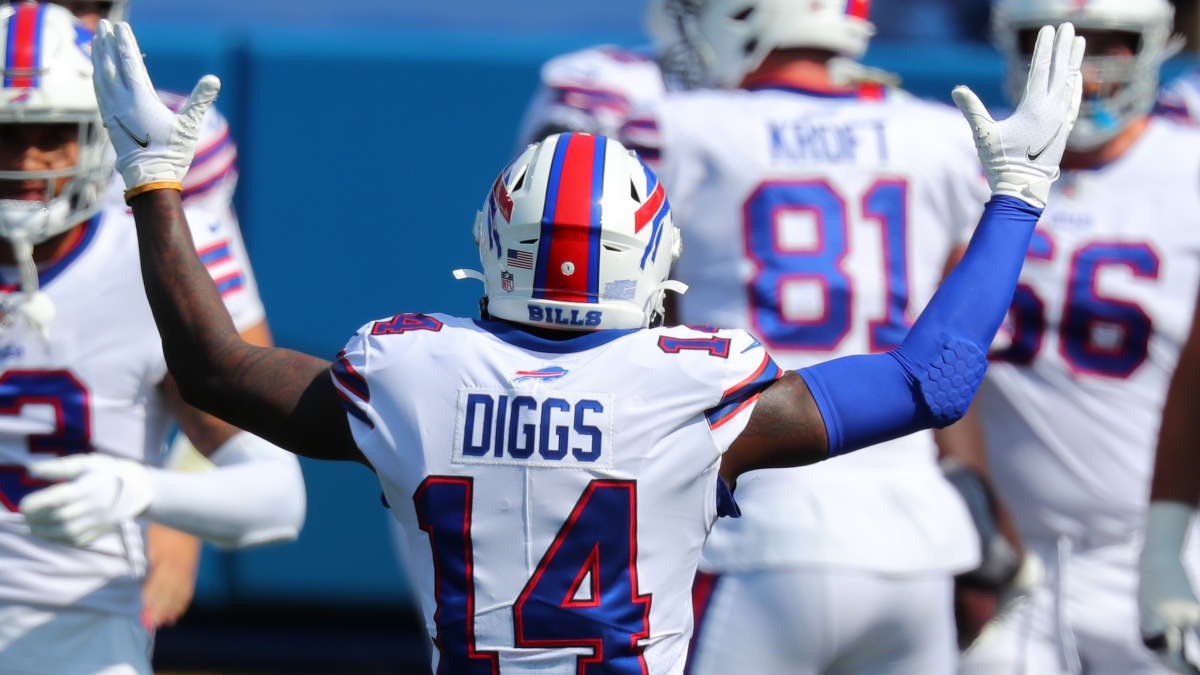 Allen has also began to master his pocket presence and not rely on running, which he ran less than ever this season.
He was effective at getting the ball out quick when necessary, taking the third-lowest rate of sacks (10.7%) and throwing the third-most touchdowns (12) while under pressure. He also led the league in completion rate on throws in fewer than 2.5 seconds (84.7%). But he was also lethal when buying time, throwing an NFL-high 23 touchdowns on passes that he held the ball for 2.5 seconds or longer.
How Their Defense Evolved Over 2020
Defense has always been McDermott's calling card, but after finishing in the top seven in DVOA in 2018 and 2019, McDermott's and Leslie Frazier's unit was middling for the early part of the year. They did bounce back, improving from 16th in DVOA over the first half of the season to seventh over the second half.
Though some of that improvement was simply due to the return of linebacker Matt Milano, McDermott's ability to adjust on the fly also came into play. For instance, he realized his attempts to manufacture pressure were not working and cut his safety blitzes nearly in half from 6.3 to 3.3, allowing safeties Micah Hyde and Jordan Poyer to focus on keeping things in front of them.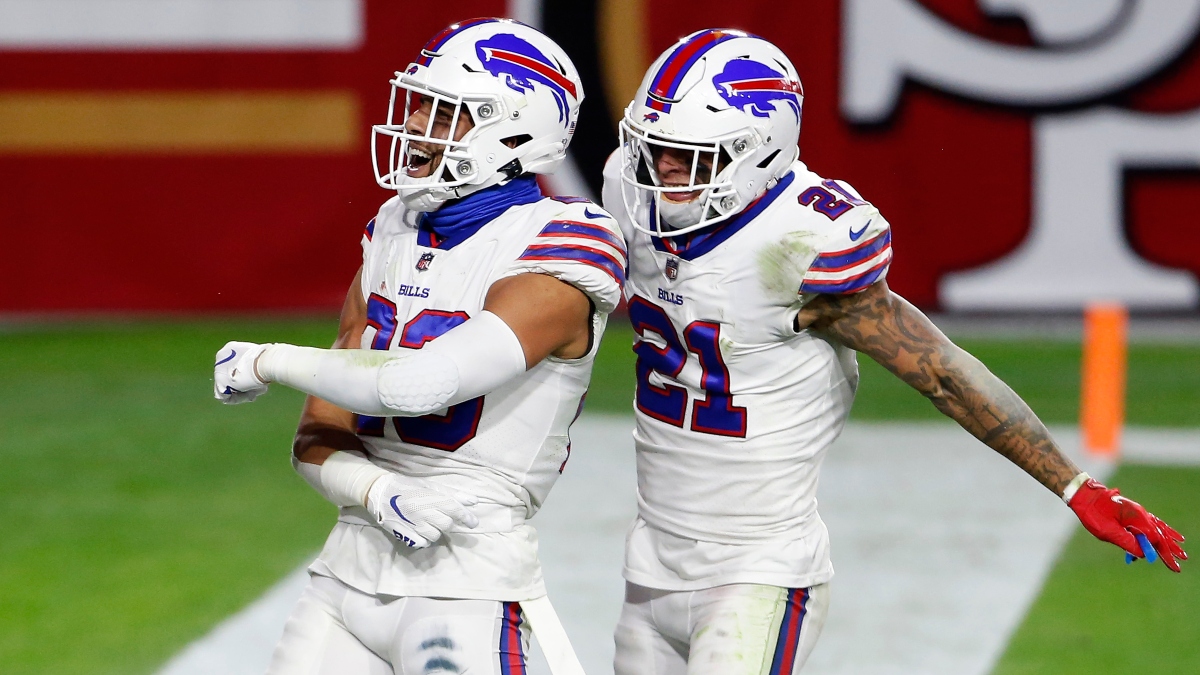 McDermott's subtle shifts in scheme after the bye resulted in almost every member of the defense playing better, both in coverage and against the run. Six of their most heavily-used players in coverage saw major decreases in yards per target allowed post-bye:
LB Tremaine Edmunds: 12.1 pre-bye, 6.3 post-bye (-5.8 difference)
CB Tre'Davious White: 10.7 pre, 6.8 post (-3.9 diff)
LB A.J. Klein: 8.1 pre, 4.7 post (-3.4 diff)
CB Josh Norman: 8.4 pre, 5.5 post (-2.9 diff)
CB Taron Johnson: 8.6 pre, 6.5 post (-2.1 diff)
S Micah Hyde: 6.1, 4.8 post (-1.3 diff)
Eight members of the front seven — A.J. Klein, Quinton Jefferson, Ed Oliver, Tremaine Edmunds, Harrison Phillips, Vernon Butler, Jerry Hughes and Trent Murphy — saw their PFF run defense grades increase by 20% or more, while two more elevated their play by 6-18% (Mario Addison, Justin Zimmer and A.J. Epenesa).
The shifts also resulted in more pressures for Jerry Hughes, who went from 3.3 per game pre-bye to 4.1 post-bye.
How the Bills Strengthened Special Teams
The Bills have also made massive strides on special teams in the second year under coordinator Heath Farwell, jumping from 21st to fourth in DVOA. The coverage teams have been excellent, ranking first on kickoff expected points added (EPA) and ninth on punt EPA. That improvement is a credit to Farwell, but also to Beane for finding excellent specialists.
Punter Corey Bojorquez was a 2018 undrafted free agent find who finished fourth in gross punting average (50.8), fifth in net average (44.0), fourth in percentage of punts downed inside the 20-yard line (63.4%), and sixth in average hangtime (4.45 seconds) during the regular season.
Despite finding a diamond in the rough in the undrafted free-agent market at one specialist spot in 2018, the Bills didn't hesitate to spend draft capital at the other two years later, selecting kicker Tyler Bass out of Georgia Southern in the sixth round. Bass hasn't always been perfect — he's missed three of his nine kicks in the 30-39 yard range — but he has given them a reliable kicker from log range, nailing 5-of-7 from 50 or more yards. He's also boomed the third-most touchbacks (71) on the seventh-most average hangtime (4.037 seconds) while finishing third in average starting field position allowed (24.1 yard line).
Future Is Bright In Buffalo (So Is the Present)
Given the success that McDermott and Beane have had in the draft and free agency, while self-evaluating and adjusting on the fly, and the development of Allen, it's not crazy to think that the Bills can continue to replicate their success.
But getting to the AFC Championship Game while Allen is still on his rookie contract (which expires after next year) is a big win. It would be silly to assume McDermott and Beane will have as much success roster building once they're saddled with the huge salary cap hit that Allen now deserves.
With that being said, the keys to being a model NFL franchise such as the Chiefs, Steelers or Packers is the quarterback and the coach — and the Bills have both of those spots well covered.
How would you rate this article?