NFL Playoff Odds & Picks For Ravens vs. Titans: Bet On Lamar Jackson & Co. To Exorcise Their Postseason Demons
Credit:
Getty Images. Pictured: Lamar Jackson, Ryan Tannehill
NFL Odds: Ravens vs. Titans
Ravens Odds

-3

Titans Odds

+3

Total

54.5

Time

1:05 p.m. ET

Day

Sunday

Odds as of Friday and via PointsBet, where you can bet $20 on this spread or moneyline to win $125 if the team you pick covers.
The Titans defeated the Ravens, 28-12, as a 10-point road underdogs in the Divisional Round of last year's playoffs. That ruined a magical regular season that saw Lamar Jackson — who is 0-2 in his postseason career — named the MVP while leading his team to 12 straight wins en route to a 14-2 record.
This season, the Ravens hosted the Titans in Week 11 as 6-point home favorites with hopes to avenge their playoff loss, only to blow a 21-10 third-quarter lead to lose, 30-24, on a 29-yard Derrick Henry touchdown in overtime.
That loss to the Titans was the second of three straight for the Ravens midseason, sending them to a 6-5 record. But five straight wins later, and with some help from other teams along the way, the Ravens found their way in.
The Titans, meanwhile, clinched the AFC South with a thrilling 41-38 win over the Texans in Week 17.
Now it's the Ravens on the road, with oddsmakers installing them as 3-point favorites. Can Jackson win his first playoff game and finally beat the Titans, or will Tennessee continue to have its way in this matchup?
Baltimore Ravens
Five weeks ago, the Ravens looked dead in the water. After an upset loss against the Patriots, a blown lead vs. the Titans and a COVID-19 outbreak, Baltimore had no choice but to win out the make the playoffs.
The Ravens were clearly up for the challenge.
Over the past five weeks, Baltimore beat the teams it was supposed to. Jackson was on a tear during that stretch, completing 67% of his passes for 809 yards and 11 touchdowns to just three interceptions while rushing for 430 yards and four touchdowns.
During the past five weeks the Ravens have averaged 37 points per game, scoring 34, 47, 40, 27 and 38 against the Cowboys, Browns, Jaguars, Giants and Bengals — teams that rank 21st, 24th, 31st, 23rd and 27th in Football Outsiders' defensive DVOA.
Although some will see this as a negative strike against the Ravens, it shows that they can dominate inferior competition. It's also key because the Titans have struggled mightily on defense, ranking 29th in defensive DVOA, including 30th against the pass and 15th against the run.
In last year's playoff loss, the Ravens' offense put up 530 yards of offense, beating the Titans in first downs, yards per play and time of possession, running 92 plays at 6.4 yards per rush with a 59% success rate (per Sharp Football Stats). They lost that game because Jackson committed three turnovers and they failed to convert four times on fourth down.
In their Week 11 meeting, Baltimore largely ran a conservative game plan despite Tennessee's porous pass defense. The Ravens passed just twice on first down in the first half and had 36 yards on 12 carries. They came out in the second half passing more and subsequently were up, 21-10, in the third quarter before a Jackson interception changed the momentum of the game.
In these past two games against the Titans, Baltimore has punted just three times and went 2-of-8 in the red zone, numbers that are due to regress. Nonetheless, it's clear the Ravens' offense can thrive against the Titans.
The Ravens' defense is playing its best since that Week 11 matchup. This unit is second in points allowed while giving up 18.6 points per game. It ranks ninth in defensive DVOA, sixth in Expected Points Added (EPA) per play play and eighth in total success rate. However, that comes against the 26th-ranked schedule in terms of opposing offenses.
Baltimore has also struggled to tackle this season, which will be a problem against Henry. The Ravens have missed the second-most tackles in the league this season and are 28th in tackling efficiency. It's worth noting that injuries and the COVID-19 outbreak left them reeling the week after facing the Titans.
Now, the Ravens are healthier on defense and will have Calais Campbell — their best run stopper — for this game after he missed the Week 11 matchup. They also didn't have defensive tackle Brandon Williams then, and with cornerback Jimmy Smith returning to the lineup, we should see a different Ravens defense from these teams' first game.
If the Ravens can slow down this Titans rushing attack, their defense should find themselves in a favorable position given Tennessee's tendency to establish Henry on the ground at all costs.
Tennessee Titans
Since Ryan Tannehill took over at quarterback for Marcus Mariota last year, the Titans' offense has been a force to be reckoned with. This season, the Titans are averaging the 30.8 points per game and are 12-3-1 to the over.
Tannehill has been one of the best quarterbacks in the league this season by nearly every metric, completing 65.6% of his passes for 3,636 yards with 33 touchdowns to just 11 interceptions. He ranks sixth in DVOA, fourth in ESPN's Total QBR, third in EPA/play and success rate.
Tannehill's biggest weapon has been second-year receiver A.J. Brown, who caught 70 balls this season for 1,075 yards and 11 touchdowns.
Despite that, this offense is entirely based around Henry, who became the eighth running back in NFL history to rush for 2,000 yards in a season thanks to his 34-carry, 250-yard performance in Week 17.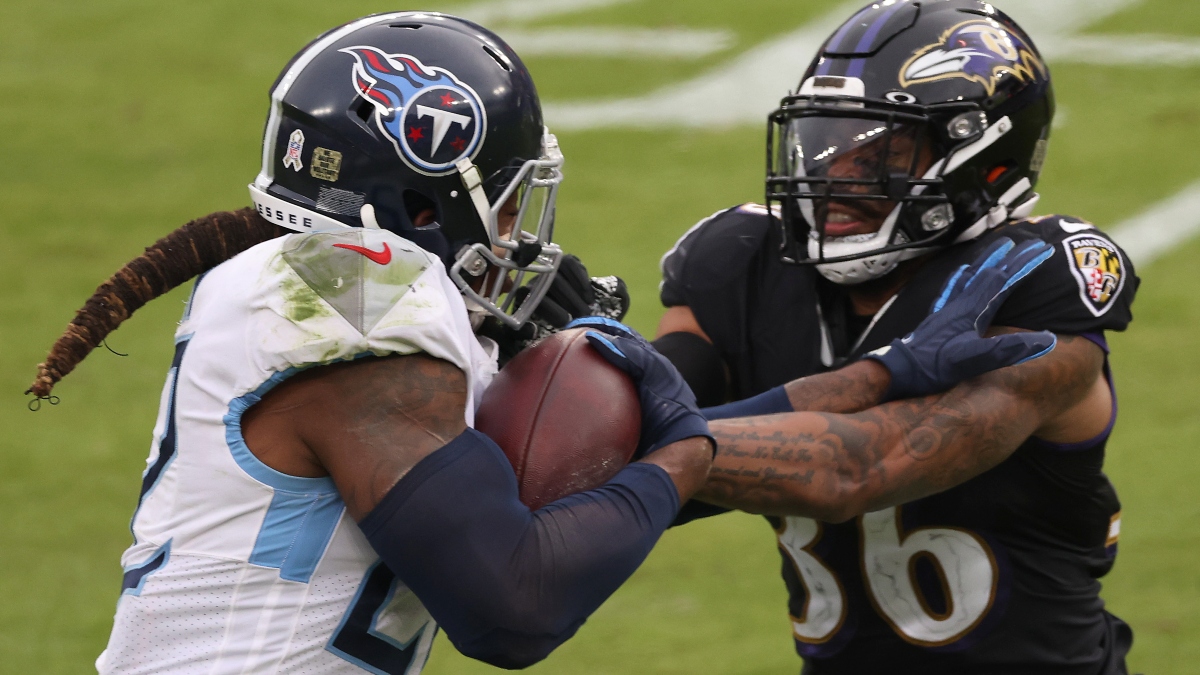 As dominant as Henry is, offensive coordinator Arthur Smith's dependence on the running back might be the thing that actually dooms this team.
One of the Titans' biggest issues is their run vs. pass frequency on first downs. The Titans have the league's highest run vs. pass frequency (65% vs. 35%) on first down, which makes this offense predictable, often leading to second- or third-and long.
As good as this offense is, it's tough pill to swallow when you realize that they could actually be better if they broke tendency.
In their Week 11 matchup, they ran on early downs 67% of the time for just a 33% success rate and -0.06 EPA/play. When they threw on early downs, they had a 68% success rate with a +0.54 EPA/play. When the Titans elected to drop back on first down, Tannehill threw for 16 yards per play. Nonetheless, Smith hasn't shown anything that suggests he'll break tendency, so we can expect this offensive game plan going forward.
That said, the Titans will need to score as much as possible given their defensive struggles. While the offense is averaging 30.8 points per game, the defense is giving 27.9 points per game, ranking 29th in defensive DVOA, including 30th against the pass and 15th against the run. They also rank 27th in defensive success rate, allowing 48.5% of opponents plays to grade out as successful.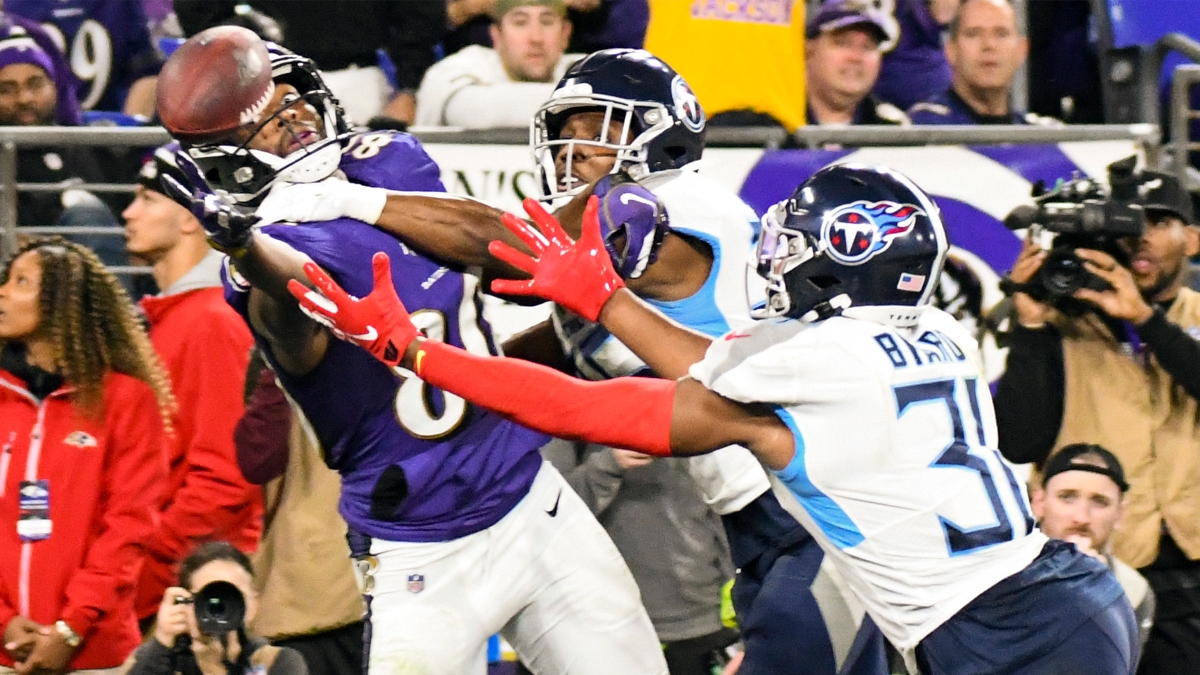 Finally, the Titans are allowing the third-worst red-zone percentage, allowing opponents to convert a whopping 69.2% of trips inside the 20-yard line. They have a league-low 19 sacks, and four of them came against the the Texans last week. For some perspective, the Texans' offensive line ranks dead-last in adjusted sack rate (per Football Outsiders) and has given up the second-most sacks to opposing defenses (50). The Titans are also dead last in pressure rate (16.7%) and 17th in ESPN's Pass Rush Win Rate.
Playoff games are won with defense, and this is simply not a unit we can trust to stop any offense
This Titans defense simply hasn't shown us they can be trusted. Whether it's giving up 40 points to the Packers in Week 16 or holding a 31-15 third-quarter lead against the Texans then proceeding to give up 20 points and allow them to take the lead in the fourth quarter of Week 17. It took not one, but two Titans drive to ice that season finale.
Regardless, Tennessee's only path to victory on Sunday is winning a shootout.
Ravens-Titans Pick
This line is interesting to say the least.
There's been a lot said about the lack of home-field advantage in the NFL this season, and yet the line for their Week 11 matchup in Baltimore is completely different from the line for Sunday's matchup in Nashville. The Ravens closed as 6-point favorites in that first meeting. Now they're favored by three points.
You have to wonder whether we saw anything between Weeks 11 and 17 that warrants a drastic three-point difference.
Personally, I didn't.
The Ravens had a midseason slump and lost three straight games, but still managed to recover despite a COVID-19 outbreak that could have decimated their season. They've made a living over the past five weeks beating up on bad defenses, and the Titans are the definition of a bad defense.
As long as the Ravens don't turn the ball over, I expect them to be able to do whatever they want offensively. And with the return of Campbell, Williams and Smith, we should see a different Ravens defense than we saw in Week 11.
My projections make this Ravens -5.8, so I'll lay the points and look for Jackson to get the first playoff win of his career. This is actually a game in which I expect the Ravens to win by a touchdown or more, so if you have some gamble in you, you can sell points for an additional payout.
Nonetheless, you should have positive expected value laying three points with the Ravens.
Pick: Ravens -3
How would you rate this article?