Koerner's Week 11 NFL Power Ratings: Best Bets According to My Projected Spreads & Over/Unders
Credit:
USA Today Sports. Pictured: Bill Belichick, Lamar Jackson, Tyreek Hill
Sean Koerner projects spreads and over/unders for every Week 11 NFL game using his power ratings.
He uses these power ratings -- and further analysis -- to recommend the best bets.
Should you buy or fade the Dolphins off back-to-back wins? Can the Redskins cover as favorites? How should you bet the Chiefs and Raiders showdown in Mexico City?
Like every week, I'll use my projected spreads and over/unders to identify the best bets, so let's run through every matchup and identify my favorite picks for Week 11.
---
Odds as of Wednesday evening and via PointsBet, where Action Network users can access an exclusive promotion to get a 200% deposit match (deposit $50, bet with $150). No strings attached. No rollover required.
---
Steelers at Browns
Current odds: Browns -2.5; 41
My Projections: Browns -2; 40.5
The Steelers' defense has been on fire, ranking third in Football Outsiders' DVOA, behind only the Patriots and 49ers.
A lot of Pittsburgh's success can be attributed to Minkah Fitzpatrick, who the Steelers acquired from the Dolphins in Week 3 — he's been a game-changer for this defense. He now has an interception in three straight games, and his chances of making it four are elevated given he's facing Baker Mayfield, who has thrown the second-most this season (12). Mayfield will face a ton of pressure against this elite defensive front from the Steelers, who lead the league with a pressure rate of 30.6%. Mayfield has been terrible with a QB Rating of 42.3 while under pressure this season, which ranks 34th per Pro Football Focus.
Taking the Steelers +2.5 is pretty tempting, but with 62% of the tickets coming in on them (see live public betting data here), the line hasn't budged. It seems like the sharps are leaning Cleveland here.
The public might be overlooking the fact that the Steelers have played only one road game over the past seven weeks (with a bye mixed in), which has likely caused an inflated perception of their 5-1 over this six-game stretch. Because of this, I'm laying off the spread but looking at the under.
The Browns' secondary was banged up over their four-loss streak, but is at full strength now. With James Conner set to return, I expect the Steelers to employ an extremely conservative game plan running the ball. The Browns would be wise to do the same with Nick Chubb and Kareem Hunt.
This should be a run-heavy, clock-killing vanilla game on a short week that sets up nicely for the under. [In New Jersey? Bet now at PointsBet]
My Projected Team Totals: Browns 21.5, Steelers 19.5
Cowboys at Lions
Current odds: Off the board
Matthew Stafford is in danger of missing his second straight game after snapping a streak of 136 consecutive regular-season games — what was the second-longest active streak. Because he's shaping up to be a true game-time decision, this line is off the board.
I would dock the Lions 3-4.5 points if they have to start Jeff Driskel again.
Here are the potential lines I have based on Stafford's status:
My Projections with Jeff Driskel Starting: Cowboys -6; 47
My Projections with Matthew Stafford Starting: Cowboys -2.5; 51
Saints at Buccaneers
Current odds: Saints -5.5; 49.5
My Projections: Saints -4; 51
The Saints lost straight up to the Falcons despite being 13.5-point favorites last week. It was not only a shocker that they lost, but that they got blown out 26-9 in their own building.
Before that game I had mentioned the Falcons had a ridiculous +3.1 edge in expected wins vs. actual compared to the Saints — a sign that the matchup would be much closer than their records indicated and that the market would offer value as a result.
Now this week the Buccaneers have a +3.0 edge in expected wins vs. actual. A lot of this has to do with the fact the Saints are 5-0 in one-score games while the Bucs are 2-4. The public is likely going to overrate the Saints and underrate the Bucs. And sure enough, 65% of the action has come in on the Saints, dropping the line from -6 to -5.5. Marshon Lattimore is also likely to miss, which means the Saints won't be equipped to contain the lethal WR duo of Mike Evans and Chris Godwin.
The Bucs +5.5 is one of my favorite plays of the week. Given that these are two higher-variance teams, I'd say the Bucs moneyline (+200 to +210) is also offering some sneaky value. [In New Jersey? Bet now at PointsBet]
My Projected Team Totals: Saints 27.5, Buccaneers 23.4
Falcons at Panthers
Current odds: Panthers -5.5; 49.5
My Projections: Panthers -5; 50
The Falcons were able to stun New Orleans in part because they were much better than their 1-7 record indicated. They're still better than their 2-7 record indicates as their Pythagorean expected record is closer to 3-6.
With the line dropping from -7 to -6 despite 68% of the action coming in on the Panthers, it looks likely that sharps are backing the Falcons again this week.
I'm going to pass on the Falcons for now given how many key offensive players they're losing with Austin Hooper and Devonta Freeman suffering injuries that will sideline them for multiple weeks. Not to mention they traded Mohamed Sanu to the Patriots a few weeks ago. Their big-name WRs Julio Jones and Calvin Ridley are healthy, but the cluster of injuries to key role players shouldn't be overlooked — it'll make it easier for the Panthers to game plan a way to slow Atlanta down.
My Projected Team Totals: Panthers 27.5, Falcons 22.5
Jaguars at Colts
Current odds: Off the board
Nick Foles is set to make his return after a Week 1 collarbone injury that sent him to the IR. The market docked the Jaguars roughly 6.5 points for the drop-off from Foles to Gardner Minshew, but Minshew ended up being much better than anyone could have anticipated, going 4-4 as the starter. He was so impressive that many wondered whether the Jags should stick with him even when Foles was healthy enough to play again.
I'm boosting the Jaguars' rating by only a half-point with Foles' return. If he struggles in the coming weeks, we may see Minshew get re-inserted.
The Colts also just announced that Jacoby Brissett is expected to return this week, so we should see this line pop up at most books shortly as it's been off the board due to the uncertainty around Brissett's status. The drop-off from Brissett to Brian Hoyer was worth 2.5-3 points, so I have this as the Colts 2.5-point favorites with Brissett expected to play with a total of 43. I'm expecting books to be very close to these lines once they eventually post this game.
Broncos at Vikings
Current odds: Vikings -10.5; 40
My Projections: Vikings -10; 40
I took advantage of the market dinging the Broncos about 5.5 points with Brandon Allen starting for the injured Joe Flacco. It was roughly 2.5 points more than it should've been, and it looks like the market has arrived at the same conclusion.
There doesn't seem to be much value on the spread here, but under 40.5 could be the play.
With Adam Thielen set to miss his third straight game, the Vikings are likely to use a very run-heavy and conservative game plan to put Denver away. The Broncos are likely going to limit Allen as much as they can while leaning on their strong running game and defense to keep them in the game. Action has been pouring on the over with 84% of the tickets, but the money has been a near 50/50 split, so it's likely the sharps are leaning toward the under here as well.
My Projected Team Totals: Vikings 25; Broncos 15
Jets at Redskins
Current odds: Redskins -1.5; 38.5
My Projections: Redskins -1.5; 38
Heavy action is coming in on the Jets with 70% of the tickets and 81% of the money backing them as slight dogs. We'll see if any sharp resistance keeps the Redskins as slight favorites. There's some sneaky value on them given that their defensive line has been on fire, ranking ninth in generating pressure at 25.5% on the season.
Sam Darnold struggles mightily when under pressure and even admitted "seeing ghosts" in the pocket against the Patriots just a few weeks ago. He ranks 30th in QB rating when facing pressure. Dwayne Haskins is just as bad under pressure, but with improved offensive line health and a Jets defense that ranks 23rd in QB pressure (21.3%), he may not face it as much as Darnold.
With Derrius Guice set to return from IR, the Redskins should employ he and Adrian Peterson for a solid one-two punch that will allow the Redskins to take the ball out of Haskins' hands. I'm going to plug my nose and take Washington here. [In New Jersey? Bet now at PointsBet]
My Projected Team Totals: Redskins 19.5; Jets 18
Bills at Dolphins
Current odds: Bills -6; 40.5
My Projections: Bills -7.5; 39
The Dolphins are on a two-win streak and their odds of getting the first overall pick in 2020 has taken a bit of a hit as a result. They're playing over their heads right now and are still very much a bad team on paper — they're still the lowest ranked team in my power ratings, but they have closed the gap considerably to the second-worst team (the Bengals). In fact, there's a scenario in which the Dolphins could be a favorite.
Miami hosts Cincinnati in Week 16 in a matchup that could have major implications for the 2020 draft. Right now I would have the Dolphins as a 1.5-point home favorites assuming Ryan Fitzpatrick starts. If Josh Rosen were to start that matchup, it would move the line to Bengals -1.
While I'm showing about 1.5 points of value on the Bills this week, I've tried to avoid betting on Miami games. There 's so much volatility in projecting a team like the Dolphins that it makes it tough to bet against them or back them. This is a pass for me.
My Projected Team Totals: Bills 23; Jets 15.5
Texans at Ravens
Current odds: Ravens -4; 49.5
My Projections: Ravens -4.5; 49.5
This spread appears spot on. However, the over has seen 92% of the action, so we've seen the total drop from 50 to 49.5. I'm in alignment with this over/under but wonder whether sharps are expecting this to be a slower-paced, lower-scoring game than people realize.
The Ravens are dead-last in pace (per Football Outsiders) while the Texans become the seventh-slowest team when trailing. I may be willing to take the under here if it gets back above 50. We'll need to monitor what happens if the over continues to attract 80%+ of bets later in the week and how the line reacts.
My Projected Team Totals: Ravens 27; Texans 22.5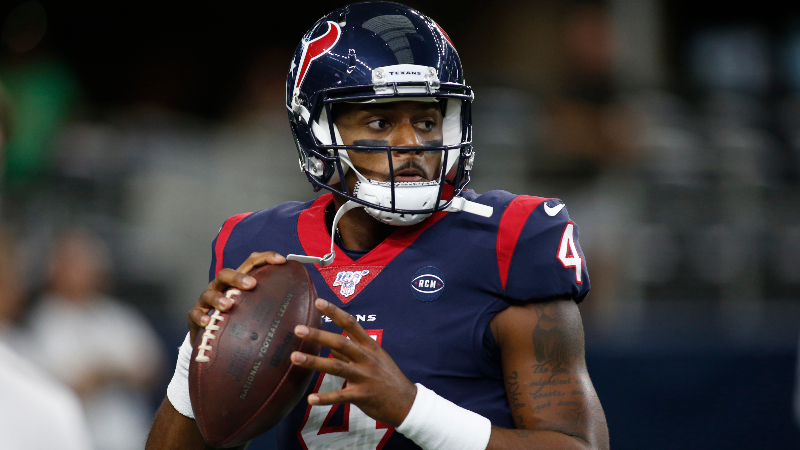 Cardinals at 49ers
Current odds: 49ers -11; 45
My Projections: 49ers -12; 45.5
These two teams met just two weeks ago. The 49ers managed to pull off the win in what turned out to be a 28-25 nail-bitter in Week 9. They then followed that up by suffering their first defeat of 2019 at the hands of the Seahawks. But I expect the Niners to bounce back this week and there could be some value in them at -11.5.
The public appears to be backing the Cardinals early on with 82% of the tickets coming in on Arizona. We'll need to see if Emmanuel Sanders and/or George Kittle are able to suit up. If they're both active, I'd set the 49ers at -12.5, but if they're both ruled out, I'd set it at -11.5.
My Projected Team Totals: 49ers 28.5; Cardinals 16.5
Patriots at Eagles
Current odds: Patriots -3.5; 44.5
My Projections: Patriots -3.5; 45.5
This is the most fascinating line of Week 11. I knew this game would likely open at -3.5, and as I always say, a 3.5-point line is one of the easiest to gauge sharp action on. Despite 79% of the tickets coming in on the Patriots, the line hasn't budged. It's very likely due to the Eagles being backed heavily by the sharps. Books that don't welcome sharp action have moved this line up to Patriots -4.
We saw the blueprint to beat the Patriots in their Week 9 loss to the Ravens. No, I'm not talking about Carson Wentz using his rushing ability the same way Lamar Jackson can — we all know that isn't possible. I'm talking about how the Ravens utilized 3-TEs to attack the Patriots' pass defense. It seemed like a smart way to avoid the shutdown coverage from their secondary and top cornerback Stephon Gilmore. We could see the Eagles use a similar approach with their two stud TEs, Zach Ertz and Dallas Goedert.
Take the points with the home dog. [In New Jersey? Bet now at PointsBet]
My Projected Team Totals: Patriots 24.5, Eagles 21
Bengals at Raiders
Current odds: Raiders -10.5; 48.5
My Projections: Raiders -10; 48.5
Ryan Finley was a disaster in his first start last week. But in his defense, he had to face a red-hot Ravens defense, and the Raiders will be a much easier matchup so we could see him bounce back.
The Bengals have a +2.9 edge in expected wins vs. actual compared to the Raiders, so we could be underrating Cincinnati and overrating Oakland here. Early market behavior indicates sharps may be thinking the same thing. Despite 70% of the action coming in on the Raiders, they've dropped from -10.5 to -10.
It may be worth nibbling on a 10.5 line if you still have access to it. Bengals +10.5 is a lean here. [In New Jersey? Bet now at PointsBet]
My Projected Team Totals: Raiders 29.5; Bengals 19.5
Bears at Rams
Current odds: Rams -6.5; 40
My Projections: Rams -6; 40.5
Sunday Night Football
Jared Goff was sacked four times in the Rams' loss to the Steelers. The offensive line has become a real issue and Goff will see similar pressure from the Bears, who rank fifth in creating pressure at 27.2% of drop backs. Goff has been below-average against pressure this season with a QB Rating of 59.5 (22nd per PFF). He'll also be without one of his key WRs in Brandin Cooks again.
It's a common narrative that Goff is better at home. And while that may be true in terms of statistical production, it's worth noting that he's 7-13 against the spread at home in his career.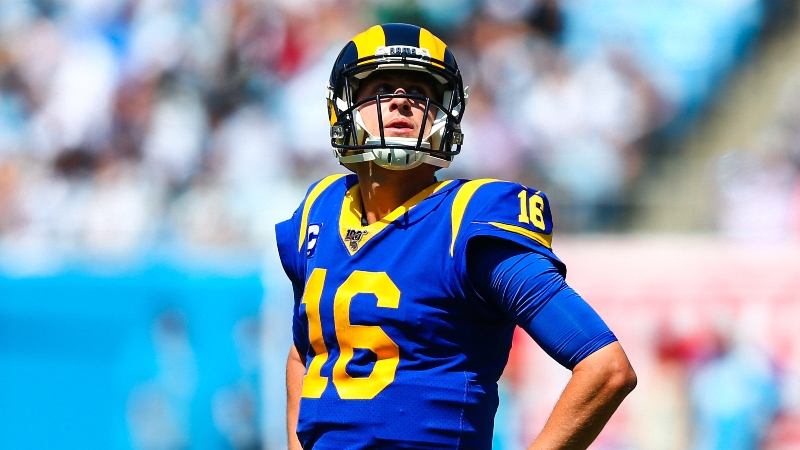 The line is about right at Rams -6.5, but this is a matchup between teams that can be very volatile at times. It's worth snagging the moneyline on the underdog in such spots, which is why I'm putting a small play on Bears ML +240. [In New Jersey? Bet now at PointsBet]
My Projected Team Totals: Rams 23; Bears 17
Chiefs vs. Chargers in Mexico City
Current odds: Chiefs -3.5; 52
My Projections: Chiefs -4; 52
Monday Night Football
I'm aligned exactly with this spread and total.
This will be just the fourth game played at Estadio Azteca in Mexico City, which is more than 7,000 miles above sea level, presenting some considerations. As we know with Mile High Stadium in Denver, the high elevation allows the ball to travel farther, which can allow for longer field goal attempts vs. a punt. It can also cause defenses to tire quicker as they're unable to catch their breath as easily, enticing offenses to run a faster pace as a result. These factors could favor the over.
I'll likely make some in-game bets in The Action Network app, so be sure to follow me to get alerts as I make my bets.
My Projected Team Totals: Chiefs 28; Chargers 24
How would you rate this article?