NFL Preseason Week 2: Betting Odds & Angles for Seahawks-Vikings, Saints-Chargers
Credit:
USA Today Sports. Pictured: Teddy Bridgewater, Pete Carroll
Ian Hartitz breaks down the betting odds for Sunday's NFL Preseason Week 2 matchups.
See his analysis and picks for Seahawks-Vikings and Saints-Chargers.
We get a two-game slate of preseason football on Sunday. It's only Week 2, so don't expect to see many starters play for more than a quarter or two in most cases. Either way, offenses and defenses will largely rely on simplified schemes.
Let's take a look at key storylines and actionable betting takeaways for all four teams in action.
---
Spread: Chargers -2.5
Over/Under: 43.5
Kickoff: 4 p.m. ET
TV: CBS
New Orleans Saints
All the hype out of Saints' training camp has been about the ability of 32-year-old Jared Cook.
It'd make sense if Cook emerges as Drew Brees' No. 3 target behind Michael Thomas and Alvin Kamara, but we should potentially pump the brakes a bit on the ceiling of any Saints tight end not named Jimmy Graham.
Last 10 years of tight ends with Drew Brees …

2009: Jeremy Shockey PPR TE17
2010: Shockey TE25
2011: Jimmy Graham TE2
2012: Graham TE1
2013: Graham TE1
2014: Graham TE2
2015: Ben Watson TE7
2016: Coby Fleener TE15
2017: Fleener TE34
2018: Watson TE21
2019: Jared Cook TE?

— Ian Hartitz (@Ihartitz) April 7, 2019
Also not helping matters is the Saints' reluctance to ride Brees' arm in recent years. Overall, 2018 (32.6 pass attempts per game) and 2017 (33.5) marked the first two seasons that Brees averaged fewer than 40 throws per game since 2009.
Cook, Ted Ginn Jr. and Tre'Quan Smith seem like more than capable No. 3 or No. 4 options in an otherwise explosive Saints offense, but don't underrate the potential for this unit to function as a more above-average offense than an elite unit if they catch the injury bug to an even minor extent.
Los Angeles Chargers
The Melvin Gordon holdout has placed most of the Chargers' training camp attention on backup running backs Austin Ekeler and Justin Jackson. This has overshadowed the return of Hunter Henry, who has functioned as anybody's idea of an elite tight end talent whenever healthy enough to suit up.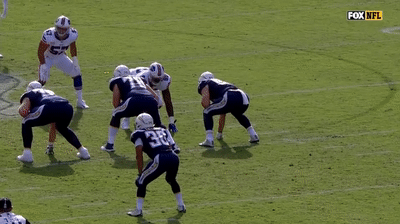 Before a torn ACL ended his 2018 regular season, Henry found himself alongside Travis Kelce, Jordan Reed and Rob Gronkowski as the only tight ends to average over two yards per route run since 2006.
Philip Rivers figures to feed Keenan Allen plenty of targets, while Mike Williams and whoever lines up at running back will also be involved. Still, Henry is certainly a good enough talent to warrant additional usage, particularly in the red zone where the Chargers will feel Antonio Gate's absence the most.
I'm riding with the squad I believe is the most talented in the AFC from top to bottom.
LEAN: Chargers -2.5
Spread: Vikings -3.5
Over/Under: 41.5
Kickoff: 8 p.m. ET
TV: FOX
Seattle Seahawks
The Seahawks have a type: Big, fast and athletic human beings.
They've taken this idea of stocking their roster with physically-intimidating monsters to another level at wide receiver.
Tyler Lockett: 5-foot-10 and 182 pounds; 4.4-second 40-yard dash
Jaron Brown: 6-foot-2 and 205 pounds; 4.45-second 40-yard dash; 88th-percentile SPARQ-x athlete
DK Metcalf: 6-foot-3 and 228 pounds; 4.33-second 40-yard dash; 99th-percentile SPARQ-x athlete
David Moore: 6-foot-1 and 219 pounds; 4.48-second 40-yard dash; 96th-percentile SPARQ-x athlete
Amara Darboh: 6-foot-2 and 214 pounds; 4.45-second 40-yard dash; 77th-percentile SPARQ-x athlete
Gary Jennings: 6-foot-1 and 214 pounds; 4.42-second 40-yard dash; 95th-percentile SPARQ-x athlete
Jazz Ferguson: 6-foot-5 and 227 pounds; 4.45-second 40-yard dash; 27th-percentile SPARQ-x athlete
Lockett is the only undersized receiver on the Seahawks' projected final roster, and he's coming off a season in which he somehow managed to register a perfect 158.3 passer rating on 70 targets.
The league's most run-heavy offense might not make a habit of asking Russell Wilson to throw the ball 40 or even 30 times in a single game, but their copious amount of explosive receivers should continue to help Wilson function as one of the league's most efficient quarterbacks.
Minnesota Vikings
This might just be the season that Dalvin Cook cements himself as one of the best and most productive running backs in the league. He's certainly flashed that upside on several occasions over the past two seasons…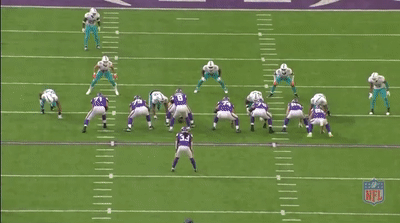 …and now Cook enters a cozy depth chart situation with only third-round pick Alexander Mattison serving as a legitimate threat to snaps.
Then again, it's tough to imagine Mattison finding a way to impact Cook any more than Latavius Murray managed to. The Vikings have largely shown little hesitation with featuring their 2017 second-round pick whenever he's been healthy enough to suit up.
Dalvin Cook has been a three-down back whenever healthy:

2017
Week 1: 78% snaps
Week 2: 57%
Week 3: 73%
<injured>

2018
Week 1: 80%
Week 2: 68%
<injured>
Week 9: 57%
<bye>
Week 11: 88%
Week 12: 59%
Week 13: 77%
Week 14: 86%
Week 15: 61%
Week 16: 75%
Week 17: 93%

— Ian Hartitz (@Ihartitz) April 29, 2019
The transition to run-first offensive coordinator Kevin Stefanski, combined with the addition of renowned running-back-whisperer Gary Kubiak, makes 2019 seem like an inevitable breakout year for Cook as long as he can maintain his health.
I think both offenses have enough firepower in the pass and run games to repeatedly take advantage of what figures to be a constant dose of unsophisticated defensive schemes.
PICK: Over 41.5
How would you rate this article?