NFL Prop Bets & Picks For Chargers vs. Raiders For Thursday Night Football
Credit:
James Gilbert/Getty Images. Pictured: Chargers WR Tyron Johnson
Update: Once Mike Williams and Keenan Allen were deemed active, books took this Tyron Johnson prop off the board. I would advise staying away from all Chargers wide receiver props for now.
NFL Prop Bets
| Pick | Bet Now  |
| --- | --- |
| Tyron Johnson Over 41.5 Rec Yards (-112) | DraftKings |
Mike Williams is expected to miss Thursday with the back injury he sustained during the Chargers' 20-17 win over the Falcons last week. Tyron Johnson filled in nicely for Williams, running a route on 80% of Justin Herbert's dropbacks and recording six catches for 55 yards and a touchdown.
I've been monitoring Johnson for weeks now as a potential sleeper if Williams ever missed time. From Weeks 4-13, it would be fair to think of Johnson as a one-trick pony and a wide receiver who only knows how to run a go route, as evidenced by his box scores from Week 4 (1/53/1), Week 9 (1/50/0), Week 11 (1/54/0) and Week 12 (2/63/0).
But in Week 13, he ran a very diverse route tree. And after watching the film, I'm even more bullish on him on Thursday night.
Let's take a quick look at each of his seven targets.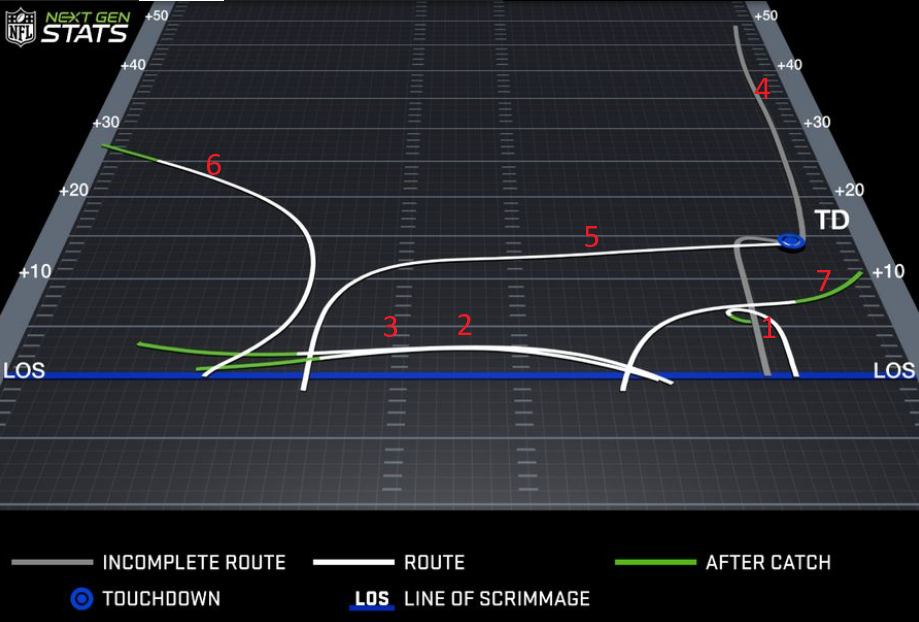 Target 1: 5-yard catch. It looked like Herbert was eyeing safety Sharrod Neasman to see whether Herbert should target Keenan Allen on a post route. The rookie ultimately went to Johnson, who was running a curl route for a small gain. Johnson was the second read.
Target 2: 2-yard catch. Johnson was the first read on an underneath route, he slipped when trying to make a move to get past Isaiah Oliver and took a hard hit as a result.
Target 3: 1-yard catch. A similar play in which Johnson was the first read on an underneath route. It looked like he might pick up 5-6 yards after the catch, but first-round rookie A.J. Terrell made a nice stop.
Target 4: Incomplete. Herbert was looking for Hunter Henry, who was covered, so he decided to buy time by rolling out then targeted Johnson 50 yards downfield into double coverage. Amazingly, Herbert overthrew him by 5-10 yards. Johnson has 4.41-speed and Herbert throws one of the best deep balls in the game, so it's no surprise that these two have connected on so many deep balls (in limited playing time for Johnson).
Target 5: 12-yard touchdown. This was a broken play on which Herbert rolled out right and saw Johnson holding his hand up trying to get his attention on the broken play, then Herbert hit him for a wide open touchdown. You could tell these two have very good chemistry with one another.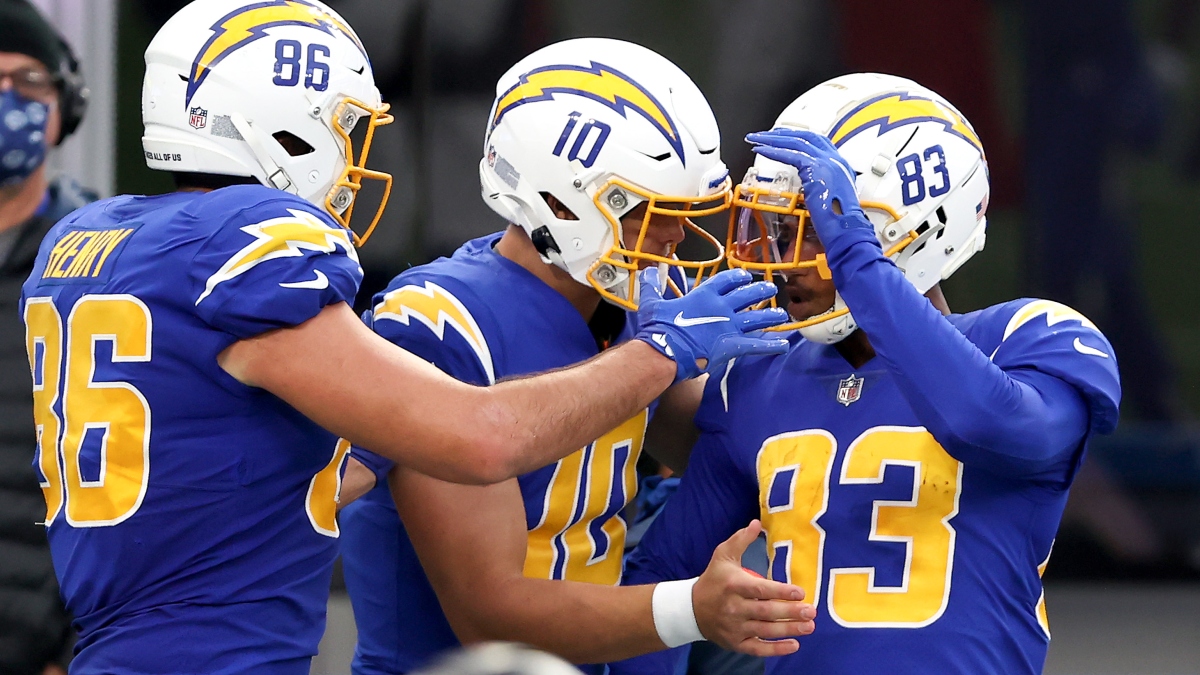 Target 6: 10-yard catch. Johnson was the first read on a nice out route and enough to pick up the first down.
Target 7: 25-yard catch. Johnson was the first read on a deep corner route. Herbert timed it perfectly and the two connected on a nice 25-yard play.
It was an impressive 6/55/1 performance for Johnson considering he replaced Williams in-game. He left quite a few yards behind as well. I would assume a full week of practice in which the Chargers know Johnson will be the starter should only elevate our expectations for him.
The Raiders defense is also in shambles — they fired defensive coordinator Paul Guenther after their Week 14 loss, and interim coordinator Rod Marinelli can only do so much on a short week.
Keenan Allen is questionable, and it appears he'll be limited even if he's active. I want to get on Johnson's over before Allen's status potentially worsens.
I would bet this up to 46.5, and potentially higher depending on Allen's status, but here are Johnson's projected chances of going over or under various lines based on my 10,000 player prop simulations:
| Rec Yards | Over | Under |
| --- | --- | --- |
| 41.5 | 60.5% | 39.5% |
| 42.5 | 59.4% | 40.6% |
| 43.5 | 58.3% | 41.7% |
| 44.5 | 57.1% | 42.9% |
| 45.5 | 56.0% | 44.0% |
| 46.5 | 54.9% | 45.1% |
How would you rate this article?