NFL Week 2 Survivor Picks Picks, Strategy: The Teams To Target in Your Pool
Credit:
Getty Images. Pictured: Jalen Hurts.
Making NFL Survivor picks for your pool has once again proven to be not as easy as it seems, with around 20% of the field eliminated after Week 1 of the new season. The good news is that if you're still alive, your expected value has increased significantly entering NFL Week 2. If you got eliminated, there's always second-chance contests — or there's always next year.
The survivor concept is simple: Pick one team to win an NFL game every week. No spreads or totals — just winners. Once you use that team, they're done — creating an element of strategy and long-term planning that makes these contests deceptively difficult.
Fortunately, this year we're partnering with our friends at Pool Genius to make things easier. They've built slate-leading tools to help conquer a variety of pool contests, including survivor.
---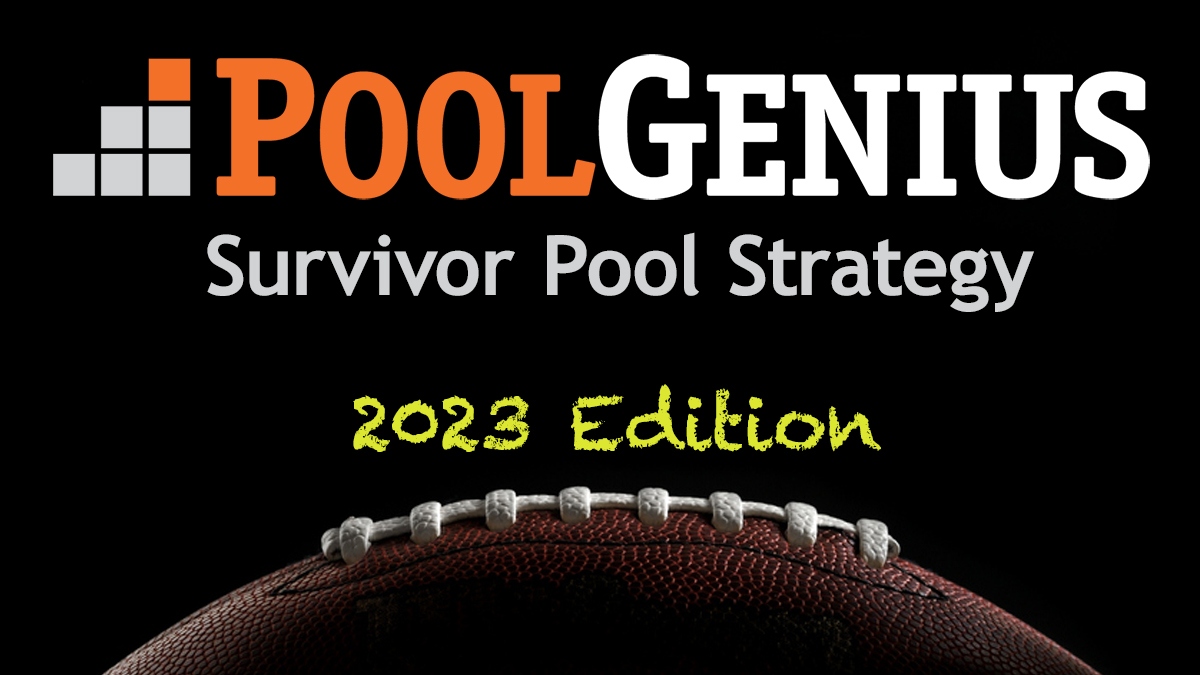 ---
My favorite feature of the site is the ability to customize for your individual pool type. Factors like contest size and payout structure are a huge factor in survivor contests, as smaller fields generally don't have any entries make it all 18 weeks.
To give a glimpse of how that works,  I'll be providing their top option for small (less than 50), medium (roughly 100) and large (1,000+) entry pools.
Besides that, they track pick selection data to help figure out contrarian options. This is helpful in larger pools since we're trying to optimize for expected value more than just odds of winning. Finally, they use projected future spreads to assign a future value to each team — which includes considering the scarcity of strong options on certain weeks. This is crucial, as we don't want to burn the best teams when there are other strong options that week.
To get their full data, you'll need to sign up for the site. It's well worth it though, and also includes tools for taking down the increasingly popular pick 'em contests that feature massive prize pools.
---
---
Large Field: Philadelphia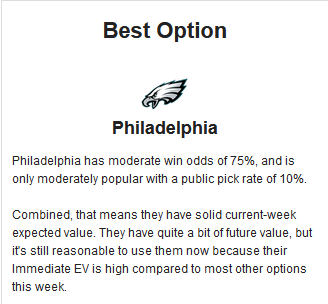 Last week, the top pick on Pool Genius for massive contests of this type was the Seahawks. That obviously didn't work out, with Seattle taking out 6% of the field. We need(ed) to take big swings in contests like that though, so the loss of EV on what was effectively a lottery ticket is acceptable.
This week, the large-field top option is the Eagles. Early data has them as only the fifth-most popular team despite being favored by seven points as they host the Vikings. Much of the field is likely staying away from the Eagles thanks to their value down the stretch, which includes the best-projected odds to win in Week 17.

While that's certainly a consideration, there's a strong chance that when Week 17 rolls around there will be enough changes around the league that other viable options will emerge. It makes more sense to save a team that we anticipate needing in a few weeks than one we'd like to have at Christmas. Philadelphia is also showing up as the best option for medium-sized pools.
Personally, I'm a bit nervous with this pick though. Our Luck Rankings show a massive gap between the Eagles and Vikings in Week 1, with Philadelphia the far luckier team. These things tend to regress to the mean — though last year's exceptionally lucky season for the Vikings is still somewhat baked into the line.
Small Field: Buffalo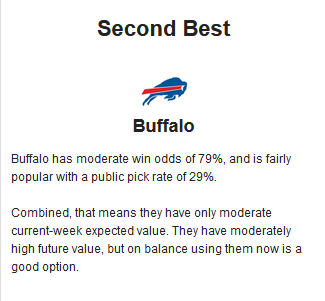 This week, Pool Genius is recommending the Eagles for all contest sizes. However, there's some variation after that, for players wary of the Eagles or looking to hedge multiple entries.
The two main options are Buffalo and Dallas, with the Bills as the chalkier pick but also the selection with a lower future value. While we don't anticipate needing to make it all season in pools of this size, we could need the Cowboys sooner than that:

Dallas has the best-projected odds of winning of any team in the league next week, while we won't feel the sting of not having the Bills available until Week 8 or so — assuming the Cowboys are also unavailable — when they're again the two strongest teams.
Given Buffalo's slightly better odds this week, it makes sense to use them now, and the Cowboys in Week 3. We'll figure out Week 8 if and when we get there, as pools of this size will likely be down to just a few entrants by then.
How would you rate this article?
This site contains commercial content. We may be compensated for the links provided on this page. The content on this page is for informational purposes only. Action Network makes no representation or warranty as to the accuracy of the information given or the outcome of any game or event.