NFL Week 2 WR/CB Matchups: Xavier Rhodes vs. Davante Adams, More
Week 2's shadow matchups feature Packers WR Davante Adams vs. Vikings CB Xavier Rhodes, Browns WR Josh Gordon vs. Saints CB Marshon Lattimore, and Bills WR Kelvin Benjamin vs. Chargers CB Casey Hayward.
Plus matchups feature the likes of Broncos WR Emmanuel Sanders, Eagles WR Mike Wallace, and Buccaneers WR Chris Godwin.
Be careful about starting Jets WR Robby Anderson, Panthers WR Devin Funchess, Cardinals WR Larry Fitzgerald, as well as the Patriots WRs Chris Hogan and Phillip Dorsett.
I'll be breaking down the top wide receiver/cornerback matchups every week throughout the 2018 NFL season.
Here's a data-driven analysis of Week 2's best passing-game matchup, three potential shadow matchups and seven potential non-shadow matchups. Then we round it out with a quick look at plus and minus matchups.
Visit the FantasyLabs NFL page for more weekly breakdowns. You can also view all of this week's WR/CB matchups using the Matchups tool.
Jump to: Matchup of the Week | Shadow Matchups | Non-Shadow | Plus | Minus
Matchup of the Week
Steelers Offense vs. Chiefs Defense
The Steelers turned the ball over six times and couldn't earn an outright victory over the Browns during their disappointing Week 1 performance. The good news is that Week 2 features a return home against a Chiefs defense that hasn't stopped an opposing passing attack for the better part of the last six weeks.
The Steelers' matchup against the Chiefs on Sunday is a beautiful fantasy-friendly blend of a great home offense vs. a bad road defense. Overall, the Steelers are one of just two offenses to average at least six more points per game at home since 2015, while the Chiefs are one of four defenses to allow a touchdown or more per game on the road.
It's a good idea to trust Ben Roethlisberger and Antonio Brown in Pittsburgh (per our NFL Trends tool):
Brown at home since 2014 (30 games): 27.9 DraftKings PPG, +6.6 Plus/Minus, 70% Consistency Rating
Brown on the road (32 games): 21 DraftKings PPG, -0.4 Plus/Minus, 52% Consistency Rating
The pair has also thrived whenever they've played with Le'Veon Bell sidelined since the running back entered the league in 2013 …
Brown with Bell (61 games): 20.4 PPR, 10.6 targets, 7.2 rec, 93.8 yards, 0.64 TDs
Without Bell (17 games): 27 PPR, 13.1 targets, 9.1 rec, 127.8 yards, 0.82 TDs
Electric second-year receiver Juju Smith-Schuster has also improved his DraftKings PPG, Plus/Minus and Consistency Rating values at Heinz Field. Still, he lined up in the slot on 91% of his snaps in Week 1 and figures to draw the Chiefs' toughest matchup in former Redskins nickelback Kendall Fuller.
Awaiting potentially the league's most potent home aerial attack is a Chiefs defense that is short on talent at cornerback. Fuller was tied with Jalen Ramsey as the league's second-best cornerback last season (Pro Football Focus), but he allowed four receptions and 80 yards on just five targets during a rough debut against Keenan Allen and the Chargers. Meanwhile, outside cornerbacks Steven Nelson and Orlando Scandrick allowed a combined 10 receptions for 134 yards and two touchdowns on 17 targets.
The Steelers and Chiefs presently boast the week's highest over/under, so consider exposing your fantasy team to both offenses in the hopes of a back-and-forth shootout.
The Steelers' dominance at home and cozy matchup haven't been lost on the public, as Roethlisberger and Brown boast top-three projected ownership marks on DraftKings in our Pro Models. Be sure to check out our Ownership Dashboard shortly after lock to see how chalky they are in Week 2.
---
The Week 1 Shadow Club
Not many cornerbacks are consistently asked to travel with the opposition's No. 1 wide receiver: Only five defensive backs were credited with playing at least 10 games in shadow coverage last season, per Pro Football Focus. Even those five players don't enter 2018 with guaranteed weekly shadow dates due to offseason changes in scheme and roster construction.
But we can expect at least three cornerbacks to regularly line up across from their opponent's top receiver in Week 1.
Packers WR Davante Adams vs. Vikings CB Xavier Rhodes
Aaron Rodgers (knee) is considered day-to-day, but he's historically been an elite fantasy and real life quarterback even when forced to play while injured. Unfortunately, Rodgers' No. 1 receiver might have to do the same, as Adams missed Wednesday's practice with what is believed to be a relatively minor shoulder injury.
Facing a cornerback of Rhodes' caliber is never ideal, and it's especially unsettling to do so at less than 100%. The Vikings' lock-down corner intercepted the only pass thrown his way in Week 1 and helped eliminate every receiver outside of Marvin Jones during his first-team All-Pro 2017 campaign.
Antonio Brown: 5 receptions – 62 yards – 0 TDs (11 targets)
Mike Evans: 7-67-0 (12)
Marvin Jones (twice): 2-42-0 (5). 6-109-2 (9)
Davante Adams: 5-54-1 (10)
Josh Doctson: 4-30-0 (7)
Julio Jones: 2-24-0 (6)
A.J. Green: 2-30-0 (4)
Intriguingly, Adams' touchdown against the Vikings last season came without Rodgers under center. Still, the NFL's receiving touchdown leader since 2016 likely has a lowered yardage ceiling against one of the league's premier shadow corners.
Browns WR Josh Gordon vs. Saints CB Marshon Lattimore
Pregame reports indicated Gordon wouldn't start and was slotted to play only about 20 snaps in the Browns' Week 1 matchup against the Steelers. Naturally, Gordon was on the field for the offense's opening play and went on to line up on 69 of 89 snaps.
The only problem was Gordon received a pedestrian three targets from risk-averse quarterback Tyrod Taylor. Per Next-Gen Stats, Taylor ranked 33rd out of 41 qualified quarterbacks in percentage of attempts into tight windows in 2017.
Jarvis Landry, who saw a team-high 15 targets Sunday, ranked among the league's top-20 receivers and tight ends in 2017 with an average separation rate of 3.2 yards. Gordon didn't record an average separation rate above 2.5 yards in any of his five games last season.
Making matters worse for Gordon is a matchup against Marshon Lattimore, who allowed more touchdowns in Week 1 against Mike Evans (1) than the 11th pick of the 2017 draft allowed his entire rookie season (0). Of course, like Evans, Gordon offers similarly unfair physical tools, which helped him find the end zone in Week 1 despite nearly perfect coverage.
Bills WR Kelvin Benjamin vs. Chargers CB Casey Hayward
The Chargers' talented defense didn't have the greatest Week 1, as Patrick Mahomes and the Chiefs went off for 38 points and 256 passing yards. Still, Hayward was responsible for just 38 of those yards and zero scores, as PFF's No. 1 cornerback from 2017 wasn't asked to chase Tyreek Hill into the slot or to the right side of the formation.
We didn't expect Hayward to shadow Hill in last week's breakdown, but it seems likely he'll travel with Benjamin in Week 2. Hayward regularly won shadow matchups against big-bodied No. 1 receivers in 2017:
Alshon Jeffery: 3 catches – 29 yards – 1 touchdown (6 targets)
Demaryius Thomas (twice): 5-67-0 (8), 2-9-0 (6)
Amari Cooper (twice): 5-28-0 (6), 3-115-1 (6)
Dez Bryant: 3-37-0 (5)
Josh Gordon: 4-85-0 (11)
Josh Doctson: 3-34-0 (6)
Robby Anderson: 5-51-0 (7)
Hayward himself wasn't charged with allowing a touchdown all season (the bulk of Cooper's big day came on an 87-yard busted coverage score).
The case for Benjamin winning this matchup involves his monstrous 6-foot-5 and 240-pound frame consistently winning 50/50 balls from rookie quarterback Josh Allen while being guarded by arguably the league's best cornerback. Benjamin posted below-average game speed in 2017 for a tight end, and he ranked among the league's bottom-three receivers in average separation in Week 1 among 83 qualified receivers.
---
Potential Non-Shadow Matchups
Redskins CB Josh Norman: New year, same old Norman. The Redskins once again chose to leave their No. 1 defensive back at left cornerback for most (91%) of his snaps vs. the Cardinals despite the presence of Larry Fitzgerald in the slot. This is great news for T.Y. Hilton, who lined up inside on 30% of Week 1 snaps. The bad news: Since 2014, Hilton has totaled 13 games with 20-plus DraftKings points indoors compared to just five such games outdoors.
Titans CBs Malcolm Butler, Adoree' Jackson and Logan Ryan: The Titans utilized Butler on the right side, Jackson on the left and Ryan in the slot in Week 1. None is particularly threatening to DeAndre Hopkins (foot), who was limited in practice Wednesday. Hopkins' elite contested-catch ability makes him capable of dominating any matchup, although he's averaged 6.3 yards per target without Will Fuller (hamstring) compared to 7.6 with since 2016.
Lions CB Darius Slay: Matt Patricia's debut didn't exactly go as planned, but the new head coach's usage of Slay was intriguing at least. Overall, Slay played 11 snaps in the slot after seeing only 21 total in 2017. He allowed a measly 1-7-0 line on two targets. It's unclear if Marquise Goodwin (quad) will suit up, so Slay's new role could be bad news for popular streaming option Dante Pettis.
49ers CB Richard Sherman: All 63 of Sherman's snaps at corner came on the left side in Week 1, which just so happens to be where electric second-year receiver Kenny Golladay lined up on 68% of his snaps. Golladay's average of 9.9 yards per target ranks sixth among 91 receivers with at least 50 targets over the past two seasons. Last week, Golladay out-snapped and out-targeted Marvin Jones 65-62 and 12-8, respectively. Sherman will have his hands full.
Cardinals CB Patrick Peterson: Peterson played all of his corner snaps on the outside against a Redskins offense that featured a heavy dosage of Jamison Crowder and Jordan Reed in the slot. It seems unlikely the Cardinals would suddenly ask Peterson to leave Brandin Cooks or Robert Woods in favor of Cooper Kupp. The second-year receiver has racked up 26 red-zone targets since Week 1 of 2017 — tied with Jimmy Graham for the most in the league.
Patriots CB Stephon Gilmore: Gilmore has shadowed in nine consecutive regular-season games, but it's unclear if the Jaguars — let alone other teams — know who the No. 1 receiver is in Jacksonville. Dede Westbrook, Donte Moncrief and Keelan Cole saw six, five and four targets, respectively, but Cole (74.6%) and Moncrief (68.3%) out-snapped Westbrook (49.2%). The Jaguars averaged 31.7 PPG without Leonard Fournette (hamstring) last season.
Browns CB Denzel Ward: There will be plenty of Buckeye-on-Buckeye crime Sunday, although both Michael Thomas (illness) and Ted Ginn (knee) missed practice Wednesday. Ward spent 82% of his snaps as the left corner during his two-interception debut, so the Saints should be able to scheme away from 2018's No. 4 overall pick as they please. Drew Brees' best receiver ever has caught at least five passes in all but six of his 34 career games (including playoffs).
---
>> Sign up for The Action Network's daily newsletter to get the smartest NFL conversation delivered into your inbox each morning.
---
Potential Plus Matchups
Giants WR Odell Beckham Jr. vs. Cowboys
Beckham is the modern day Cowboys killer: Nobody has scored as many touchdowns (5) as OBJ has against Jerry Jones and company since he entered the league in 2014.
The Cowboys boast respectable outside cornerbacks in Byron Jones and Chidobe Awuzie, but Beckham could really be a problem in the slot. Overall, slot corner Anthony Brown allowed the second-most touchdowns in the league (7) last season. OBJ's 39% slot rate in Week 1 far surpassed his 2016-2017 average of 13%.
---
Falcons WR Julio Jones vs. Panthers
The Panthers have had a tough time slowing down Julio since Norman took his talents to Washington two years ago.
12 receptions – 300 yards – 1 TD (15 targets)
4-60-0 (7)
6-118-0 (12)
5-80-0 (11)
The defensive backs at Carolina's disposal aren't pretty. PFF graded "No. 1 corner" James Bradberry 77th among 85 qualified full-time defensive backs in 2017; slot corner Captain Munnerlyn allowed the third-highest quarterback rating among 28 full-time nickelbacks last season, and rookie second-rounder Donte Jackson is a first-year player facing off against Julio freaking Jones.
---
Broncos WR Emmanuel Sanders vs. Raiders
Sanders made a strong Week 1 statement as Case Keenum's No. 1 receiver, converting a game-high 11 targets into a sterling 10-135-1 line. The 31-year-old certainly looked 100% recovered from last season's debilitating ankle injury.
Next up is a Raiders secondary that is strong on the outside with Rashaan Melvin and Gareon Conley, but leaky in the slot after allowing T.J. Carrie to join the Browns. Overall, Leon Hall allowed a 4-48-0 line on five targets in Week 1, while 6-foot-2 and 205-pound Dominique Rodgers-Cromartie would've had problems in his prime staying with a shifty receiver such as Sanders in the slot.
---
Chargers WRs Keenan Allen vs. Bills
Allen has as many 100-plus yard performances (6) as he does touchdowns (6) in his last eight games. Please, stay healthy (ferociously knocks on wood).
No. 1 Bills cornerback Tre'Davious White spent most of his time at left cornerback in Week 1, so Allen should be free to feast on journeyman Rafael Bush in the slot, as well as right cornerback Phillip Gaines – PFF's third-worst corner out of 126 defensive backs in 2017 (min. 20% snaps).
---
Eagles WRs Nelson Agholor and Mike Wallace vs. Buccaneers
Alshon Jeffery (shoulder) is reportedly still a week away from being ready, so Agholor and Zach Ertz will continue to work as the offense's top pass-game options. Nelson Agholor displayed a well-diversified route tree while tying a career-high with eight catches against the Falcons in Week 1.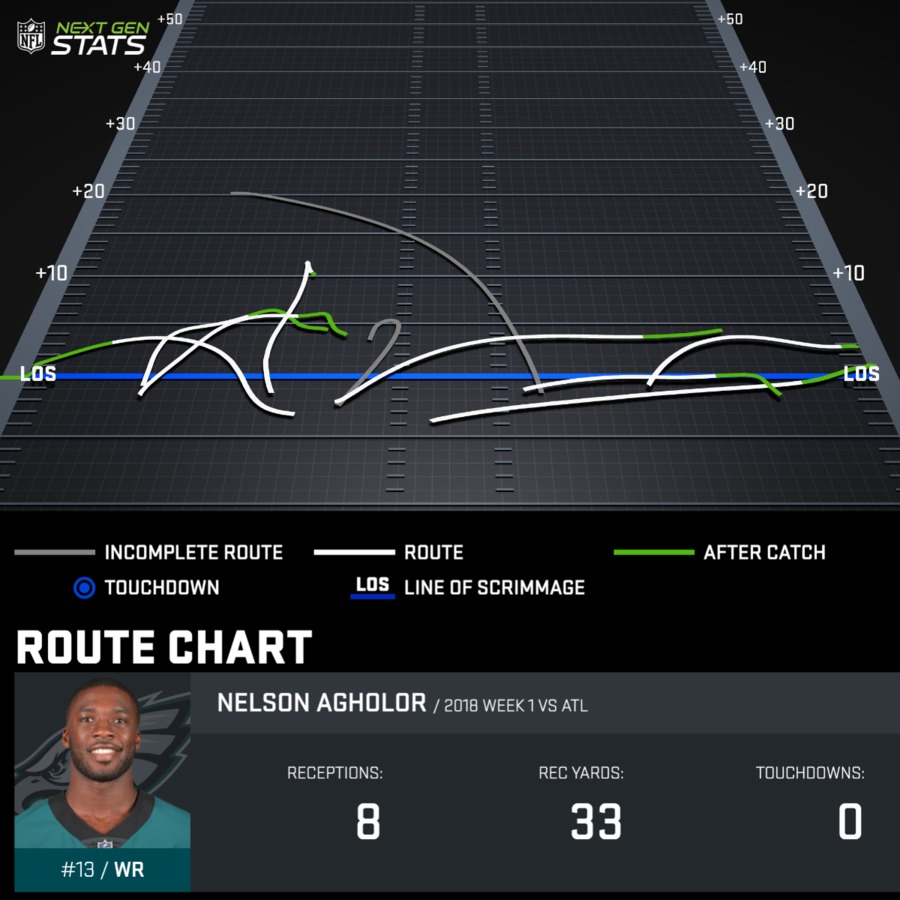 The offense's No. 2 wide receiver, Mike Wallace, didn't catch any of his three targets, but the 32-year-old still recorded two of the week's top-10 fastest routes by any player (Next-Gen Stats). Wallace's preposterous average target depth of 35.7 yards could be put to effective use against an already questionable Buccaneers pass defense that could be without each of Brent Grimes (hamstring, questionable) and Vernon Hargreaves (shoulder, IR).
---
Buccaneers WRs Mike Evans and Chris Godwin vs. Eagles
Evans and DeSean Jackson combined to catch all 12 of their Week 1 targets for an absurd 293 yards and three touchdowns during their season-opening shootout with the Saints. Still, D-Jax is presently in the concussion protocol AND dealing with a shoulder injury, so Godwin is expected to work alongside Evans in 2-WR sets.

The 2017 third-round pick posted 3-98-0 and 7-111-1 lines in two games without Jackson as a rookie. Both Godwin and Evans are set up well against an Eagles defense that has surrendered the seventh-most DraftKings PPG to opposing wide receiver units since the beginning of last season.
Potential Minus Matchups
Jets WR Robby Anderson vs. Dolphins
Anderson has scored in three of his four career games against the Dolphins, and the elite field-stretcher was the recipient of rookie Sam Darnold's first (somewhat ill-advised) touchdown pass.
The problem is that was Anderson's only target of the game. Quincy Enunwa received a team-high 10 targets, but both receivers will have to deal with the return of Jermaine Kearse (abdomen) in Week 2. Just three of Darnold's 21 pass attempts traveled at least 20 yard downfield in Week 1.
Anderson should see plenty of rising star Xavien Howard, who helped the Dolphins allow just two receivers to surpass 100 yards in 2017. Howard shadowed only twice last season, but he managed to hold Brandin Cooks and Julio Jones to 1-38-0 and 6-72-0 lines, respectively, on seven targets each.
---
Cardinals WR Larry Fitzgerald vs. Rams
Fitzgerald received a team-high 10 targets from temporary-BFF Sam Bradford, although Captain Checkdown managed just 153 pass yards on 34 attempts (4.5 Y/A). Next up is a Rams defense that employs three top-tier cornerbacks for the Cardinals to deal with:
Marcus Peters leads the league with 20 interceptions since entering the league in 2015. No other player has reached even 15.
Aqib Talib has finished among PFF's top-15 overall cornerbacks in three of the last four seasons.
Nickell Robey-Coleman has ranked among the league's top-10 full-time nickelbacks in fewest yards allowed per cover snap in each of the past two seasons.
---
Patriots WRs Chris Hogan and Phillip Dorsett vs. Jaguars
Hogan is a strong buy-low candidate after his annual one-catch season-opening performance, while Dorsett caught a career-high seven passes in Week 1. Still, only AB (twice) and OBJ have gained more than 100 yards against the Jaguars since the beginning of last season, as Jalen Ramsey and A.J. Bouye form the league's premier tag-team cornerback duo.
Both Hogan and Dorsett boast underwhelming ceiling/floor combos, but Tom Brady's pass distribution from last season's AFC Championship Game indicates the offense's slot receiver (now Hogan), field-stretcher (now Dorsett) and lead running back (now James White) could see plenty of targets. Note: Rob Gronkowski exited the game just before halftime with a concussion.
Danny Amendola: 9 targets
Brandin Cooks: 8 targets
Dion Lewis: 7 targets
James White: 5 targets
Chris Hogan: 4 targets
Rob Gronkowski: 3 targets
Rex Burkhead/Phillip Dorsett: 1 target
---
Panthers WR Devin Funchess vs. Falcons
There's certainly a case for and against Funchess this week. On the one hand, he's balled out throughout his career with Greg Olsen (ankle, out) sidelined:
Funchess with Olsen (38 games): 7 PPG, 4.4 targets, 2.1 rec, 32.1 yards, 0.3 TDs
Without (9 games): 14.2 PPG, 7.8 targets, 4.6 rec, 56.3 yards, 0.7 TDs
On the other hand, the Falcons possess a pair of physical corners in Robert Alford and Desmond Trufant who have largely held Funchess in check throughout his career:
 3-25-0 (5)
 0-0-0 (1)
 2-56-0 (3)
 1-9-0 (5)
5-86-0 (7)
2-48-1 (1)
The Falcons lost stud linebacker Deion Jones (foot, IR) along with safety Keanu Neal (knee, IR), making Christian McCaffrey the likelier candidate to receive double-digit targets Sunday.
---
Be sure to check out FantasyLabs' industry-leading NFL News and Models, along with the Multi-Lineup Builder, Stack Builder, ownership projections and more. Other tools for the 2018 season are also available, including the Matchups page, DFS Contests Dashboard, NFL Ownership page and NFL Correlations page.