NFL Week 3 Picks: Pass or Play All 16 Games, Including Patriots vs Jets, Cowboys vs Cardinals
Credit:
Cooper Neill/Getty Images. Pictured: Dak Prescott.
Through two weeks of the NFL season, there are nine teams 2-0, nine teams 0-2, and 14 that split their opening two games. Miami and San Francisco are the only two teams to win both of their games on the road, and the market has responded to the stellar starts for both.
Tua Tagovailoa is now the betting favorite to win MVP at FanDuel, the Dolphins are now the fourth favorite to win the AFC, and San Francisco has passed Philadelphia to become the new betting favorite in the NFC. 
Week 3 features the dreaded three-game late-Sunday-window slate – two of which are double-digit point spreads as Chicago visits Kansas City and Arizona hosts Dallas. 
Most pundits, myself included, claimed the 49ers were a high-variance team because of the quarterback situation and then only proceeded to discuss the negative downside of this team.
What if the opposite was the reality and San Francisco is even better in 2023? I'm not ready to declare it either way because Brock Purdy could regress at any time, but the 49ers defense continues to dominate and should overwhelm the Giants offense with zero weapons now that Saquon Barkley is out injured.
The offense is healthy at the skill positions, and this offense has cooked when Purdy has started and finished games – coincidentally the team has been a lot healthier since he became QB.
The Giants defense spent a ton of time on the field on Sunday and now has to turn around for a short week on the road. Does anyone feel comfortable with the underdog if it's Daniel Jones dropping back 40+ times against an elite pass rush with no weapons? I certainly don't. 
Verdict: Pass
---
Click here to return to the table of contents.
---
The Passes
Chargers vs. Vikings
Football is a hilarious sport because the 0-2 2023 Vikings are a better team thus far than the 13-4 2022 Minnesota Vikings that won the NFC North. The biggest improvement for the Vikings has come through the defensive scheme and Brian Flores taking over for Ed Donatell as defensive coordinator. 
The Vikings still don't have the personnel to be a good defense, but they don't look like a bottom-five unit that they were last season.
The real question is what happened to Brandon Staley's defense. One week after Ryan Tannehill looked washed in Week 1 against the Saints, he diced up the Chargers. Staley had no answer for the Dolphins juggernaut passing game in Week 1 either while Belichick slowed them down decently well a week later.
The gap between the Chargers and the second-to-last team in defensive DVOA through two weeks is the same gap as 31 to 22. This unit has fallen off a cliff and while two game defensive samples are noisy, that's enough for me to pass on this contest. 
Minnesota's inability to run the ball could force some methodical underneath and short throw drives for Kirk Cousins. They are by far the worst run offense in the NFL and that would suggest the total is a smidge high, but I'm not betting it at the current number.
Verdict: Pass
---
Colts vs. Ravens
Baltimoreis one of the top teaser options on the board this weekend as an eight-point home favorite. I remain impressed with the Colts offense under new quarterback Anthony Richardson and believe the market is too low on Indianapolis generally.
The Colts were a .500 team last year when Frank Reich was fired, and the offense had completely cratered. The Indianapolis defensive front is quite solid, and that should keep them somewhat competitive here. 
Lamar Jackson wiped off some Week 1 rust and looked as good as ever on Sunday in Cincinnati. I'm a believer in both teams, but I can't offer real betting insight until we get more clarity on Richardson's health (concussion) later in the week.
Verdict: Pass for now (tease Baltimore to -1.5/2)
---
Panthers vs. Seahawks
What is the solution for the Panthers offense? Carolina ran the ball well in Week 1 but had just nine first downs until garbage time at home in primetime Monday. Now, the Panthers are on a short week, traveling cross country, and Bryce Young has struggled mightily with sack avoidance and play under pressure, which were strengths of his at Alabama.
Seattle is very quietly a top-five unit through two weeks in pass rush win rate. I don't trust their defense enough to lay this number, but don't have any reason to bet the Panthers as a modest road underdog.
Verdict: Pass
---
Bears vs. Chiefs
After successfully fading Chicago in Week 1, the Bears game is the easiest pass on the board for me for the second straight week. After two poor weeks, the Chiefs offense is in a perfect get-right spot against what I think is the worst defense in the NFL in Chicago. I've never really believed in Justin Fields, but you have to think more designed runs are coming this week given how infrequent they've been through two weeks.
Laying more than 10 with the Chiefs given how painfully slow and methodical they play with a lead? No thanks. 
Verdict: Pass
---
Bills vs. Commanders
Our luck rankings show a clear like on Buffalo in this spot, but the market has had solid resistance toward any real Buffalo money early in the week. This line briefly hit seven before getting beat down to the current 6/6.5 consensus.
This is a choose-your-own-adventure handicap. You can certainly acknowledge that the Commanders needed fourth-quarter comebacks to win against two bad teams — Denver and Arizona. Would this line be a point higher if Buffalo was 2-0 and Washington was 1-1, which would probably be a more accurate and deserving record for both given how their games played out? 
Josh Allen has historically been a flat-track bully too, blowing out bad teams. I'd consider Washington at seven, but if you're still not a Howell believer, Buffalo alt spreads is the way to look here.
Verdict: Pass
---
Steelers vs. Raiders
It doesn't really matter whether you blame Kenny Pickett, Matt Canada, Mike Tomlin or all of them for the poor Steelers offense. Pittsburgh did play consecutive home games against elite defenses and showed absolutely nothing to like on offense. They had nine first downs and -7 yards in the fourth quarter in the win against the Browns on Monday night.
Jimmy Garrapolo keeps throwing his wide receivers into harm's way with dangerous passes. Davante Adams managed to avoid a concussion, and Jakobi Meyers is recovering from his concussion and may play this week.
Garoppolo has faced very little pressure through two weeks, but I expect that to change on Sunday. Unfortunately, we're headed toward another ugly primetime game, and I'll be sitting it out unless we get to +3.5 on Pittsburgh. I highly doubt that happens. Another great teaser option. 
Verdict: Pass
---
Rams vs. Bengals
If you wanted to bet the Rams, you missed your chance now. We don't know the status of Joe Burrow, but the market doesn't seem to think he's playing. The Rams +6.5 was a suggestion Burrow would play but wouldn't be 100%. Once it went to 3.5 on Monday, the books were hedging his play chances around 50/50. 
It got pushed straight through 4 and 3 though, so the market thinks he's out. If you think Burrow is playing, you should probably bet Bengals -2.5. Until we learn more, I'm passing.
Verdict: Pass
---
Click here to return to the table of contents.
---
The Leans
Saints vs. Packers
We're trending toward the third consecutive week that I'll be betting against the Saints. New Orleans clearly deserved the cover on the road against this inept Panthers offense, but there was nothing from the Saints offense that gave me much faith in them producing against an improved Packers run defense.
For years we looked at the Packers defense as the whole being less than the sum of the parts. Through two weeks, Green Bay ranks above average in rushing success rate and EPA/play allowed. The talent might finally be coming through and producing enough of a defense.
Matt LaFleur is making life easier for Jordan Love, who ranks near the top of the league in ANY/A and eighth in EPA/CPOE composite. He won't sustain that as he plays real defenses – like this Sunday – but the idea of him being overmatched seems to be out the window now.
I'm monitoring Green Bay's offensive injuries to Aaron Jones and Christian Watson before betting but clearly lean toward Green Bay at -2 or better. 
Verdict: Lean Green Bay -2
---
Eagles vs. Buccaneers
For the second half of 2021 and most of the first half of 2022, the Eagles were consistently bet heavily as limits increased on game day. There was a lot of respected money that regularly moved the market in their favor. It precluded a dominant regular season campaign in 2022 and an eventual Super Bowl run.
I find it interesting that the market has now moved against Philadelphia on game day for two straight weeks. They were -4.5 and closed -3.5 against New England in Week 1, and then moved from -7.5 on open to -6.5 on game day to -5.5/-6 close in the win against the Vikings.
There's regression happening on both sides of the ball. The Eagles can still lean on the offensive line and run the ball, but the drop-back passing fluidity hasn't been good through two weeks. Jalen Hurts has been up and down as a passer. The defense has a ton of injuries in the back seven and will continue to get exposed as a result.
The Eagles are No. 1 in our Action Network luck rankings, and while I'm certainly not backing them on the road here, I'd need six or more to consider Tampa Bay.
Verdict: Lean Tampa Bay +6 or more
---
Broncos vs. Dolphins
I'm reposting the same chart from the breakdown on the Titans/Browns game to point out the opposite extreme. It wouldn't shock anyone to see the Bears, Chargers and Seahawks struggling defensively, but the Broncos issues are quite surprising through two games.
Denver has gotten somewhat improved play from Russell Wilson overall, but the defense has taken a clear step backward.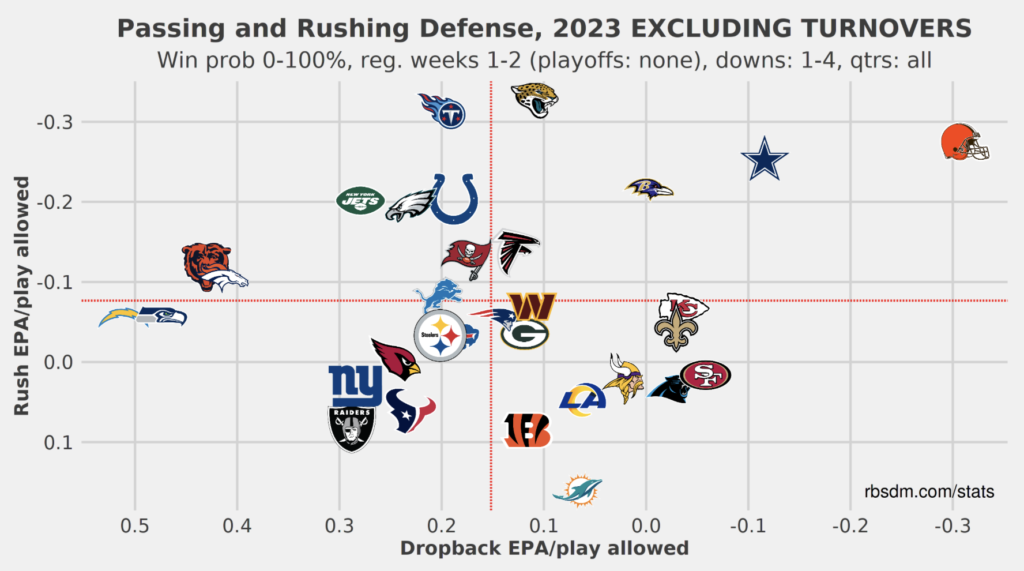 Denver was a top-five pass coverage unit last year, and the same defense got torched by Sam Howell in the second half of Sunday's 35-33 loss to the Commanders. The Broncos offense is showing real signs of life despite the fact they blew a 21-3 lead in Sunday's game. Russell Wilson is top 10 in adjusted net yards per attempt, top 10 in EPA/CPOE composite and 10th in Success Rate despite a mediocre group of receiving options around him.
Miami's offense is playing at an elite level, spearheaded by Tagovailoa. He's first in time to throw and first in success rate, ANY/A, and the Dolphin offense has moved the ball with ease against the Chargers and Patriots. 
This game was triggered by our own Action Network luck rankings, in which Denver has been one of the unluckiest teams in the NFL when you compare actual scores to expected scores. The Dolphins are near the top of the luck rankings through two weeks, and this game would be Denver or nothing for me. 
The Broncos are only a bet for me at +7, and at the current +6.5, I'm passing. 
Verdict: Bet Broncos +7 or better, lean at +6.5
---
Click here to return to the table of contents.
---
The Bets
Titans vs. Browns
Through two full NFL games, the Browns defense has yet to allow an opposing offense to run a play inside its red zone. The Cleveland defense has been by far the best down-to-down unit in the league once you exclude turnovers, as evidenced by the chart below from rbsdm.com/stats.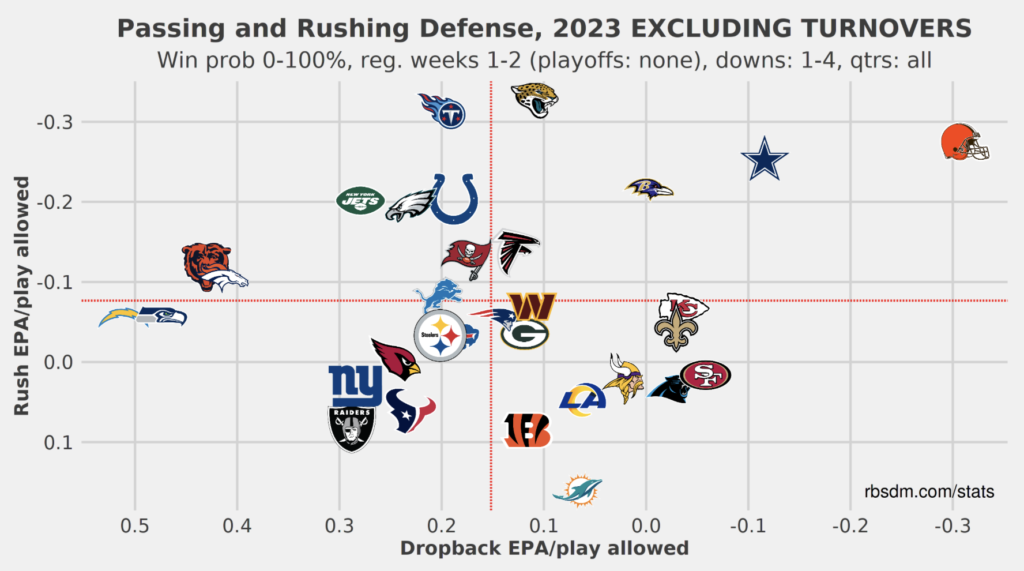 The offense is an entirely different story. The power run game and elite run-blocking offensive line have been the identity of Cleveland's offense for years, and the loss of Nick Chubb clearly impacts that. Jerome Ford is a decent back, but you have to expect a decline in rushing success rate and efficiency with him as the lead ball carrier. 
Then there is the Deshaun Watson problem. He's 26th in Success Rate, 27th in sack rate, 26th in ANY/A and 30th in EPA/CPOE composite through two weeks. It's not as if the Browns faced two elite defenses either. Pittsburgh and Cincinnati are both solid units, but neither looked elite in their other game this season that wasn't against Watson.
Both of these defensive fronts should control the game. If you can get Tennessee over a field goal, they're a clear buy in this matchup. Now that the line is down to three, I could only look to the under. 
The Tennessee defensive personnel and coaching continue to be the most underrated unit in the NFL and a major reason why Mike Vrabel has a winning record straight up as an underdog in his career. 
Our Luck Rankings show Cleveland to be a play in this game because the Browns rank as one of the unluckiest teams in the league following an extremely misleading Monday Night Football scoreline.  
Instead, I'll be targeting the under on Sunday. Browns/Steelers went over on Monday because of two defensive touchdowns, but this game should be played at a snail's pace, and neither offense has shown much through two weeks. 
What is QuickSlip?

QuickSlip is an Action Network feature that allows users to automatically pre-load their bet slip at FanDuel Sportsbook.
---
Falcons vs. Lions
Not only did Detroit lose its home opener to Seattle, but Lions injuries are seriously piling up. Running back David Montgomery was carted off in the loss, defenders Justin Houston and CJ Gardner-Johnson are both now on injured reserve, wide receiver Amon-Ra St. Brown has turf toe, and offensive lineman Halapoulivaati Vaitai is likely out for Week 3.
The Lions had real issues stopping the run last season, and while they've done well through two weeks, Sunday will be a real test for this group against the physical Falcons power offense.
Desmond Ridder doesn't look like an NFL starting quarterback, but how big is the gap between these two teams overall? In my view, it's not enough for the Lions to be laying more than a field goal. Arthur Smith's scheme does an excellent job of hiding Ridder better than almost any scheme in the NFL. 
If St. Brown is limited at all, the Lions offense is quickly down to some pretty mediocre receiving options to surround Goff. 
I bet the Falcons opener at +4.5 and would bet them down to 3.5.
Patriots vs. Jets
New England's offense hasn't been as bad as the first two weeks would suggest. They've moved the ball decently well, but the inability to run the ball in plus territory and the lack of explosive weapons make every drive a precision grind to try to score six points. The Jets defense bent but never broke against Dallas, and the result was a lot of field goals. 
Because New England was playing from behind in both games, Mac Jones attempted a ton of passes, and the Patriots had to force themselves into more uncomfortable game scripts. 
The Jets offense in 2023 has been built off a handful of explosives in the run and pass games, but the play-to-play consistency is nonexistent. Even the rushing success rate numbers are poor, and that's not going to fly against a Bill Belichick defense. Since New England will be in better game scripts and playing from the front, I expect this game to be called quite conservatively by the Patriots offensively. The total is too high at 37.5, and I only see this going over with 1-2 defensive scores.
This total varies from book to book, so use our live NFL odds page to be sure you're getting the best number.
Bet: Under 37.5 (Bet to 37)
Texans vs. Jaguars
What's wrong with the Jaguars offense? Trevor Lawrence made some extremely impressive throws against the Colts in Week 1, but his offense is right next to the Panthers, Jets and Steelers on the offensive efficiency charts through two weeks. Those are three teams you don't want to be paired with or sitting near on the chart.
Even if you take out turnovers from the equation, the Jaguars rank 30th in EPA per play offensively. Neither the Colts nor Chiefs projected as a top-10 defense entering the season too.
The Texans were a trendy underdog and suspected improved team prior to Week 1. Some will jump ship after two relatively uncompetitive losses, but I actually think this is the time to buy in. CJ Stroud is following his pattern from college. Excellent from clean pockets and terrible under pressure. His collegiate PFF grades suggested this would be who he was, and it's who he has been through two NFL starts.
The key: Jacksonville is 31st in pass rush win rate through two weeks. Houston's pass rush has been the better unit, (top 10 in PRWR), and the Jaguars offensive line looks to be a real issue.
I'm betting Houston at +10 or better. As is the case with the Patriots vs. Jets pick, not all books are offering this number. Click here to be sure you know where Texans +10 is available.
Verdict: Bet Houston +10
Placing this bet at BetMGM? Click here to get the latest bonus code.
---
Cowboys vs. Cardinals
Dallas has had back-to-back dominant wins, and there's nothing to suggest that this won't be a third consecutive rout. The Cowboys are elite front runners because the offense is excellent at ball control and the pass rush is dominant.
The Jets broke off one big explosive play on a broken tackle and run from Garrett Wilson, but the Jets did nothing else on offense. Dallas had the best pass rush in the NFL by pressure rate last year, and the Cowboys continued their dominance into the new season.
Arizona was stunningly efficient in the first 2 1/2 quarters on offense against the Giants, but I'm not buying much from that performance heading into this contest. The market overreacted to that good offensive showing from Arizona, and now we get to play against points in this matchup. Another dominant win for Dallas as they get to 3-0 with New England coming into town next week.
I'll throw in an additional bet for this one: Dak Prescott hasn't thrown an interception yet, though he should have thrown one to Sauce Gardner. Dallas might be the best team in the NFL, and the Cowboys QB is top two in EPA per play efficiency. He's worth a few dollars for MVP.
Verdict: Bet Under 43.5 (Play to 43) | Dak Prescott MVP 16-1
---
Click here to return to the table of contents.
---
How would you rate this article?
This site contains commercial content. We may be compensated for the links provided on this page. The content on this page is for informational purposes only. Action Network makes no representation or warranty as to the accuracy of the information given or the outcome of any game or event.