NFL Week 4 WR/CB Matchups: Will Amari Cooper Dominate Marshon Lattimore?
Credit:
Matthew Emmons-USA TODAY Sports. Pictured: Dallas Cowboys receiver Amari Cooper (19), New Orleans Saints cornerback Marshon Lattimore (23).
Matthew Freedman breaks down Week 4's most important WR/CB matchups, highlighted by Cowboys WR Amari Cooper and Saints CB Marshon Lattimore.
Football is a team sport comprised of individual matchups, the most important of which might be the matchup between wide receivers and cornerbacks.
In this piece, I leverage snap data from Pro Football Focus to project NFL Week 4 WR/CB matchups.
For more on the WR/CB duels, see the FantasyLabs Matchups page, where we provide all sorts of basic and advanced data — including fantasy and red-zone performance — for each offensive skill-position player based on his matchup.
Also consult our Week 4 injury report for status updates on receivers and corners.
WR/CB Matchup of the Week: Amari Cooper vs. Marshon Lattimore
When the Cowboys hosted the Saints last season in Week 13, Lattimore tailed Cooper on an outrageous 91.2% of his routes. I expect Cooper to get the Lattimore shadow treatment again this week.
It's somewhat hard to say who won their matchup last year.
Cooper caught all seven of his targets against Lattimore for a 7-66-0 receiving performance. In total, he was 8-76-0 receiving on eight targets.
If a guy leads his team in targets and converts all of them into receptions, it's hard to say that he didn't win his matchup.
On top of that, when the Saints were down by a field goal within the two-minute warning and needed a stop, Cooper drew a pass interference from Lattimore on an end-zone target that likely would have been a touchdown if not for the penalty.
That effectively ended the game.
So Cooper, at first glance, looks like the clear winner.
But Lattimore held his own. With Lattimore defending Cooper, the Saints held the Cowboys to just 13 points at home. Lattimore limited Cooper to a manageable 19 yards after the catch (YAC).
Cooper fell short of the 82 yards and 0.7 touchdowns he averaged in his 10 other Cowboys games last year. And after one of Cooper's receptions, Lattimore knocked the ball loose and recovered the fumble.
Lattimore certainly didn't eliminate Cooper, but it's not as if he was embarrassed. When given the task of slowing down one of the league's best receivers, Lattimore did his job.
This upcoming matchup, might be different, though. Lattimore was the 2017 Defensive Rookie of the Year, and in 2018 he did an admirable job of defending opposing No. 1 receivers. But 2019 hasn't been kind to him.
Through three games, Lattimore has struggled mightily.
Week 1 (vs. Texans): 5-47-1 receiving on eight targets
Week 2 (at Rams): 5-142-1 receiving on six targets
Week 3 (at Seahawks): 10-152-0 receiving on 13 targets
Sure, he's had to face DeAndre Hopkins, Will Fuller, Brandin Cooks, Robert Woods, D.K. Metcalf and Tyler Lockett — but in total he's allowed a 20-341-2 receiving line with a 74.1% catch rate.
It's no surprise that he has a career-low 58.9 Pro Football Focus coverage grade.
As for Cooper, he's currently living his best life.
Week 1 (vs. Giants): 6-106-1 receiving on nine targets
Week 2 (at Redskins): 4-44-1 receiving on five targets
Week 3 (vs. Dolphins): 6-88-2 receiving on seven targets
Lattimore is talented enough to pull his season together, and last season he was more than adequate in shadowing Odell Beckham Jr., Antonio Brown, Mike Evans, Alshon Jeffery and Calvin Ridley.
But at the venue formerly known as the Coors Field of Fantasy Football, there's a strong chance in Week 4 that Cooper could send Lattimore back to college with an old-fashioned Texas-style schoolin'.
NFL Week 4 Potential Shadow Matchups
Here are the other shadow matchups I'm projecting, listed by time of kickoff.
Bills WRs John Brown, Cole Beasley & Zay Jones vs. Patriots CBs Stephon Gilmore, Jonathan Jones & Jason McCourty: The Pats are a shadow-heavy team, and they have NFL-best marks with zero receiving touchdowns allowed, six interceptions and 4.0 net yards per attempt allowed. Edge: Pats CBs
Chiefs WR Sammy Watkins vs. Darius Slay: Watkins has run 66.7% of his routes from the slot this year, but Slay is one of the few shadow corners who follows receivers into the slot, and he's allowed a catch rate of just 52.4% since last season. Edge: Push UPDATE: Slay (hamstring) is questionable, so the edge now goes to Watkins
Chargers WR Keenan Allen vs. Dolphins CB Xavien Howard: Keenan has an NFL-high 42 targets, 29 receptions and 404 yards, and Howard has allowed a 72.7% catch rate on a defense that has surrendered a league-worst 133 points. Edge: Allen UPDATE: Chargers WRs Mike Williams & Travis Benjamin are projected OUT, so Allen could play in slot and avoid shadow coverage
Redskins WR Terry McLaurin vs. Giants CB Janoris Jenkins: The Giants over the past year have routinely used the 2016 Pro-Bowler to shadow opposing big-bodied No. 1 receivers — DeAndre Hopkins, Michael Thomas, Cooper — and Scary Terry has opened his career with three straight touchdown-scoring games. Edge: McLaurin
Ravens WR Marquise Brown vs. Browns CB Denzel Ward: The 2018 Pro-Bowler missed Week 3 with a hamstring injury, but last season he shadowed Antonio Brown, John Brown, and DeSean Jackson, so if he's active this week he will probably tail the dynamic 'Hollywood' Brown. Edge: Ward UPDATE: Ward (hamstring) is projected OUT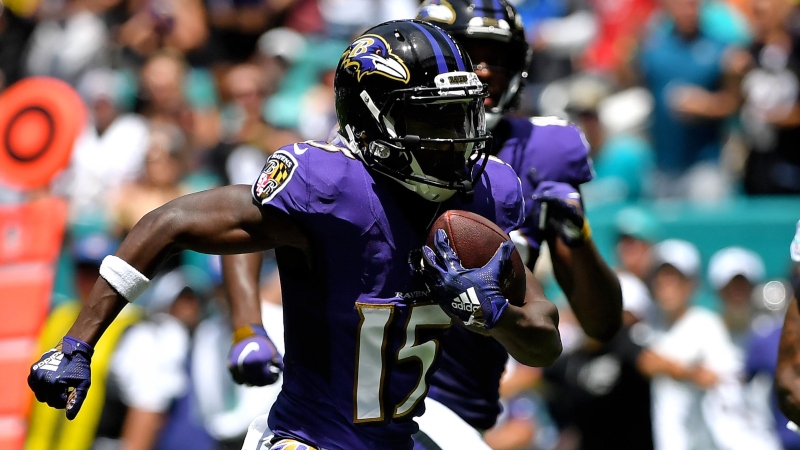 Texans WR DeAndre Hopkins vs. Panthers CB James Bradberry: In his three-plus seasons as a shadow corner, Bradberry either locks it up or explodes — and this week he's facing a dude whose nickname is "Nuk." Edge: Hopkins
Bears WR Allen Robinson vs. Vikings CB Xavier Rhodes: Because of injury, Robinson played just one game against the Vikings last year, but in their Week 11 matchup, Rhodes & Co. held Robinson to a 3-39-0 receiving performance on seven targets. Edge: Rhodes
Jaguars WR D.J. Chark Jr. vs. Broncos CB Chris Harris Jr.: Chark leads the Jags with his 15-277-3 receiving line, and Harris has held Allen Robinson and Davante Adams in check over the past two weeks with his outside shadow coverage. Edge: Harris
Broncos WR Emmanuel Sanders vs. Jaguars CB Jalen Ramsey: Ramsey has requested a trade, and he apparently had an illness that required him to miss practice on Monday, so it's uncertain if he'll even play this week, but if he does, he'll probably resume his auto-shadow role against No. 1 receivers. Edge: Ramsey UPDATE: Ramsey (back) is projected OUT
NFL Week 4 WR/CB Matchups
Pos = left, right or slot WR or CB
% = percentage of player's snaps at position
Projected shadow matchups are CAPITALIZED
Weekend Injury Updates
Arizona Cardinals
LWR Damiere Byrd OUT
LWR Trent Sherfield IN
Takeaway: Meh
Carolina Panthers
LCB Donte Jackson OUT
SCB Ross Cockrell MOVE to LCB
SCB Javien Elliott IN
Takeaway: Big upgrade for Texans RWR Will Fuller
Chicago Bears
RWR Taylor Gabriel OUT
RWR Javon Wims IN
Takeaway: Who cares
Cleveland Browns
LCB Denzel Ward OUT
RCB Greedy Williams OUT
SCB T.J. Carrie MOVE to RCB
LCB Terrance Mitchell IN
SCB Eric Murray IN
Takeaway: Big upgrade for Ravens RWR Marquise Brown, moderate upgrades for other Ravens WRs
Denver Broncos
SCB Kareem Jackson OUT
SCB De'Vante Bausby IN
Takeaway: Big upgrade for Jaguars SWR Dede Westbrook
Detroit Lions
SWR Danny Amendola OUT
RWR Marvin Jones Jr. MOVES to SWR
RWR Marvin Hall IN
Takeaway: Potential upgrade for WR Marvin Jones Jr. in slot
Indianapolis Colts
RWR T.Y. Hilton OUT
LWR Deon Cain MOVES to RWR
LWR Zach Pascal IN
Takeaway: Meh
Jacksonville Jaguars
LCB Jalen Ramsey OUT
LCB Tre Herndon IN
Takeaway: Big upgrade for Broncos RWR Emmanuel Sanders
Los Angeles Chargers
RWR Mike Williams OUT
SWR Travis Benjamin OUT
LWR Keenan Allen MOVES to SWR
RWR Dontrelle Inman IN
LWR Geremy Davis IN
LCB Casey Hayward Jr. OUT
LCB Michael Davis IN
Takeaway: Big upgrade for WR Keenan Allen in slot, big upgrade for Dolphins RWR DeVante Parker
Miami Dolphins
SWR Albert Wilson IN
SWR Jakeem Grant OUT
SCB Jomal Wiltz OUT
SCB Chris Lammons IN
Takeaway: Even bigger upgrade for SWR Keenan Allen
Minnesota Vikings
SWR Chad Beebe OUT
SWR Olabisi Johnson IN
SCB Mackensie Alexander IN
SCB Mike Hughes OUT
Takeaway: Slight downgrade for Bears SWR Anthony Miller
New York Giants
LWR Cody Latimer IN
LWR Russell Shepard OUT
Takeaway: Meh
Pittsburgh Steelers
LCB Joe Haden OUT
LCB Artie Burns IN
Takeaway: Big upgrade for Bengals RWR Auden Tate
Washington Redskins
RCB Quinton Dunbar IN
RCB Fabian Moreau OUT
Takeaway: Slight upgrade for Giants LWR Cody Latimer
Thanks to Scott Barrett for providing me with some of PFF's historical data.
How would you rate this article?