NFL Week 3 WR/CB Matchups: Will Julio Jones Find the End Zone with Marshon Lattimore Shadowing?
Credit:
USA TODAY Sports. Pictured: Marshon Lattimore, Julio Jones
Week 3's WR/CB matchups feature shadow dates for Julio Jones, Corey Davis, Kelvin Benjamin and DeAndre Hopkins.
Odell Beckham Jr. and Adam Thielen could be under-owned compared to similarly-priced players.
Keenan Allen and T.Y. Hilton can win any matchup, but it'll take their A-game to do so this week.
I'll be breaking down the top wide receiver/cornerback matchups every week throughout the 2018 NFL season.
Here's a data-driven analysis of Week 3's best passing-game matchup, four potential shadow matchups and five potential non-shadow matchups. Then we'll round it out with a quick look at plus and minus matchups.
Visit the FantasyLabs NFL page for more weekly breakdowns. You can also view all of this week's WR/CB matchups using the Matchups tool.
Jump to: Matchup of the Week | Shadow Matchups | Non-Shadow | Plus | Minus
Matchup of the Week
Chiefs Offense vs. 49ers Defense
The Patrick Mahomes era is here: Two weeks, 10 touchdowns and a career-average of 11.3 adjusted yards per attempt — the highest rate among all quarterbacks since the 1970 AFL-NFL merger (minimum 50 pass attempts).
The Kansas City passing game is objectively the most explosive unit in the league:
Tyreek Hill has recorded the fastest top speed among all ball carriers this season … and the second-fastest top speed (Next-Gen Stats). Including this preseason, Hill has caught 26-of-28 targets for 441 yards and four touchdowns.
Sammy Watkins has averaged 15.8 yards per reception — the league's third-highest mark since he entered the league in 2014 (minimum 250 targets). Watkins' first rush attempt since 2015 went for 31 yards last week. Friendly reminder that his career-long rushing line at Clemson was 52-339-1.
Travis Kelce ranks third among all tight ends with 9.02 yards per target since entering the league in 2013 (minimum 100 targets). The 6-foot-5, 260-pound athlete has lined up in the slot or out wide on 44% of his snaps this season and is averaging a career-high 14.4 yards per reception.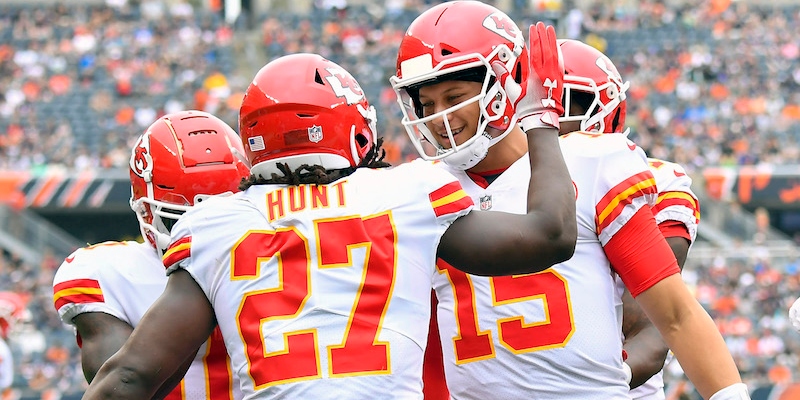 Naturally, Mahomes' limitless arm strength has stretched the boundaries of what we thought was possible in a modern passing attack. The only negatively impacted playmaker has been running back Kareem Hunt. He has only one reception this season after racking up at least three catches in 14 of his 17 games in 2017 (including playoffs).
Up next is a 49ers defense that will welcome back stud linebacker Reuben Foster from suspension, but the secondary hasn't exactly proven capable of slowing down its opponent's top pass-game options through two weeks:
Week 1 at Vikings: Adam Thielen: 6-102-0; Stefon Diggs: 3-43-1
Week 2 vs. Lions: Golden Tate: 7-109-0; Kenny Golladay: 6-89-1; Marvin Jones: 4-54-1
We should find out quickly how much speed Richard Sherman still has coming off offseason surgery on both of his Achilles.
Watkins figures to see the most of Ahkello Witherspoon (ankle, questionable), who has allowed nine receptions for 121 yards and three touchdowns on 15 passes into his coverage this season.
The 49ers and Chiefs boast the week's highest over/under as of writing (see live odds here), so consider exposing your fantasy team to both offenses in the hopes of a back-and-forth shootout.
The Chiefs' early dominance and cozy matchups haven't been lost on the public, as Mahomes and Hill boast slate-high projected ownership marks at their position on DraftKings and FanDuel in our Pro Models. Be sure to check out our Ownership Dashboard shortly after lock to see how chalky they are in Week 3.
---
The Week 3 Shadow Club
Not many cornerbacks are consistently asked to travel with the opposition's No. 1 wide receiver: Only five defensive backs were credited with playing at least 10 games in shadow coverage last season, per Pro Football Focus. Even those five players don't enter 2018 with guaranteed weekly shadow dates due to offseason changes in scheme and roster construction.
But we can expect at least four cornerbacks to regularly line up across from their opponent's top receiver in Week 3.
Falcons WR Julio Jones vs. Saints CB Marshon Lattimore
The Saints' second-year corner has lived up to his status as the 2017 draft's No. 11 overall pick, racking up five interceptions and 19 pass deflections in 15 career starts while largely tracking the best receivers in the league. Lattimore was one of just six full-time cornerbacks to not allow a touchdown last season.
Still, Lattimore shadowed Jones during each of their two matchups in 2017 with mixed success. The Falcons' No. 1 receiver managed to post 5-98-0 and 7-149-0 lines in two meetings on 22 total targets.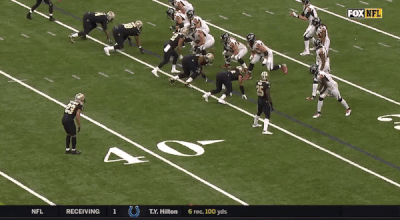 The Saints even asked their Pro Bowl corner to chase Jones into the slot on occasion, but consistently hanging with the league's back-to-back-to-back leader in yards per route run is typically a recipe for disaster for anybody.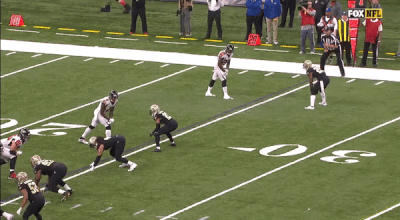 It wouldn't make much sense for Lattimore to spend time on any other receiver considering Jones is the only player in the league currently soaking up more than 40% of his team's target share. The other Falcons receivers offer limited upside considering first-rounder Calvin Ridley has played just 60% of snaps, and Mohamed Sanu hasn't gained more than 100 yards in a game since 2014.
Ultimately, Jones is capable of winning against any cornerback in the league. Lattimore has struggled through two weeks and is one of only seven full-time cornerbacks presently allowing more than two yards per cover snap. Mike Evans hung a 7-147-1 line in Lattimore's shadow on seven targets in Week 1.
There's certainly a case to be made that Mt. Saint Julio is due for an eruption.
Julio Jones has played seven consecutive regular season games without scoring a TD.

Jones has only equaled that streak once before back in 2014.

His next three games:
5-68-1
10-189-1
11-259-1

— Ian Hartitz (@Ihartitz) September 19, 2018
---
Bills WR Kelvin Benjamin vs. Vikings CB Xavier Rhodes
Benjamin has caught only 3-of-10 targets for 29 yards and one touchdown through two weeks in the fantasy football wasteland that's also known as Buffalo.
The 6-foot-5, 240-pound loafer has cleared 100 yards only twice since returning from a torn ACL in 2016, and Benjamin isn't exactly in the best shape of his life after practicing in a limited fashion on Wednesday with a hip injury.
There's usually a case to be made for Benjamin as a touchdown-or-bust option based on his guaranteed size advantage, but that won't be as much of a factor against the 6-foot-1, 210-pound first-team All-Pro Rhodes.
It's been #RhodesClosed for essentially every non-NFC North receiver he's been asked to shadow over the past two seasons.
Every WR Rhodes has shadowed since 2017:
Antonio Brown, Pittsburgh Steelers: 5 receptions, 62 yards, 0 TDs (11 targets)
Mike Evans, Tampa Bay Buccaneers: 7-67-0 (12 )
Marvin Jones, Detroit Lions: 2-42-0 (5), 6-109-2 (9)
Davante Adams, Green Bay Packers: 5-54-1 (10), 8-64-1 (12)
Josh Doctson, Washington Redskins: 4-30-0 (7)
Julio Jones, Atlanta Falcons: 2-24-0 (6)
A.J. Green, Cincinnati Bengals: 2-30-0 (4)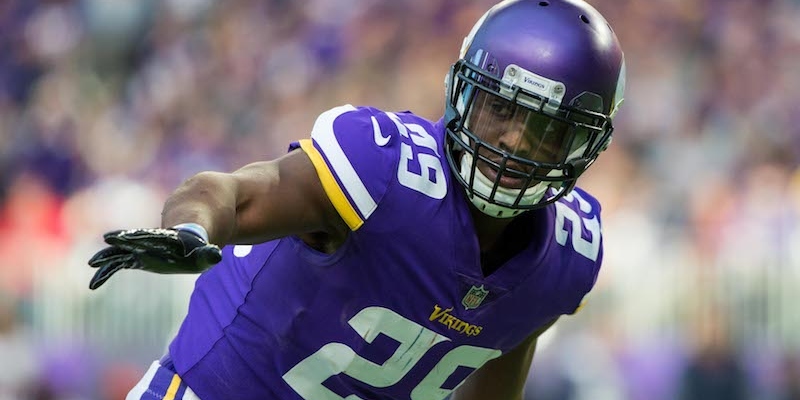 The Bills are presently implied to score a pathetic 12.25 points in Minnesota, where the Vikings have allowed an average of only 14 points in their past 10 games (including playoffs). Per our NFL Trends tool, wide receivers with a team total of two touchdowns or fewer have posted a -2.4 Plus/Minus and 23.3% Consistency Rating on DraftKings since 2014, and none of the 43 qualified players managed to reach 20 DraftKings points.
---
Texans WR DeAndre Hopkins vs. Giants CB Janoris Jenkins
"Nuk" and the Texans haven't averaged 35 points per game with Deshaun Watson under center in 2018 like they did in 2017, but Hopkins' fantasy floor has remained the roof. Overall, he's seen at least 11 targets in six of Watson's eight career starts.
Meanwhile, No. 2 receiver Will Fuller has continued to absolutely ravage any secondary brave enough to try to cover him with Watson under center.
Fuller has now scored an absurd eight touchdowns in five games with last season's No. 12 overall pick throwing the ball:
Week 4, 2017: 4 receptions, 35 yards, 2 touchdowns (6 targets)
Week 5, 2017: 2-57-2 (3)
Week 6, 2017: 2-62-1 (5)
Week 8, 2017: 5-125-2 (8)
Week 2, 2018: 8-113-1 (9)
Jenkins' start to the 2018 season hasn't been great. Overall, he's allowed 9-of-12 targets thrown his way to be caught for 153 yards, including an ill-advised 64-yard touchdown to Tavon Austin last week.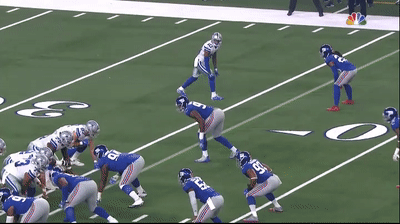 Hopkins has three more receiving touchdowns than any other player since the beginning of last season. He's projected to be under-owned on DraftKings relative to the slate's other elite receivers who are priced over $8,000 (per our Pro Models).
Bruce Ellington has the best matchup against slot corner B.W. Webb, who is currently PFF's ninth-worst cornerback out of 103 qualified defensive backs.
---
Titans WR Corey Davis vs. Jaguars CB Jalen Ramsey
Davis offers post-Week 3 upside considering his massive 34% target share and status as the Titans' undisputed No. 1 pass-game option after Delanie Walker (ankle, Injured Reserve) was lost for the season.
Still, things won't be easy on Sunday, regardless of whether Marcus Mariota (elbow) is ultimately able to suit up.
The only wide receivers to surpass 100 yards against the Jaguars over the past two regular seasons are Antonio Brown and Odell Beckham Jr. 
Davis is a 6-foot-3, 210-pound athlete capable of running sharp routes, but Ramsey has largely taken no prisoners outside of the game's elite when asked to shadow over the past two seasons.
Every receiver Ramsey has shadowed since 2017:
Jermaine Kearse: 4 receptions, 17 yards, 0 touchdowns (7 targets)
T.Y. Hilton: 2-27-0 (8). 3-51-1 (6)
A.J. Green: 1-6-0 (2)
Larry Fitzgerald: 3-12-0 (8)
DeAndre Hopkins: 4-80-1 (13)
Odell Beckham Jr.: 11-111-0 (15)
While last season's No. 5 overall pick offers plenty of talent in his own right, Sunday has the makings of a long afternoon for Davis considering the Titans' injury-riddled offensive line and situation under center.

Potential Non-Shadow Matchups
Redskins CB Josh Norman: The Redskins refuse to utilize Norman as anything other than their left cornerback. Opposing offenses happily took their chances with current free agent Bashaud Breeland from 2016-17, but new right cornerback Quinton Dunbar has earned PFF's top-overall grade through two weeks. Still, each of the Packers' top three receivers are fairly immune to tough matchups, thanks to Aaron Rodgers. Davante Adams has even overcome Rodgers' volatile home/away splits, as the receiver has averaged a +2.4 Plus/Minus and with an enhanced Upside Rating on the road since 2014.
Dolphins CB Xavien Howard: The Dolphins haven't asked their cornerbacks to travel much this season, so we can somewhat confidently predict Amari Cooper's percentage of snaps against each corner. About 40% of his routes should come against Howard, about 35% against No. 1 1 overall pick Minkah Fitzpatrick and about 25% against weak link Bobby McCain. Cooper's 10-target workload in Week 2 is probably a better baseline than his three looks in Week 1, but usage remains a concern. Tight end Jared Cook leads the Raiders with 16 targets, and Derek Carr hasn't targeted Cooper on any of his seven red-zone attempts.
Bengals CB William Jackson: Devin Funchess didn't find the end zone against the Falcons last week, but he did continue to see a larger workload without Greg Olsen (ankle, out). Funchess has averaged an additional 3.5 targets and 7.2 PPR points in 10 career games with Olsen sidelined. Jackson has almost exclusively played on the right side of the field this season, where Funchess has lined up on 70% of his snaps. Still, the Panthers' No. 1 receiver offers enough size at 6-foot-4 and 225 pounds to win tough matchups, especially against a defense that has already allowed Ryan Grant, Michael Crabtree, T.Y. Hilton and Willie Snead to each catch five-plus passes.
Bills CB Tre'Davious White: The Bills have used White on both sides of the field this season, although he didn't shadow a specific receiver against either the Ravens or Chargers. Adam Thielen's high slot rate (49%) should free him from the Bills' best cornerback (5%) for most of the afternoon. This means Thielen should spend most of his time against Rafael Bush, PFF's 12th-lowest graded cornerback out of 103 qualified players. Stefon Diggs is certainly capable of winning any matchup (especially indoors), but Thielen has the higher target share (30% vs. 23%) after two weeks with Kirk Cousins.
Chargers CB Casey Hayward: The Rams have managed to keep Robert Woods (28%), Brandin Cooks (26%) and Cooper Kupp (23%) plenty involved as far as target share is concerned. Woods leads the team in deep-ball targets, while Kupp leads the league with 29 red-zone targets since 2017. They'll each have their hands full with PFF's second-ranked secondary entering the season, although Hayward wasn't asked to shadow Cooks when the Chargers faced the Patriots in 2017. Either way, Cooks' field-stretching ability combined with Jared Goff's impressive arm strength enables one of the league's top five receivers to win any matchup in a hurry.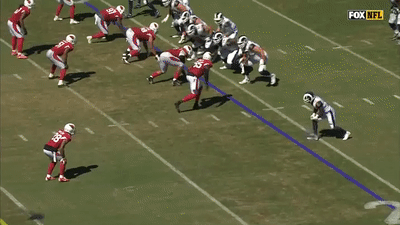 ---
>> Sign up for The Action Network's daily newsletter to get the smartest NFL conversation delivered into your inbox each morning.
---
Potential Plus Matchups
Patriots WRs Josh Gordon and Chris Hogan vs. Lions
No. 1 Lions cornerback Darius Slay (concussion) isn't expected to suit up Sunday. Josh Gordon (hamstring) is reportedly expected to play. I'm all in on the Gordon era in New England, but Hogan and Rob Gronkowski are still the favorites to lead the offense in targets for at least another week.
With that said, the entire passing game is set up well against a Lions secondary that offers hardly a lick of competency among its top six contributors.
Slay (doubtful): PFF's 74th-highest graded corner among 103 qualified players
Nevin Lawson: 93rd out of 103 corners
Teez Tabor: 103rd out of 103 corners
Quandre Diggs: 27th out of 77 safeties
Glover Quin: 74th out of 77 safeties
Tavon Wilson: 75th out of 77 safeties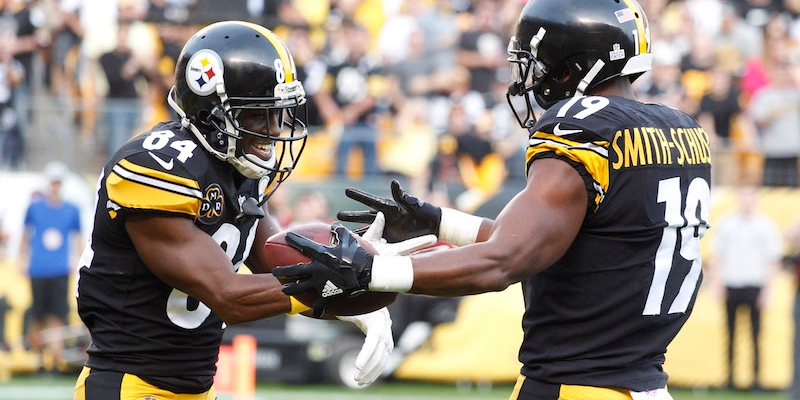 Steelers WRs Antonio Brown and JuJu Smith-Schuster vs. Buccaneers
The Buccaneers' 31st-ranked defense in Football Outsiders' DVOA will have its hands full with a starting offense consisting solely of top-12 players in total PPR points:
Ben Roethlisberger: QB6
James Conner: RB4
Antonio Brown: WR11
Juju Smith-Schuster: WR7
Jesse James: TE2
Brown and Smith-Schuster boast respective target shares of 33% and 27%. No. 3 receiver James Washington also deserves a long look as a boom-or-bust/DFS tournament option considering he played 80% of the offense's snaps and saw five targets in Week 2. Washington ranks second among all receivers with an average target depth of 26 yards (minimum five targets).
---
Buccaneers WR Mike Evans vs. Steelers
I'd be willing to bet Ryan Fitzpatrick won't throw for 400-plus yards and four touchdowns for a third consecutive week on Monday night against the Steelers, even if No. 1 cornerback Joe Haden (hamstring) is unable to suit up again. Regardless, Evans has an elite 31% target share and is averaging a career-high 12.1 yards per target after two weeks.
The bigger question in Tampa Bay is what to make of the Bucs' other receivers. Despite DeSean Jackson's sizzling start, the position certainly looks like a full-blown committee behind Evans:
Mike Evans snaps and target share percentage: 78% and 32%
Chris Godwin: 61% and 16%
Adam Humphries: 59% and 12%
DeSean Jackson: 44% and 15%
Giants WR Odell Beckham Jr. vs. Texans
Beckham is presently in the fourth-longest touchdown drought of his career: two games. His 30% target share through two weeks indicates his scoreless play might not persist much longer, and he's set up well against a Texans defense that couldn't keep the Blaine Gabbert-led Titans under 20 points last week.
Overall, the Texans boast two of PFF's bottom-40 corners this season out of 103 qualified defensive backs. Beckham's projected 13% to 16% ownership rate on DraftKings is a tier below more expensive options DeAndre Hopkins, Tyreek Hill and Michael Thomas.
Bengals WRs A.J. Green and Tyler Boyd vs. Panthers
Green has found a way into the end zone on 4 of his 11 receptions this season. Next up is the Panthers' 26th-ranked defense in DVOA against the pass, which doesn't boast a single cornerback or safety among PFF's top-30 players at their position.
Boyd has worked on the outside in two-receiver sets, and in the slot in three-receiver sets. He's out-snapped and out-targeted John Ross 107-82 and 14-6 through two weeks and is available for just $3,700 on DraftKings.
The Panthers' zone-heavy defense allowed Cowboys slot receiver Cole Beasley to post a 7-73-0 line on just eight targets in Week 1.
---
Saints WR Michael Thomas vs. Falcons
Drew Brees and Thomas have posted a ridiculous 74.7% catch rate during their time together, which is the highest mark among all receivers with at least 100 targets over the past 25 years. This dominance has extended to matchups against their division rival, as the Saints' No. 1 receiver has posted 7-71-1, 10-156-1, 10-117-1 and 4-66-0 lines in four career games against Falcons.
Thomas has also averaged an additional 1.6 DraftKings points per game with a +5.5 Plus/Minus and 66% Consistency Rating on the road during his career. More times than not, defenses simply can't guard Mike.

Potential Minus Matchups
Chargers WR Keenan Allen vs. Rams
You're never going to bench Allen in a season-long league, but this week's matchup certainly won't be his easiest of the year. Carr and Sam Bradford combined for zero touchdowns and four interceptions in Weeks 1-2 against the Rams. Overall, PFF graded Marcus Peters, Aqib Talib and Nickell Robey-Coleman as the third-best secondary in the league entering the season.
The good news for Allen is that Philip Rivers is plenty capable of getting the ball out quickly against the Rams' ferocious front seven. The Rams combined for just two sacks against Carr and Bradford, who accordingly have spent the first- and third-fewest average time in the pocket this season. Rivers ranks second (PFF).
Seahawks WRs Brandon Marshall and Tyler Lockett vs. Cowboys
The absence of Doug Baldwin has opened up plenty of targets in the Seahawks offense, but Marshall and Lockett have tough matchups against the Cowboys' trio of talented cornerbacks.
Former-safety Byron Jones is PFF's No. 2 overall corner while slot corner Anthony Brown ranks 14th and last season's second-round pick Chidobe Awuzie isn't too far behind at 42nd.
They managed to hold Beckham to 51 scoreless-yards on nine targets last week, and Funchess to a pedestrian 3-41-0 line in Week 1. The Cowboys haven't been afraid to leave Jones and/or Awuzie on an island against their opponent's No. 1 receiver.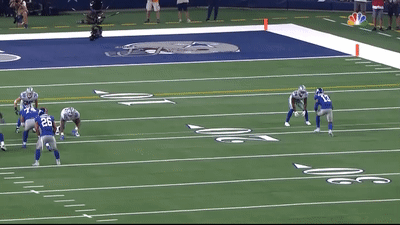 The Seahawks' perennially mediocre offensive line also has a tough matchup against the league's No. 3 defensive front in Football Outsiders' Adjusted Sack Rate. The Cowboys-Seahawks matchup is currently one of just three games on Sunday's main slate with an over/under below 42 points (see live odds here).
---
Colts WR T.Y. Hilton vs. Eagles
Hilton (quad, questionable) has scored in back-to-back weeks, but is presently averaging a career-worst 10.8 yards per reception. New-look Andrew Luck hasn't exactly been feeding Hilton his usual dosage of downfield targets:
TY Hilton average yards per reception 2012-2017: 15.8 Y/R
2018: 10.8 Y/R

Hilton average depth of target 2012-2017: 13.3 yards
2018: 7.8 yards

— Ian Hartitz (@Ihartitz) September 20, 2018

The Buccaneers and Falcons have managed to exploit the Eagles' mediocre crop of cornerbacks, but it remains to be seen how long Luck will be able to operate behind a Colts offensive line that could be again be without left tackle Anthony Castonzo (hamstring) and right tackle Denzelle Good (knee, wrist).
---
Be sure to check out FantasyLabs' industry-leading NFL News and Models, along with the Multi-Lineup Builder, Stack Builder, ownership projections and more. Other tools for the 2018 season are also available, including the Matchups page, DFS Contests Dashboard, NFL Ownership page and NFL Correlations page.