Koerner's NFL Wild Card Prop Betting Guide: My Picks for Seahawks-Eagles
Credit:
Otto Greule Jr/Getty Images. Pictured: Tyler Lockett
Sean Koerner runs through Sunday's NFL Wild Card props to identify the odds he's looking to bet.
Find his projections and picks for key Seahawks-Eagles player props below.
There's tons of value to be had betting NFL props. And with the slates getting smaller with the playoffs, I've decided to peel the curtain back on my full prop betting process.
Below is a guide to all the key player props for Sunday's Wild Card matchups featuring the Vikings at Saints and Seahawks at Eagles. You'll find my projections as well as the lines I'm looking to bet for 14 different player props.
NFL Wild Card Prop Bets & Picks
---
Check out FanDuel, where Action Network users get a risk-free bet up to $500.
---
Vikings Prop Bets & Picks
Kirk Cousins' Passing Yards
Dalvin Cook is set to return, and I'm figuring the Vikings will want to lean on him heavily to keep Drew Brees and the Saints offense off the field.
As 7.5-point underdogs, Cousins could be forced into a pass-heavy script later in the game, but I have a median projection of only 253.5 yards for him in this spot. FanDuel is offering the highest line at 265.5 as of writing, which would have a 58% chance of the under hitting — the percent chance I typically require before making a bet.
Target Bet: Under 265.5 (or More) Yards
[In New Jersey, Pennsylvania, Indiana or West Virginia? Bet now at FanDuel]
Cousins' Passing Touchdowns
The Vikings' team total of 20.5 translates to 2.11 projected offensive touchdowns, with 1.45 of them coming via the pass. Cousins' 1.45 passing touchdown projection implies there's a 57.5% chance he finishes with fewer than 1.5. FanDuel is offering the under at -112, which I would say just meets the threshold needed for me to make a bet.
Still, other books may be offering better odds by the time you read this, so it's critical to line shop. You may wonder how a 1.45-touchdown projection is showing so much value on the under 1.5 touchdowns — how could 0.05 be worth that much? It has to do with the nature of a stat like passing touchdowns.
The expected distribution for a 1.45-touchdown projection looks like this:
[In New Jersey, Pennsylvania, Indiana or West Virginia? Bet now at FanDuel]
Dalvin Cook's Rushing Yards
I have Cook's median projection set at 66.5, which is right in line with the market. It would require a book going rogue with a bad number to trigger a bet for me here.
Target Bets: Over 60.5 (or Fewer) Yards; Under 72.5 (or More) Yards
Stefon Diggs' Longest Reception
Diggs faces a tough test against Marshon Lattimore. I have the wide receiver's median projection set at 62.5 total receiving yards on Sunday, and while the market is a bit higher at 66.5, Diggs has such a wide range of outcomes that it would take an unlikely number above 72.5 to trigger an under bet for me.
That wide does offer some value in a different market, though: Diggs' longest reception, which books are offering at 25.5 yards. My median projection for that market is 31.5, so 25.5 is offering a 61.5% value on the over.
Under 265.5 passing yards for Cousins and over 25.5 yards on Diggs' longest reception are negatively correlated, but not enough to pass up taking both.
Target Bet: Over 25.5 (or Fewer) Yards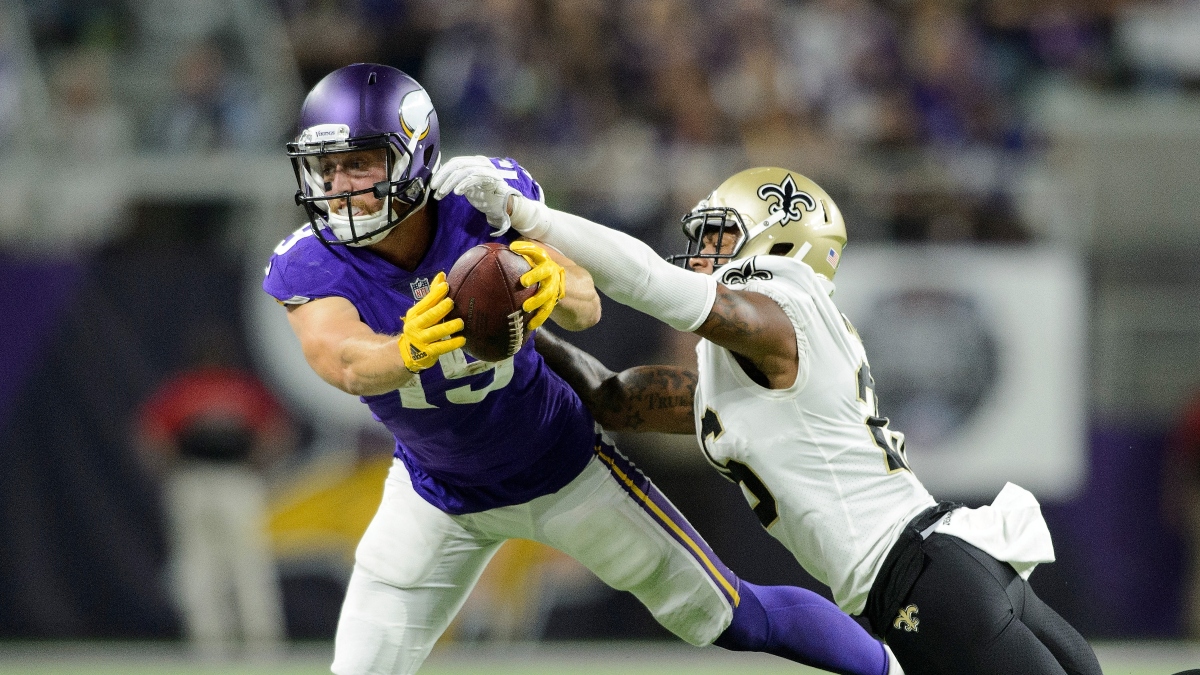 Adam Thielen's Receiving Props
I am not only in-line with the current market on all of Thielen's props, but he has an even wider range of outcomes than normal due to the nagging hamstring injury he's been dealing with since Week 7. Because of this, it's much tougher to peg what I would call his true odds to indicate whether there's greater than a 58% chance of hitting on a prop.
As a result, it's better to pass on any Thielen props for this round.
Kyle Rudolph's Receiving Yards
I have Rudolph projected for 2.7 receptions, which gives him 25.5 average yards in my simulations. But his median is 21.5, and since his range of outcomes are narrow, every yard is valuable:
I would wait for this line to bump up to 25.5, which would shake out to a 58.7% win probability on the under.
Target Bet: Under 25.5 (or More) Yards
---
Saints Prop Bets & Picks
Drew Brees' Passing Yards
I rarely bet Brees' passing yard props. There's such a wide range of outcomes for this prop that it's not typical for the market to be off by enough to offer obvious value. This week is no different as I have Brees pegged for 305.5 yards, which is roughly where most books are.
Some books are as high as 310.5 as of writing, but I would need to have access to a number north of 319.5 before taking the under here.
Target Bet: Under 319.5 (or More) Yards
Brees' Passing Touchdowns
I'll also pass on Brees' touchdown market.
Not only is Brees fairly volatile, the Saints are the only team that includes their backup quarterback in goal-line packages, in which Taysom Hill lines up either at QB, RB, WR or TE. I try to avoid having to predict these type of antics and instead focus on players and props with a bit more predictability.
Some books are offering Brees' touchdown prop at 1.5 and others have it at 2.5, so with that in mind, here are my projected odds for his exact number of touchdowns if you'd like to mine for value:
Alvin Kamara's & Michael Thomas' Props
Brees' wide range of outcomes typically makes it very hard to find an edge on props for his two main weapons. This week is no different: I am in line with each stud's current prop markets.
It's easier to find value in the peripheral options in this offense, so let's shift our focus there.
Tre'Quan Smith's Receiving Yards
I'll be heavily monitoring this market.
Smith gradually overtook Ted Ginn Jr. for the No. 2 WR role back in Weeks 12-13. Since Week 12, Smith has averaged a 71% routes per dropback rate that gives him a ton of hidden upside. Sure, Brees is busy targeting Thomas on nearly every drop back, but every once in awhile Brees will look Smith's way. Given Smith's underlying usage, I have him pegged for 2.0 receptions in this game.
His receiving yardage line is at 19.5 at FanDuel, which seems a tad low, especially considering his median yards per catch is 11.5 in his career. We can almost view this prop as an over 1.5 receptions — a line I'm sure FanDuel would not be offering -112 odds for on the over.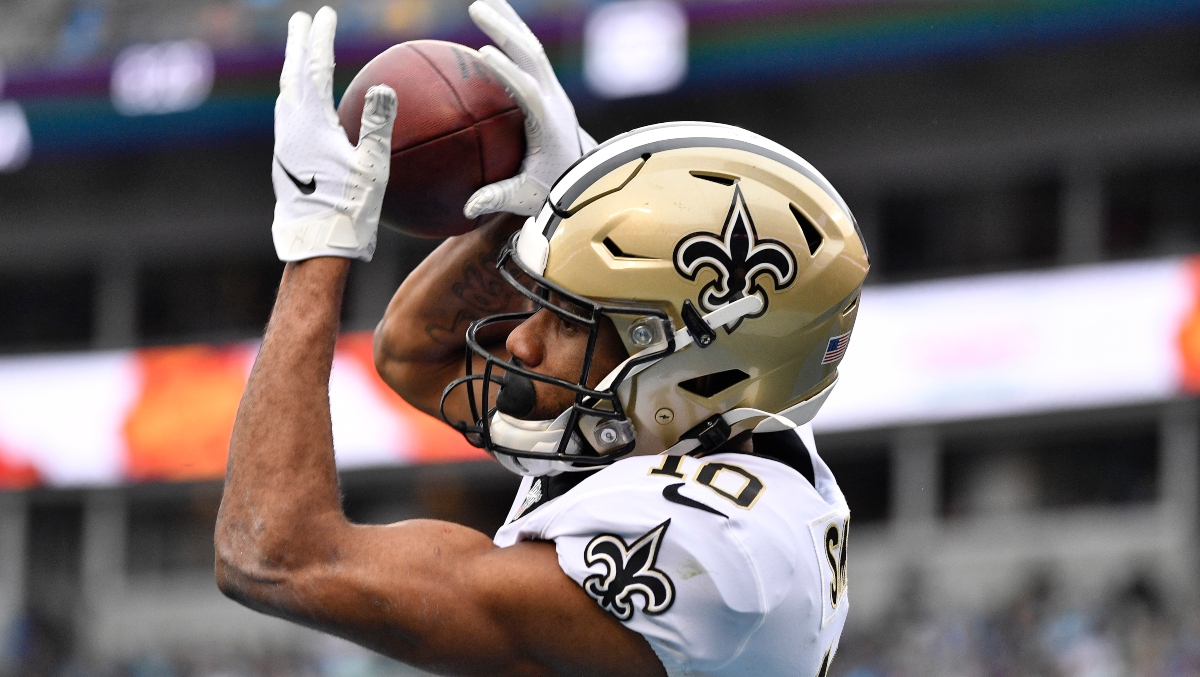 Smith's median output in my sims is 21.5, giving him an implied probability of going over the 19.5 number 56.8% of the time. I'll be looking to see if any book floats this number at 18.5, where the odds of the over hitting jump up to 59.1%.
Target Bet: Over 18.5 (or More) Yards
Jared Cook's Receiving Yards
Cook has been putting up massive yardage totals of late, topping 50-plus yards in six of his past eight games. He's been averaging his career-best 16.4 yards a reception this season, though I have him regressing toward his 13.2 career average with an expected yards/catch at 14.1 in this matchup, giving him a median of 44.5 yards for this market.
The highest number I've seen at a book so far is 50.5. The odds of the under hitting jump to 58% once we reach 51.5, which would trigger a bet for me, so we'll want to monitor this market.
Target Bet: Under 51.5 (or More) Yards
---
Eagles Prop Bets & Picks
There's so much uncertainty with the Eagles given that Miles Sanders and Zach Ertz are game-time decisions. Once we get more clarity, we should start seeing player props listed for most of Philly's offensive players, so be sure to follow me in our app to get alerts if/when I spot any value on those lines.
Seahawks Prop Bets & Picks
Russell Wilson's Passing Yards
The Eagles are a pass funnel defense, so it would make sense for the Seahawks to lean on Russell Wilson's arm a bit more in this matchup. But what the Seahawks should do versus what they plan to do can differ. I'm guessing they'll try to establish the run and then, depending on game flow, will let Wilson air it out.
I have Wilson projected for 255 yards in this matchup, which is a bit higher than the market currently. FanDuel is offering this at 246.5, but I would need this to dip down to 244.5 before showing a 58% win probability, initiating a bet from me.
Target Bet: Over 244.5 (or Fewer) Yards
Marshawn Lynch's Rushing Yards
It was a bit tricky projecting the Seahawks backfield last week after they placed Chris Carson on IR and signed Lynch. I had pegged the carries split to be 12 for Lynch and nine for Travis Homer, and it turned out to be pretty close with a split of 12 for Lynch and 10 for Homer.
Homer was by far the better back, but we may see a similar split this week. And if we assign Lynch another 12 carries, we get a median of 44.5 yards. FanDuel is currently offering the best line right now at 36.5 yards for Lynch — I have him clearing that number 60.8% of the time with my current projections.
Over 36.5 is a very strong speculative bet, given what we know on Sunday morning. That could, of course, change as kickoff gets closer, especially if coach Pete Carroll discusses Lynch's workload in detail before the game. If we get any more clarity on the situation, you can find my updated projections for Lynch over at FantasyLabs.
Target Bet: Over 38.5 (or More) Yards
[In New Jersey, Pennsylvania, Indiana or West Virginia? Bet now at FanDuel]
Tyler Lockett's Receiving Yards
Lockett is another player with a wide range of outcomes who can provide some hidden value at times, and luckily, this is one of those times. He has a great matchup against a vulnerable Eagles secondary and bettors will likely be eager to bet the over on this market.
I have Lockett projected for 4.8 receptions, which results in a 64.1-yard average in my simulations. However, his median is 58 yards. Looking at his game log this season, you can see this phenomenon in action. His average yards per game has been 66.1 yards, but his median yards has been 51.5.
Some books are offering 66.5 yards for this market, which would translate to a 58% chance of going under. This of course means it just meets my threshold.
Target Bet: Under 66.5 (or More) Yards
D.K. Metcalf's Receiving Yards
Metcalf has a fairly similar outlook as Lockett in my projections, but with a much higher floor. I have Metcalf projected for 4.2 receptions, which gives him a 66.8 average in my sims with a median of 60.5.
His game log this season has been a bit bizarre, especially compared to Lockett. Metcalf has averaged 56.2 yards a game with a median of 64 yards. It's unlikely he'll have his average yards per game be lower than his median going forward, let alone nearly 10 yards lower.
---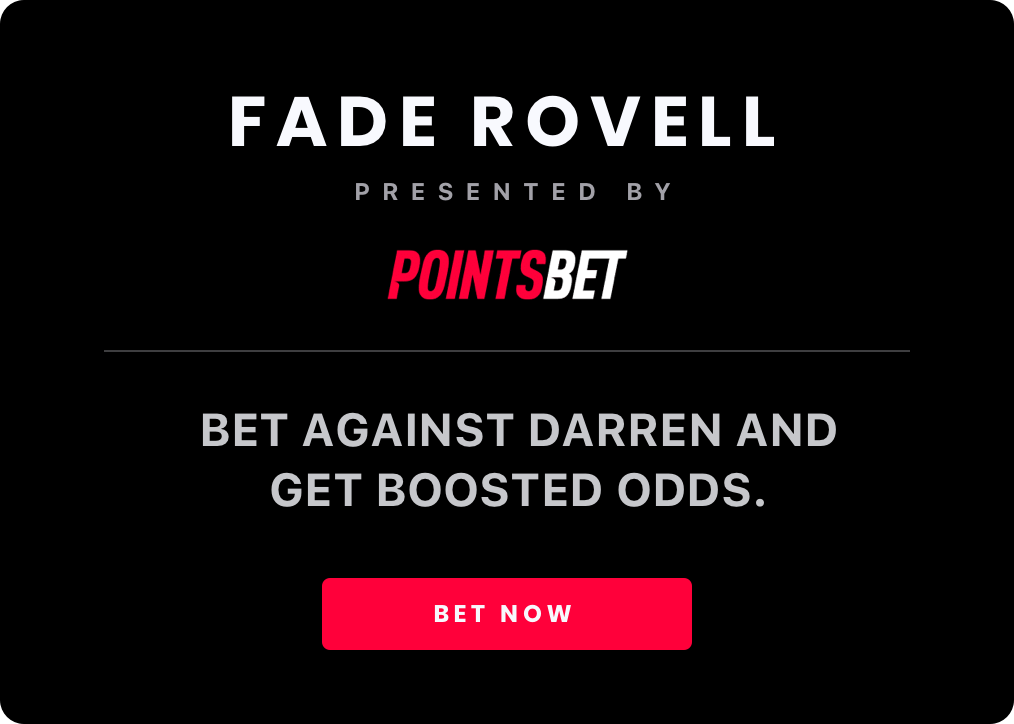 Darren Rovell isn't buying Carson Wentz to continue his recent hot streak. PointsBet is giving everyone in New Jersey boosted odds to Fade Rovell and bet on the Over of 265.5 Passing Yards for Wentz (normally -115, now +110). New customers get an exclusive promotion: Deposit $50, bet with $150. No strings attached. No rollover required.
---
FanDuel is currently offering his prop at 55.5, which has a 53.3% chance of going over. A book would have to offer this prop at 51.5 or lower in order for it to have a 58% chance of going over (according to my projections) and trigger a bet from me. It's unlikely that happens, but we should still be on the lookout.
Target Bet: Over 51.5 (or Fewer) Yards
Jacob Hollister's Receiving Yards
Hollister has consistently averaged 80% or more routes run per drop back over the past six games. It's rare for a TE to see that kind of usage, and it gives him an incredibly high floor as a result.
He hasn't had a big game of late, which has caused his player prop to dip low enough there could be some value on the over. FanDuel currently has his prop at 31.5, which gives the over a 54.7% chance of hitting. If any book offers this prop at 29.5 or lower, it would meet my 58% threshold needed to bet the over.
Target Bet: Over at 29.5 (or Fewer) Yards
---
Koerner is 179-133-3 (57.4%) overall betting on the NFL. You can follow him in our free app.
How would you rate this article?