NFL Win Totals To Bet Right Now: Broncos Over, Ravens Under, More
Credit:
Getty Images. Pictured: Von Miller, Lamar Jackson
With the news that the NFL is extending its season to 17 games in 2021, our analysts are here to break down the win totals they see immediate value on.
Find their picks based on DraftKings' odds below.
Jaguars Under 6.5 Wins (-110)
Chris Raybon: At first glance, over 6.5 wins looks within sight for Urban Meyer: The 10 teams that have finished 1-15 posted a .406 winning percentage the next season, which equates to 6.9 wins over a 17 game season, and the 11 college coaches who made the jump to the NFL since 2000 are 81-91-1 (.471) in their first pro season.
But context has to be taken into account. Those college coaches generally inherited teams that were bad, but not 2020 Jacksonville bad. Those 11 teams combined for a .295 winning percentage the season before hiring a coach from the college ranks, which means those coaches were able to deliver their franchises 17.6% more wins than the year prior. That's an extra 3.0 wins over a 17-game season, which is nothing to sneeze at, but also nothing that would put the Jaguars anywhere close to going over the total, as their projected winning percentage using this method would be 23.9% (4.05 wins).
If a terrible team is able to make a six-win jump, a favorable last-place schedule is usually one of the biggest reasons why. And although the Jaguars get the benefit of nine home games, their 2021 slate of opponents is far more difficult than a normal last-place schedule due to drawing the NFC West, where all four teams are threats for double-digit wins, and the AFC East, where three of the four teams (Bills, Dolphins, Patriots) figure to be .500-or-better caliber.
Also doing theJaguars no favors is that all but one of what figure to be their four most winnable games — Texans (twice), Jets and Bengals — will take place on the road.
Trevor Lawrence could be all he's cracked up to be and more, and it still doesn't necessarily guarantee the Jags will be a seven-plus win team. Look no farther than the last two No. 1 picks: Kyler Murray went 5-10-1 in 2019, and Joe Burrow went 2-7-1 before going down last season. The last two college coaches to make the jump to the pros (Matt Rhule in 2020 and Kliff Kingsbury in 2019) each won five games in Year 1, and I'm expecting a similar output from Meyer and Co.
Broncos Over 7.5 (+100)
Brandon Anderson: I wrote about the Broncos as an intriguing Super Bowl long shot pick heading into free agency, and I'll double down by betting on them to get to at least around .500.
Let's start with what matters most: The quarterback. I would feel far better about this bet if the Broncos had done something — anything, really — in free agency at the position. But I don't think we're necessarily locked in here, pun perhaps intended. Drew Lock has shown very little to sew up the starting job, and there's no one behind him on the roster to push him.
There will be another quarterback on this roster on opening day. Maybe it's another high draft pick if one of the top quarterbacks slips in the draft. Maybe it's a veteran brought in as a free agent, or even someone like Jimmy Garoppolo.
I just have to believe there will be some better quarterback on this team by the time the games start.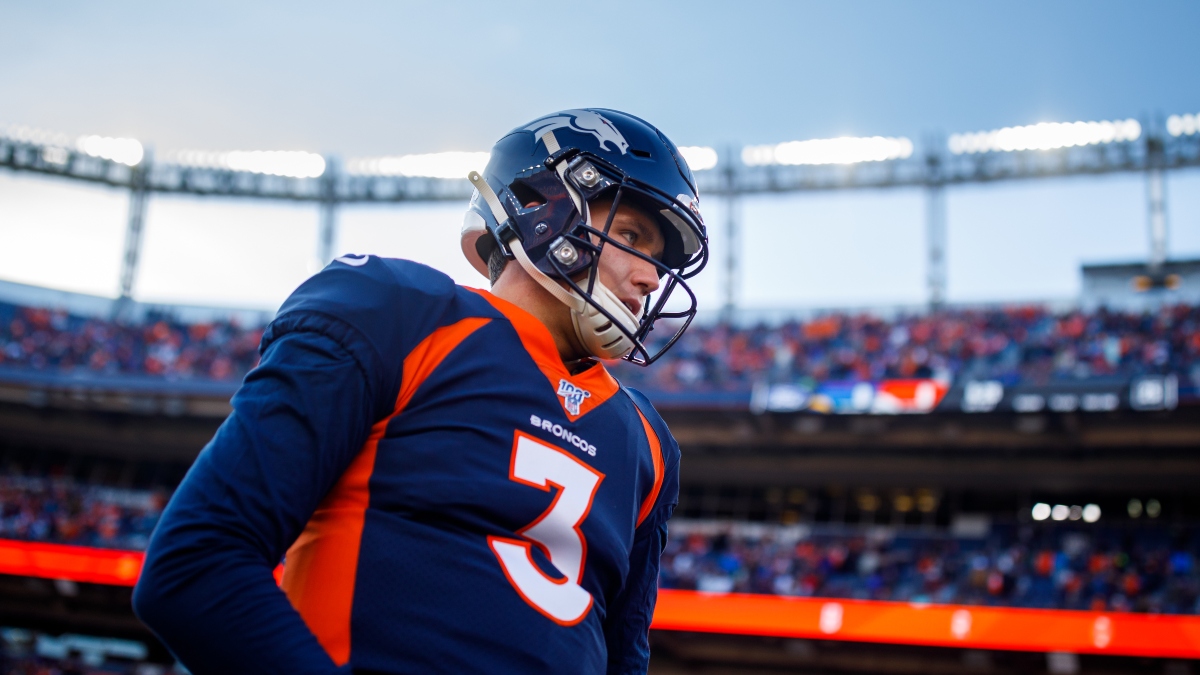 And if you gave this team even competent quarterback play, isn't there a lot to like? This is Year 3 for Vic Fangio with this defense, and there's a ton of talent there: Von Miller and Bradley Chubb are a fearsome pass rushing duo now that they're healthy again, Justin Simmons is back after being a question to return, and they have the players and scheme to be a top five or 10 defense.
On offense, the young weapons are a ton of fun with Jerry Jeudy, Courtland Sutton and Noah Fant. The line and run game are solid, too.
Denver went 5-11 last season but lost five one-score games. That luck should even out a bit, and a decent quarterback would help. That team was also missing several of its best players for basically the entire season. Get a competent quarterback in here and this team should push .500 or even toward a wildcard spot.
We don't even have to get to .500 anymore. Just 8-9 will do it. At even odds, I'll take that bet.
Cardinals Over 8 Wins (-110)
Mike Randle: The Cardinals finished 8-8 last season, but are primed for an even better 2021 season.
Arizona has been a big player in free agency with the signing of All-Pro defensive end J.J. Watt, veteran wide receiver A.J. Green, and a trade for former Raiders center Rodney Hudson. Per Pro Football Focus' Improvement Index, Arizona ranks as the fourth-most improved team of this offseason (so far).
The Cardinals will need to address running back depth with the departure of Kenyan Drake, but an improved offensive line and the versatile Chase Edmonds make compensating that loss much easier.
Arizona saw a huge improvement in Football Outsiders' defensive DVOA from 20th overall in 2019 to 10th-best last season. This should certainly improve with the addition of Watt on the defensive line.
Arizona went 4-5 in games decided by eight or fewer points, with two close losses to end the season at .500. With the schedule expanding to 17 games, I like the Cardinals over 8 wins at -110 juice.
Ravens Under 11 Wins (+103)
Anderson: It feels like we mostly know what the Baltimore Ravens look like at this point.
They're going to run the ball, a lot. They're going to put Lamar Jackson in advantageous situations and get this offense downhill, acting as outstanding front runners. They'll have a tough defense and excellent special teams, like usual under John Harbaugh. And there's still very little reason to believe in their passing attack or ability to come from behind or adapt, until proven otherwise.
That formula hasn't worked in the playoffs, but it's certainly played pretty well in the regular season. Baltimore went 11-5 last season and 14-2 the year before that. This sort of style tends to take care of the easy ones but struggle more in tougher games.
Part of the bet against Baltimore is a bet on improvement from the AFC North. Pittsburgh should still be tough again, much like the Steelers were a year ago, but the Browns look like a team on the rise and will be a chic Super Bowl sleeper. The Bengals should be much improved from a year ago, too.
There are no more easy wins in this division and not many easy wins up or down Baltimore's schedule.
It also feels like teams are slowly figuring Jackson out. Good defenses and coaching get a little better each time they see him, and until we get a vertical threat in the passing game or signs of adaptation, that doesn't bode well long term for Baltimore.
The Ravens should be very good again, but 11 is one of the highest numbers on the board. It's not quite as tricky getting to 12 wins with a 17th game, but 12-5 is still a tough pull and means Baltimore probably has to be a top five team in the league. I'm not sure they still are with this version of the team.
I like getting juice to the under, and I like the whole number since an 11-6 season feels about right and gives me my money back. It's much easier to find ways for this team to fall short of 11 wins than to chart a path back to 12 or 13.
How would you rate this article?
This site contains commercial content. We may be compensated for the links provided on this page. The content on this page is for informational purposes only. Action Network makes no representation or warranty as to the accuracy of the information given or the outcome of any game or event.