Packers Fantasy Rankings, Projections, Analysis for Every Player
Credit:
Jeff Hanisch-USA TODAY Sports. Pictured: Green Bay Packers quarterback Aaron Rodgers (12) at Lambeau Field.
See our experts' fantasy rankings, projections and analysis for every relevant Green Bay Packers player.
Incoming head coach Matt LaFleur inherits an offense brimming with potential and led by one of the most sensational quarterbacks in NFL history.
Can Aaron Rodgers still be a the top fantasy football quarterback? Will Davante Adams follow-up his breakout season as a top-five receiver?
Our analysts have also ranked all the Packers' key players by scoring format and analyzes their overall outlooks heading into the season.
Packers Fantasy Rankings, Projections
Aaron Rodgers, QB
Pass: 362 comp | 566 att | 64 comp% | 4,175 yds | 31.3 TDs | 8.4 INTs
Rush: 48 car | 252 yds | 1.9 TDs
Aaron Jones, RB
Rush: 193 car | 937 yds | 7.9 TDs
Rec: 32 catches | 233 yds | 1.4 TDs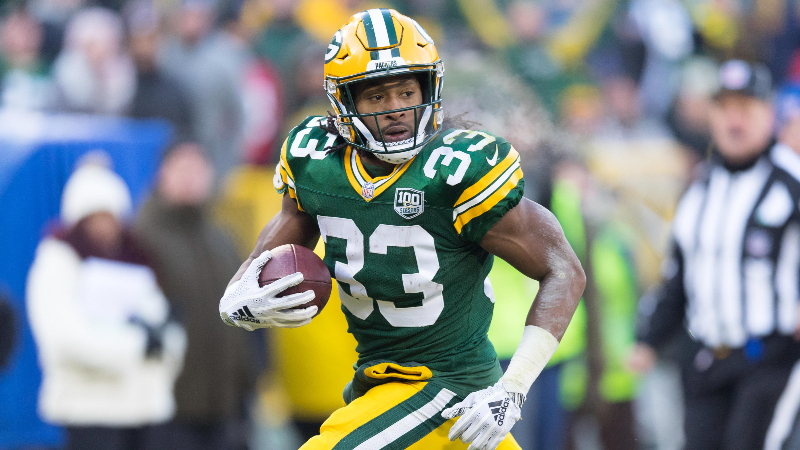 Jamaal Williams, RB
Rush: 96 car | 373 yds | 2.6 TDs
Rec: 22 catches | 183 yds | 1 TDs
Davante Adams, WR
Rec: 100.8 catches | 1256 yds | 11.9 TDs
Geronimo Allison, WR
Rec: 51.6 catches | 680 yds | 4.2 TDs
Marquez Valdes-Scantling, WR
Rec: 48.7 catches | 704 yds | 3.7 TDs
Jimmy Graham, TE
Rec: 52 catches | 555 yds | 4.7 TDs
Note: Projections as of August 22.
---
>> Get our experts' latest fantasy rankings and projections in our Draft Kit.
---
Packers Fantasy Outlooks
Chris Raybon breaks down Packers head coach Matt LaFleur's playcalling tendencies to forecast who will benefit most.
The Packers ran the ball out of shotgun 53% of the time last season, but will be switching to a wide zone that features more runs from under center. This suits Aaron Jones, who ripped off 5.7 yards per carry on under-center runs compared to a still-very-good 5.1 out of the gun. Jamaal Williams, meanwhile, managed just 3.2 yards per carry on under-center plays, versus 4.3 from the gun. Pro Football Focus graded Jones 13th at the position in pass blocking compared to 54th for Williams, so there's a chance he takes a stranglehold of LaFleur's backfield a la Derrick Henry last season.
Aaron Rodgers' 2.75-second average time to throw last season ranked fifth-highest in the league, and when holding the ball for more than 2.5 seconds, his 50.2% completion rate ranked 36th, ahead of only Jeff Driskel, Josh Rosen, and Josh Allen. LaFleur will install shorter dropbacks, but at what cost? Rodgers tossed twice as many TD passes when he held the ball more than 2.5 seconds as he did in under 2.5 on the same amount of attempts. Like Rodgers this season, Mariota entered last season coming off a career low in passing TDs per game. Mariota was able to elevate his yards per attempt from 7.1 in 2017 to 7.6 under LaFleur's watch, but his TDs per game sunk to a new low. Oh, who am I kidding? Rodgers will just check out of LaFleur's calls at the line, anyway.
LaFleur has rolled with Marques Valdes-Scantling in two-wide sets with Geronimo Allison manning the slot when they go to three-wide, according to Matt Schneidman of The Athletic. LaFleur will let positional strength dictate his base look, so he figures to go three-wide most of the time anyway. Rodgers and Allison have failed to establish a consistent connection on throws 10 or more yards downfield (8-of-22, 257 yards, 2 TD, 2 INT) but have been mostly efficient underneath (35-of-44, 299, 0 TD, 1 INT). MVS, meanwhile, parlayed his 4.37 wheels into a connection with Rodgers that netted him a top-15 finish among wide receivers in yardage gained on passes that traveled 20-plus yards in the air. Within the context of the scheme, Allison is better positioned for weekly consistency, while MVS is the more volatile but higher ceiling option.
How would you rate this article?